Microsoft released KB14959905 Hotfix for SCCM 2207 early ring. Configuration Manager KB14955905 hotfix is available only for the SCCM (a.k.a ConfigMgr) environments where you have used the PowerShell script to make the 2207 update available.
This update KB14959905 addresses important, late-breaking issues that were resolved after version 2207 became available globally. You can access the update in the Updates and Servicing node of the Configuration Manager console.
The latest 2207 update is available as an in-console update for the SCCM. Admins can apply this update to the sites running on version 2103 or later. Also, you can go through SCCM 2207 Upgrade Step by Step Guide for a step-by-step installation guide.
Microsoft added many new features and improvements to SCCM latest version 2207 and fixes a lot of existing (known or unknown) issues with the latest version of SCCM, here you can check the Top 10 New Features Of SCCM 2207.

NOTE! – There is a new KB15498768 released for SCCM 2207. FIX NTLM connection fallback update for Microsoft Endpoint SCCM.
Issues Fixed with KB14959905 Hotfix Update
Microsoft is fixed the following issues with SCCM 2207 early ring. This update does not apply to sites that downloaded version 2207 on August 26, 2022, or a later date. Therefore, it will not be listed in the Configuration Manager console for those sites.
Administrators with tenant attached devices are not able to manage software updates when Intune role-based access control (RBAC) is used.
The Configuration Manager console terminates unexpectedly when resuming from sleep or standby.
An Automatic Deployment Rule (ADR) may not be visible after moving it to a folder in the Configuration Manager console.
Install SCCM 2207 Hotfix KB14959905
Let's follow the steps below to Install ConfigMgr 2207 Hotfix KB14959905. The installation process is straightforward. The summary of the hotfix KB14959905 installation is given below.
Launch the SCCM console. Navigate to Administration > Updates and Servicing.
The update Configuration Manager 2207 Hotfix (KB14959905) is Ready to install stage.
Right-click Configuration Manager 2207 Hotfix KB14959905 and click Install Update Pack.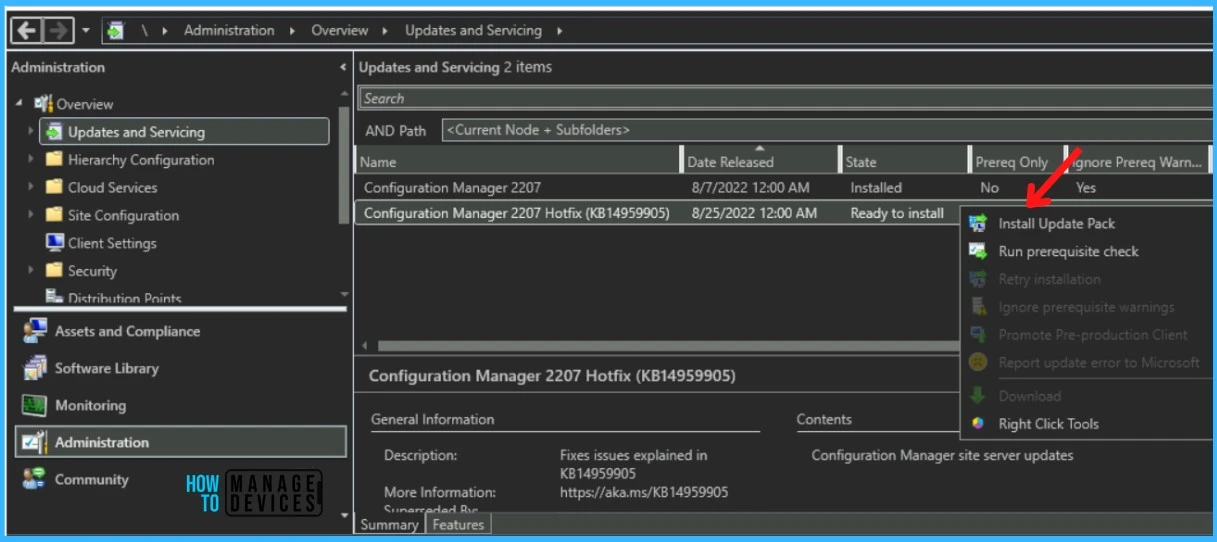 The Configuration Manager 2207 Hotfix (KB14959905) includes Configuration Manager site server updates. Click Next.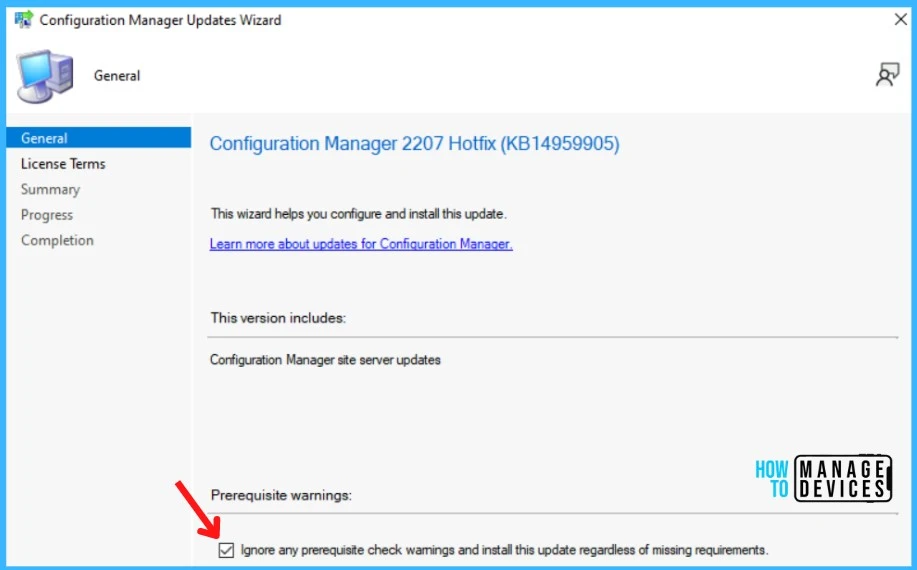 Review and Accept the license for this update pack and click Next to continue.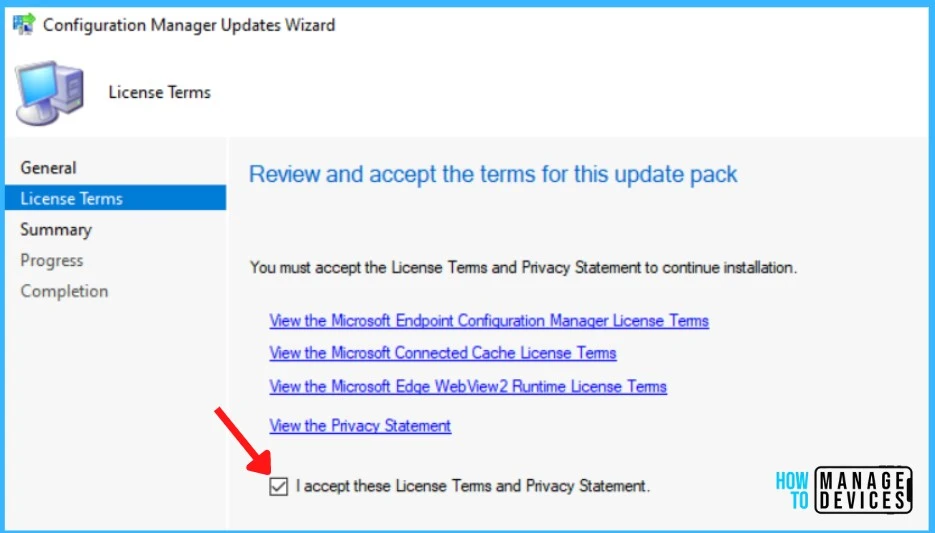 Check the Summary of updated package installation and Click on Close to complete Configuration Manager Updates Wizard.
Summary of update package installation Install Update Package Configuration Manager 2207 Hotfix (KB14959905), Prerequisite warnings will be ignored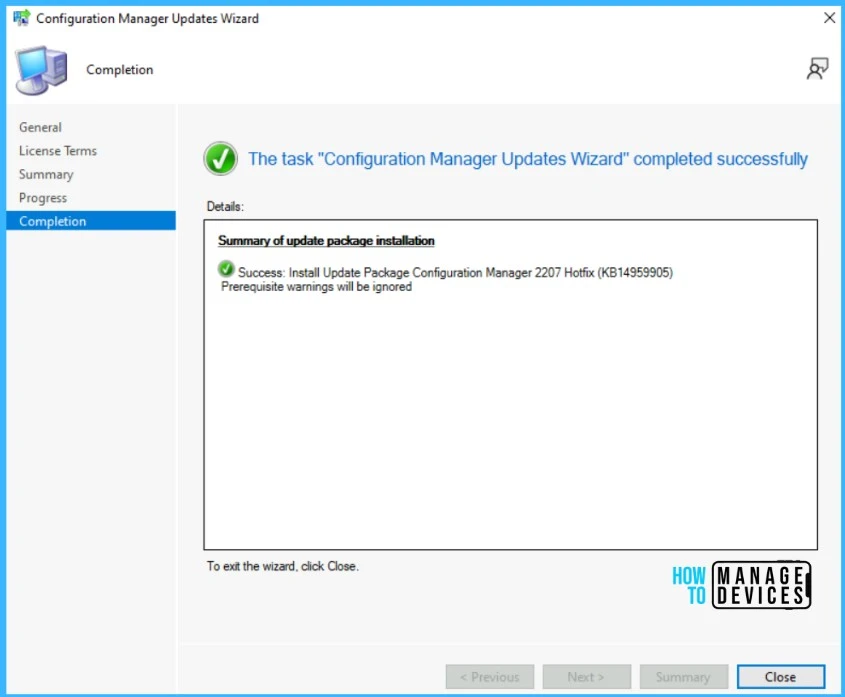 Verification of Successful Installation of KB14959905 Hotfix Rollup Update
Following are the verification steps for SCCM 2207 Hotfix KB14959905.
In Configuration Manager Console, Navigate to the Monitoring workspace.
\Monitoring\Overview\Updates and Servicing Status\Configuration Manager 2207 Hotfix (KB14959905).
You can also review the cmupdate.log to know the hotfix installation progress.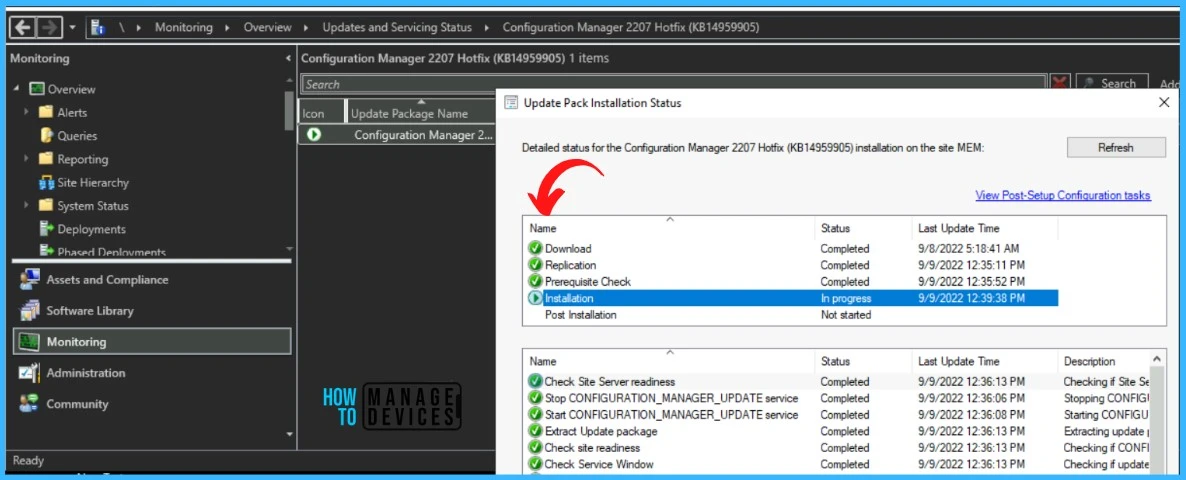 You can confirm the successful installation of Configuration Manager 2207 Hotfix (KB14959905) from the console, \Administration\Overview\Updates and Servicing.
Note – The Configuration Manager 2207 Hotfix (KB14955905) update does not require a computer restart but will initiate a site reset after installation.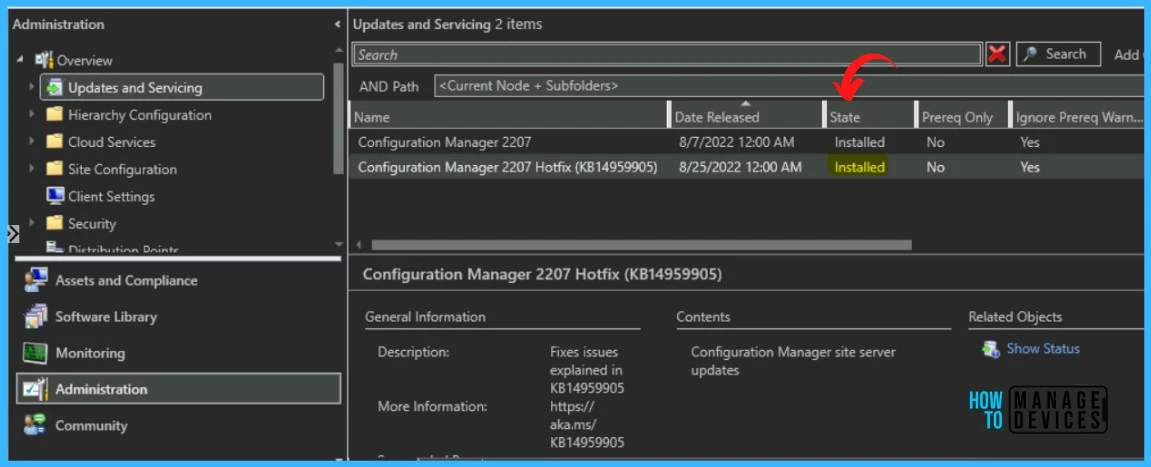 Latest Version of SCCM 2207 Hotfix (KB14959905) Hotfix Install
The following major components are updated to the versions specified. Read More on SCCM Versions – SCCM Versions Build Numbers Client Console Site.
| Component | Version |
| --- | --- |
| Configuration Manager console | 5.2207.1048.1700 |
| Client | 5.0.9088.1010 |
Verification of Successful Installation of KB14959905 Hotfix Rollup Update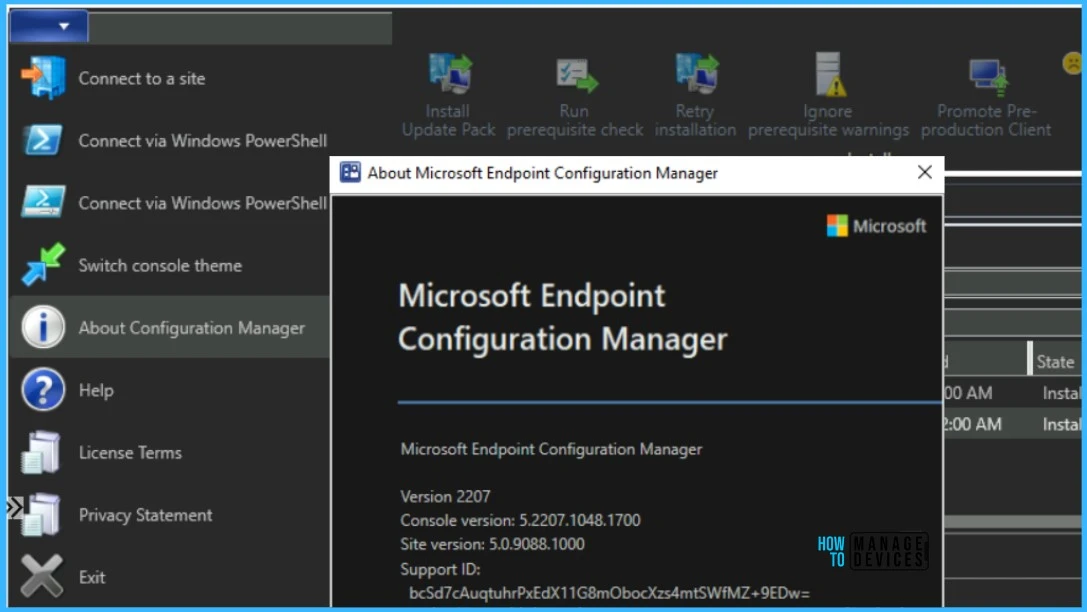 Author