In this blog post, we will go through the Top 10 New Features of SCCM 2207. As part of the SCCM 2207 release, Microsoft added many new features and improvements to SCCM.
The latest 2207 update is available as an in-console update for the SCCM. Admins can apply this update to the sites running on version 2103 or later. Also, you can go through SCCM 2207 Upgrade Step by Step Guide for a step-by-step installation guide. The upgrade checklist and prerequisites are also covered in that step-by-step guide.
We need to update clients to the latest version after updating sites for better functionality and maximum benefits. If I compare the features of the previous version of SCCM and this version, I feel fewer features are available. What do you think?
Microsoft fixes a lot of existing (known or unknown) issues with the latest version of SCCM. This is a more compelling reason for SCCM upgrades with the new features that Microsoft comes up with every version.

1. Increased Security for Configuration Manager Administration Service
The following top 10 new features and improvements are included in SCCM 2207 release. Let's start with Cloud-Attached Management feature improvement.
With 2207, Microsoft introduced a cloud application with restricted access to the administration service. A Cloud Management Gateway (CMG) can use this feature to separate admin privileges between Management Points (MPs) and Administration Services. By doing this, CMG is able to restrict access to the administration service.
From the ConfigMgr console, go to Administration > Cloud Services > Azure Services> Click on Configure Azure Services
Select Administration Service Management as shown below.
2. Easy Approval for Application Deployment | Internet from Anywhere
The approval process for application deployment was a bit tricky in the previous version of SCCM. Microsoft is putting a lot of effort to make it easy for admins.
From this updated batch, an administrator can approve or deny a request to deploy an application on a device with the help of the internet from anywhere. This can be done through an email notification.

To use this feature, administrators must manually add the CMG URL to the Azure Active Directory app as a single-page application redirect URI.
More details on the redirection are available in Microsoft Docs.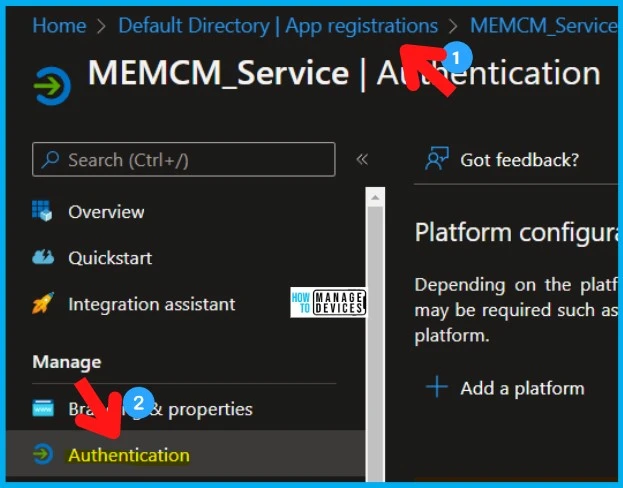 3. Client Settings – Script Execution Timeout
While configuring client settings for compliance settings, one can define a Script Execution Timeout (seconds) with the help of the latest features in 2207.
The timeout value can range from a minimum of 60 seconds to a maximum of 600 seconds. The new setting allows you to run scripts that may take longer than 60 seconds with more flexibility for configuration items.
Navigate to Administration workspace -> Client Settings node.
Open any of the client settings – Navigate to Compliance Settings.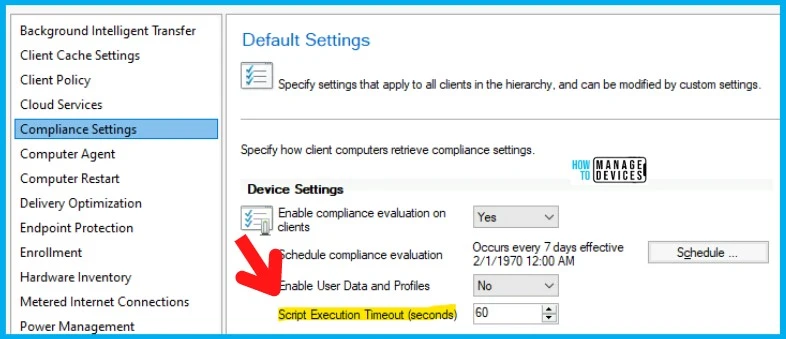 4. Folder Structure for ADR
With SCCM 2207 version, Automatic Deployment Rules (ADR) can be organized in folders. This is the feature where Admins can arrange ADRs into the folder structure.
By having a folder structure across your phased deployments, you can better categorize and manage ADRs across your organizational hierarchy. PowerShell cmdlets can also be used to create folders.
From the SCCM console, go to Software Library > Software Updates > Automatic Deployment Rules, as shown below.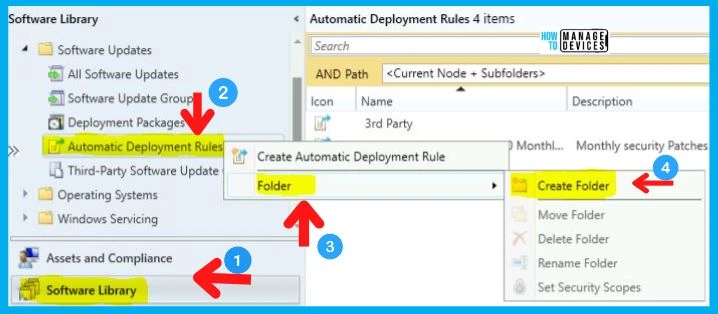 5. Offset schedule for the Second Patch Tuesday | Maintenance Window
Monthly maintenance window scheduling is also bettered with the latest update. Set monthly maintenance window schedules so that deployments align better with software updates released on a monthly basis by configuring offsets.
Offset schedule options are already available in some other SCCM workflows, such as ADR (as explained in the ADR guide). The offset schedule for the second patch Tuesday, for example, is coming to the SCCM Maintenance window (client-side) as well. This is really nice addition!
From the SCCM console, go to Assets and Compliance> Devie Collection and select a collection > Click on Properties.
Select Maintenance Windows Tab> Click on New Button.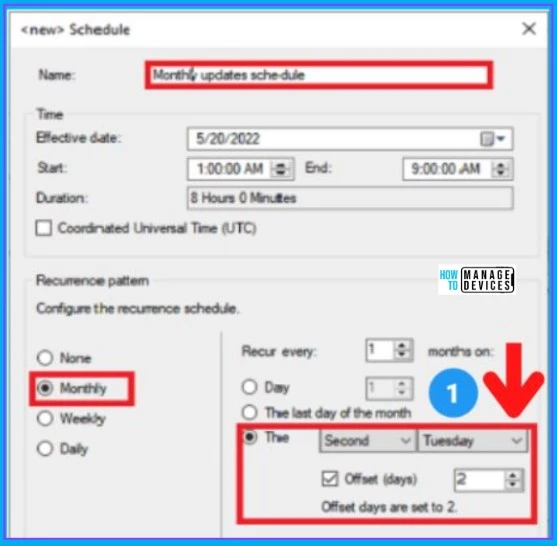 6. Windows Defender Application Guard is Relabeled as Microsoft Defender Application Guard
After this latest update, Windows Defender Application Guard is relabeled as Microsoft Defender Application Guard in the console. This is just a cosmetic change, and nothing changed in terms of functionality.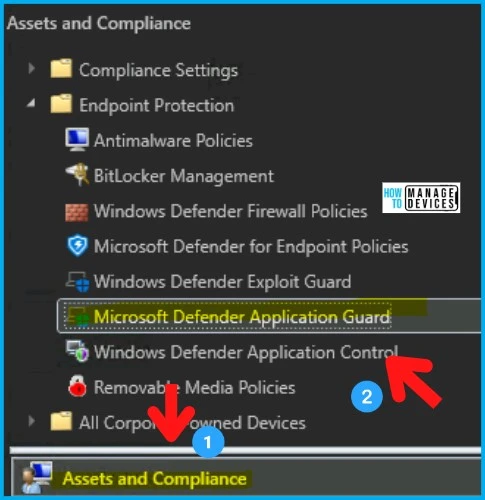 7. Microsoft Defender for Endpoint (MDE) on-boarding improvements for Windows Server 2012 R2 and 2016
Automatic deployment of modern, unified Microsoft Defender for Endpoint for Windows Server 2012 R2 & 2016 can now be supported from the latest update.
Microsoft Defender for Endpoint onboarding policies targeting Windows Server 2012 and 2016 devices will use the unified agent instead of the existing Microsoft Monitoring Agent solution if configured through Client Settings.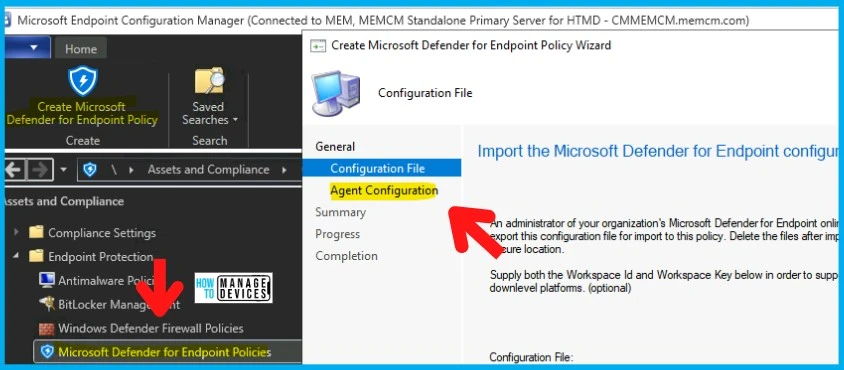 8. Subfolder Search Enhancement
With SCCM 2207, Microsoft included the new search options in the console. Don't get so excited because we still don't have "Global Search" in SCCM. You can include path criteria into the search bar starting from the 2207 version of SCCM. This search also covers Subfolders.
Path criteria are only for informational purposes and cannot be modified.
When you perform a search in a node containing subfolders, all subfolders will be searched.
From the search toolbar, you can narrow down the search by selecting "Current Node."

9. Bettered Dark Theme
The dark theme functionality was available as a pre-release feature since 2203. From this update, additional components such as buttons, context menus, and hyperlinks can also use a dark theme.
You can access the Dark Theme Option by seeing the steps mentioned in the below image.
For more information on Dark Theme, you can also go through our blog on How To Enable Dark Theme for SCCM Console | Easy Method.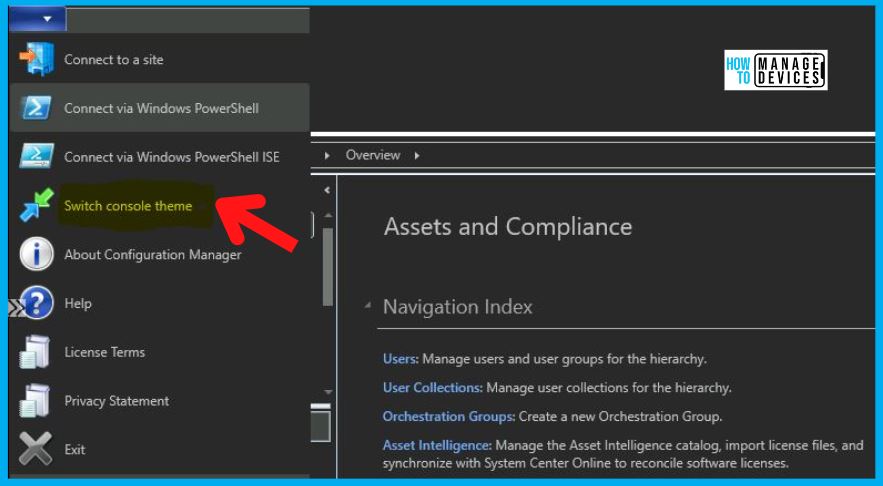 10. New PowerShell Cmdlets for SCCM 2207
Let's now look into the last but not least feature of SCCM 2207 – the new PowerShell Commandlets (Cmdlets) included in this release. More Details on the new PS Cmdlets from Microsoft Documentation.
New PS Cmdlet
Approve-CMOrchestrationGroupScript
Deny-CMOrchestrationGroupScript
Get-CMOrchestrationGroupScript
Start-CMDPMigration
Stop-CMDPMigration
Get-CMDPMigrationContentStatus
Get-CMDPMigrationStatus
Get-CMTrustedRootCertificationAuthority
New-CMAADClientApplication
New-CMAADServerApplication
Set-CMDefaultBoundaryGroup
Add-CMManagementPoint
Add-CMReportingServicePoint
Get-CMObjectSecurityScope
New-CMCloudManagementGateway
New-CMCoManagementPolicy
New-CMComplianceRuleRegistryKeyPermission
Set-CMClientSettingComplianceSetting
Add-CMComplianceSettingWqlQuery
Set-CMClientSettingClientCache
Top 10 New Features of SCCM 2207 10 – Table
Author
Abhinav Rana is working as an SCCM Admin. He loves to help the community by sharing his knowledge. He is a BTech graduate in Information Technology.