Let's learn how to install SCCM update hotfix KB 4537079 (1910 Hotfix Rollup update). Microsoft Endpoint Configuration Manager 1910 rollup update is released now, and this comes with many fixes.
It's highly recommended to install the hotfix on your SCCM infra.
NOTE! – SCCM 1910 Known issues are Listed – https://www.anoopcnair.com/configmgr-1910-known-issues-bugs-fixessccm/
Introduction
Microsoft released Hotfix Rollup Update 4537079 for Microsoft Endpoint Configuration Manager Current Branch, version 1910.

The below hotfixes are included as part of the rollup update,
Microsoft Reference Url: https://support.microsoft.com/en-us/help/4537079/update-rollup-for-microsoft-endpoint-configuration-manager-current-bra
How to Install the Rollup Update
Step 1:
Launch the Configuration Manager Console,
Select the Administration tab,
Expand Overview -> Select Updates and Services
The update Configuration Manager 1910 Hotfix Rollup (KB4537079) is Ready to install stage
Note: The hotfix already downloads.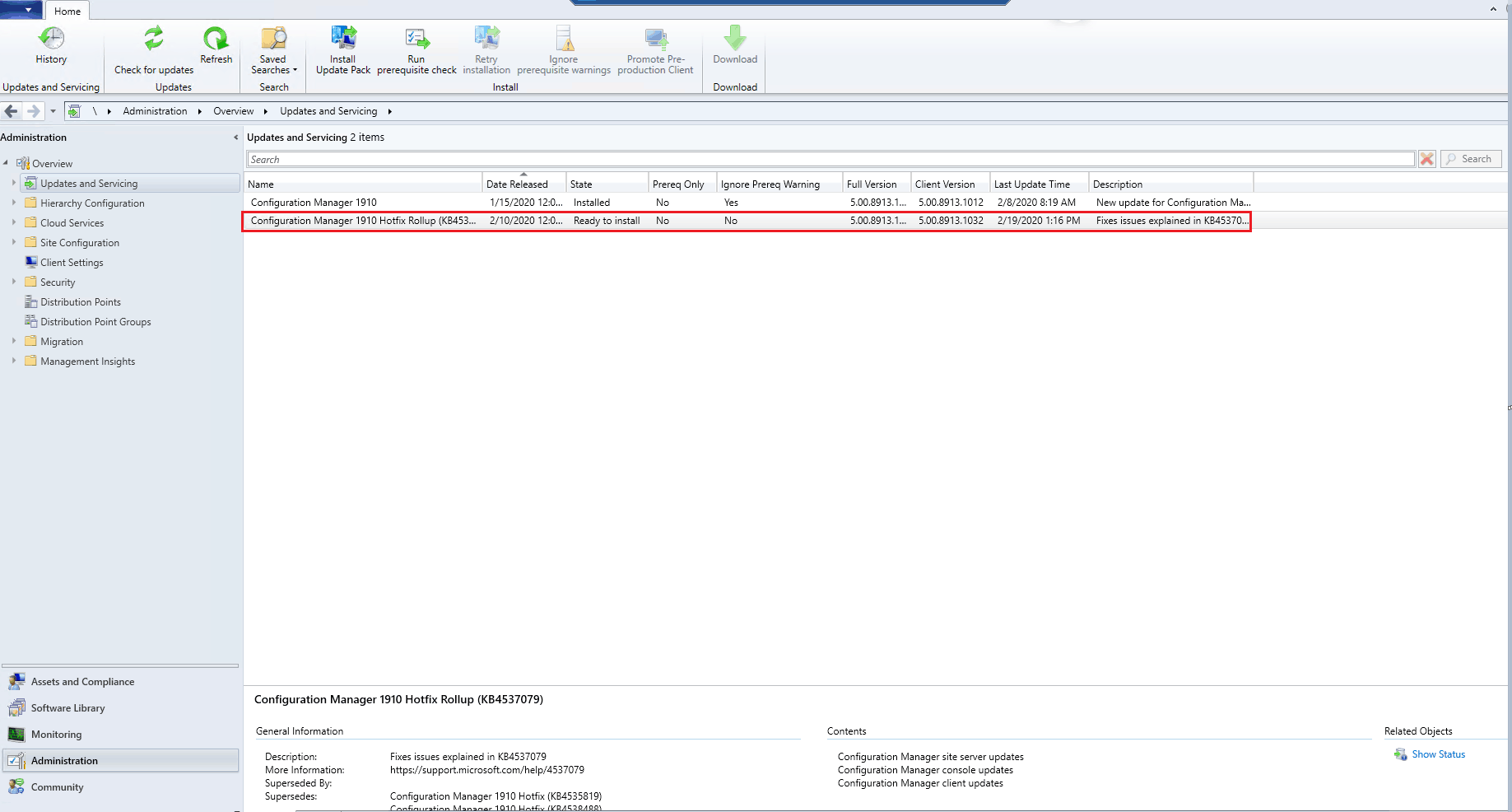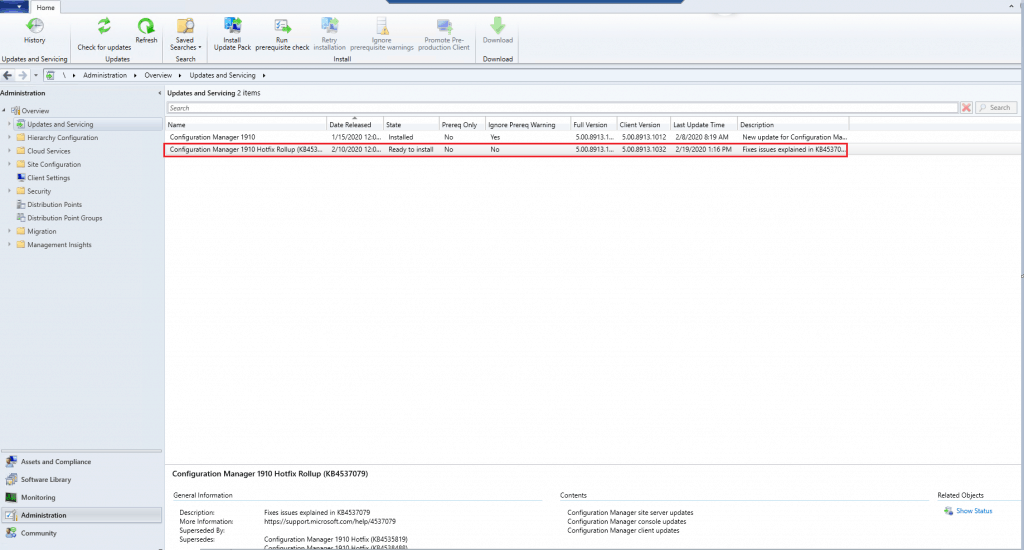 Step 2:
Right-click the Configuration Manager 1910 Hotfix Rollup (KB4537079) and select Install Update Pack


Step 3:
In General Tab, Click Next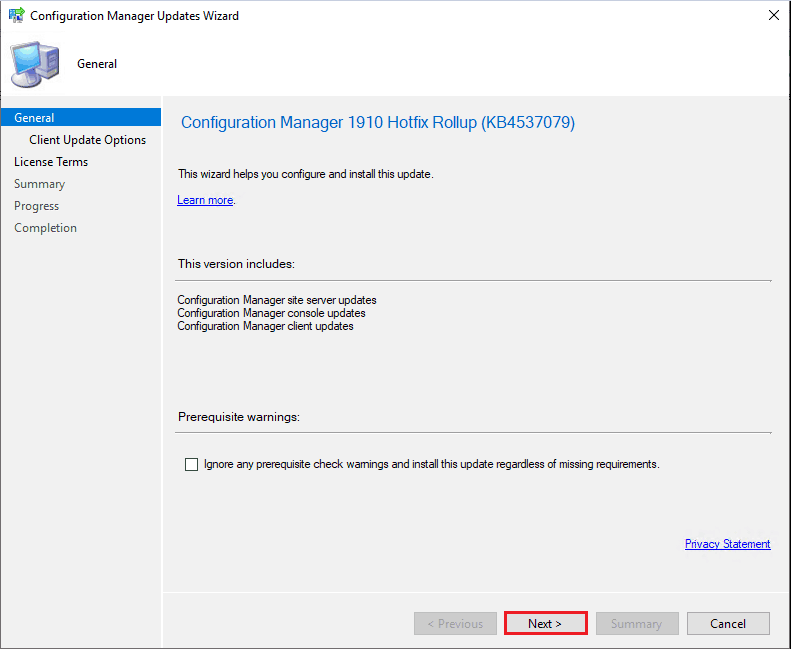 Step 4:
In the Client Update Options Tab,
Select Upgrade without Validating
Note: Choose the options based on the client environment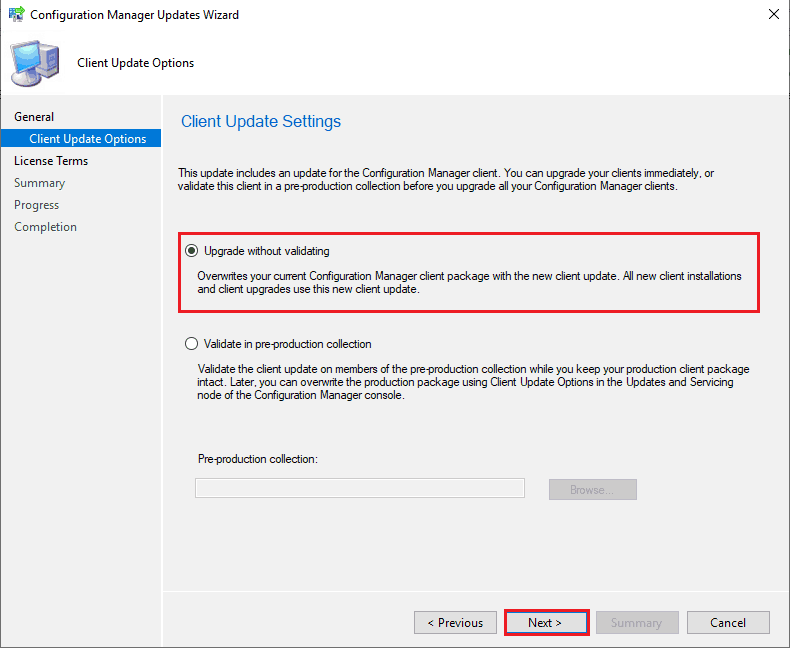 Step 5:
In the License Terms Tab,
Select I accept these License Terms and Privacy Statement.
Click Next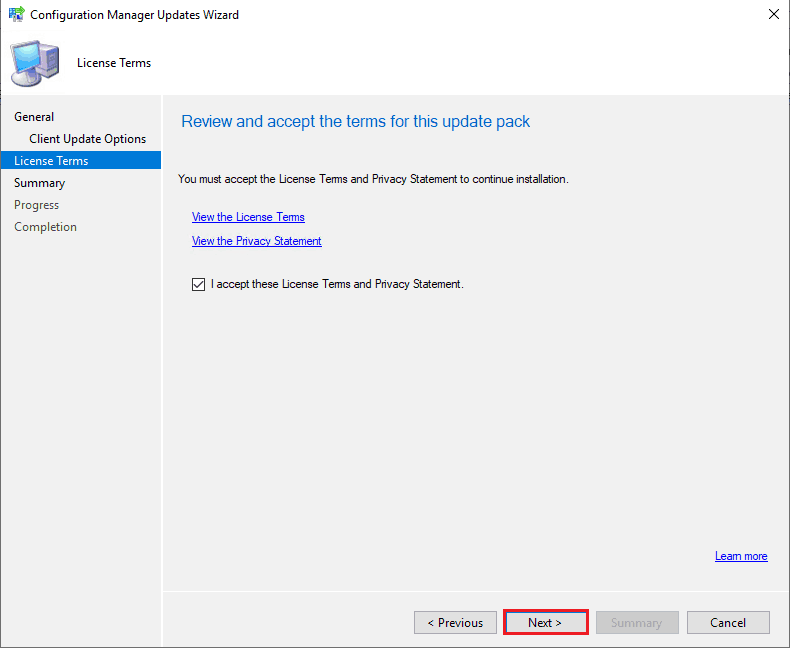 Step 6:
In the Summary Tab,
Review the summary information.
Click Next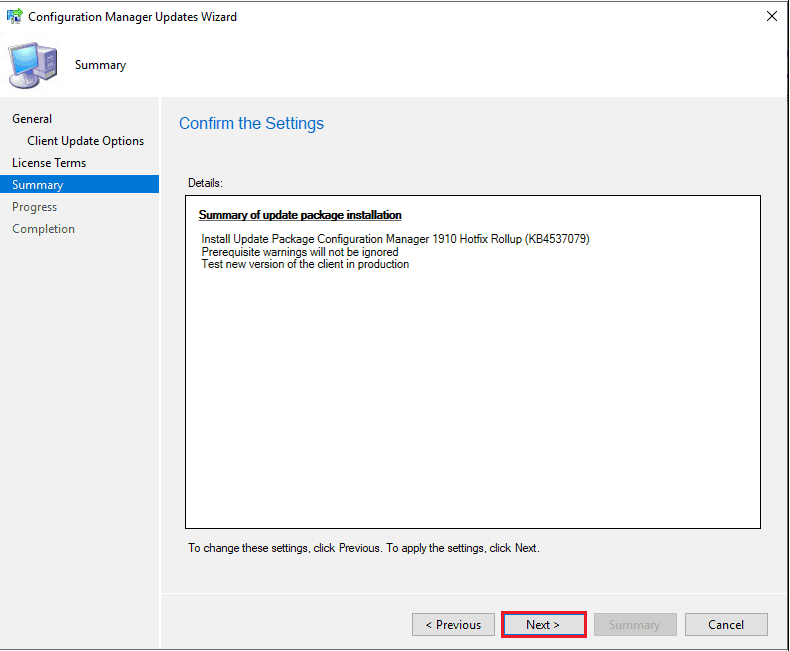 Step 7:
In the Completion Tab,
Rollup Update installation is initiated.
Click Close.
How to Check the Installation Status
Step 1:
Select the Configuration Manager 1910 Hotfix Rollup (KB4537079). The hotfix rollup update is in Installing State
Click the Show Status icon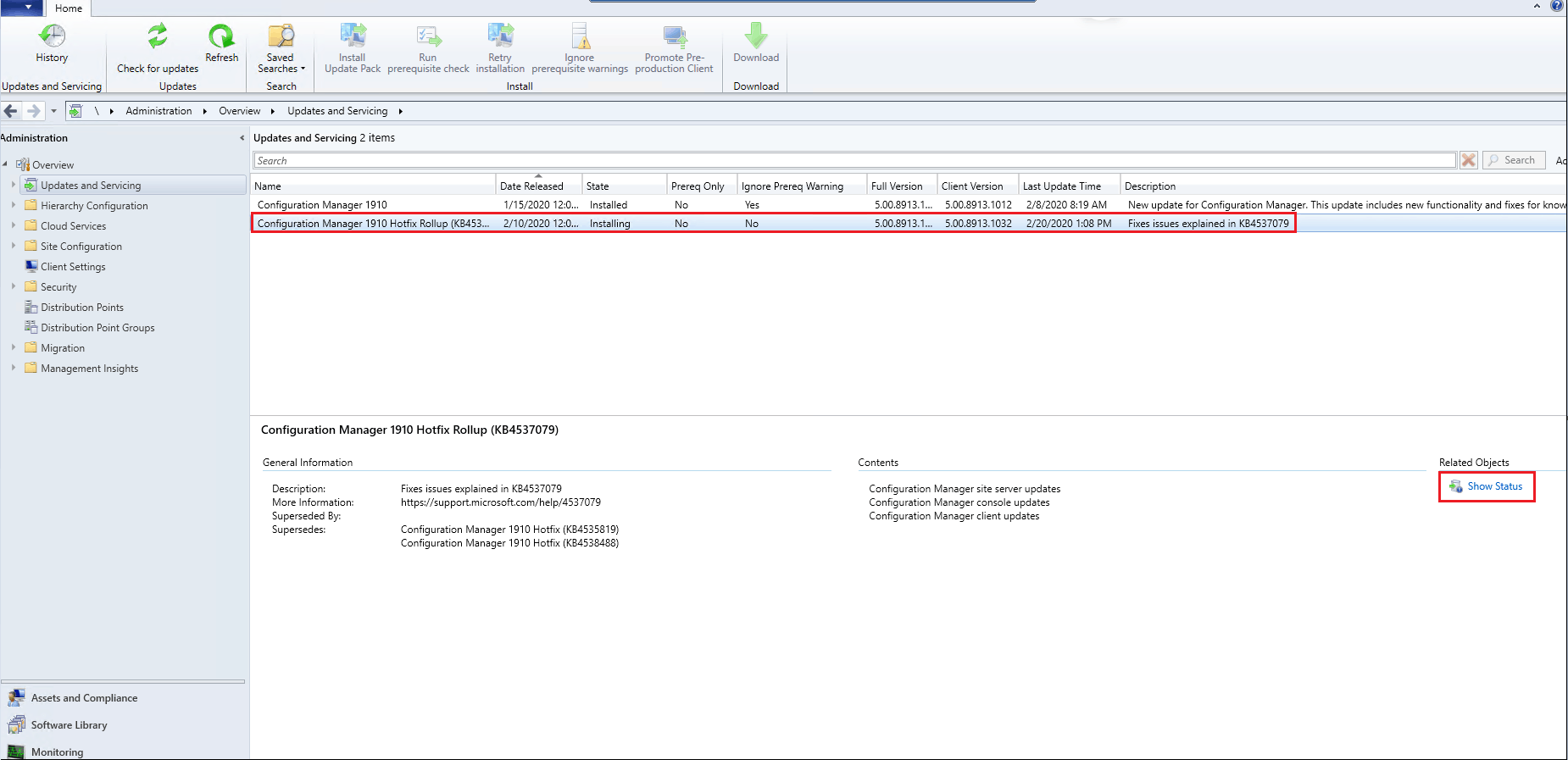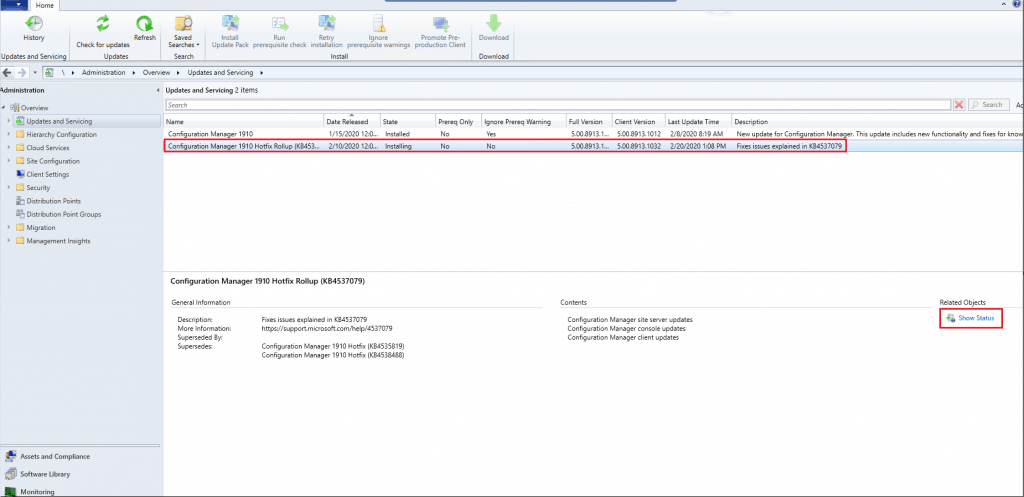 Step 2:
In the Update Pack Installation Status window, the step by step installation status will be updated
Click Refresh Button frequently to know the installation status.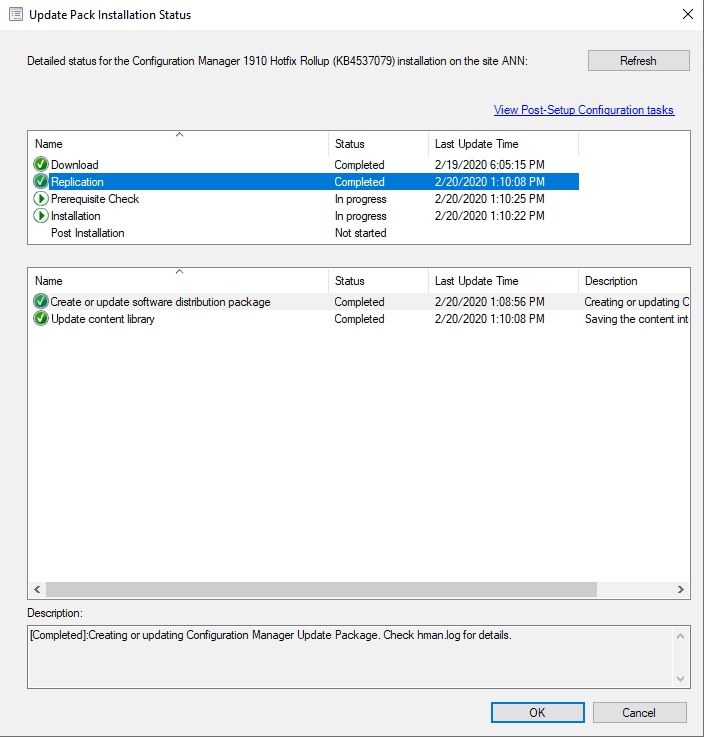 Step 3:
In the Update Pack Installation Status window, Update installed successfully.
Click OK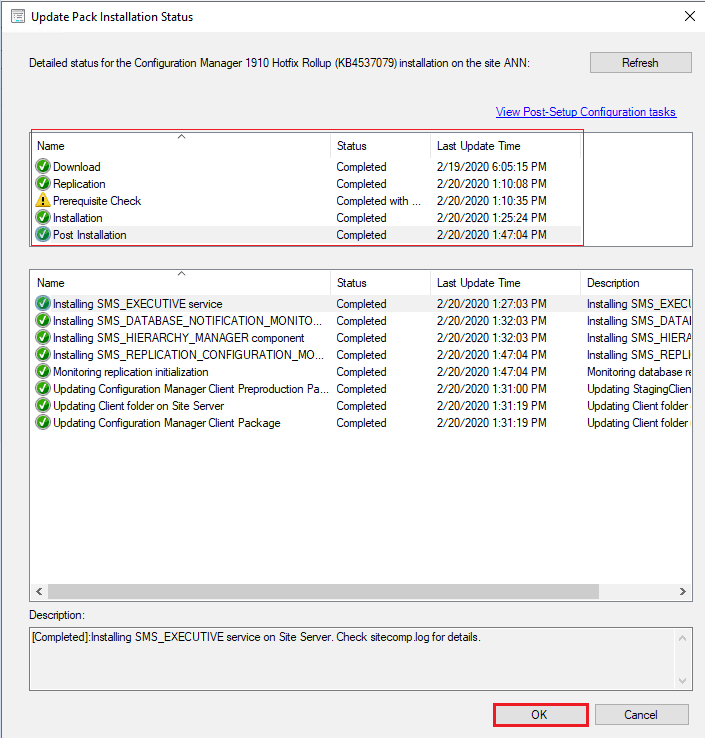 How to check the installation Status using Log File
Logfile folder Location: C:\
Prerequisite Log: The log represents the status of the prerequisite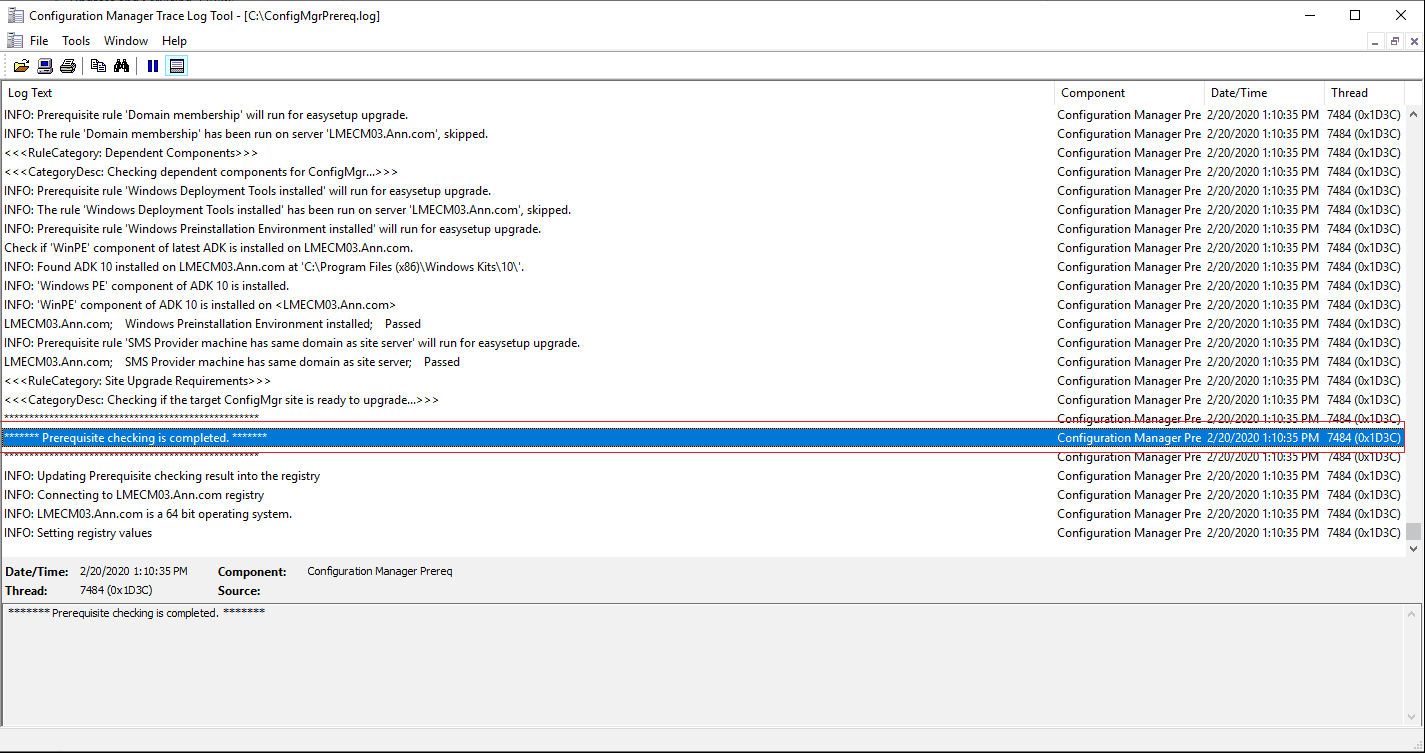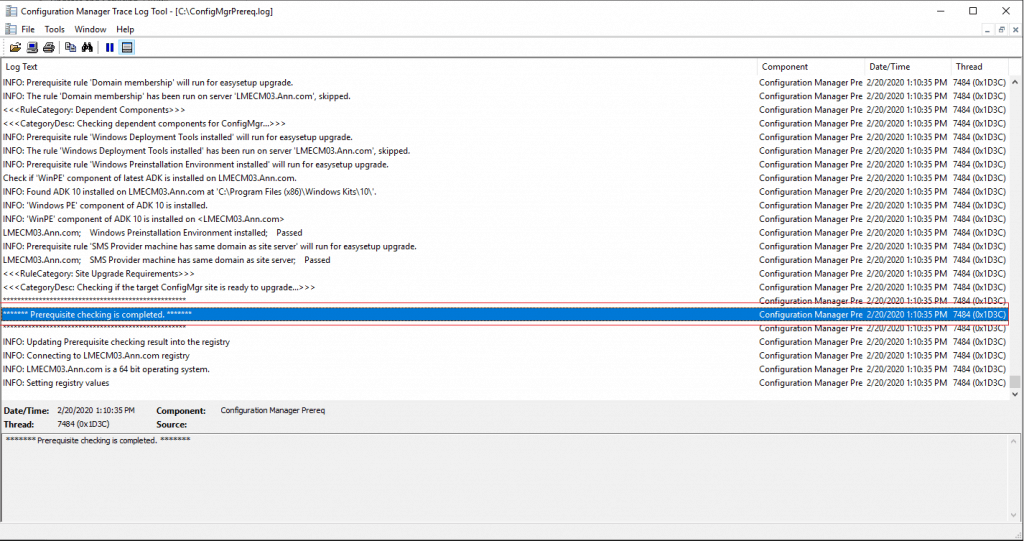 Logfile folder Location: <Drive>\Program Files\Microsoft Configuration Manager\Logs
CMUpdate.Log: The log represents the Hotfix rollup update installation & post Installation Status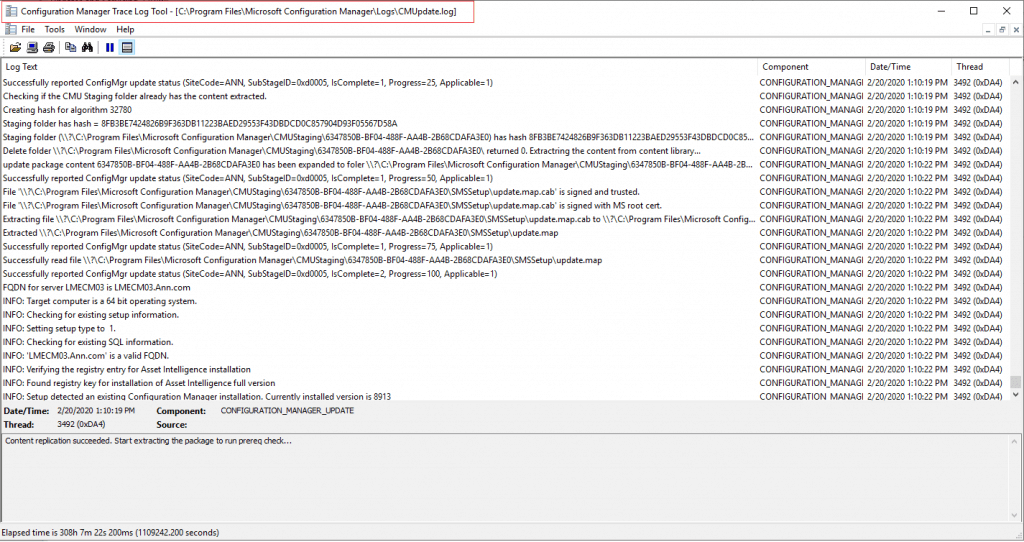 Post Installation 1910 Hotfix Rollup Update
The Post-installation of Hotfix, when launching the console, will prompt for an upgrade to the SCCM console Version 5.19101067.1600
Click OK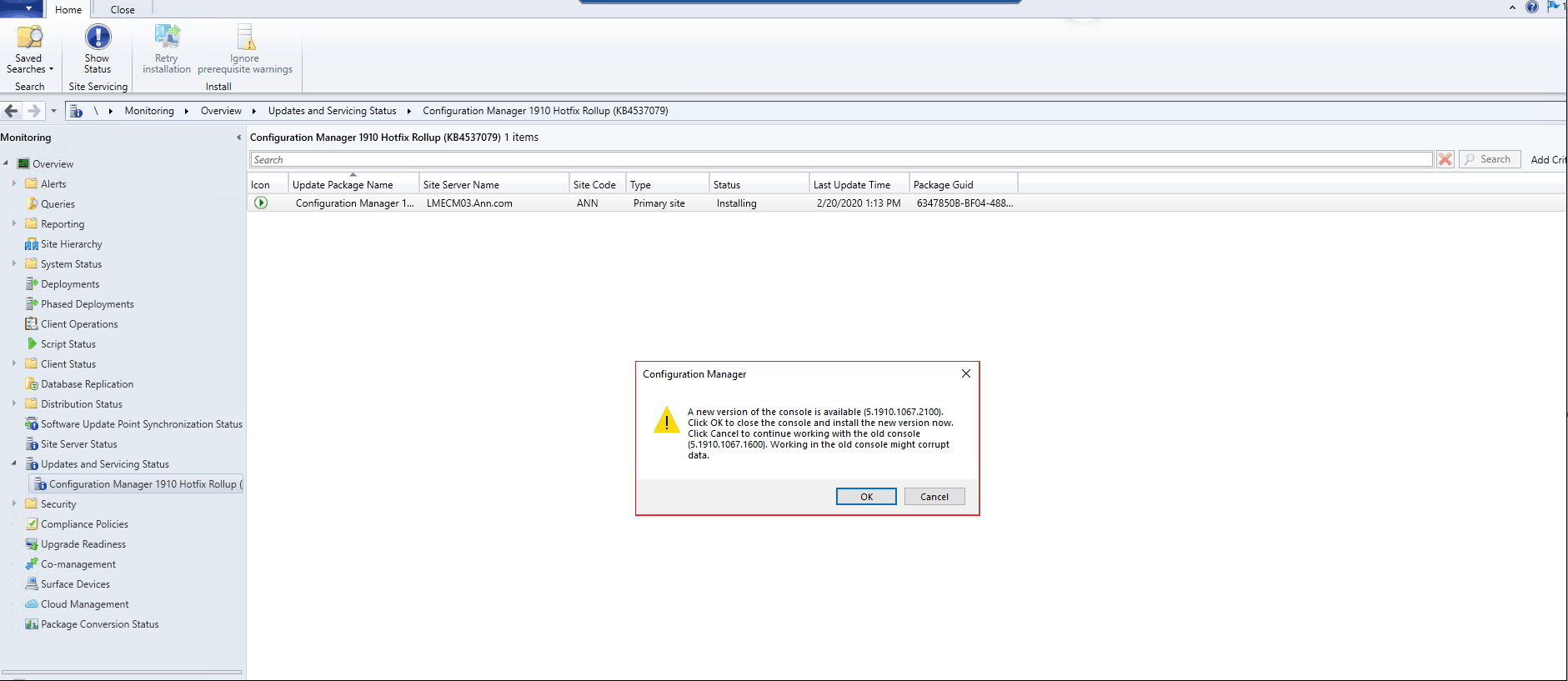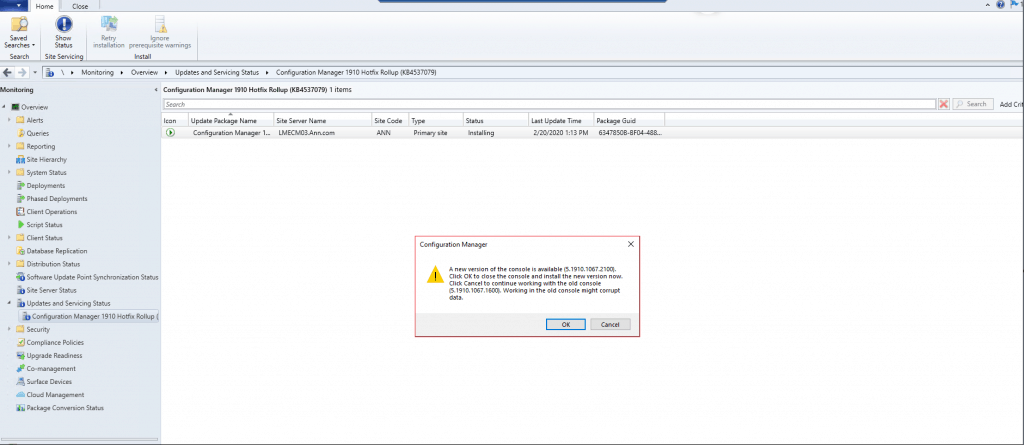 Results
The update is installed successfully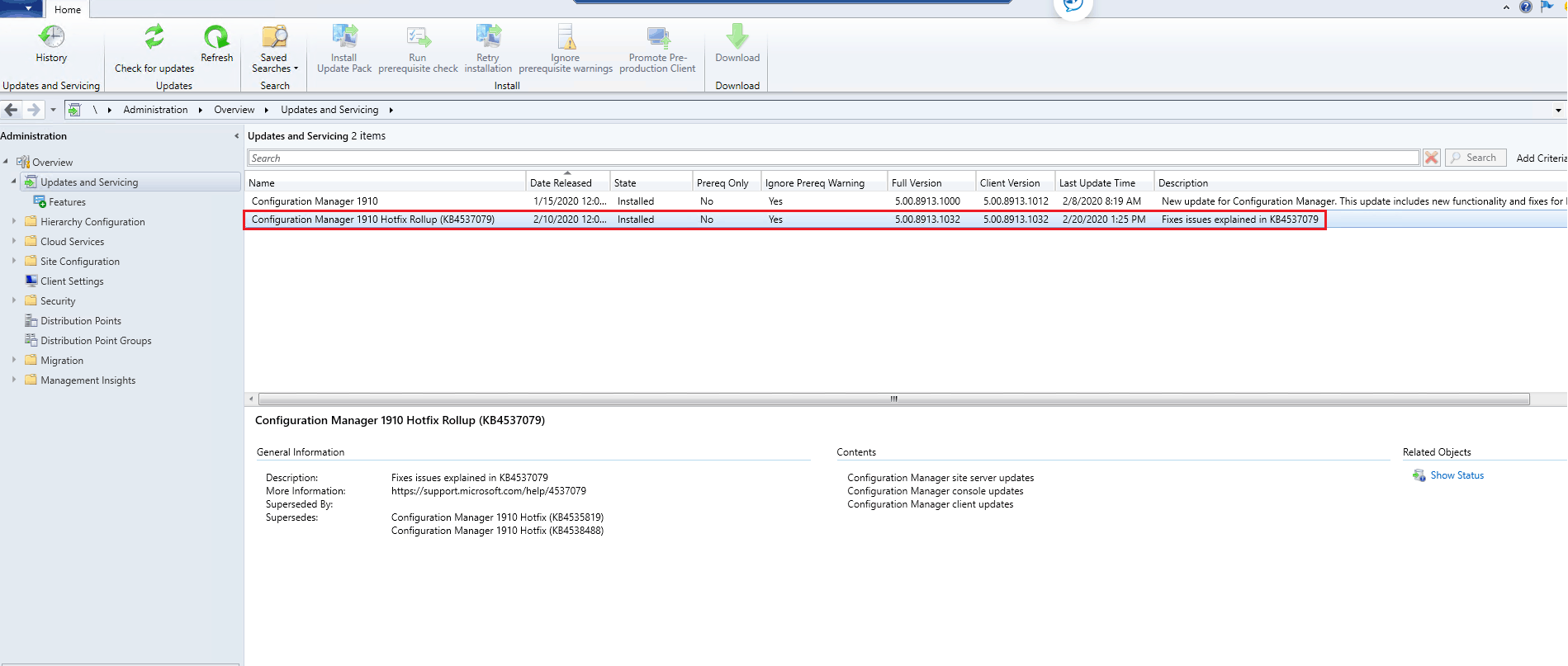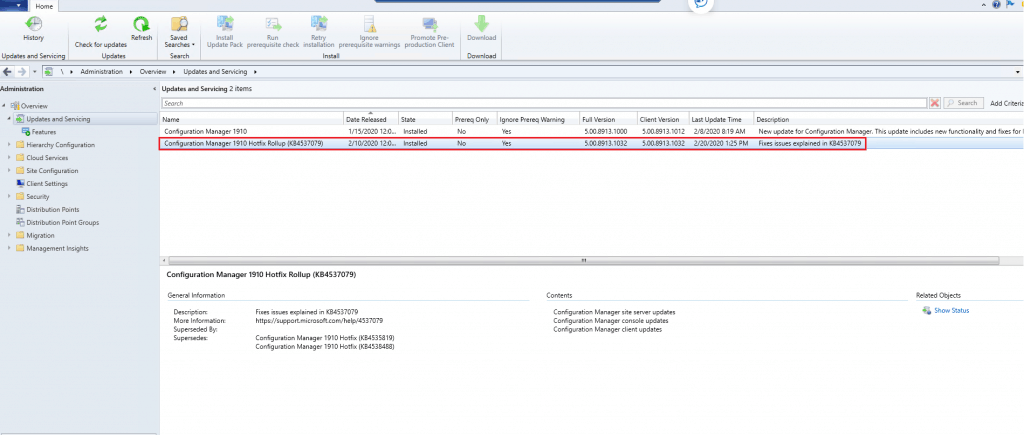 MEMCM 1910
Build –>8913
Client and Site Version –> 5.00.8913.1032
Console Version– > 5.1910.1067.2100
NOTE – More details https://www.anoopcnair.com/sccm-version-numbers-build-number-client/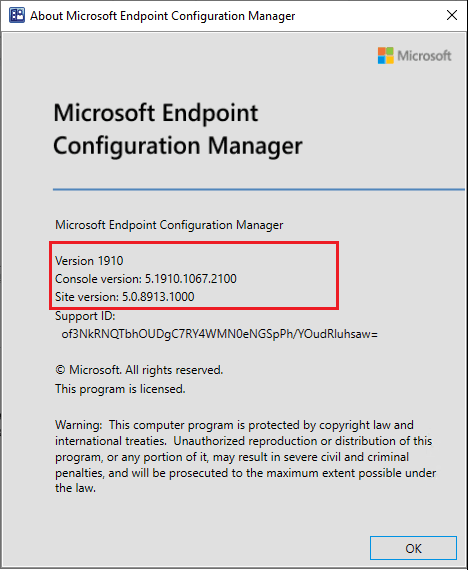 Resources