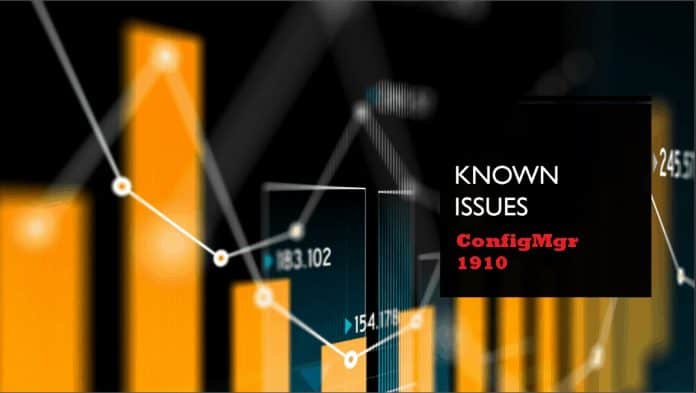 ConfigMgr 1910 is in slow ring now (GA'd) and 1910 update will be available for all SCCM infrastructure with online Service Connection Point. Also, you should have any of the following versions of ConfigMgr 1810 or 1902, or 1906. In this post, you will learn more about SCCM 1910 known issues.
Related Posts – SCCM 1906 Known Issues & SCCM 1902 known issues
Introduction
This post is to help SCCM admins to easily go through a list of SCCM 1910 Known Issues production version. Most of the highlighted issues are collected via social media channels and Microsoft documentation.
NOTE! – These issues are not blockers for SCCM 1910 production upgrade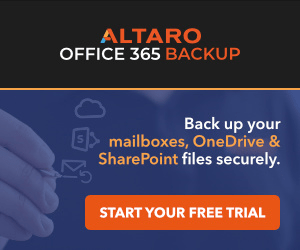 1910 Hotfix – KB Articles
Following are the hotfix KB articles:
KB 4537369 – Active users and groups are unexpectedly deleted by the Delete Aged Discovery Data task in Configuration Manager/SCCM/MEMCM
KB 4535819 (Only applicable for Early update of 1910) – Update for Microsoft Endpoint Configuration Manager version 1910, early update ring
KB 4535384 (Only applicable for Early update of 1910) – Client update available for Configuration Manager current branch, version 1910 early update ring
1910 Known Issues
All these known issues are collected from various social media platforms. I have not tested or reproduced any of these issues. I would strongly recommend raising a support case with Microsoft in case you face any of the following issues.
Site server in passive mode doesn't update configuration.mof
This bug is documented by Microsoft in the release notes.
SCCM may lose inventory customizations when you update the site when your SCCM site includes a site server in passive mode. The SCCM site doesn't currently synchronize the configuration.mof when you fail over the site servers.
Active Directory Discovery Bug with SCCM
When you use Active Directory User Discovery and Active Directory Group Discovery to discover users and groups. You also set up the Delete Aged Discovery Data task to delete aged discovery data. SCCM 1910 version try the hotfix KB 4537369.
1902, 1906 versions – 4537087 Active users and groups are unexpectedly deleted by the Delete Aged Discovery Data task in Configuration Manager
Client Upgrade Bug
This client upgrade bug with SCCM 1910 is reported by Microsoft MVP Panu Saukko in Twitter. Configuration Manager Clients are upgraded almost immediately to a newer 1910 version. Not following the client upgrade schedule.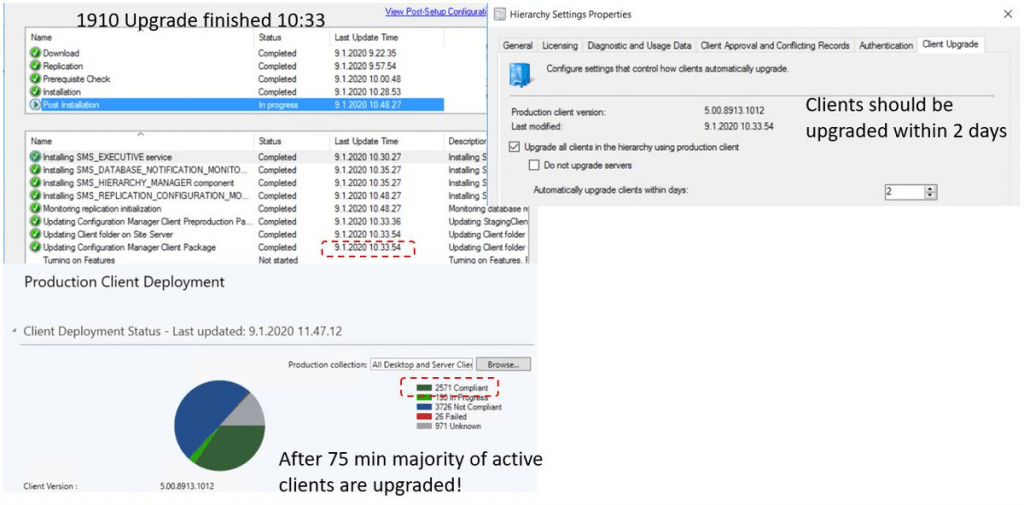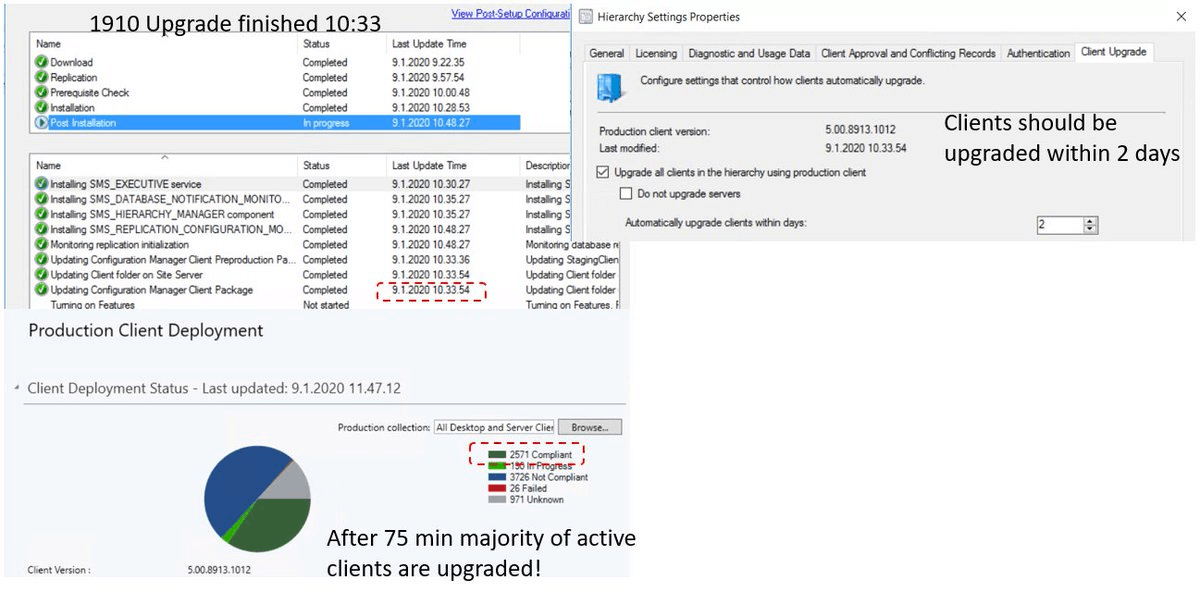 FIX – This fix is documented by Microsoft -> Temporarily disable automatic client upgrade. Use other SCCM client upgrade methods. Microsoft will soon release a hotfix for this issue to allow you to continue to use automatic client upgrade.
Delta Content Download Issue with DO?
I have seen a report from Sune Thomsen on twitter about the following issue with 1910. Allow clients to download delta content for DO on all Windows Updates after upgrading to CM 1910 might break Software Update during Win10 1803/1809 OSD
Windows 10 OS Upgrade Task Sequence Failing
I have seen a message from Roohit on Facebook group about Windows 10 IPU task sequence issue after SCCM 1910 upgrade. I have seen the feedback from many others in the community with the same issue.
Some of them can still reproduce the issue with latest client version version 5.00.8913.1012. More details available in the TechNet thread.
Fixed ConfigMgr 1910 Known Issues with Latest Patches or Rollup Updates
Following are the known bugs/issues already fixed.
SCCM 1910 Known Issues fixed in KB 4535819 (This is only applicable for early version of 1910).

"Violation of PRIMARY KEY constraint 'OfficeAddinHealth_PK'." appears in the statesys.log after updating to version SCCM 1910.
When using the search feature in a task sequence, the "Result X of Y" label appears does not have a fixed location within the console.
After updating to ConfigMgr 1910, users are listed with their names as (lastname) instead of (lastname, firstname) as it shows in Active Directory.
An App group with multiple deployments fails to show up in Software Center when targeted to users as available.
Enforcing TLS 1.2 can cause content download failures from a cloud distribution point.
Operating system in-place-upgrade task sequences may not start as expected on Windows 10, version 1709 clients.
The SCCM console may terminate unexpectedly when configuring a Microsoft Edge Management policy.
The ConfigMgr console may terminate with an ArgumentOutOfRangeException if the user navigates away from the Deployments node while it is still returning results.
The Delete Aged Discovery Data task may incorrectly remove active records.
The SMS Agent Host service on Management Points may terminate unexpectedly after updating to version 1910.
The Configuration Manager 1910 update process may fail due to a duplicate key violation. An error resembling the following is recorded in the ConfigMgrSetup.log. Violation of UNIQUE KEY constraint 'SR_SummaryTasks_G_AK'. Cant insert dup. key in object 'dbo.SR_SummaryTasks_G'. The dup.key value is (Office Pilot Collection Machines Task)
Bitlocker Management is an optional feature, now unchecked by default in the ConfigMgr update wizard.
Distribution Point Status does not load as expected after updating to version SCCM 1910.
The CMGatewaySyncNotificationWorker component reports status message every 1 minute.
Cloud Management Gateway servers may report authentication errors after updating to version SCCM 1910.
The MP_GetProxyMPListForSite stored procedure does not prefer the clients assigned site, resulting in random MP assignment when fallback is enabled for secondary sites.
The SMS Agent Host service (CCMExec.exe) may not restart as expected when the client computer reboots during an operating system deployment task sequence.
Content is not available for tasks sequences when the client is on an intranet network, and the Always Internet Facing (CCMALWAYSINF) parameter is set to 1.
CMPivot auto completion is not working for the first table in the query.
The Disable Bitlocker step in the Task Sequence Editor generates an exception when editing a task sequence created in version SCCM 1902 or earlier.
The Software Center client (SCClient.exe) terminates unexpectedly due to unhandled exception when downloading task sequence policy.

[This issue is FIXED in the latest versions of 1910 Slow Ring] The SMS Agent Host service (ccmexec.exe) may terminate unexpectedly when running a task sequence on Windows 10 client computers. Refer – KB 4535384
[Reported by Dietmar H] Windows 10 1809 to 1909. Now memcm client changes language from German to English. This issue is fixed with SCCM 1910 as per Microsoft MEM Product team.
1910 Upgrade Resources