Microsoft Edge for Business is now available to improve the business user experience. The introduction of Microsoft Edge for Business brings a powerful asset to organizations to optimize both productivity and security. It is designed specifically to meet the needs of professionals in the workplace.
With hybrid work, it's become tricky to separate work and personal browsing. Companies want more security, while users value privacy. This leads to using multiple browsers, which can complicate things and increase the risk of cyberattacks.
You can now use Microsoft Edge for Business on all platforms, including mobile devices. Edge for Business is the next big move to bring you the ultimate browser for all your business needs, and it is designed to create a separation between work and personal browsing. People can smoothly switch between computer and mobile devices, keeping their browsing experience efficient and effective.
We have an article highlighting the MAM for Microsoft Edge on Windows. It Introduces an exciting advancement in browsing technology. MAM for Edge on Windows includes 4 main components: Microsoft Edge, Conditional access policies, App protection policies, and Windows Defender.

Lindsay Kubasik, a principal Group product manager for the Edge Enterprise Team at Microsoft, provides comprehensive insights into Microsoft Edge for Business. In her presentation, Lindsay Kubasik shares innovations that will not only reshape the capabilities of a browser but, more significantly, drive your business to new heights.
What is Microsoft Edge for Business?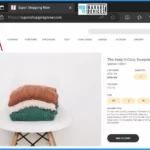 Microsoft Edge for Business is a browser designed to enhance the browsing experience for professionals and organizations. It provides a set of features to meet the needs of businesses, focusing on productivity and security.
What is the Difference between Microsft Edge for Business and the Standard Version of Microsoft Edge?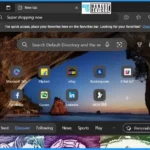 Microsoft Edge for Business is specifically optimized for work-related use. It includes additional features and security enhancements to meet the demands of professional environments.
Is Microsoft Edge for Business Available on All Platforms?
How to Get Microsoft Edge for Business?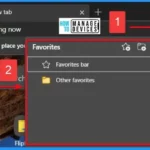 Users logging in with their Entra ID (previously Azure Active Directory) will automatically get Edge for Business without needing a separate download. Users will be informed of the change through an in-product banner.
Microsoft Edge for Business Review – New Business Browsing Experience
You can now easily start using Microsoft Edge for Business. It provides a smoother and more secure browsing experience for work-related tasks. You can easily do your work confidently, knowing that Microsoft Edge for Business keeps your online activities safe and secure.
There are 2 types of browsing modes, both of which facilitate a clear separation between personal and work–related activities, offering distinct experiences for users.
Type of Browsing
Work Browsing
Personal Browsing
Microsoft Edge for Business Review New Business Browsing Experience – Table 1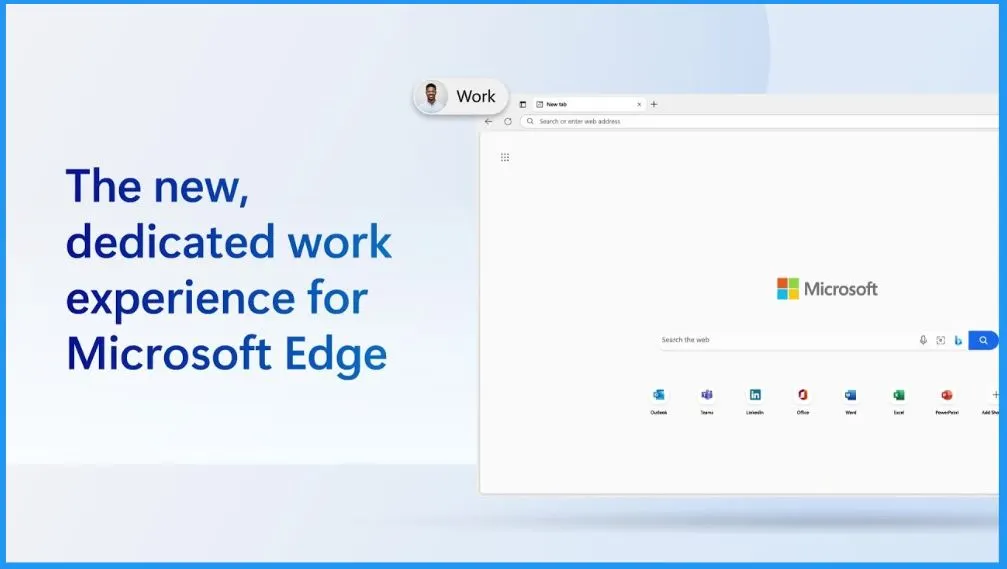 Work Browsing
Microsoft Edge is very easy to use. You can quickly find work-related information in Edge using Microsoft search in Bing. Whether it's a file, people in your organisation, bookmark or internal resources in either Bing or Edge's address bar.
Start menu > Microsoft Edge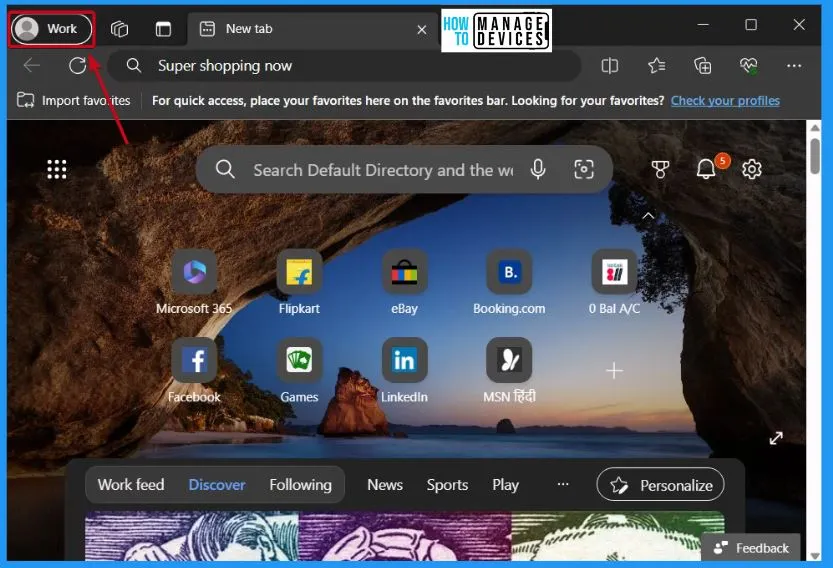 Personal Browsing
Personal Browsing in the Edge browser refers to using the browser for activities unrelated to work or professional tasks. It involves tasks like checking personal email, social media, online shopping, entertainment, and any other activities that are not work-related.
The Edge for Business allows users to keep their personal browsing separate from their work-related activities, ensuring privacy and data separation. This feature is useful for maintaining a clear distinction between personal and professional tasks while using the same browser.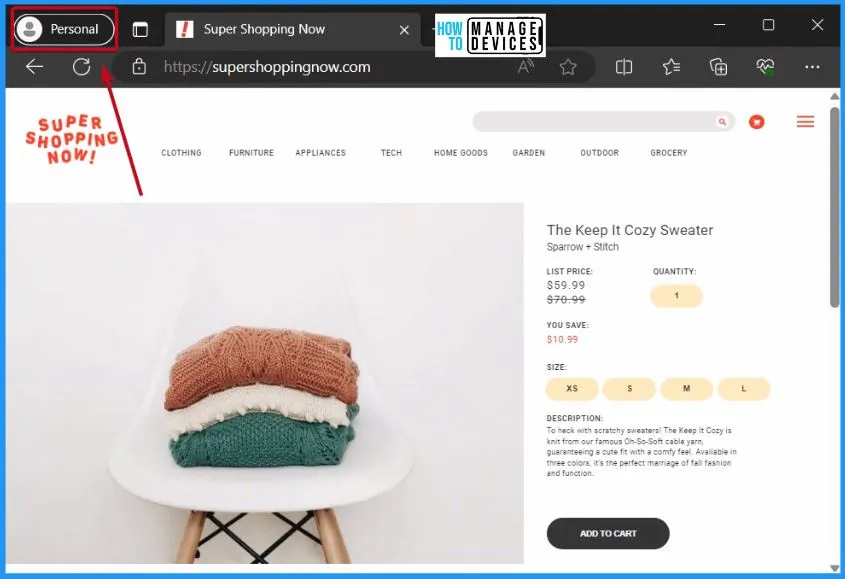 Automatically Separates Work and Personal Browsing
Edge for Business brings a new feature that automatically separates work and personal browsing into distinct browser windows. This helps organizations use a single browser for both purposes, ensuring standardized usage. It keeps user information and personal data separate, enhancing privacy.
It also maintains control over the security and compliance of Microsoft Edge for both work and personal use.
Opening Edge for work and searching for "super shopping now" will open a separate personal browsing window.
You will also see a pop-up message saying, "We opened this site in Personal."

Favourites in Edge Browser
The Favorites icon in the Edge browser is a feature that allows users to bookmark and save their preferred websites for easy access. This icon is located on the Right side of the Edge browser.

Choose How this Site Opens
You can select between the Edge browser's Work and Personal browsing windows using the "Choose how this site opens" icon on the right side. This feature lets users easily switch between work-related tasks and personal activities, ensuring a seamless and customized browsing experience.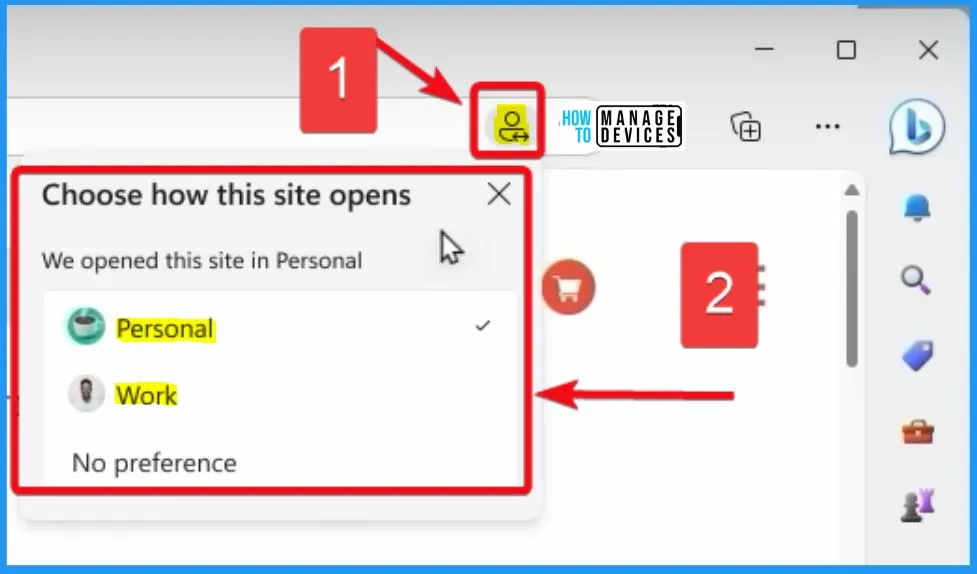 Microsoft Edge Features
Microsoft Edge includes features such as Edge Workspaces, Sidebar, and AI-powered. The AI-powered features include Compose and Bing Chat Enterprise. Edge for Business extends to use its applications beyond managed devices. Now, it also caters to unmanaged devices (in preview) and mobile, ensuring users can work from anywhere, on any device.
Support for Unmanaged Devices (Preview) – Edge for Business extends its capabilities to unmanaged devices. It helps you to provide a secure browsing experience.
Mobile Support – Edge for Business is also designed to cater to mobile devices so users can have a safe and consistent browsing experience wherever they are.
Workspaces – Use Workspaces to organize and manage your browsing tasks efficiently. It helps you to view websites and the latest working files in one place.
The sidebar feature remains available for easy access to tools and resources.
AI-Powered Features

Compose – This AI feature enhances productivity by assisting with tasks like drafting emails or messages.
Bing Chat Enterprise is the new AI-powered chat tool designed for work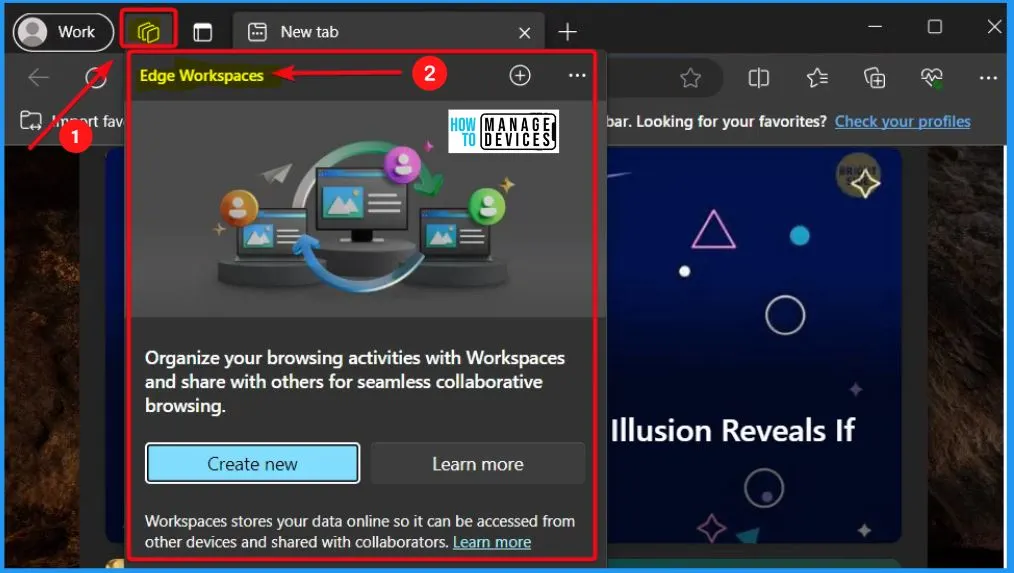 Dedicated Work Experience in Edge
Microsoft Edge has a new work mode with special visuals like custom icons and the organization's name, giving professionals a unique browsing experience.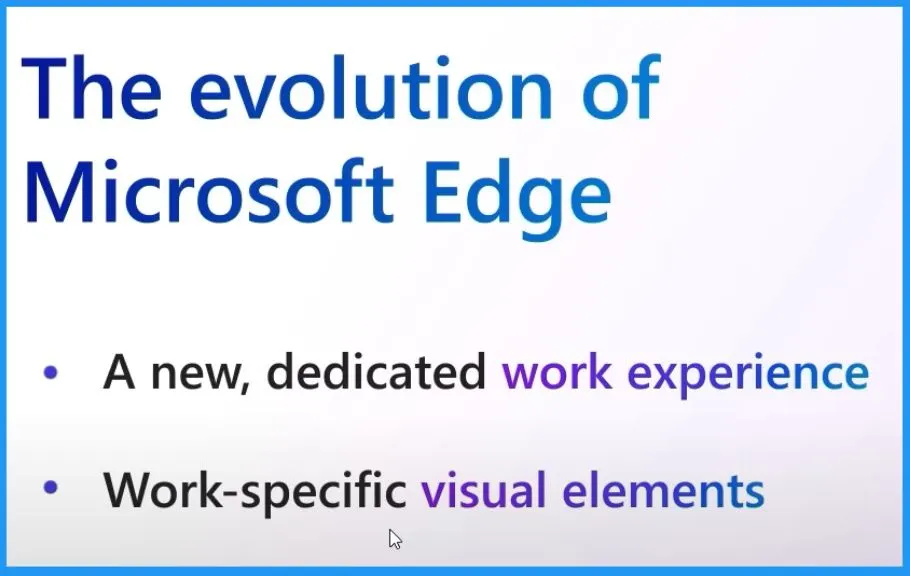 Microsoft Edge for Business is now available, helping organizations maximize productivity and security – Microsoft Edge Blog (windows.com)
Author
About the Author – Vidya is a computer enthusiast. She is here to share quick tips and tricks with Windows 11 or Windows 10 users. She loves writing on Windows 11 and related technologies. She is also keen to find solutions and write about day-to-day tech problems.