Let's learn the Latest AI Features of Microsoft Edge Browser. Microsoft Edge is one of the leading browsers that introduced AI built-in features in this new Update. Users can easily interact with Edge Browser with these AI features. These AI features help you discover new things and improve your daily life quicker and easier.
Al Features helps and enhance users' ability in every aspect of the edge browser. Microsoft Edge Browser's built-in Feature increases your efficiency and skills and makes you more creative. This AI features protect and save you online. AI Features can be easily Explored on the Microsoft Dev version.
Microsoft AI features provide a good browsing experience and are the best alternative to Chrome. AI features a Game changer reflected mostly on Bing Chat and Compose. It helps to get depth and summarize information regarding your search on Bing.
AI features allow users to do multiple tasks on Bing without switching tabs and work effortlessly. AI features guide users on Bing Chat, Compose, Image Creator, Text Prediction, etc. This post helps you to explore Edge Browser with AI features.

What are the Advantages of AI Features on Microsoft Edge Browser?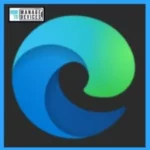 Microsoft Edge browser is the first Browser that introduced AI features. AI features satisfy every user and are the best platform for children. It is the fastest and most secure Browser and helps to save you time. The following are the Advantages of AI Features of the Microsoft Edge Browser.
1. Helps to Secure Online
2. Real-time Analytics
3. Helps to increase Speed
4. Improve efficiency
5. Helps to translate different languages easily
6. Allows Bing Image Creator
7. Provide Text Prediction
AI Features on Microsoft Edge Browser
Microsoft Edge Browser has an immense change with an AI-powered copilot that helps users to browse easily. This AI features gives accurate and reliable information according to your Bing search. AI Features allow you to ask complex questions on Bing, and it gives comprehensive answers.
You can easily access AI Features on your PC via Microsft Edge Dev. It helps you to spend more time online. AI Features on Edge Browser offer built-in learning and accessibility tools on the web. The below list and screenshot show how to select the Edge Dev app to access Al features on your Browser.

Open Microsoft Edge Dev from Start Menu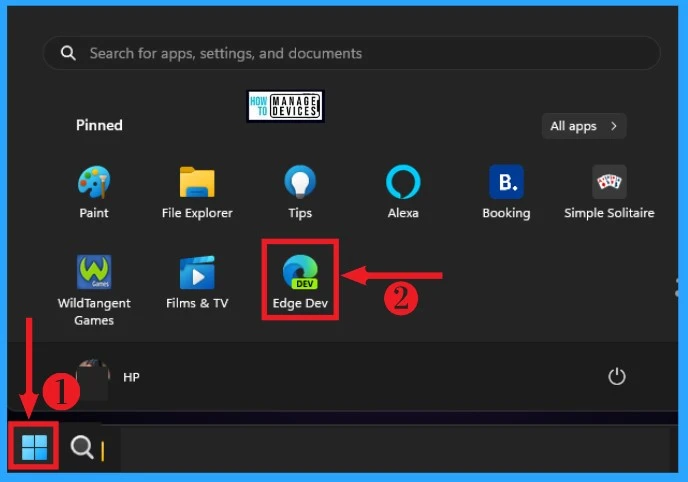 After Opening Microsoft Edge Dev from Start Menu, you can easily Explore AI Features from the sidebar of Edge Dev. In some cases, AI features are also available not only on Microsoft Edge Dev but also on Microsoft Edge. The below list shows the AI Features of Microsoft Edge Browser.
Browser Essentials
Bing Chat
Translate
Compose
Bing Image Creator
Text Prediction
Read Aloud
Editor
1. Browser Essentials
Browser Essentials is an AI feature provided by Microsoft Edge Dev in its new Update. It shows the overall performance of your Browser. The Essential browser feature notifies you when your attention is needed in the Browser. It helps to improve the performance and security of your Browser.
Start Menu > Microsoft Edge Dev
Select Browser Essential from the top right corner of the Edge Toolbar
A. Performance
The Browser Essentials Performance option helps you with your Edge Browser. Efficiency Mode is enabled default on the Edge browser to save your battery. It also shows memory savings and remaining usage in percentages.
Manage Performance settings helps you to change any settings on the Performance option. Performance options can be easily selected from Browser Essentials. The below screenshot shows the Performance Option on Browser Essentials.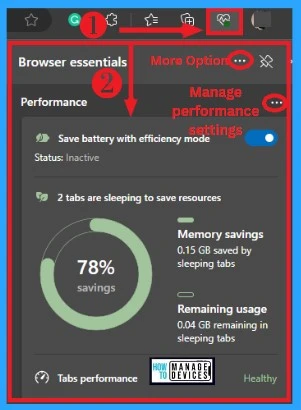 B. Safety
The Safety option on Browser Essentials helps you to protect yourself in Edge Browser. Edge browser ensures your Privacy with AI features. The Safety option shows the number of sites scanned and downloads scanned. It can be easily selected from the Browser's essential Feature from the toolbar. The below screenshot shows the Safety option on Browser Essentials.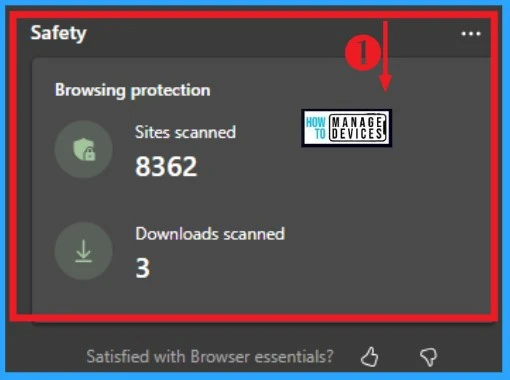 2. Bing Chat
Bing Chat is an important feature of Microsoft AI Features. It allows users to ask any complex questions to the Edge AI. Edge AI can answer any question, and it will give comprehensive answers. Bing Chat can be easily accessed from the top right corner of the Edge sidebar.
You can easily choose the conversation style on Bing chat, and AI will answer according to that style. In this below window, a More Creative style is selected for conversation. Now Edge AI chats with a Creative style.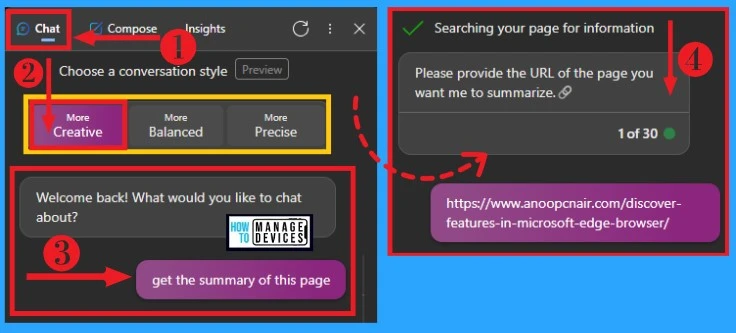 Edge AI can give a summary of your browser page. It will help you to know the overall details in a brief paragraph about the selected page. You can easily ask AI to summarize the page from the below window.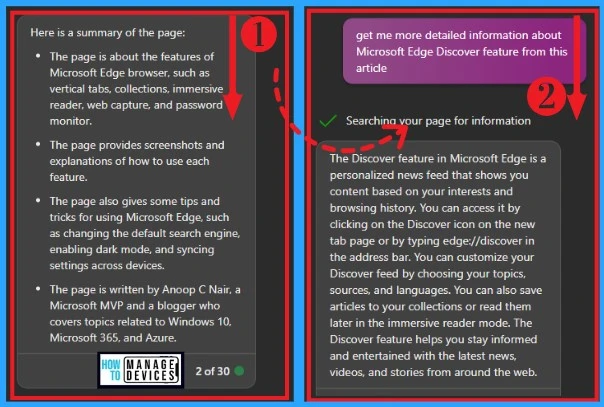 3. Translator
The Translator is a great feature in AI that improves the Performance of the Microsoft Edge Browser. It helps to read webpages in your preferred languages. Users can easily understand the content on the web pages with the help of Translator. This Translator can translate instantly.
This Translator can support more than 70 languages. You can easily select the Show Translator option from the address bar to translate web pages. Translators automatically translate web pages from particular languages.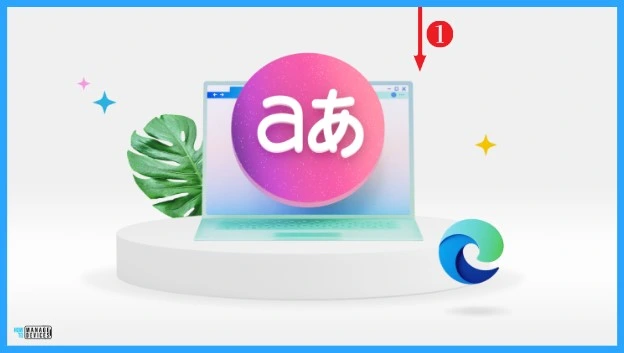 4. Compose
Compose Feature on Edge AI allows users to transform their ideas and thoughts into different formats. It helps users to create their ideas in different tones. You can easily write your content on Compose Feature by selecting it from Bing. The below table shows different Tones available on Compose Menu.
| Compose Tone | Used To |
| --- | --- |
| Professional | It helps to give a respectful feel |
| Casual | It helps to give a relaxed and natural way of writing |
| Enthusiastic | It used to give great excitement and interest |
| Informational | It helps to give an informational tone |
| Funny | Used to give a funny tone in writing |
Latest AI Features of Microsoft Edge Browser | Game Changer – Table.1
You can easily write a topic on the writing box on the compose Feature and select tone, format, and length according to your preference. After selecting this, click on Generate draft option. The below screenshot shows how to select compose Feature.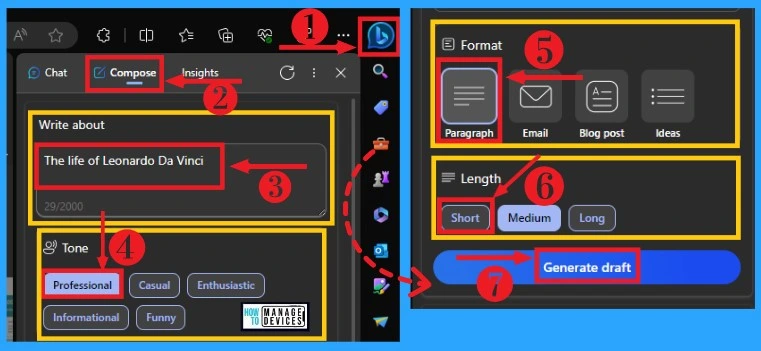 After clicking Generate Draft option, you can see the result on the preview according to your search content on the Compose Feature. Click on Add to Site to add search results on the webpage.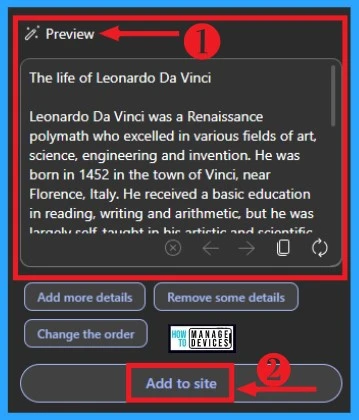 The below window shows the search result added to the Word document. The Word document is browsed in the Edge Dev, and search results are added. The below screenshot shows a short paragraph about Leonardo Da Vinci in Professional Tone.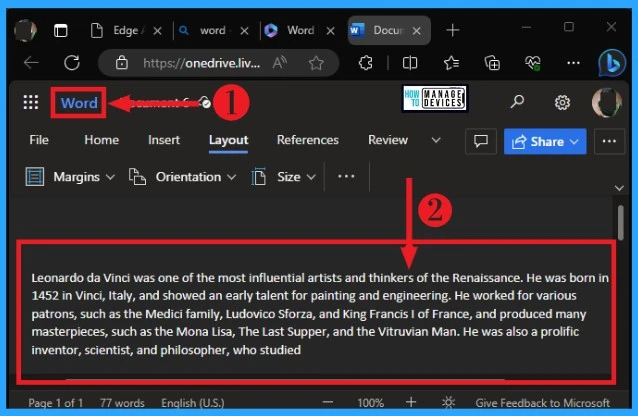 5. Bing Image Creator
Bing Image Creator is an AI feature that helps to generate images according to the prompt. You can easily give a text prompt for generating a set of images. It is different from searching images in Bing. Bing Image Creator is available on the sidebar of Edge Browser. The below list and screenshot show how to select Bing Image Creator.
Select Bing Image Creator from the Edge sidebar
Click on Join & Create option from the Image Creator
Enter any word on the preview box
Click on Create button for image creation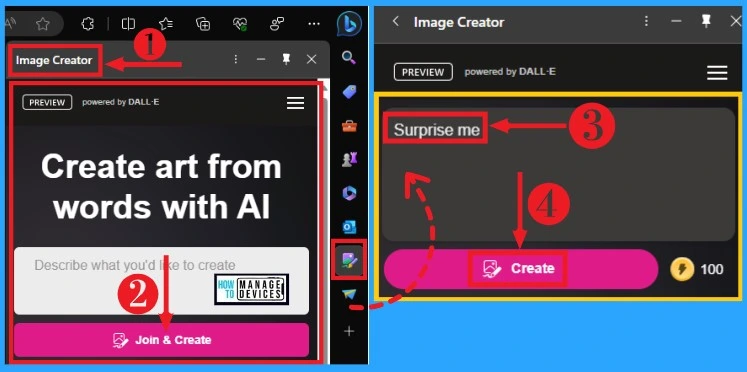 The below screenshot shows the Images created according to the text prompt on the Preview box. You can explore more ideas in the Bing Image Creator. You can also see recent creations on Image Creator.
6. Text Prediction
Text Prediction allows users to write content on web pages easily. AI features can predict what you are going to write next. It will help to increase your writing efficiency. You can save valuable time with the help of Text Prediction.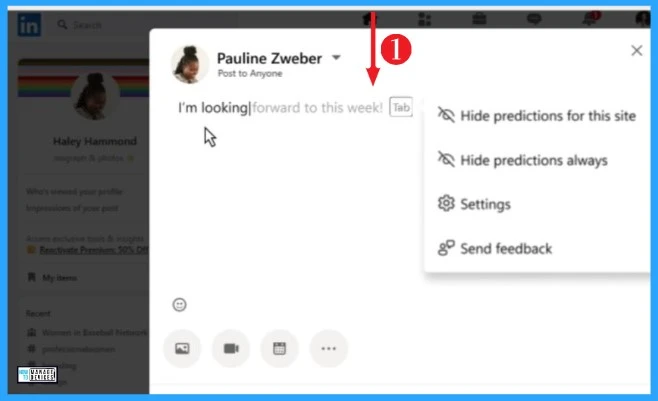 7. Read Aloud
Read Aloud AI feature helps you to read webpages in the Edge browser. It is very helpful when you step away from the screen while performing other tasks. Read aloud feature support different languages. You can easily select natural-sounding voices and accents. You can increase or decrease the volume and speed of the read-aloud feature.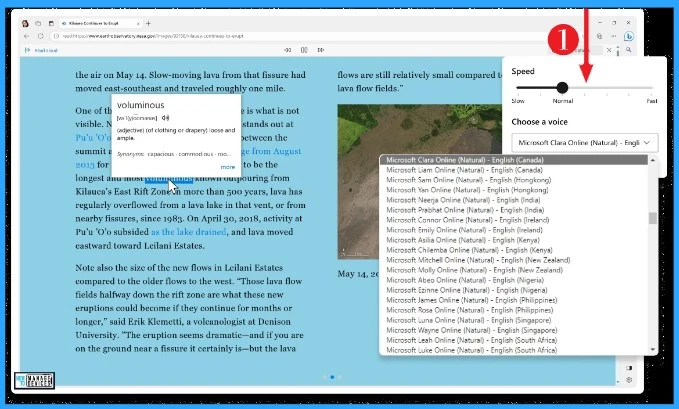 8. Editor
Editor on Microsoft Edge AI is the best feature that acts as a writing assistance for you in Edge Browser. Editor Feature assists you with spelling, grammar, and synonym suggestions across the web. This feature is helpful for people with grammar and spelling mistakes, especially children.
The Editor facility works across the web on sites other than their built-in spellchecker. It supports more than 20 languages for guidance and 80 languages for spell-checking. The below list and screenshot show how to work the Editor Feature on MS Word while browsing on Edge.
Open Microsoft Word on Edge Dev browser
Type any sentence on MS Word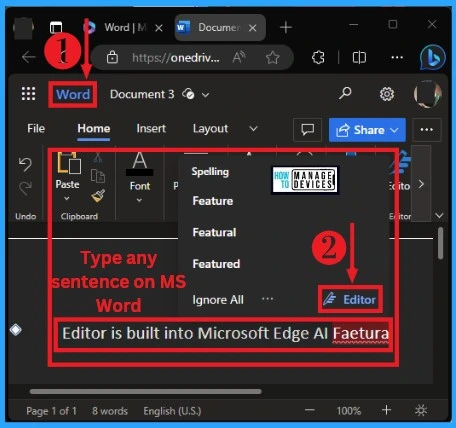 Author
Gopika S Nair is a computer enthusiast. She loves writing on Windows 11 and related technologies. She is here to share quick tips and tricks with Windows 11 or Windows 10 users.