Let's check on MS Teams Login Issue with Intune MAM Enrolled iOS devices. Microsoft confirmed that there is an issue with the Microsoft Teams application and Intune MAM services on iOS devices.
Martin Schmidli shared the Microsoft Teams application login issues happening with personal iOS devices with the App protection policy. He also confirms that the overall Service Health looks ok. Also, the Microsoft Intune team acknowledged that this is a known issue with some users. More details are available below.
There are other reports that Intune Company Portal and Office application updates are causing some issues with Android devices. The Outlook & Teams apps wouldn't load after updating the latest version of the Company Portal.
Another ongoing issue with some of the Android OEM vendors is also active. The customers are losing access to Microsoft Intune managed enterprise resources after upgrading to the Android 12 version.

MS Teams Login Issue with Intune MAM Enrolled
Let's check more details on MS Teams Login Issue with Intune MAM Enrolled iOS devices. This is reported by Martin Schmidli on Twitter. Microsoft Intune team confirmed that this is a known issue with some of the iOS users.
The iOS users are getting the following error when they try to launch Microsoft Teams from Intune Enrolled + App protection policy assigned iOS devices.
MS Teams Unknown Error – This app could not be protected because a connection with the Intune service did not complete. Please try again.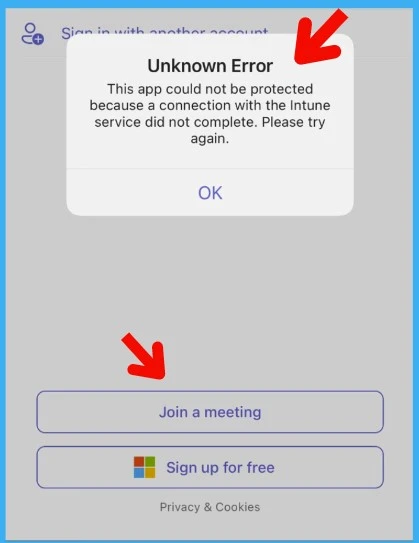 Advisory details on MS Teams Login issue on iOS Devices with Intune MAM policies
Microsoft Intune Support team confirmed that this is an issue they are aware of. I think they are already working on getting this issue resolved for impacted Tenants. The following are the advisory details on this issue.

"Some users can't access Microsoft Teams with Mobile Application Management (MAM) enrolled iOS devices. If your tenant is impacted, please look for TM405582 in the SHD: http://aka.ms/MEMSHD"
Intune MAM App Protection Policies for iOS devices
Let's quickly check where to check for Intune MAM App protection policies for iOS devices in the MEM Admin center (aka Intune) portal. Following is the path that you can look into:
Open the MEM Admin Center portal
Navigate to Apps -> App protection policies
You can see a list of Intune MAM App protection policies created and deployed in your tenant.
| Policy | Deployed | Updated | Platform | Management type | Apps |
| --- | --- | --- | --- | --- | --- |
| App Protection Policy BLR Users | Yes | 1/11/22, 5:52 AM | iOS/iPadOS | Apps on unmanaged devices | 20 |
MS Teams Login Issue with Intune MAM Enrolled iOS Devices – Table 1
You can open the policies to check more details, such as which are applications protected with Intune App protection policies. The Public Apps list will be available in the properties node of the application.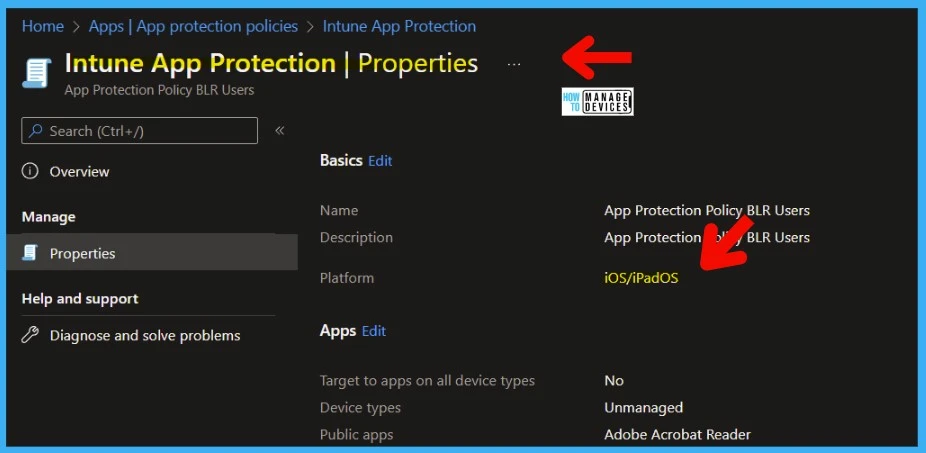 List of Intune App Protection MAM Enabled Public Applications
List of Intune App Protection MAM Enabled Public Applications are listed down as of 26th July 2022. I have seen the Microsoft Intune team always adding new public apps to enable Intune MAM protection for those SaaS apps.
There are 101 public applications that are Intune MAM enabled. You can use these applications with Intune App protection policies. Microsoft Teams is also part of this application list. This policy is causing MS Teams login issues with MAM policies.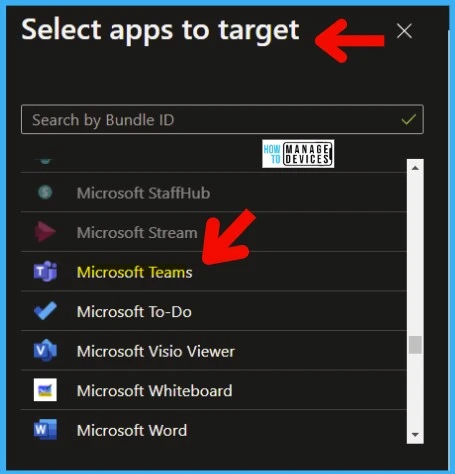 Adobe Acrobat Reader
Appian for Intune
ArchXtract
AssetScan For Intune
Azure Information Protection
BlueJeans Video Conferencing
Board Papers
Board Papers for Intune
Box — Cloud Content Management
Box for EMM
Breezy for Intune
CAPTOR
CellTrust SL2™ for Intune
Cisco Jabber for Intune
Citrix ShareFile for Intune
Comfy
Condeco
Confidential File Viewer
Cortana
Dashflow for InTune
Dialpad
Diligent Boards
Dynamics 365 Remote Assist
Dynamics 365 Sales
F2 Manager – Intune
F2 Touch Intune
FactSet
Field Service (Dynamics 365)
Field Service Mobile
FleetSafer
Fuze Mobile for Intune
Groupdolists
Hearsay Relate for Intune
HowNow
iAnnotate for Intune / O365
iBabs For Intune
iManage Work 10 For Intune
ISEC7 Mobile Exchange Delegate
ISEC7 Mobile Exchange Delegate for Intune
Leap Work for Intune
Lexmark Mobile Print Intune
LumApps for Intune
M-Files for Intune
Meetio
MentorcliQ
Microsoft 365 Admin
Microsoft Bookings
Microsoft Defender Endpoint
Microsoft Dynamics 365
Microsoft Dynamics 365 for phones
Microsoft Edge
Microsoft Excel
Microsoft Invoicing
Microsoft Kaizala
Microsoft Lens
Microsoft Lists
Microsoft Office
Microsoft OneDrive
Microsoft OneNote
Microsoft Outlook
Microsoft Planner
Microsoft Power Apps
Microsoft Power BI
Microsoft PowerPoint
Microsoft SharePoint
Microsoft StaffHub
Microsoft Stream
Microsoft Teams
Microsoft To-Do
Microsoft Visio Viewer
Microsoft Whiteboard
Microsoft Word
Mobile Work Orders
MultiLine for Intune
My Portal By MangoApps
Naso Mobile
Notate for Intune
Now® Mobile – Intune
Omnipresence Go
PenPoint
PK Protect for Intune
Power Automate
PrinterOn for Microsoft
Qlik Sense Mobile
RICOH Spaces
Secure Contacts
Senses
ServiceNow® Agent – Intune
ServiceNow® Onboarding -Intune
Skype for Business
Slack for Intune
Space Connect
Speaking Email
Tableau Mobile for Intune
Team Papers for Intune
Vera for Intune
Webex for Intune
Work Folders
Yammer
Zero for Intune
Zoom for Intune
MS Teams Login Issue with Intune MAM Enrolled iOS Devices – Table 2
Author
Anoop C Nair is Microsoft MVP! He is a Device Management Admin with more than 20 years of experience (calculation done in 2021) in IT. He is Blogger, Speaker, and Local User Group HTMD Community leader. His main focus is on Device Management technologies like SCCM 2012, Current Branch, and Intune. He writes about ConfigMgr, Windows 11, Windows 10, Azure AD, Microsoft Intune, Windows 365, AVD, etc.