Are you new to SCCM and looking to learn SCCM? In this post, you will see the SCCM rollup update installation details. The latest rollup update for SCCM 1810 is KB 4486457.
Related Posts – SCCM 1810 Upgrade Step by Step Walkthrough Guide,
SCCM 1810 Improvements and Features, and SCCM 1810 Known Issues and FIXES.
SCCM Rollup Update is not Visible in Console?
Don't panic. It's ok. There could be a possibility that Microsoft has not released the SCCM Rollup Update for the SCCM 1810 Update package you have installed.
So, there are different SCCM 1810 update packages (Update and Servicing package Guides details) based on the time you have downloaded and updated the update package.

Most of the SCCM Rollup Update KB article will provide you the details whether the Rollup update or SCCM hotfix is required for your environment or not. You can find this type of details under the following section of KB article "Update information for System Center Configuration Manager, version 1810".
How to Find the SCCM Update Package GUID Number?
To determine whether the SCCM Rollup Update is required for your environment, look at Package GUID for the SCCM Updates and Servicing package.
By default, this GUID value is NOT visible in the SCCM console. You can add the Package GUID column to the details pane of the Updates and Servicing node in the SCCM console.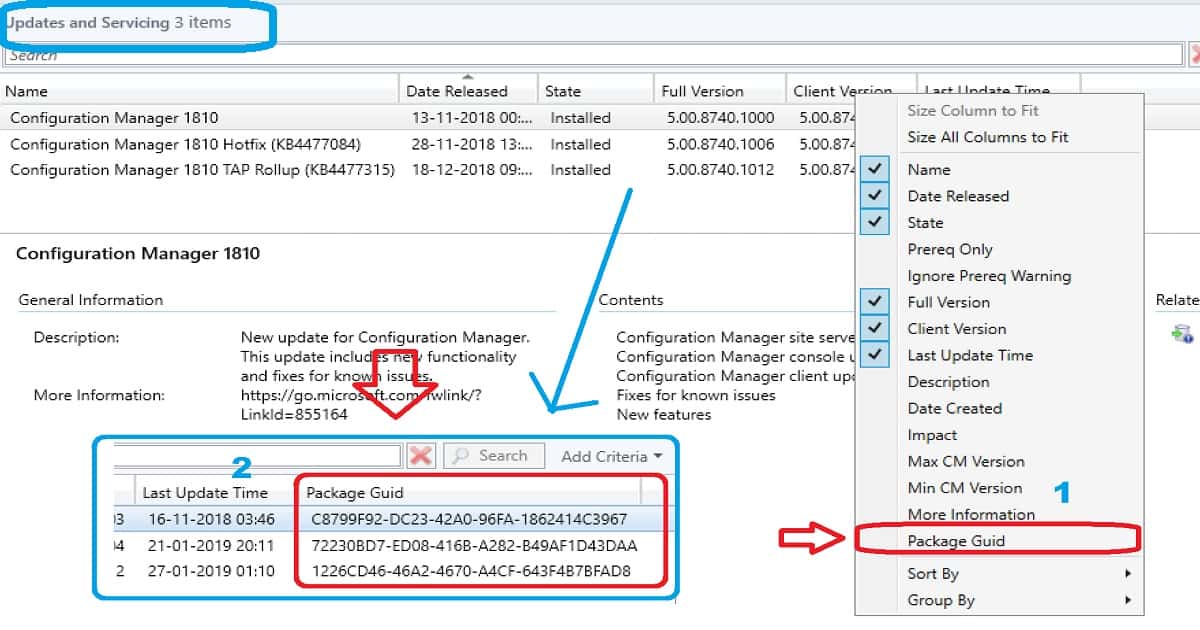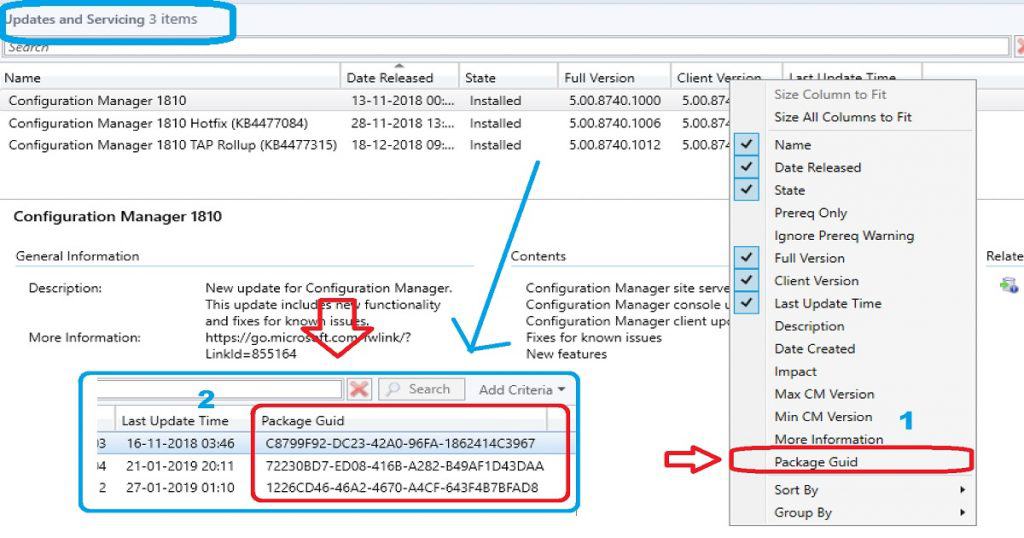 For example, SCCM Rollup update KB 4486457 applies to installations of version 1810 from packages that have the following GUIDs. If you are not getting the updates, you need to perform SCCM Update-related troubleshooting.

699975FE-B5BA-43EB-8BE9-E2399F2F309A
85475BAD-8669-4D36-8D64-C625BFE7DEDB
ACF6EECC-1C94-44E3-887E-D3349775816D
C8799F92-DC23-42A0-96FA-1862414C3967
How to Install SCCM Rollup Update on SCCM CAS and Primary Servers?
If you have SCCM CAS and primary servers in your environment, you need to start or initiate the SCCM Rollup Update from the CAS server.
Launch SCCM Console – Navigate to SCCM console Administration workspace.
Check for the latest SCCM Rollup from the following console path \Administration\Overview\Updates and Servicing.
Select the latest Rollup update and click on "Install Update Pack" from the ribbon (or better, to perform prerequisite checks before updating the production environment).
Complete the SCCM Update Wizard and monitor the upgrade process per my following video post.
Install SCCM Rollup Update on SCCM Secondary Site Server?
After you install the SCCM Rollup Hotfix update on a CAS, the primary sites, and pre-existing secondary sites must be manually updated.
To update a secondary site in the SCCM console, click Administration, Site Configuration, click Sites, click Recover Secondary Site, and select the secondary location.
The primary site then reinstalls that secondary site by using the updated files. Configurations and settings for the secondary site are not affected by this reinstallation. The new, upgraded, and reinstalled secondary sites that are located under that primary site automatically receive this update.
Run the following SQL Server command on the site database to check whether the updated version of a secondary site matches that of its primary parent site:
select dbo.fnGetSecondarySiteCMUpdateStatus ('SiteCode_of_secondary_site')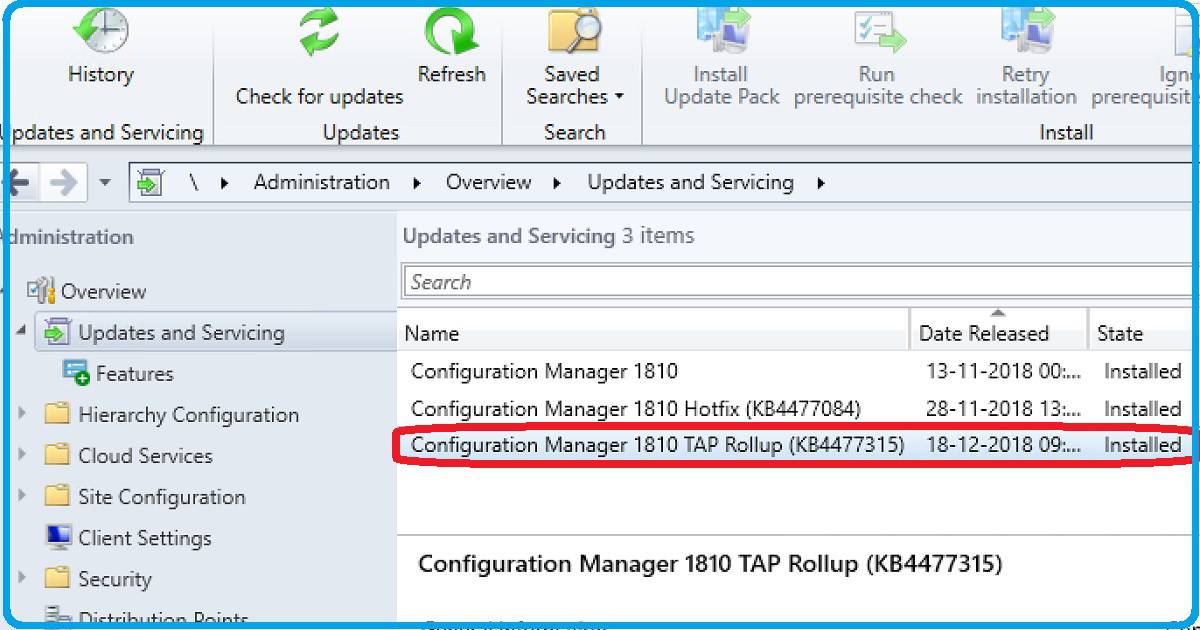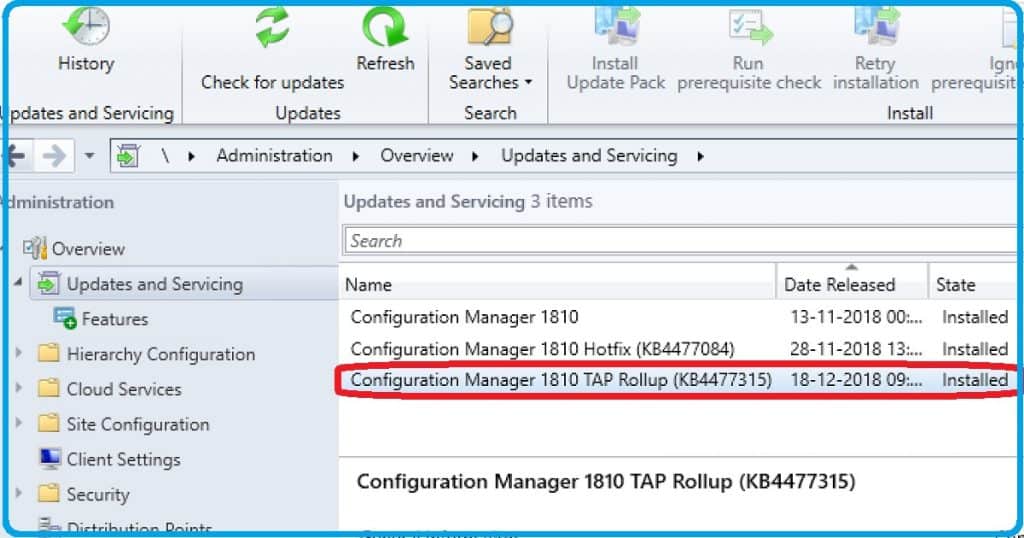 Resource