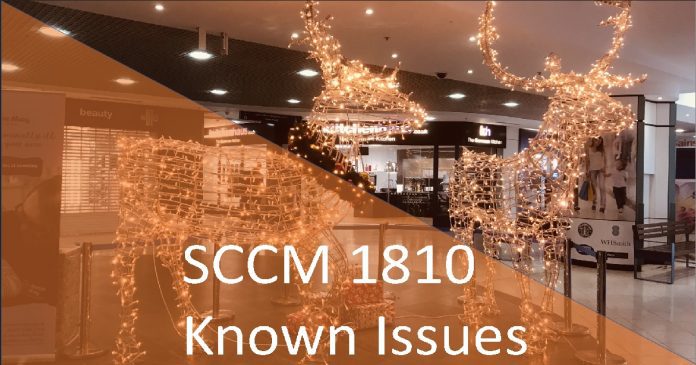 Happy & Blessed New year 2019 to all of you! I'm trying to help SCCM community with this list of known issues which are already fixed (well, most of them) with the latest slow version of SCCM 1810. Microsoft can fix the critical issues on the fly with new cloud connected updates and servicing. Let's checkout the list of SCCM 1810 Known Issues.
[Related Post – List of SCCM 1806 Known Issues – Documented]
Issues Fixed with SCCM 1810
Most of the known issues of SCCM 1806 are fixed in 1810 version of SCCM. The following KB gives you an idea about fixes in SCCM 1810 version. More details available in Microsoft KB 4482169.
How to Fix SCCM 1810 Known Issues?
First of all known issue means, these are already documented issues within Microsoft and by the SCCM community. Microsoft is already providing a list of urgent issues in the SCCM release notes here.
As I mentioned above, Microsoft already identified fixes for most of the SCCM 1810 Known Issues listed below. But, the best approach to fix the issue is to raise a support case with Microsoft. If the issue is known, then Microsoft won't charge you for the support case.
Also, Microsoft will provide a workaround to fix the known issue. This will also help Microsoft to include the fix in the SCCM 1810 hotfix or rollup update.
My recommendation is to install and update your SCCM infrastructure with latest KB or HotFix. Also, use the workarounds which you get from Microsoft support and community members to solve the problem which could block your upgrade.
I would recommend to test all the upgrade and all the features in pre production or staging environment before upgrading the SCCM production environment.
List of SCCM 1810 Known Issues
The following list which is already known to Microsoft SCCM (SCCM 1810 Known Issues) support team. I try to keep this SCCM known issue list updated whenever I get time. Also, to help SCCM admins and community, report any new issues you find with SCCM 1810 which are not listed here.
SCCM 1810 download got stuck and can't proceed further? Do you have similar issue?

I would recommend reading this post to get more details about fixing the SCCM upgrade download issues.

Do you have SCCM 1810 Prerequisite check errors or warning? Microsoft has already documented all the details related to SCCM 1810 errors and warning. Checkout the list of SCCM 1810 Known Issues to get more details.

I would recommend reading the document here.

SCCM 1810 won't get installed because Prerequisite check keeps failing on "Pending system restart". So checkout your all remote site system servers (Remote SQL etc..) whether there is any restart pending. The following registry keys will help you to understand restart pending status on SCCM servers. More details here.

HKLM:Software\Microsoft\Windows\CurrentVersion\Component Based Servicing\RebootPending
HKLM:SOFTWARE\Microsoft\Windows\CurrentVersion\WindowsUpdate\Auto Update\RebootRequired
HKLM:SYSTEM\CurrentControlSet\Control\Session Manager, PendingFileRenameOperations
HKLM:Software\Microsoft\ServerManager, CurrentRebootAttempts

SCCM 1810 console All Devices (\Assets and Compliance\Overview \Devices) tab does not point to HOME tab in the ribbon menu. Instead, it's opening Endpoint protection.
SCCM 1810 opt-in ring has an Automatic Deployment Rule (ADR) related issue. After SCCM 1810 upgrade the existing ADRs are automatically shifting to No Deployment package "Clients download content from peers or the Microsoft cloud".

If you have selected any-other options like Select a Deployment Package or Create a new Deployment Package in your ADR, then after the SCCM 1810 upgrade it will automatically change to No Deployment package option.

Package replication/distribution failed after SCCM 1810 upgrade – Failed to copy C:\Program Files\Microsoft Configuration Manager\bin\x64\ccmcore.dll to \DistributionPoint\SMS_DP$\sms\bin\ccmcore.dll. GLE = 32
SCCM 1810 Reports – No data is displayed when running the report Software 06A and drill down to the next level. Checkout the list of SCCM 1810 Known Issues and upcoming hotfix releases to get more details.
The "User Name" attribute is changed after SCCM 1810 upgrade. This is already fixed in the latest version of SCCM 1810 slow ring.
Resources
Coming Soon…..