In Ignite 2018, Microsoft announced Desktop Analytics to help organizations with Windows 10 & Office evergreen updates. In this post, you will learn how to perform SCCM Desktop Analytics integration and more things about Desktop analytics.
Updated Post 7th June 2020 – Desktop Analytics Configuration Step by Step Guide – Device Mgmt Portal
Note! – This is available only on 1902 Preview Versions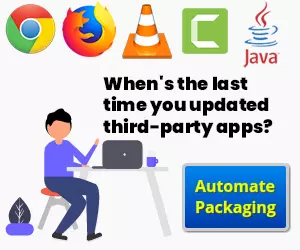 [Related Posts – Windows 10 Upgrade Readiness Architecture with SCCM, Configure Telemetry for Upgrade Readiness with Intune and SCCM]
What is Desktop Analytics
You can use Desktop Analytics to reduce the amount of time and effort required to understand application and Office 365 Compatibility for your organization. Also, Desktop Analytics can automatically identify the best-suited PILOT DEVICES in your organization.
You can use readiness data to target the specific devices that are ready to upgrade to the next version of Windows 10 or Office. This data helps you to receive a recommendation on how to optimize your pilot population with telemetry data analysis.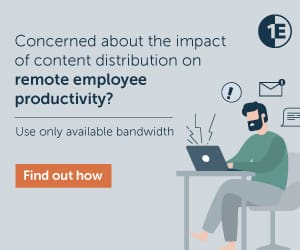 The following are the Features part of Desktop Analytics:
Compatibility Insights
Recommended Pilot
App Usage Insights
Discover top issues affecting users
NOTE! – Another point is that Microsoft is continually changing its Windows 10 update strategy. The most recent change is that they removed Windows 10 Semi-Annual Targeted (SAC-T).
Why Microsoft is moving away from Windows Analytics to Desktop Analytics?
Yes, it's true. But, I don't know why Microsoft is moving away. This move could be because of the more advanced features and capabilities of Desktop Analytics (AIOPs?).
[Related Posts – Windows 10 Upgrade Readiness Architecture with SCCM, Configure Telemetry for Upgrade Readiness with Intune and SCCM ]
There are three (3) main solutions in Windows Analytics (Upgrade Readiness, Device Health, and Update Compliance). And all these three solutions will be merged into Desktop Analytics. You can see more details about SCCM Desktop Analytics integration in this post.
Desktop Analytics will be using the same mechanism of Log Analytics workspaces to store and process telemetry data received from Windows 10 and Office 365 pro plus.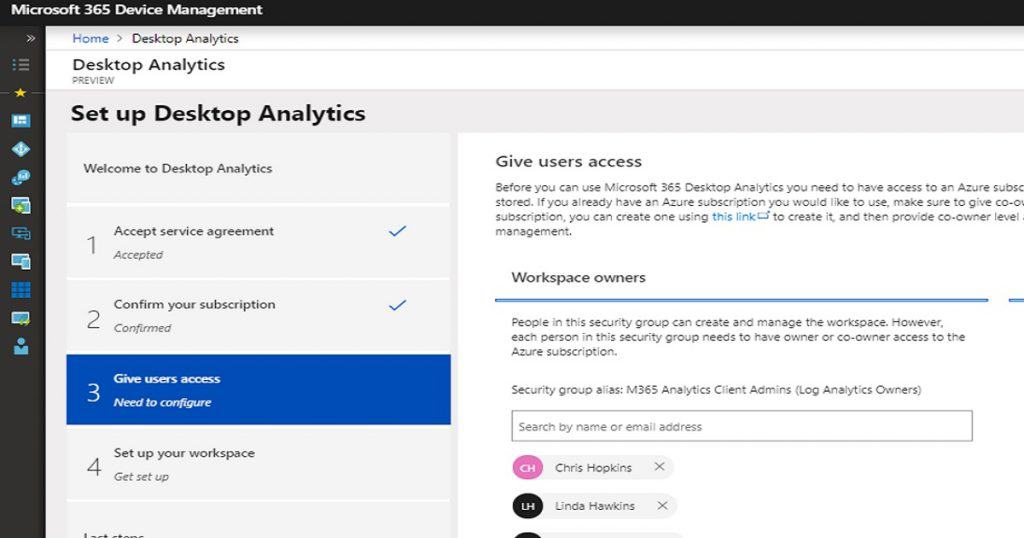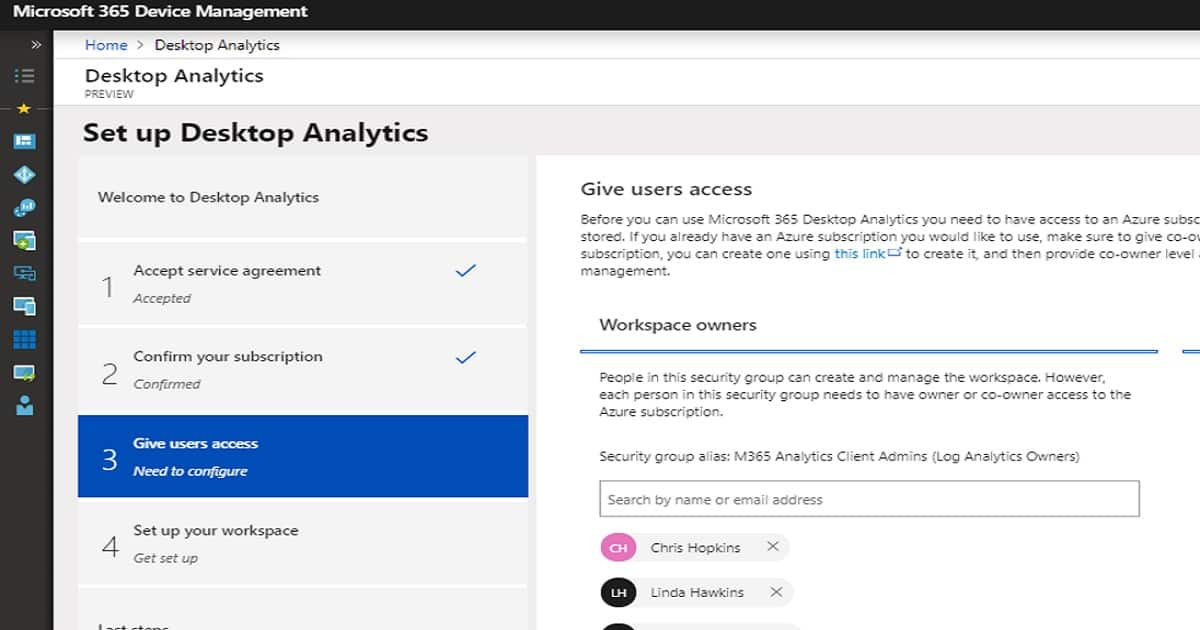 Advantages of Desktop Analytics
Single pane of glass for getting and staying current across Windows 10 and Office 365 ProPlus
Deep integration with Microsoft management tools
Richer app and Office macro insights with App Health Analyzer and Readiness Toolkit for Office
Data-driven pilot ring creation
Prerequisites – Desktop Analytics
In this section, you will see what the prerequisites to connect Desktop Analytics with SCCM are?
Latest SCCM Version (Stay Current) with proper RBAC access to SCCM and Azure
Access to create Azure Server apps (or Need help from the team who can create apps in Azure)
Azure Subscription (Need some help from Azure Subscription Admins)
Azure Log Analytics workspace (Need Some more help to get contributor access)
Install Desktop Analytics connector on the server where SCCM Service Connection Point is online
Telemetry data setting should be enabled with Commercial ID on the Windows client devices
SCCM Desktop Analytics Integration
Similar to SCCM Connector Setup, you need to create another Azure services connection from SCCM console to integrate Desktop Analytics with SCCM. The following steps will tell you more about SCCM Desktop analytics integration and configuration.
As mentioned in the prerequisite section above, you must install the Desktop Analytics connector on a service connection point configured for online mode.
Following steps will help you to integrate SCCM with Desktop Analytics:
Navigate to SCCM console – Administration – Cloud Services – Azure Services
On the Configure Azure Services page – Enter the name SCCM Desktop Analytics and Description
Select Desktop Analytics and click on Next button
Select Azure Public cloud from App Properties page
Click on the Import button from the Server application to create an Azure server application. NOTE – You should have proper access to Azure subscription to create server application.
Click on Sign-in button to provide your Azure user name and password and click OK and OK after successful sign in.
Click Next to go to Diagnostics Data Page of SCCM Desktop Analytics wizard
In the diagnostics data page enter the commercial ID of your Azure Log Analytics workspace (How to get your Commercial ID? Follow the steps below):

Home (https://devicemanagement.microsoft.com) – Pick a resource group – Overview – Solutions
On a Solution setting in a menu, you will Upgrade readiness settings, there will be a Commercial Id Key.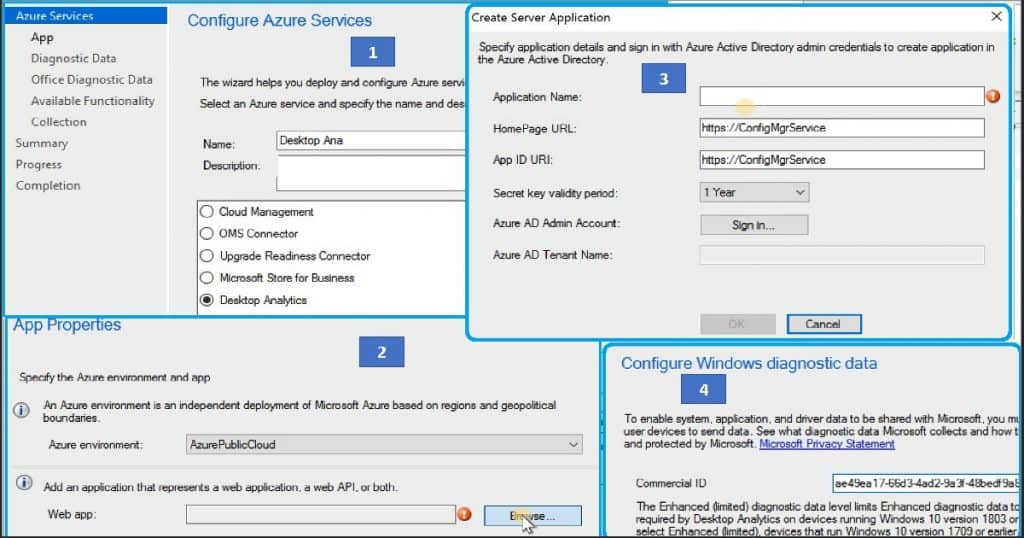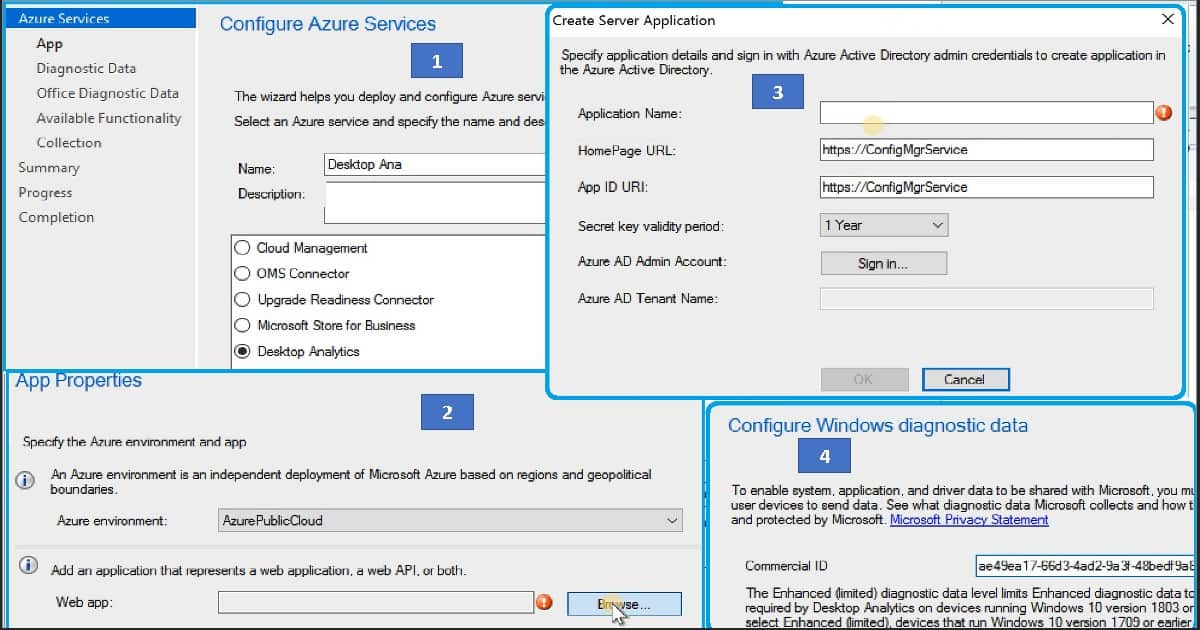 Click on Next button to get to Diagnostics page. Select telemetry data settings from this page:

Basic
Enhanced (Limited) => Recommended settings
Enhanced
Full
Click Next and Next button to Select collections to onboard to Desktop Analytics
Choose a Memorable Display name to identify this SCCM in Desktop Analytics
Select a collection that contains all the devices to configure for Desktop Analytics
Browse Device Collections and select a device collection OK
Select Yes to target Devices in the device collection to use a user-authenticated proxy for outbound communication for SCCM Desktop Analytics
Click on Add button to Select Specific collections to Synchronize with Desktop Analytics. You can see these collections in your deployment plans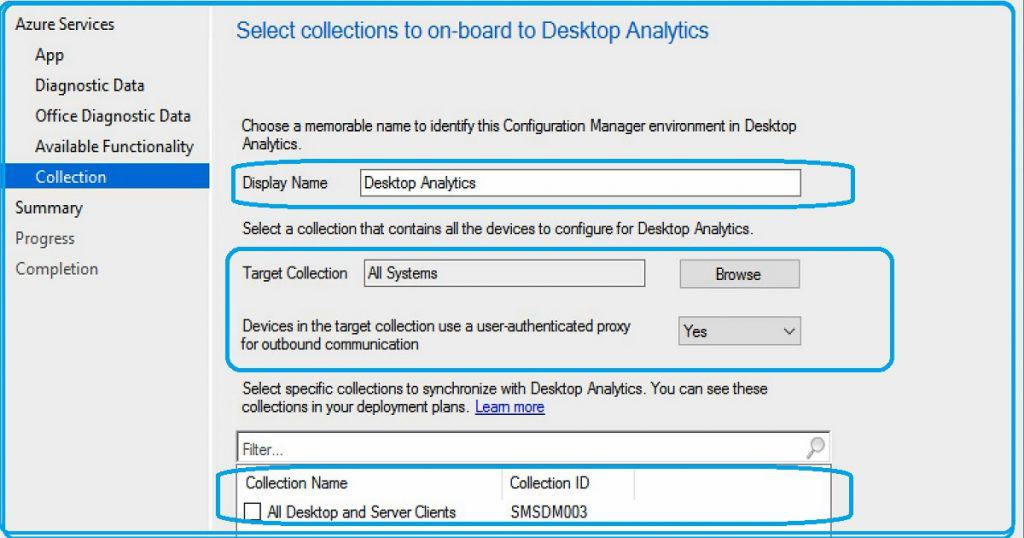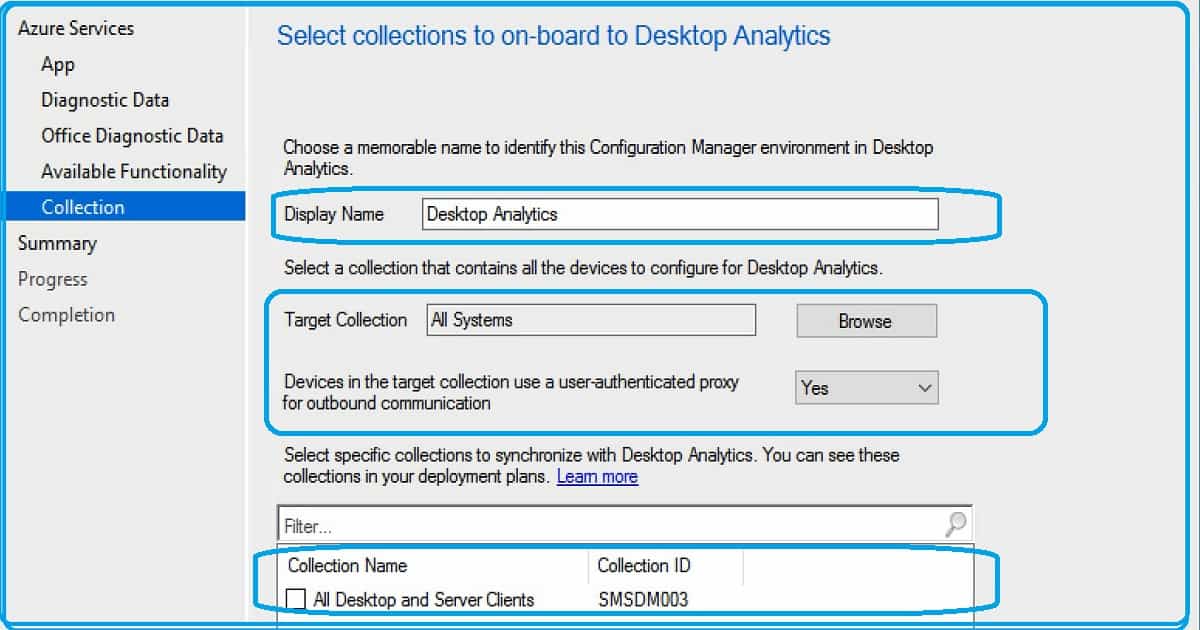 Click on Next, Next, and Finish button to close the Azure Desktop Analytics cloud serviced connection wizard
You can go to the properties of Desktop Analytics Azure cloud service connection from SCCM console and change the collections
Video Tutorial to Integrate Desktop Analytics and SCCM
Telemetry Data Requirements for Desktop Analytics
You need to collect the telemetry data from Windows client devices to populate useful information on Desktop Analytics. To enable the system, application, and driver data to be shared with Microsoft, you must configure user devices to send Windows and Office 365 Pro-plus telemetry data.
[Related Posts – Windows 10 Upgrade Readiness Architecture with SCCM, Configure Telemetry for Upgrade Readiness with Intune and SCCM]
Windows Diagnostics Data
The Enhanced (limited) telemetry setting is the minimum telemetry requirement for Desktop Analytics on devices running Windows 10 version 1803 or later.
If you select Enhanced (limited), is the new telemetry settings, devices that run Windows 10 1709 or earlier only reports basic diagnostic data.
Starting with Windows 10 version 1803, the device name is no longer collected by default and requires separate opt-in. You can use SCCM Desktop Analytics to get these details.
NOTE! – The Windows 10 devices show notifications when changes occur to diagnostic data levels. Users can change levels in settings (Windows 10 version 1803 and later).
Office Diagnostics Data
Microsoft office collects diagnostics data so that you can keep Office secure, up-to-date, and performing correctly. This Office data is limited to settings, device capabilities, and how users use features and services. This telemetry data is not associated with user names and their files.
Desktop Analytics Features
The following Tables gives you the details about the SCCM Desktop Analytics capabilities with the collected Telemetry data from Windows devices.
| | | | |
| --- | --- | --- | --- |
| | Windows 7 and Windows 8.1 | Windows 10 -1709 and Earlier | Windows 10 1803 and Later |
| Diagnostic Data Level | Commercial Data opt-in enabled | Basic | Enhanced (Limited) |
| Desktop Analytics Functionality | Partial | Partial | Full |
| Compatibility Insights | Yes | Yes | Yes |
| Recommended Pilot | Yes | Yes | Yes |
| App Usage Insights | No Supported | No | Yes |
| Discover top issues affecting users | No Supported | No | Yes |
Results SCCM Desktop Analytics
I have not tested the SCCM desktop analytics integration from the client machines. Desktop analytics is not released in yet for public preview. Hence I don't have access to test the client side.
I will try to publish a followup blog once the desktop analytics public preview is available.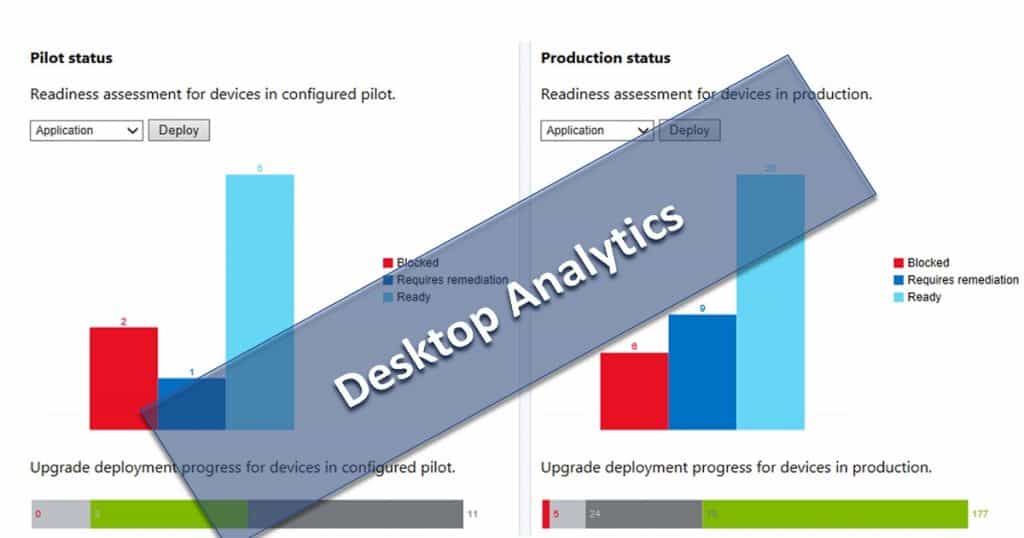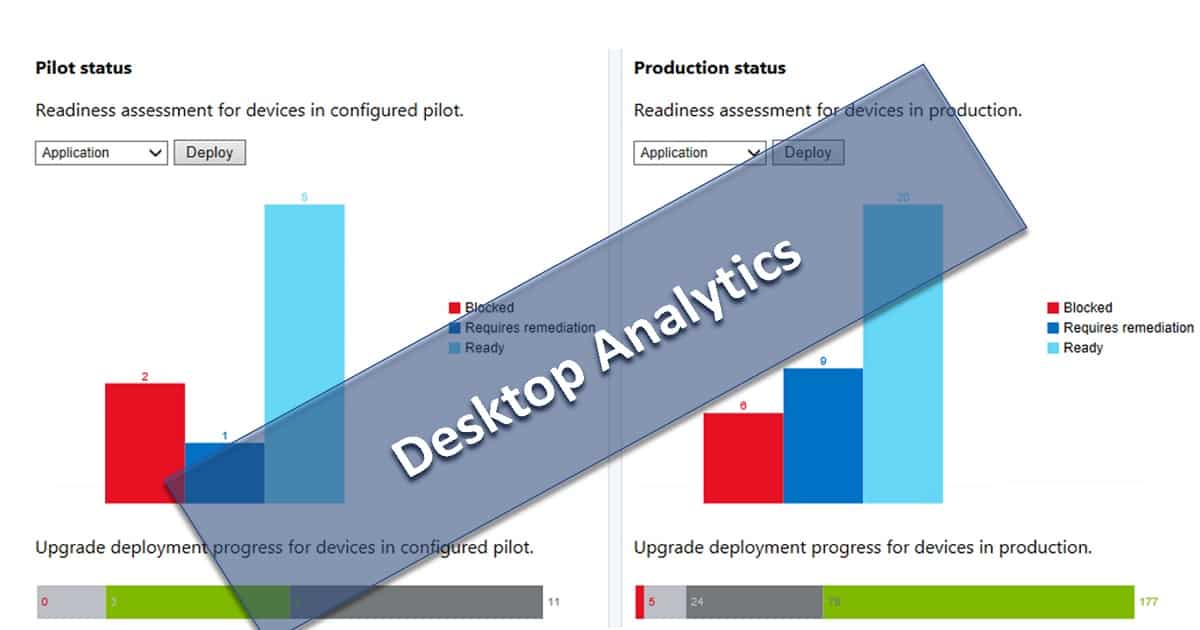 [Related Posts – Windows 10 Upgrade Readiness Architecture with SCCM, Configure Telemetry for Upgrade Readiness with Intune and SCCM]
Resources