Easiest Option to Upgrade to Latest version of Windows 10 21H1. This is the topic we are going to discuss today in this post. If you have any better option to upgrade your Home PCs, let us know in the comments section.
If you are looking for a Windows 10 21H1 upgrade of office or business PCs/laptops, then you need to use any of the following methods:
First of all, understanding Windows 10 build versions is important before going into the Windows 10 upgrade process. I have a blog post about the version details of Windows 10. You can refer to it to get more details about the build, major, minor versions of Windows 10.
Prerequisites Easiest Option to Upgrade to Latest Version of Windows 10
I'm going to share prerequisites for the Easiest Option to Upgrade to Latest version of Windows 10. But there are some prerequisites to use this easiest option for Windows 10 upgrade. This option is not available for all the scenarios.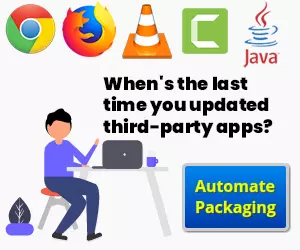 The following are the prerequisites to upgrade to latest version of Windows 10 21H1 using enablement package/standalone package.
NOTE! – Before updating to Windows 10, version 21H1 using an enablement package, you must be running Windows 10, version 2004 or 20H2. You must have the following prerequisites installed before applying this update: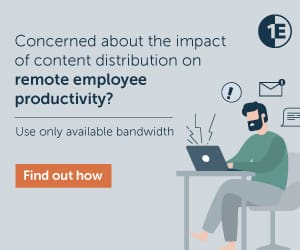 NOTE! – This easiest method is applicable applicable for all the coming version of Windows 10. If your Windows 10 version is one version below (N-1 version) the latest version of Windows 10.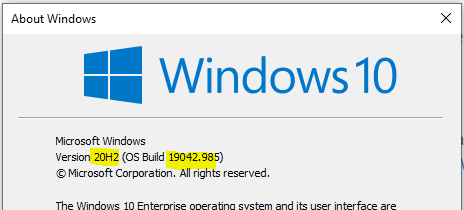 Manual Upgrade to Latest Version of Windows 10
The manual way to upgrade to the latest version of Windows 10 is explained below. There are a couple of ways to do this manual way. But I don't recommend the second method and that is using ISO.
NOTE! – I'm not going to cover the toughest way to upgrade to latest version of Windows 10. The toughest way to upgrade Windows 10 latest version is to download ISO and upgrade using that.
Option #1 – Windows Settings App
You can go to Settings Application (click on start menu and start typing setting) in Windows 10
Click on Update & Security -> Windows Update option
Click on Check for Updates button
Wait for 10-15 minutes
The following message will show up (sometimes this can take hours)

The next version of Windows is available with new features and security improvements. When you're ready for the update, select "Download and install."

Click on Download and install button to start downloading
It will automatically start upgrading the Windows 10 21H1 version in the background.
This download & upgrade is happening via Windows Update and Microsoft Update for your HOME/non-managed Windows 10 PCs.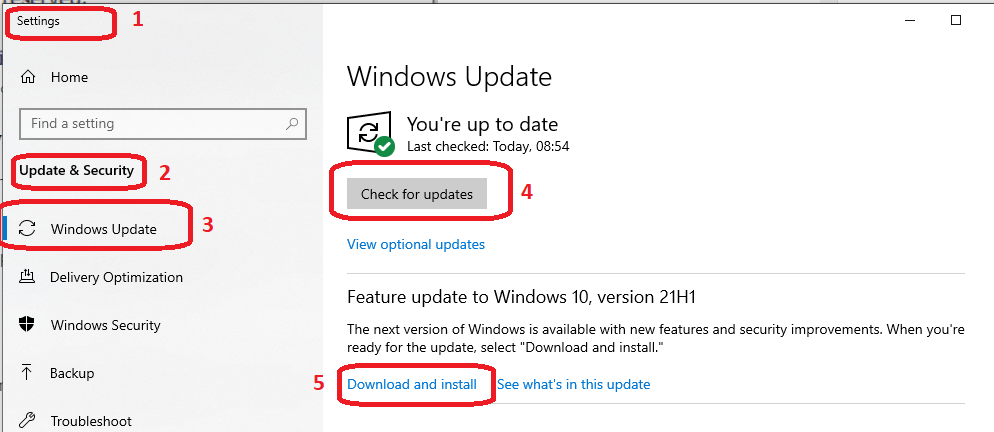 Restart Pending Stage – the Windows 10 computer whenever it asks for. For me it took less than 2 minutes to reach this stage.

Using Microsoft Update catalog website – Standalone Windows 10 Upgrade KB?
This is the second option to upgrade Windows 10 to the latest version using the standalone package. The standalone package is also known as the enablement package. The enablement package kb5000736 is not available via the Microsoft Update catalog website.
The option #2 is not easy as the option #1 explained above but better than ISO upgrade. Try to use this only for Windows 10 devices which are not connected to internet or for testing purpose. You need to have WSUS/SCCM to use this method of upgrade – Windows 10 1909 Deployment Enhancement Enablement Package HTMD Blog (anoopcnair.com).
This method is not applicable for HOME PCs/Laptops.
Follow the steps below to download the standalone upgrade package to get to the latest and greatest version of Windows 10.
As mentioned above the enablement package KB to upgrade Windows 10 21H1 is not available in Windows Update catalog website.

Results
After restart you would be able to see the latest version installed on the device. Try running Winver command.

Resources