Windows 10 Roll Back Option is missing from the Upgraded Windows 8.1 Machines. My primary laptop Dell Precision M4600 Mobile Workstation, is also running with Windows 10 Technical Preview 2. A couple of times, Windows 10 upgrade process got failed on this windows 8.1 laptop.
Windows 10 upgrade has almost finished, and just before completing the upgrade process, it failed. However, I didn't lose any data or applications as Windows 10 upgrade process was successfully restored to the FULLY working version of Windows 8.1.
Windows 10 RollBack Option is missing from the Upgraded Windows 8.1 Machines
I really love Windows 10 upgrade process because of this restore feature. I upgraded the Windows 8.1 laptop to Windows 10 on the 3rd attempt. The only difference between the 2nd and 3rd Windows 10 upgrade attempts was the removal of some unwanted applications.
After Windows 10 upgrade, my Hyper-v lab with SCCM 2012 CAS and Primary servers are intact. Most of the applications are working apart from Microsoft Office (irony). I don't worry about Office as I can download and use Office 2016 as blogged here.

I got an interesting reply for one of my tweets, and that tweet was related to the post "How to Uninstall Windows 10 TP and Restore the Previous Version of Windows". The reply was from Surjeet, and his question was, "I upgraded from 8.1 to #windows10 but never saw the boot option to roll back when restarting the pc".
So when you upgrade a Windows 8.1 machine to Windows 10, you won't get the following screen whenever you reboot the machine. Windows 10 RollBack Option is missing from the Upgraded Windows 8.1 Machines?
So Why this option "Choose an Operating System" is missing for "Windows 10 machines" which are upgraded from Windows 8.1? I was not sure why is the behavior different from the "Windows 7 to Windows 10" upgrade!
This was the trigger behind my 3rd attempt towards upgrading my Windows 8.1 Precision laptop. After the successful upgrade to Windows 10, I've noticed that Surjeet was correct in stating there is no option to select Windows Rollback when restarting the PC.

FIX -Windows 10 Roll Back Option is missing
I was checking the same old trick which helped us in Dual boot scenarios.
We can find "this settings" when you navigate via system properties (sysdm.cpl) –> Advanced tab –> "Startup and Recovery –> Settings". I've noticed that the "On Startup and Recovery window" –> The Default Operating System option –> "Time to display a list of Operating Systems" option is NOT enabled, and this is the default setting when you upgrade Windows 8.1 to Windows 10.
I've enabled "Time to display the list of Operating Systems" as you can see in the following picture. Once you enable this option, you'll get the Windows Rollback option when you restart Windows 10 machine.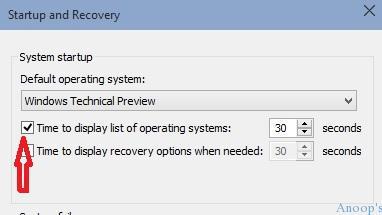 So the fact is that the Windows Rollback option is always there in all Windows 10 upgrades. In some cases, it's not displayed (rather it's hidden) while booting up Windows 10 machine. Windows 8.1 machines will also get the Windows 10 Rollback option when you enable the "Time to Display List of Operating System" option from System Properties (SYSDM.CPL).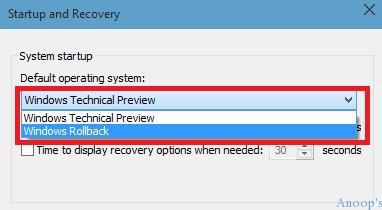 Edit:- Today morning, I got a reply to my Tweet from Gabriel Aul !! He suggested the other way to restore machines to the previous OS. @GabeAul:@anoopmannur You'll also be able to select rollback in Settings > Update & recovery > Recovery.
Resources
Windows 10 Latest Version Of Client Operating System From Microsoft (anoopcnair.com)
Author
Anoop is Microsoft MVP! He is a Solution Architect in enterprise client management with more than 20 years of experience (calculation done in 2021) in IT. He is a blogger, Speaker, and Local User Group HTMD Community leader. His main focus is on Device Management technologies like SCCM 2012, Current Branch, and Intune. E writes about ConfigMgr, Windows 11, Windows 10, Azure AD, Microsoft Intune, Windows 365, AVD, etc…