Let's check how to change SCCM client software update point from the admin console. The client needs to be presented with more than one SUP from Management Point to have this feature working.
There are two options to change the Software Update Point for the client. The manual option (via notification channel) to change the SUP is explained in the following section of this post. The automatic option to change the SUP is explained in the fallback section of this post.
Prerequisites
Let's understand the perquisites to have SUP switch functionality working for the clients.
Boundary Groups should be configured appropriately. More than one SUP should be part of the boundary group.
Management Point should deliver more than one Software Update Point to the client. You can check locationsevices.log to confirm this.
You should have appropriate access permissions on the collections and devices to initiate notification actions.
SCCM clients should be ONLINE.
Change SCCM Client SUP
You can change the Software Update point for a group of devices or a particular device. You can Start this change on a device or a device collection.

Once the switch SUP action is triggered, the clients look for another software update point at the next scan. Learn how to Change SCCM Client Software Update Point SUP | ConfigMgr.
Launch SCCM console.
Go to the Assets and Compliance workspace, and select the Device Collections node.
Select the target collection or a device.
Right-click on a collection or a device.
Select Client Notification, and then click Switch to the next Software Update Point.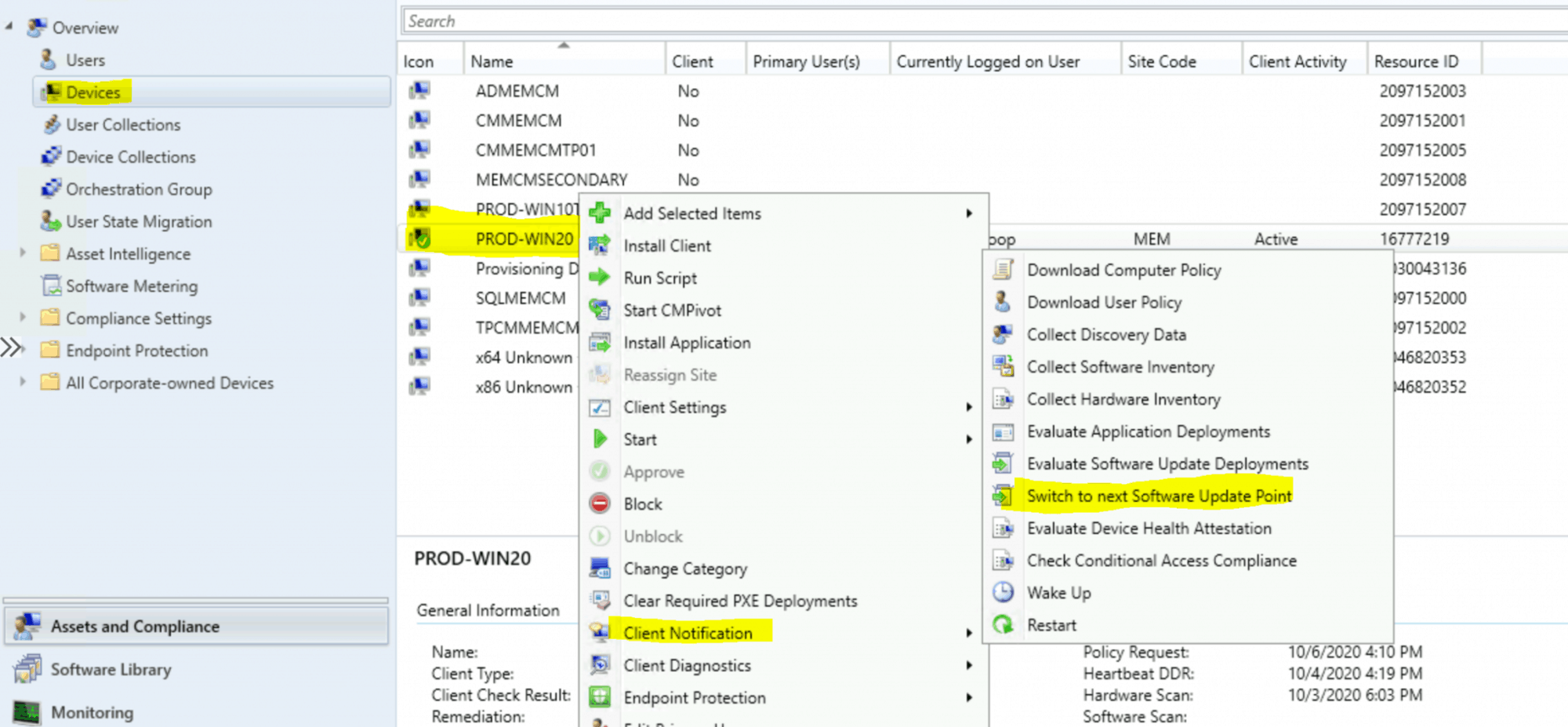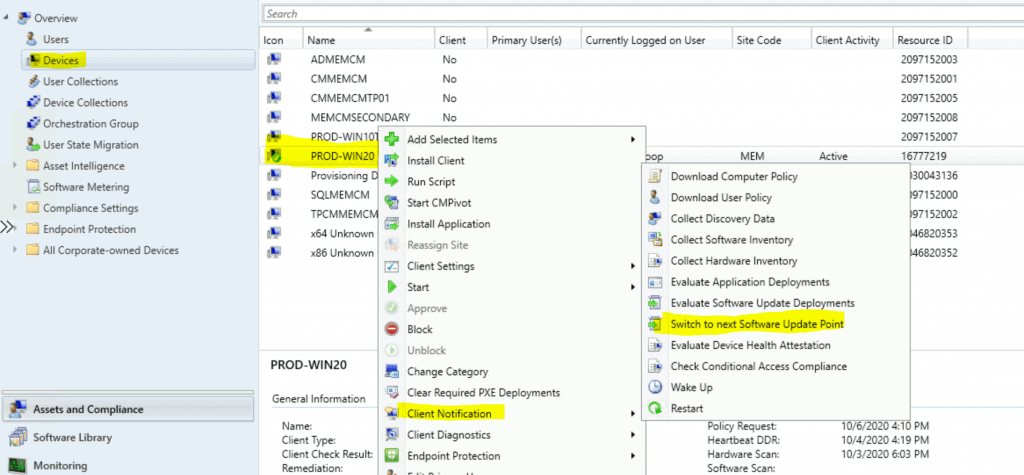 Click OK to send the client notification to switch the SUP.
NOTE! – The client you selected is online and will be notified to switch to next Software Update Point as soon as possible.


Logs
You can check the following logs from the ConfigMgr client-side to understand the process of switching to the next software update point. More details about 👉SCCM logs.
CcmNotificationAgent.log
LocationServices.log
WUAHandler.log
Receive task from server with pushid=63, taskid=63, taskguid=0D7008C8-EBBF-4DFE-B86D-1E81EE80DE77, tasktype=10 and taskParam=

Fallback for SUP
You can read more about the Automatic SUP fallback options from the following Microsoft docs.

https://docs.microsoft.com/en-us/mem/configmgr/core/servers/deploy/configure/boundary-groups#fallback-for-software-update-points
NOTE! – The Boundary group SUP fallback option is different from the manual switch of SUP using the notification channel that we are discussing in this post.


Resources
Author
Anoop is Microsoft MVP! He is a Solution Architect in enterprise client management with more than 20 years of experience (calculation done in 2021) in IT. He is a blogger, Speaker, and Local User Group HTMD Community leader. His main focus is on Device Management technologies like SCCM 2012, Current Branch, and Intune. E writes about ConfigMgr, Windows 11, Windows 10, Azure AD, Microsoft Intune, Windows 365, AVD, etc…