Let's check ConfigMgr 2010 Release Date Predictions. There is one favorite date for the ConfigMgr production version release? 1810 and 1910 versions of Configuration Manager were released on the same date? Will this happen again for SCCM 2010 production release?
NOTE! – Updated – Microsoft released the 2010 version on 30th Nov 2020. Released on 30th Nov!
I did some predictions about the release date with the community you can read more details -> SCCM Release Dates Predictions Analysis from Community. I know Microsoft MEM is driven based on the quality of the product than any particular release dates.
ConfigMgr Release Cycles
This is my understanding of the ConfigMgr release cycle. There are Five (5) ConfigMgr Release Rings. More details in the previous post.

Internal validation
Escrow
TP (Technical Preview)
TAP (Technology Adoption Program)
Production

Fast Ring (enabled with PowerShell Script)
Slow Ring (Available on all ONLINE installations)
Release Date Prediction for 2010
I can't bet on the release date as of now. I don't know whether it's going to be any of the following dates or not. Most probable release dates are mentioned below:
These dates are based on the following analysis:
All the previous ConfigMgr production versions (last release of the calendar year) were released before the month of Dec (not all of course!).
However, there is one instance where the current branch of Configuration Manager CB version (1511) is released on Dec 8th, 2015.

1710 was released on Monday, Nov 20, 2017
1810 was released on Tuesday, Nov 27, 2018
1910 Released on Wednesday, Nov 27, 2019
2010 will be released on Friday 27th or 30th of Nov 2020? Or will this be released in Dec similar to the first version of ConfigMgr Current Branch?
What do you think?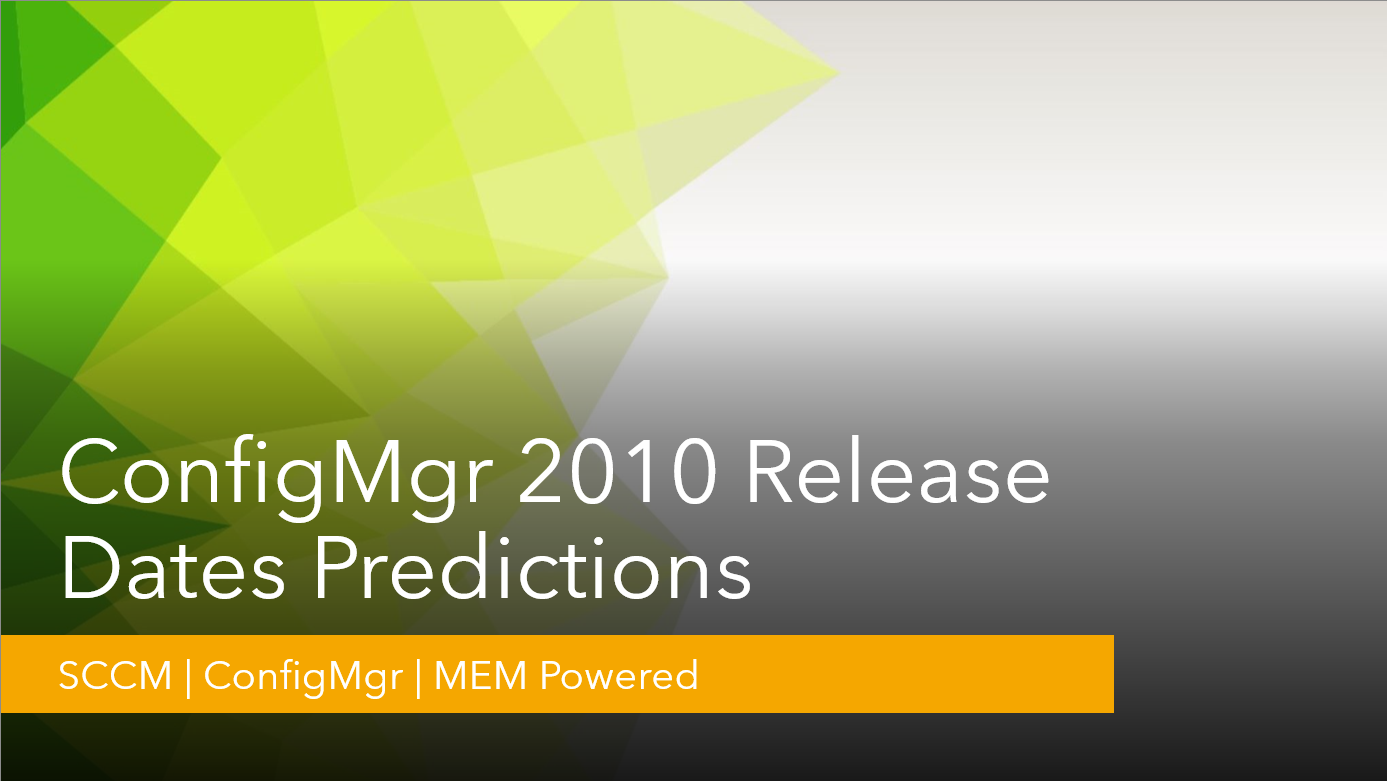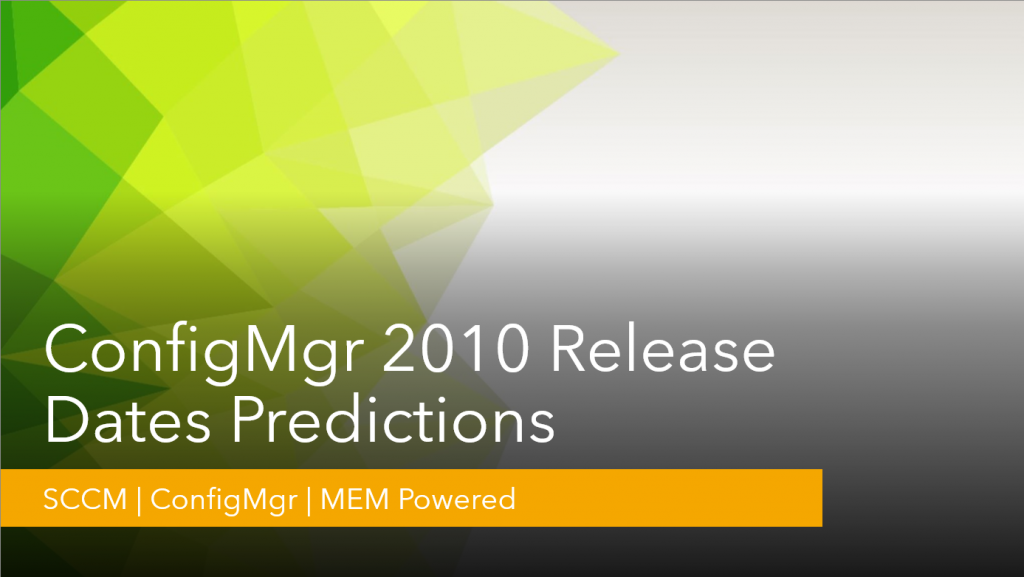 SCCM Life Cycle – Table format
You can find more details about supported versions of SCCM here.
| Version | ConfigMgr Availability Date | ConfigMgr Support End Date |
| --- | --- | --- |
| 2010 | ?? Nov 27, 2020, Nov 30, 2020 or Dec | ?? |
| 2006 | August 11, 2020 | February 11, 2022 |
| 2002 | April 1, 2020 | October 1, 2021 |
| 1910 | Nov 27, 2019 | May 29, 2021 |
| 1906 | July 26 2019 | January 26, 2021 |
| 1902 | March 27, 2019 | September 27, 2020 |
| 1810 | Nov 27, 2018 | May 27, 2020 |
| 1806 | July 31, 2018 | January 31, 2020 |
| 1802 | March 22, 2018 | September 22, 2019 |
| 1710 | Nov 20, 2017 | May 20, 2019 |
| 1706 | July 31, 2017 | July 31, 2018 |
| 1702 | March 27, 2017 | March 27, 2018 |
| 1610 | Nov 18, 2016 | November 18, 2017 |
| 1606 | July 22, 2016 | July 22, 2017 |
| 1602 | March 11, 2016 | March 11, 2017 |
| 1511 | Dec 8, 2015 | December 8, 2016 |
ConfigMgr 2010 Release Dates Predictions
Resources
Author
Anoop is Microsoft MVP! He is a Solution Architect in enterprise client management with more than 20 years of experience (calculation done in 2021) in IT. He is a blogger, Speaker, and Local User Group HTMD Community leader. His main focus is on Device Management technologies like SCCM 2012, Current Branch, and Intune. E writes about ConfigMgr, Windows 11, Windows 10, Azure AD, Microsoft Intune, Windows 365, AVD, etc…