SCOM comes with a verity of default reports. SCOM default reports will be available for you when you install a management group. These reports help you to review the operational telemetry and configurations. SCOM reporting helps to troubleshoot issues, problems, and evaluate the daily health of your IT Infrastructure. You can get more tips and tricks from eBook on SCOM Reporting.
Usually, SCOM/OpsMgr default reports are already fine-tuned to avoid performance issues with your SQL DB. But I have seen the defaults reports also causing performance issues with SCOM infrastructure. You should be very careful when you create "SCOM Custom reports". The custom reports can go wrong with the performance of SQL. In my experience, most of the performance issues of SCOM infra are caused because of poorly written custom reports.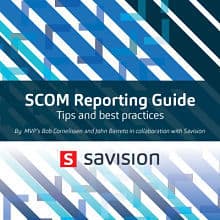 Microsoft MVP Bob Cornelissen and John Barreto joined forces with Savision to create the ultimate guide to SCOM Reporting (eBook on SCOM Reporting). This is a comprehensive guide that gives you the latest insights on:-
- How to test your reports and makes sure they work all the time
- How to avoid empty reports and other common SCOM reporting issues
- How to automate reports and receive them via email every month
- And an exclusive preview of the upcoming Savision FREE Community SLA Reports Management Pack.