Check How Many slots are Available for RAM in Windows 11 or Windows 10 (Empty RAM Slots Available in Windows 11). There are many ways to find out this information. There are third-party tools available to let you know about the slots available for RAM.
I have seen many owners trying to upgrade the RAM and SSD for their laptops. However, it's difficult to find reliable information about how many slots are available to install additional memory (RAM).
I don't think the details that you can get from Windows about RAM slots are always accurate. Even this is true for some of the third-party tools like CPU-Z. RAM standard is DDR4, and most of the RAM with 3200 Mhz is backward compatible with several slower settings such as 2933 MHz.
So the better way is to confirm the free RAM slots available for a laptop from the manufacture of the laptop. Some manufacturers (such as Dell) provide this information on their website itself. This makes your life is easy to upgrade the RAM for your laptop.

You can also check the RAM slots available for your laptop using laptop repair/upgrade videos. I see these videos are very useful in deciding to purchase the RAM. The maximum supported amount of memory (RAM) for a particular model is also important before buying the RAM for the upgrade.
The last resource is to call up the manufacturer of your laptop. The Model Number and serial number of the laptop are important in terms of understanding the empty RAM slots available in this laptop.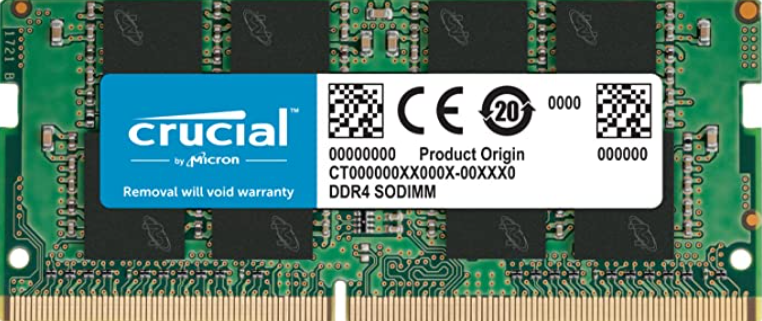 Find out How Many Slots are Available for RAM using Task Manager – Check Empty RAM Slots
Let's find out How Many Slots are Available for RAM using Task Manager in Windows 11. As I mentioned above, I don't think the information on empty RAM slots is available on laptops in Windows 11 Task Manager is 100% reliable.
One of the laptops shows that 2 out of 4 slots are available for RAM. However, I checked the videos to upgrade RAM and found that only two RAM slots are available in the motherboard. You can go to the Start button in Windows 11 and right-click.

Right Click on Start button.
Select Task Manager option.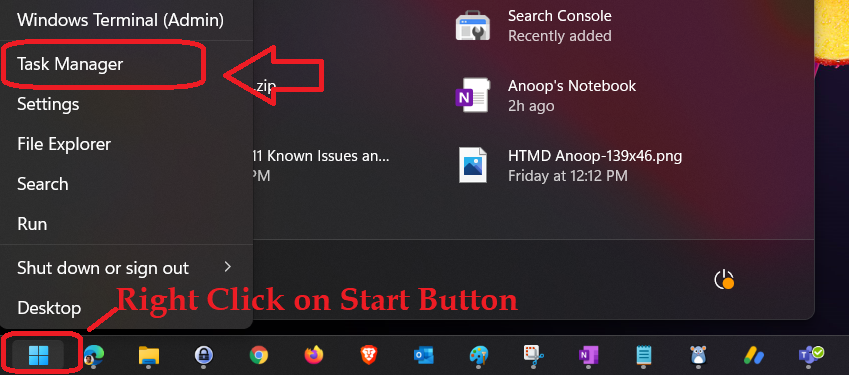 Now, you will need to go to the tab called Performance, and under the Memory tab on the left side, you will be able to see the total RAM available on your laptop and the RAM slot details.
RAM Slots Used – 2 of 4 (2 slots are free as per this Task Manager report)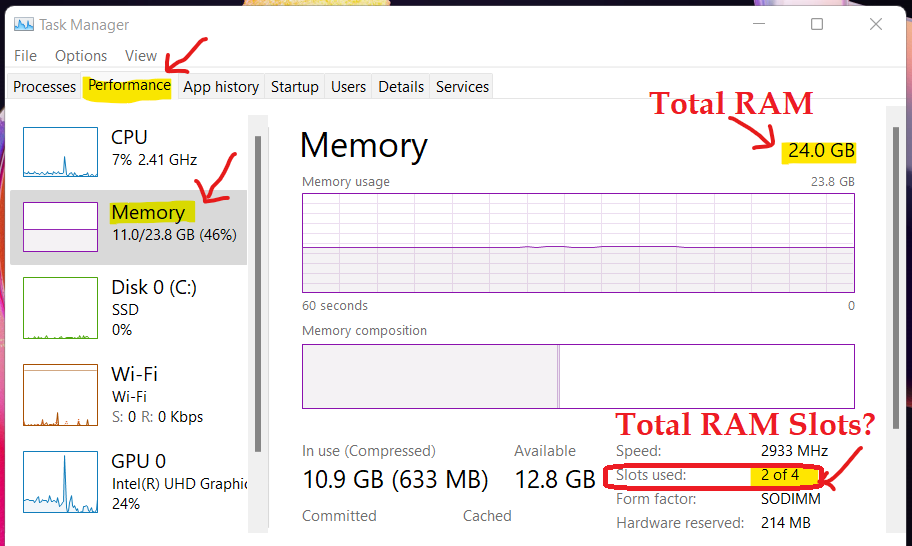 Use CPU-Z Utility to Find out RAM Slots Available
I tried to use the CPU-Z utility to determine the number of RAM slots available in the laptops. You can download the Windows version of check the details of RAM slots.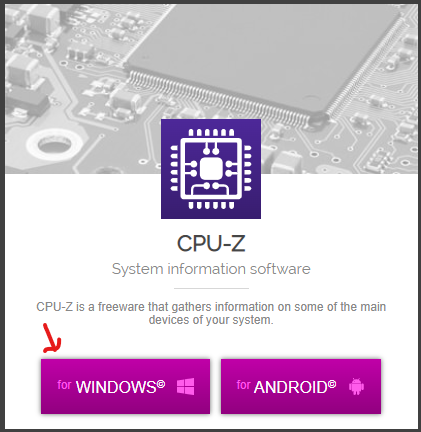 As you can see in the below screenshot, there are 4 RAM slots available for the laptop. This matches the Windows 11 Task Manager report you have seen in the above section.
If you select Slot #1, you can see the details of the RAM inserted in that slot. Module and DRAM Manufacturer, Max Bandwidth, Part Number, Serial Number of the RAM, etc.
Launch the CPU-Z utility.
Click on SPD tab and select the memory slots drop down list.
There are 4 supported RAM slots.

The two of them are Enabled
And other two are Disabled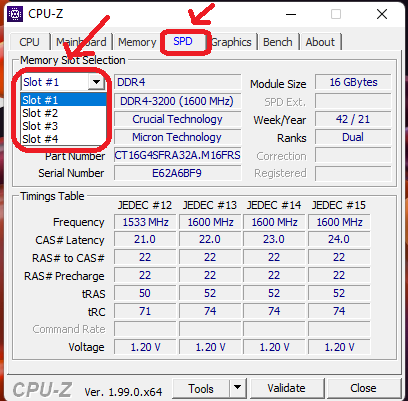 I COULDN'T SEE ANY DETAILS when I selected the second slot (slot #2). It seems that there is no RAM available in that slot. But I couldn't confirm whether there is a "real" RAM slot available on the laptop motherboard or not.
NOTE! – I think this is why CPU-Z utility is not 100% reliable to check the available RAM slots in the motherboard of a laptop. It probably 4 slots are supported for that particular chipset. But it can't confirm how many slots are provisioned by the manufacturer in the motherboard.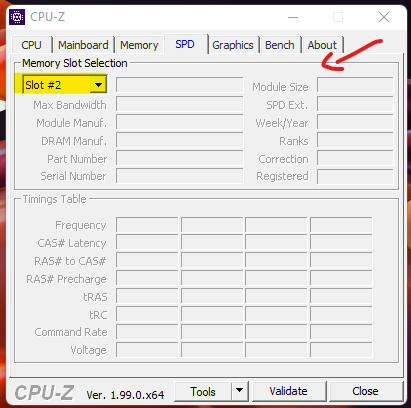 PowerShell Way to Find out RAM Slot Details
Let's now look into the PowerShell or Windows Terminal way to Find out RAM Slot Details. You can right-click on the Start button and select Windows Terminal (Admin).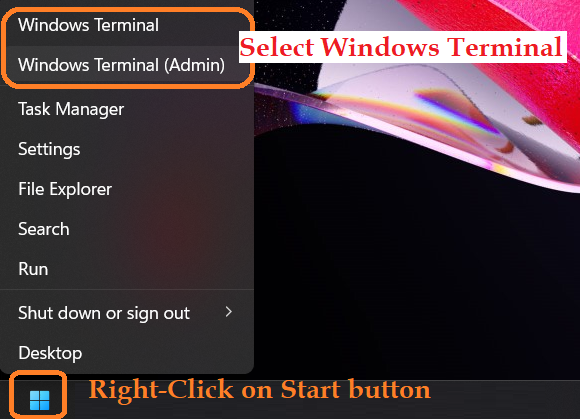 You can use the following command from Windows Terminal to understand the Empty RAM slots details. However, I don't think this command also provides the details about the free slots available for RAM.
PS C:\Users\digit> Get-CimInstance -ClassName Win32_PhysicalMemory | Format-Table Devicelocator, Manufacturer, Speed, ConfiguredClockSpeed, BankLabel


NOTE! – WMIC is not available on Windows 11 devices. So we can't run any commands related to WMIC to find out free RAM slots available for the laptop.

Conclusion – Check Empty RAM Slots
Initially, I thought I could purchase additional RAM and put it in any free slots available per the above Task Manager and CPU-Z. However, that was not the case. There were no free RAM slots available even though Windows and CPU-Z showed two free slots.
I think the best and 100% reliable option is to contact the laptop manufacturer to find out this information. I ended up doing this and found that there are only two slots available on the laptop.
NOTE! – The manufacturer provisioned only 2 slots in the motherboard even though the chipset supports 4 slots.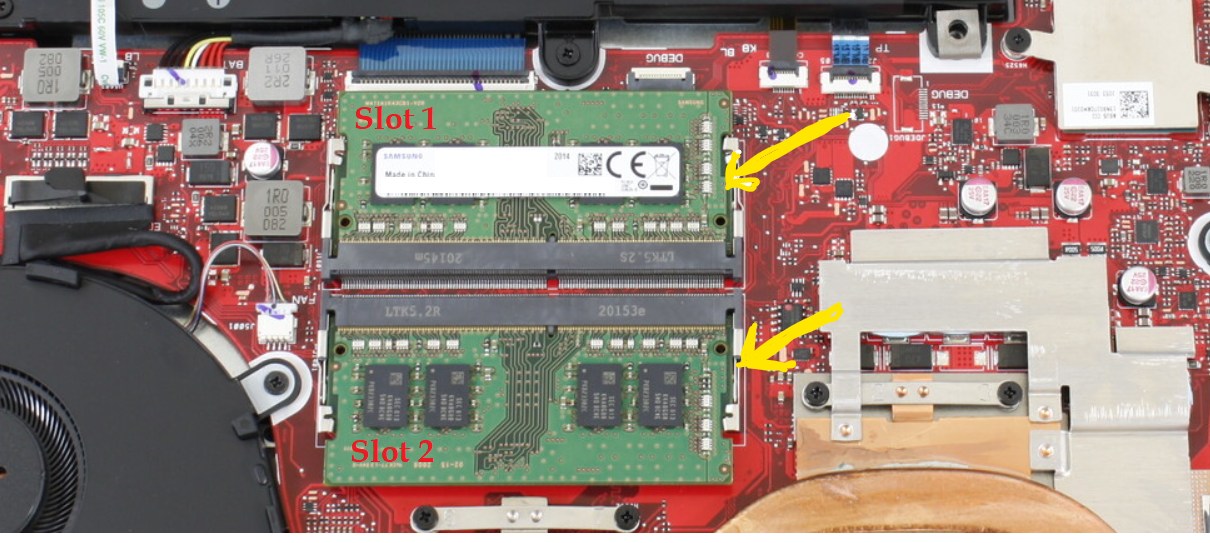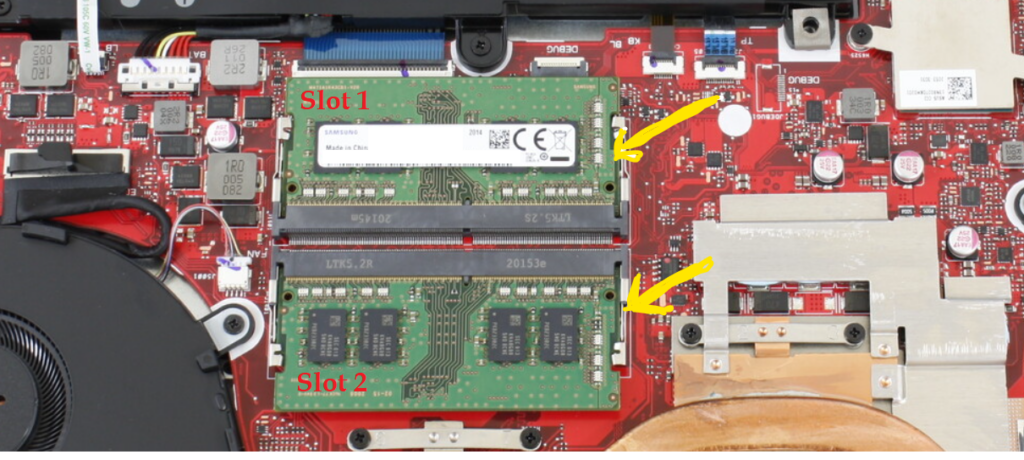 Author
Anoop is Microsoft MVP! He is a Solution Architect in enterprise client management with more than 20 years of experience (calculation done in 2021) in IT. He is Blogger, Speaker, and Local User Group HTMD Community leader. His main focus is on Device Management technologies like SCCM 2012, Current Branch, and Intune. He writes about ConfigMgr, Windows 11, Windows 10, Azure AD, Microsoft Intune, Windows 365, AVD, etc……………