In this post, you will learn how to export Intune device configuration profiles. You can manually export all the different profiles from an Intune portal to a CSV file if you are looking for a simple way to export the configuration profiles of your Intune tenant.
Device profiles allow you to add and configure settings, and then push these settings to devices in your organization. You have some options when creating policies, Administrative templates, Baselines, Settings catalog, or Templates.
The Intune Settings Catalog is the best place for all the policy settings in Intune (MEM). Microsoft recommends using setting catalog profiles to create and manage security policies. You can find a list of Intune Default and advanced reporting details.
Starting with the Microsoft Intune service release 2008, The new feature Import custom ADMX and ADML administrative templates were added. You can import custom and third-party/partner ADMX and ADML templates into the Intune admin portal, Import Custom ADMX Administrative Templates In Intune MEM Portal.

You have better options with Intune for exporting and importing Intune policies and configurations from Graph API. You can also try Backup Your Intune Settings Using Script.
Export Intune Device Configuration Profiles
Here's how you can export Intune Device Configuration profiles from the Intune Admin portal. You have two options to navigate to the Configuration profiles node either you can navigate directly to the Devices > Configuration profiles or Devices > By platforms (Windows, iOS/iPadOS, Android, or macOS).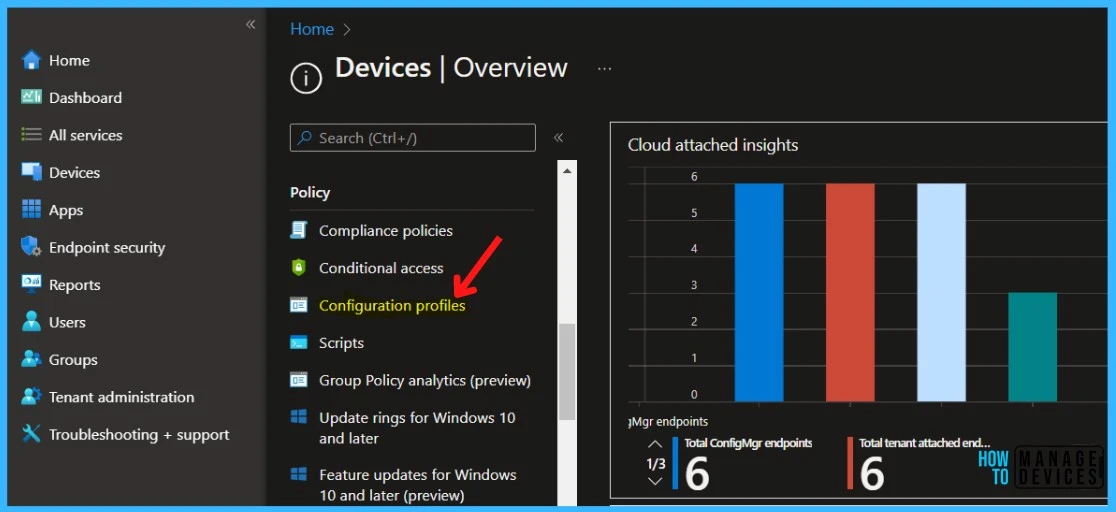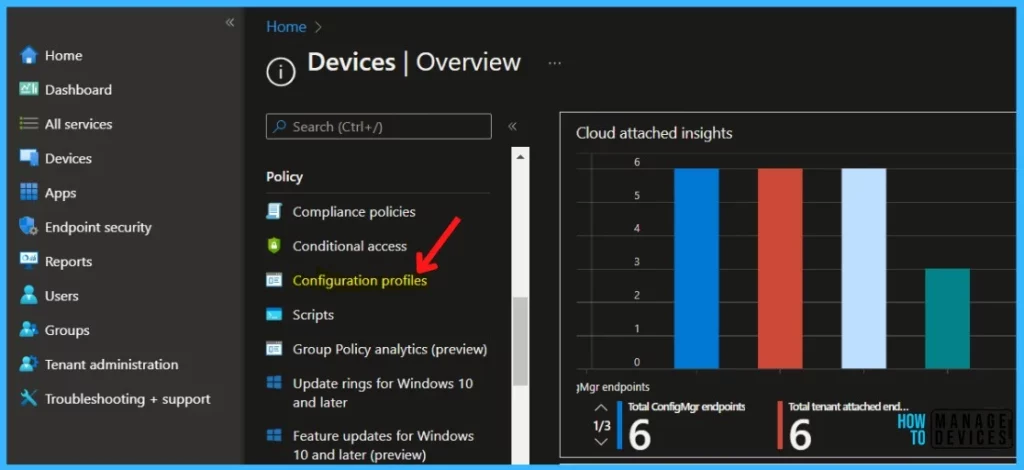 Here you can see the lists of available configuration profiles in the portal. Depending on the platform you choose, the settings you configured will appear here. When you create a profile, the following different platforms you can choose.
Android device administrator
Android Enterprise
iOS/iPadOS
macOS
Windows 10 and later
Windows 8.1 and later
You can search by profile name, and also sort the configuration profiles from the available list by clicking on the columns name.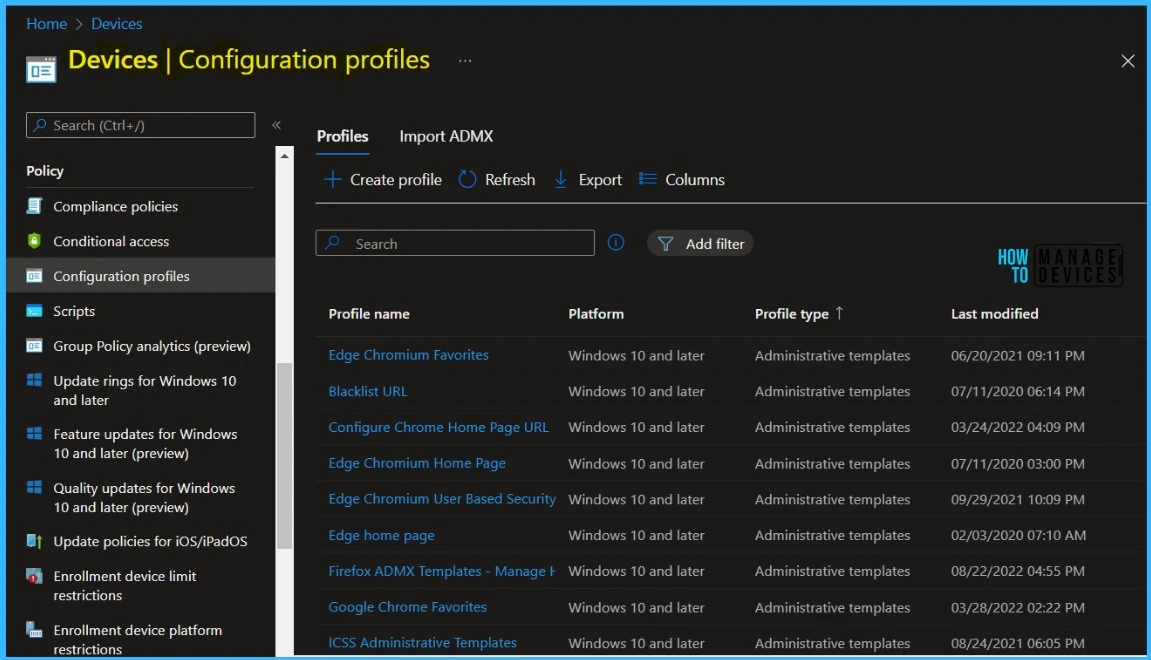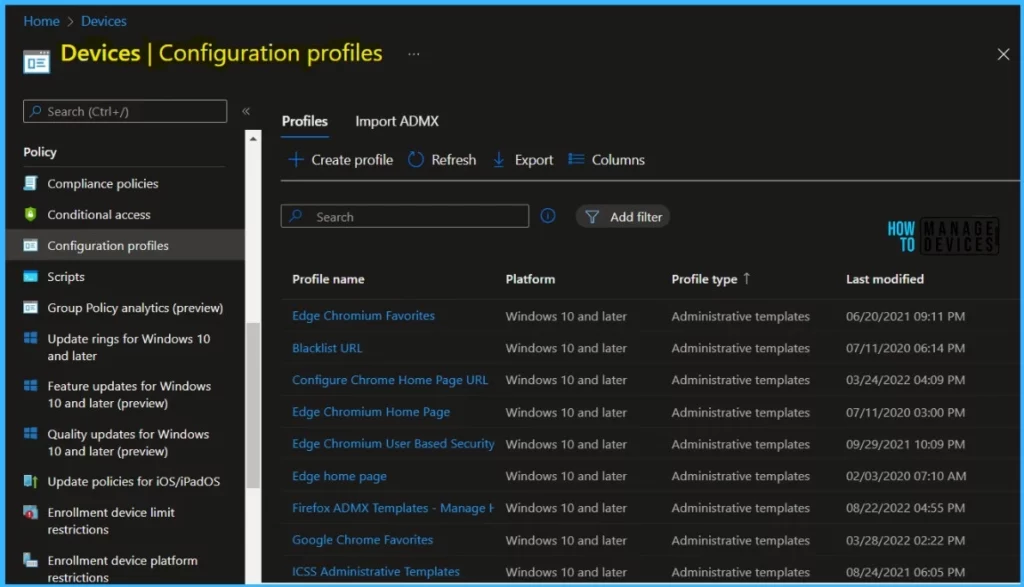 You can use the Columns property to add or remove columns. Click on the Columns. Next, you will find the following columns that you can include/exclude. The Configuration profiles include.
Profile name
Platform
Profile type
Last modified
Scope tags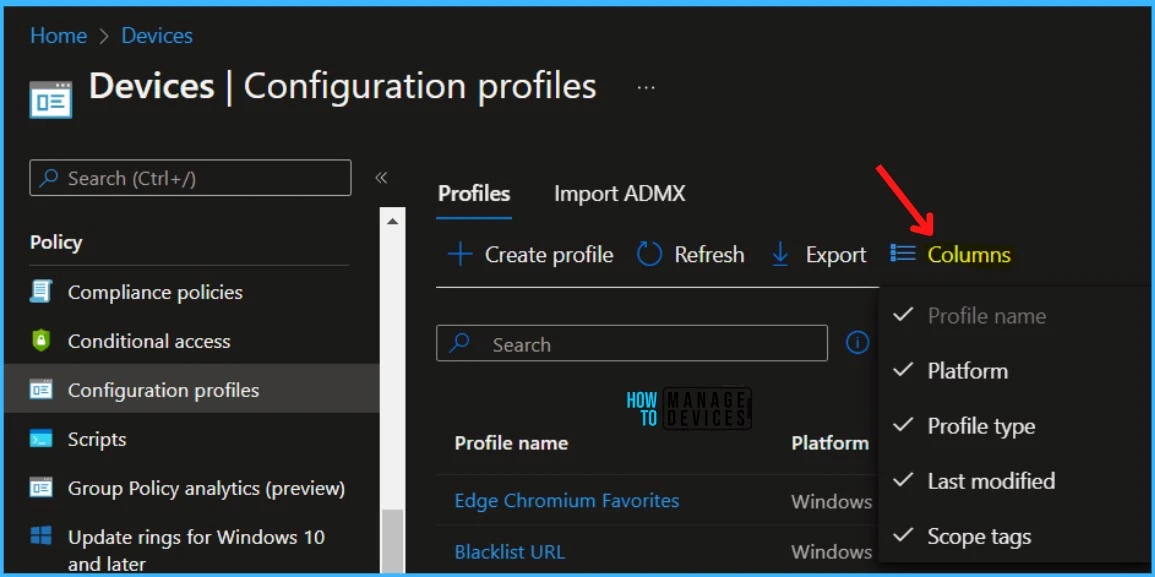 The Filter options allow you to refine the export lists. With an option, you can Check or Uncheck the columns you want to include/exclude.
Platform
Scope tags
Last modified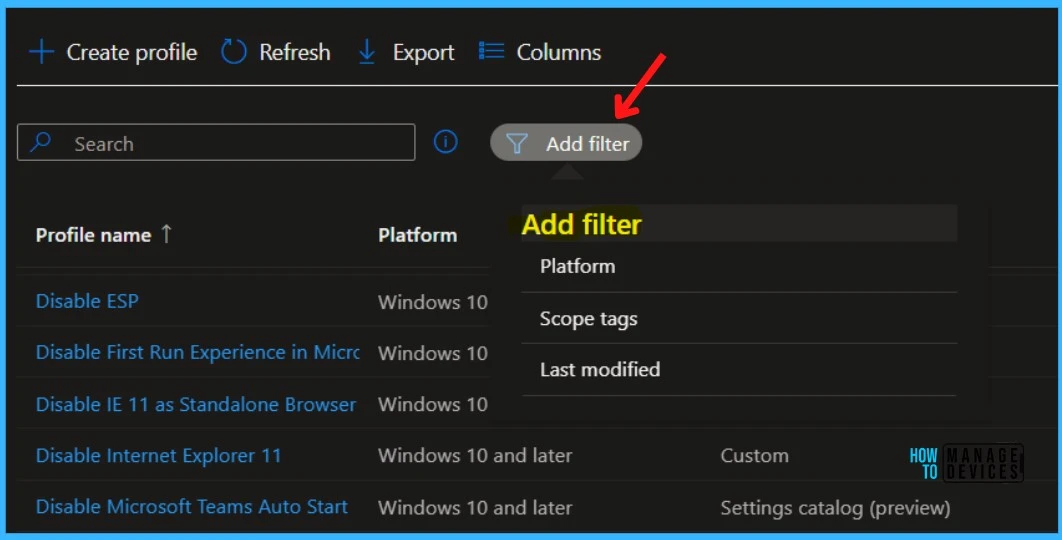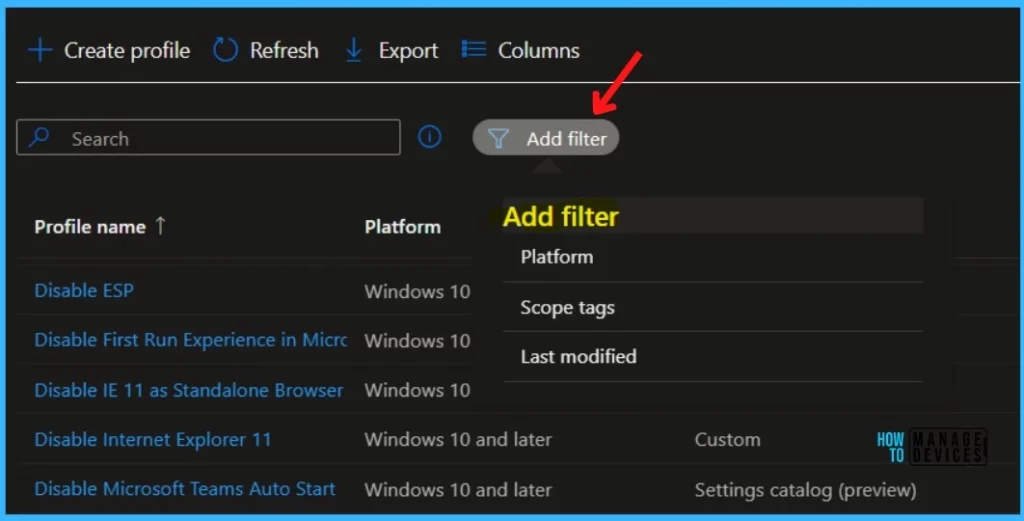 Select Export and on the export all apps, click Yes to export lists of configuration profiles, including filters you have set using the columns.
A notification will appear automatically in the top right-hand corner with the message Document has been successfully downloaded. You can also see the status by selecting the notification icon.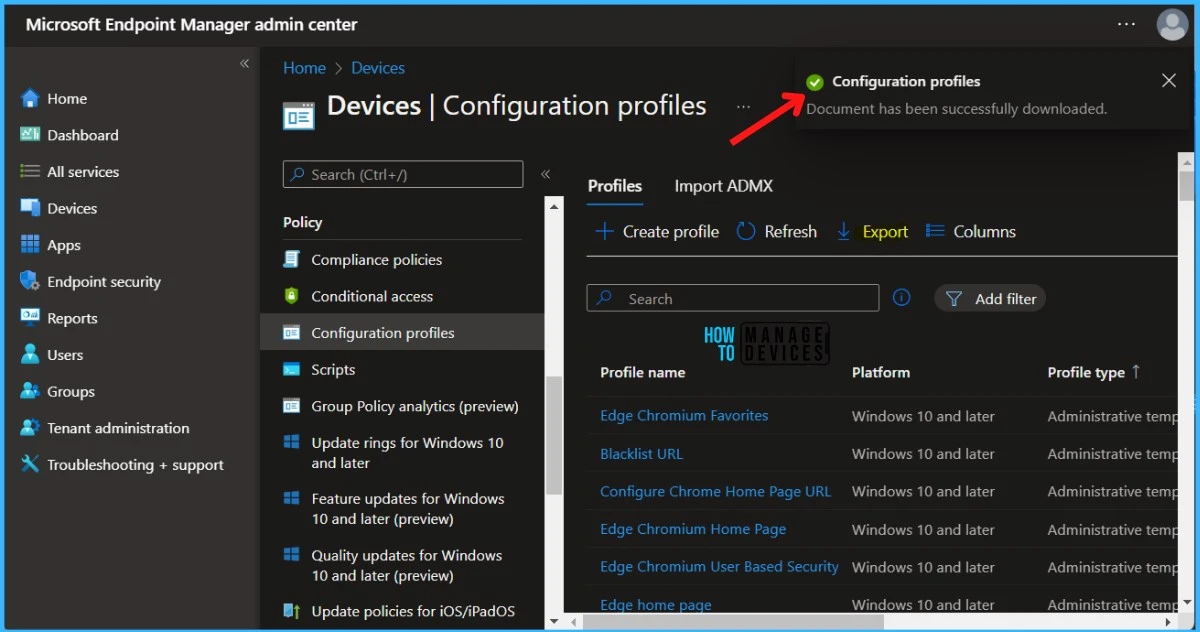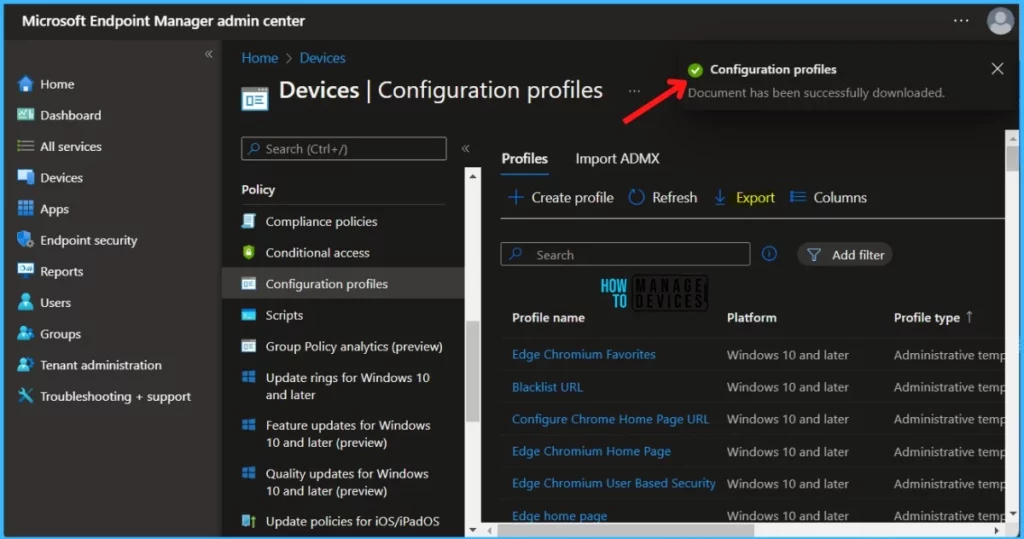 All exported data will be automatically downloaded in a .csv file to your browsers, Once you open the files you will get detailed information for all the profiles exported from intune tenant.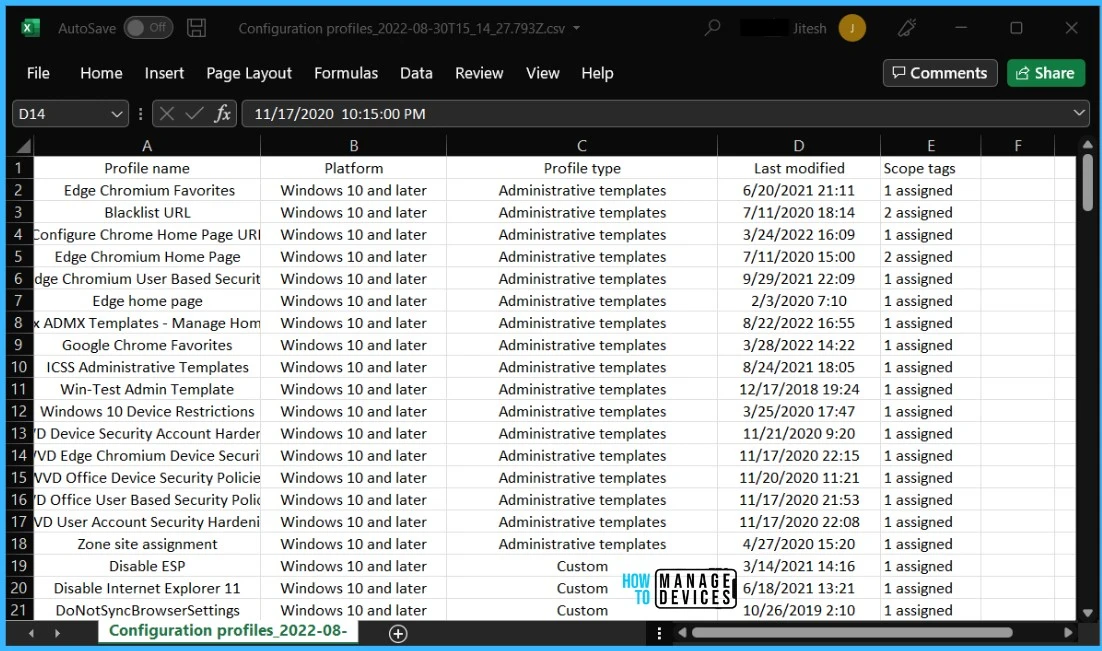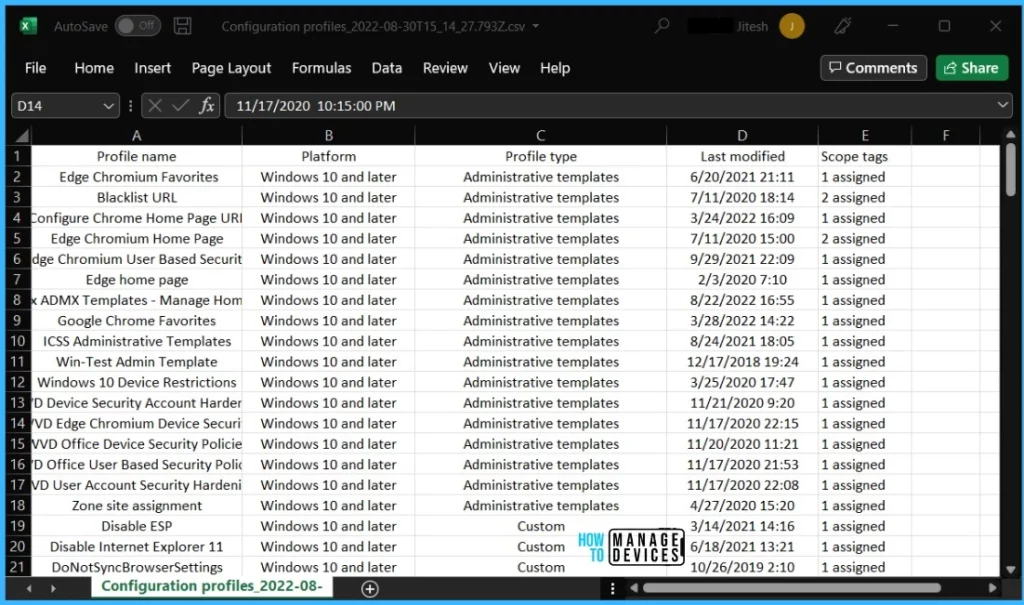 Once you open the exported configuration profiles list, the table below shows the list of all the profile names and the profile types that are exported.
| | | | | |
| --- | --- | --- | --- | --- |
| Profile name | Platform | Profile type | Last modified | Scope tags |
|  Edge Chromium Favorites | Windows 10 and later | Administrative templates | 6/20/2021 21:11 | 1 assigned |
| Disable ESP | Windows 10 and later | Custom | 3/14/2021 14:16 | 1 assigned |
| ACN DFCI | Windows 10 and later | Device firmware configuration interface | 11/19/2019 21:25 | 1 assigned |
| Cloud PC Taskbar Layout | Windows 10 and later | Device restrictions | 8/6/2021 15:44 | 1 assigned |
| Hybrid | Windows 10 and later | Domain join | 11/27/2019 0:31 | 1 assigned |
| Firewall | Windows 10 and later | Endpoint protection | 4/4/2020 21:12 | 1 assigned |
|  Do Not Display Last Signed In User Name | Windows 10 and later | Settings catalog (preview) | 10/18/2021 9:06 | 1 assigned |
Intune Device Configuration Profiles
Author
About Author – Jitesh, Microsoft MVP, has over five years of working experience in the IT Industry. He writes and shares his experiences related to Microsoft device management technologies and IT Infrastructure management. His primary focus is Windows 10 Deployment solution with Configuration Manager, Microsoft Deployment Toolkit (MDT), and Microsoft Intune.