Let's learn how to check Intune Report for Devices without Compliance Policy. This set of reports focuses on compliance settings in your policies. You can get a list of all the devices that are noncompliant, review device compliance trends, and see the device names and their individual noncompliant settings.
Starting with Intune Service release 2301, new report Devices without compliance policy to the Device compliance reports. This report is in preview, uses a newer reporting format that provides for more capabilities.
Compliance policy configuration is an important design decision while managing devices with Intune. Intune compliance policies are the first step of the protection before providing access to corporate applications, along with Conditional Access policies.
Here is how you can configure and send Notifications for Noncompliant Devices in Intune. In this post, you will also learn how to create notifications in Intune Admin portal for Noncompliant Devices.

The new addition of reports in Device Compliance tab won't impact the reports inside Monitoring section for now. An older version of this report remains available through the Devices > Monitor page of the admin center.
Intune Report for Devices without Compliance Policy
Device compliance reports are meant to be broad in nature and provide a more traditional reporting view of data to identify aggregated metrics. The Devices without Compliance Policy report is designed to work with large datasets to get a full device compliance picture and help to troubleshoot.
Select Reports > Device compliance.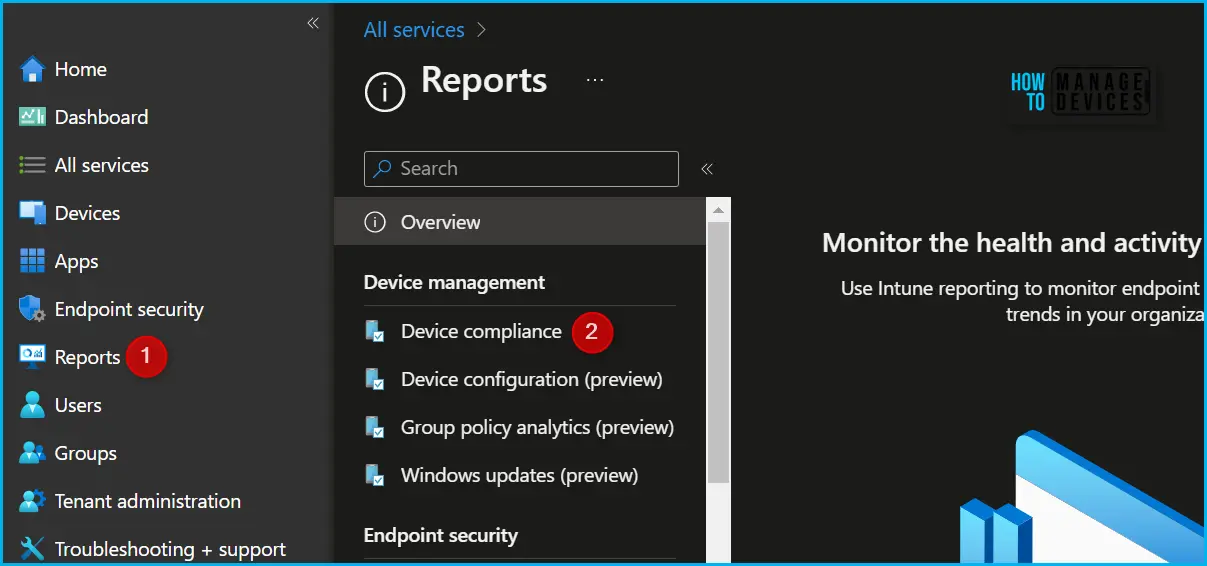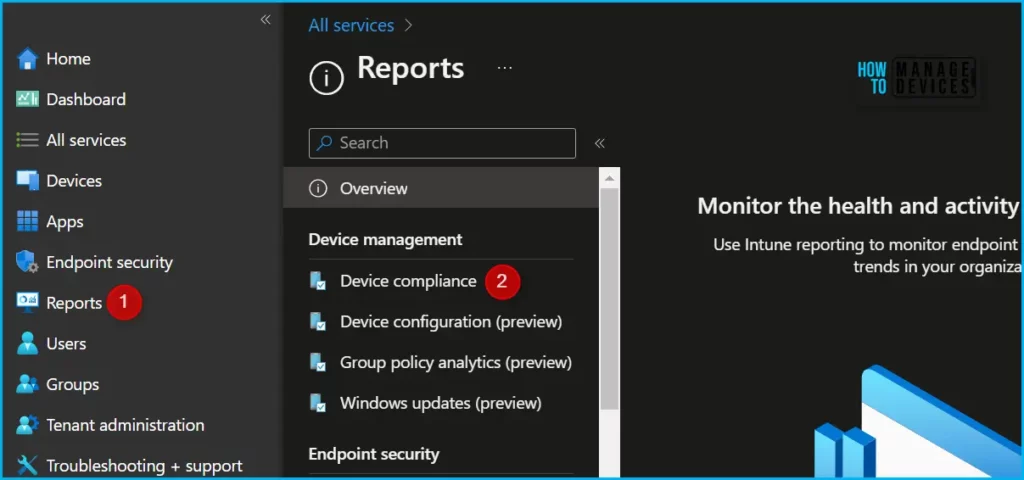 In the Device compliance, Click on Reports tab > Devices without compliance policy (preview) to see each device that doesn't have at least one compliance policy assigned to it.


Once the report is selected. If you want, you can select OS and Ownership to refine the report then Click Generate a report (or Generate again) to generate Devices without compliance policy report.

A notification will appear automatically in the top right-hand corner with the message Report successfully generated.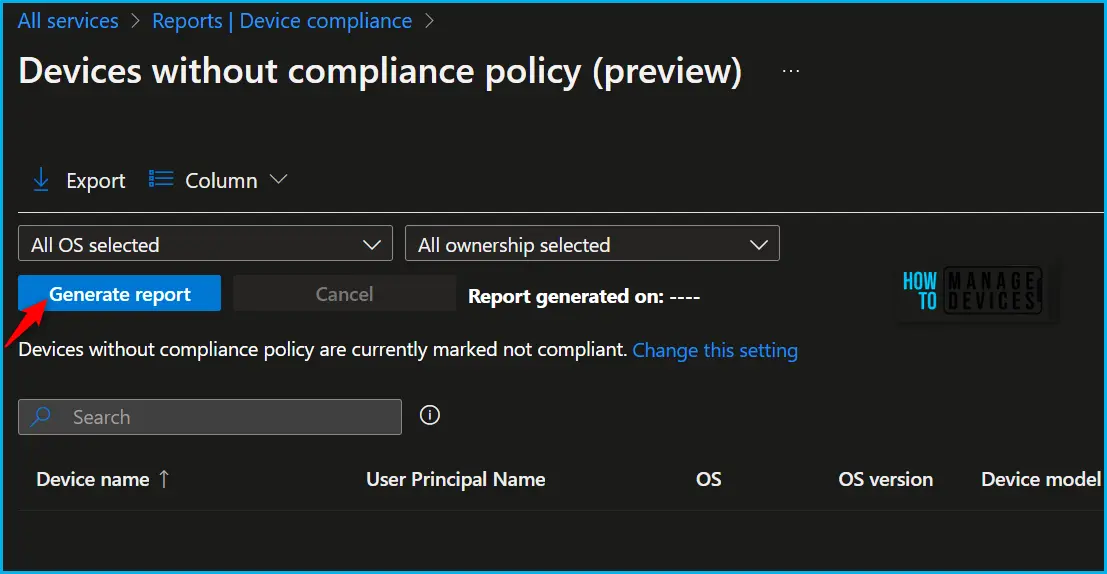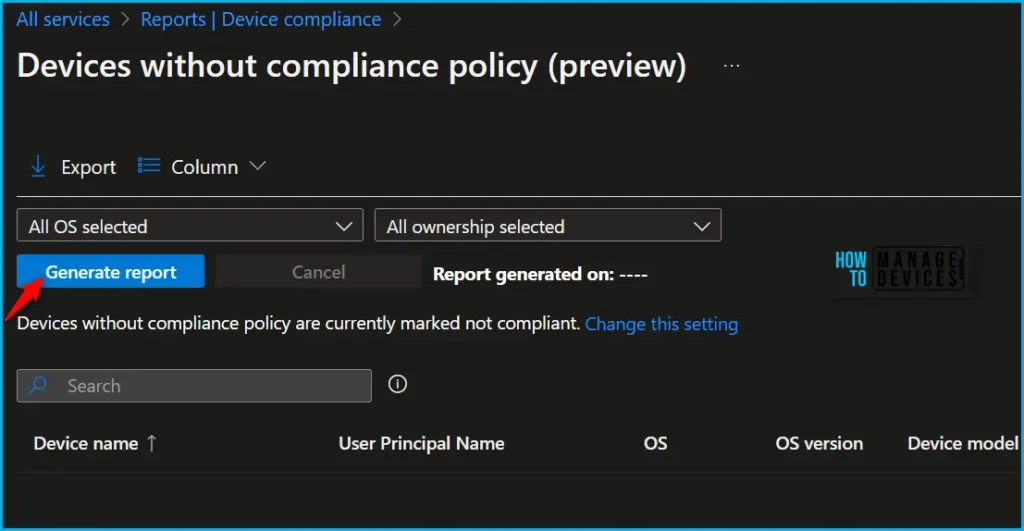 The report generates one row per device that hasn't been assigned a compliance policy. In the report, you will find the following information that can be used to sort the results.
Device name – The name of the device as it appears when viewing Devices and creating groups.
User Principal Name – The primary user of the device.
OS – The operating system of the device, like Windows, or Android.
OS version – The OS version, like 22000.675 for Windows, or 12.0 for Android.
Device model – Model information such as Surface Book 2, or Galaxy Note 10.
Device ID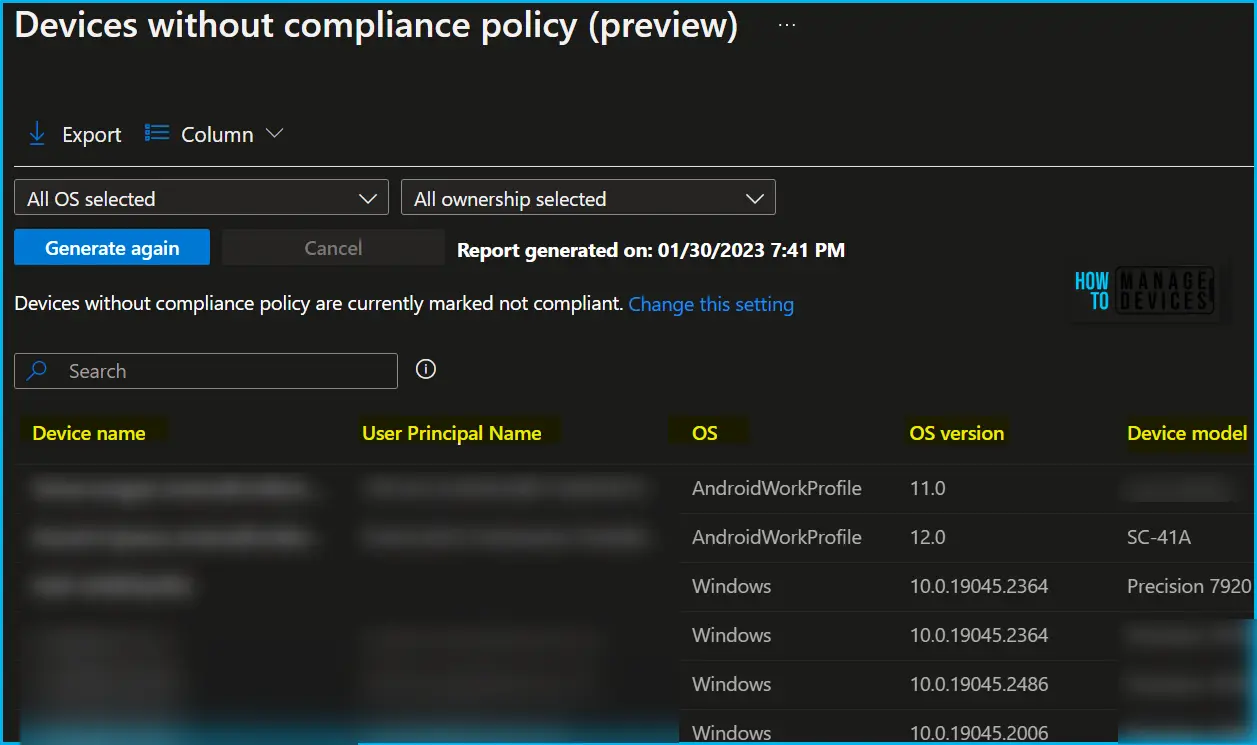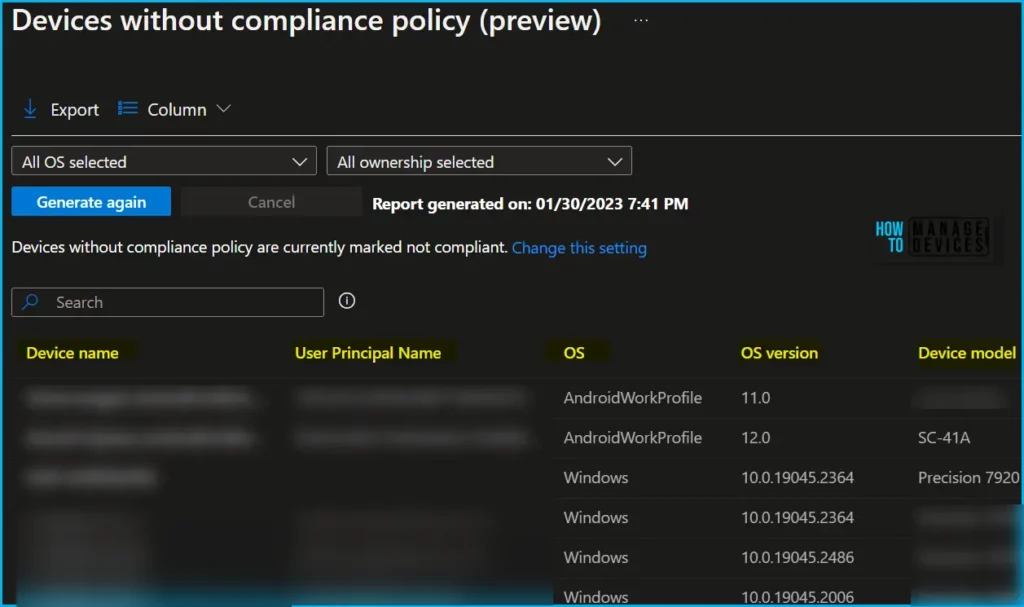 Use the Columns property to add or remove columns from the generated report. Click on the Columns, A flyout displays, here you can Check or Uncheck the columns that you want to include. Select Apply to update and Click Generate again to generate report.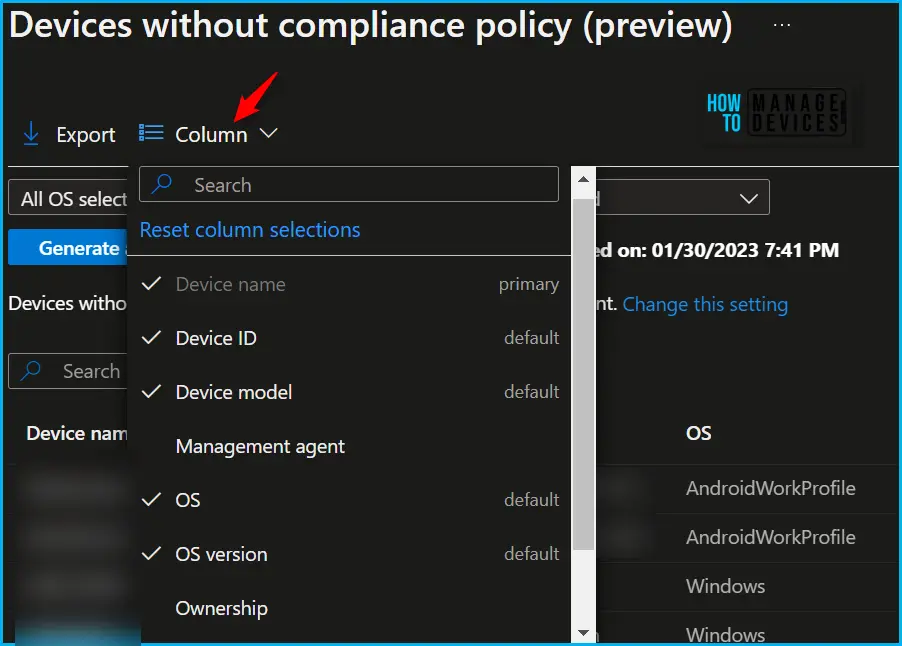 Compliance Policy Settings
Compliance policy settings are tenant-wide settings that determine how Intune's compliance service interacts with your devices. These settings are distinct from the settings you configure in a device compliance policy.
To manage the compliance policy settings, sign in to Microsoft Intune admin center and Navigate to Endpoint security > Device compliance > Compliance policy settings. Compliance policy settings include the following settings:
Mark devices with no compliance policy assigned as This setting determines how Intune treats devices that haven't been assigned a device compliance policy. This setting has two values:

Compliant (default): This security feature is off. Devices that aren't sent a device compliance policy are considered compliant.
Not compliant: This security feature is on. Devices that haven't received a device compliance policy are considered noncompliant.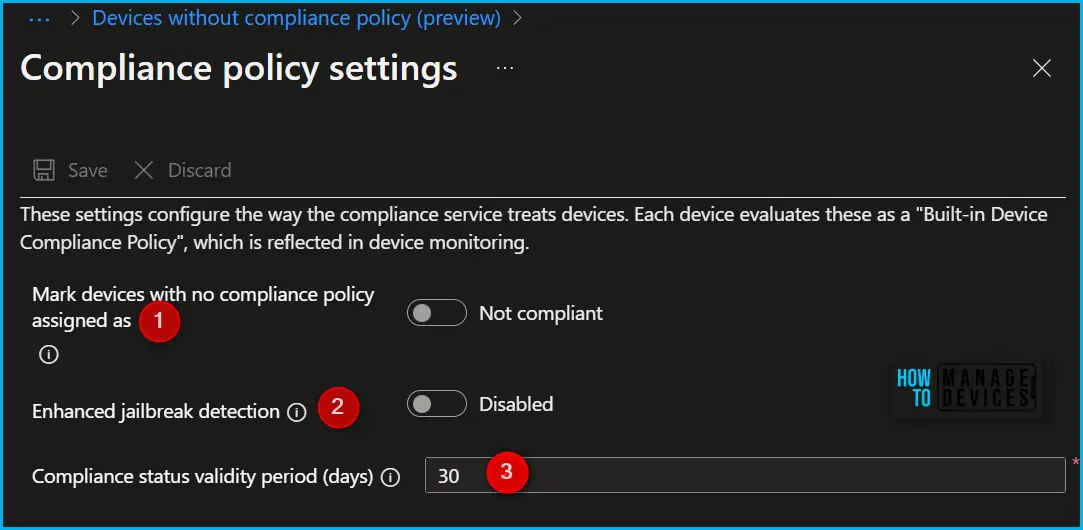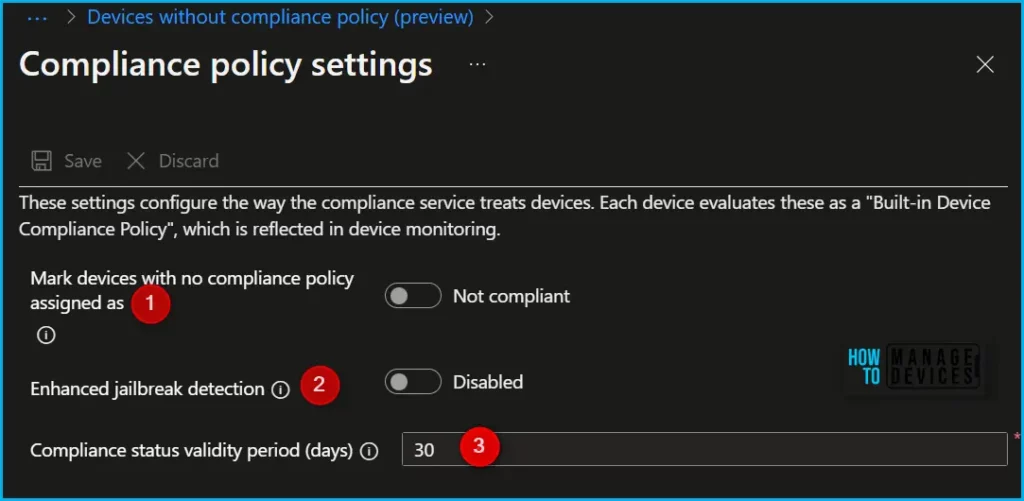 Author
About Author – Jitesh, Microsoft MVP, has over six years of working experience in the IT Industry. He writes and shares his experiences related to Microsoft device management technologies and IT Infrastructure management. His primary focus is Windows 10/11 Deployment solution with Configuration Manager, Microsoft Deployment Toolkit (MDT), and Microsoft Intune.