In this post, we will check about Intune monthly released new features in Microsoft Intune Service Release 2301 January Update. Microsoft releases updates as frequently as every week to help you manage devices more efficiently and securely.
Every update contains new features, improvements, and, most importantly, new capabilities. It allows you to try out new features and provide the best experience. You can get more information about updates by knowing the Intune service release.
The Service Release number in the Tenant Status blade in your console shows the released update. The new features are published once Microsoft starts rolling out the admin UI updates in the console.
Intune Service Health messages keep all health messages for the Intune service in one place. The health page is designed to inform you about known issues so you can troubleshoot issues users may be experiencing and determine when and at what scale, to deploy an update in your organization.

Verify Microsoft Intune Version in your Tenant
Here, I will show you how to check which Microsoft Intune latest version your tenant is running. The following steps help you to check Intune service release version of your tenant.
Under the Tenant Details tab, you will see the current service version for your account under "Service Release". You can see the Intune Service release 2301 indicating the latest released version. An overview of the Intune Service Release Naming Convention.
Note💡Intune Service Release Version numbers are named based on the YYMM format. Here you can see Intune service release 2301. It means this version is released in January 2023.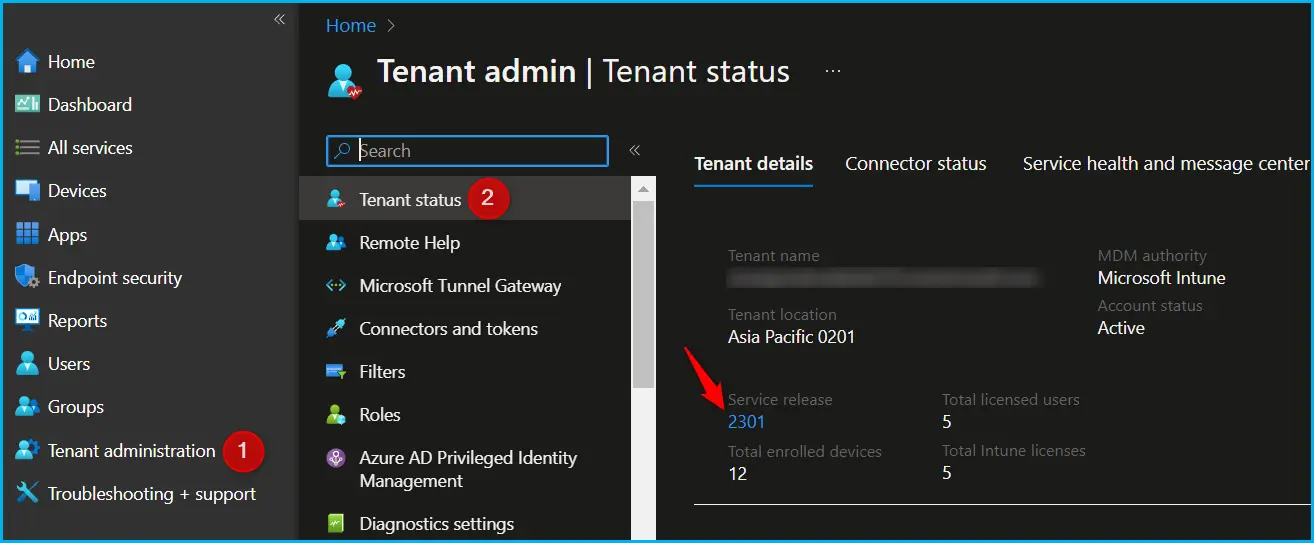 The Intune service release 2301 number provides access to the "What's new in Intune" article on Microsoft docs, where you can find information about the latest features and updates to the Intune service.

You can also read, Past releases in the what's new to get more information about what new features Intune service updates were released.
Table 1 – Explore Latest Enhancements in Intune Service Release 2301 January Update
New Features, Improvements in Microsoft Intune Service Release 2301 January Update
The Intune service release 2301 update and some features may roll out over several weeks and might not be available to all customers in the first week. The order and duration vary. Each monthly update may take up to three days to roll out and will be in the following order.
Day 1: Asia Pacific (APAC)
Day 2: Europe, Middle East, Africa (EMEA)
Day 3: North America
Day 4+: Intune for Government
Learn what's new to Microsoft Intune. Some features may roll out over several weeks and might not be available to all customers in the first week. This week's newly released feature with Intune service release 2301 will be updated in the post.
Filter App and Policy Assignments by Device Azure AD Join Type
A new device filter property deviceTrustType is available for Windows 10 and later devices. With this property, you can filter app and policy assignments depending on the Azure AD Join type, with values of "Azure AD Joined", "Hybrid Azure AD Joined", and "Azure AD registered".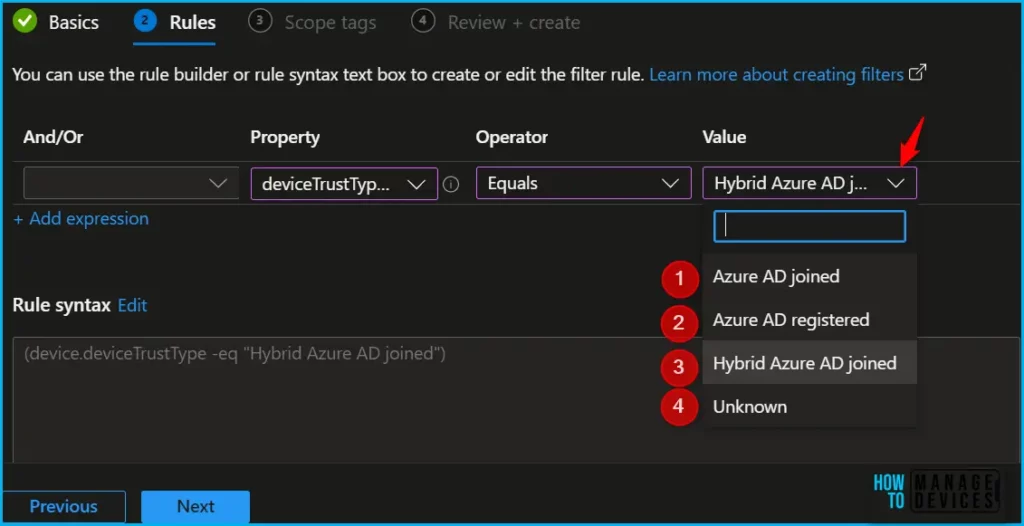 Enrollment Notifications now Generally Available
Enrollment notifications are now generally available and are supported on Windows, Apple, and Android devices. This feature is only supported with user-driven enrollment methods. Let's learn how to create enrollment notifications in Intune MEM Admin portal, Configure Device Enrollment Notifications In Intune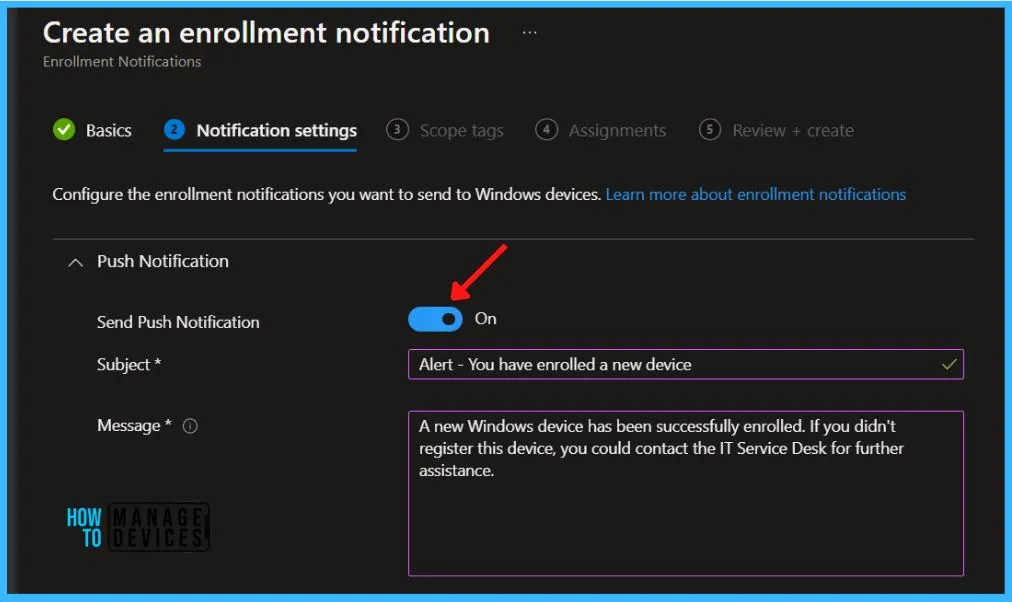 WinGet Troubleshooting Using Diagnostic Files
WinGet is a command line tool that enables you to discover, install, upgrade, remove, and configure applications on Windows 10 and 11 devices. When working with Win32 app management in Intune, you can now use the following file locations to help troubleshoot WinGet:
%TEMP%\winget\defaultstate*.log
Microsoft-Windows-AppXDeployment/Operational
Microsoft-Windows-AppXDeploymentServer/Operational
Intune Troubleshooting Pane Update
A new experience for the Intune Troubleshooting pane will provide details about user's devices, policies, applications, and status. The troubleshooting pane will include the following information:
A summary of policy, compliance, and application deployment status.
Support for exporting, filtering, and sorting all reports.
Support to filter by excluding policies and applications.
Support to filter to a user's single device.
Details about available device diagnostics and disabled devices.
Details about offline devices that haven't checked-in to the service for three or more days.
You can find the troubleshooting pane in Microsoft Endpoint Manager admin center by selecting Troubleshooting + support > Troubleshoot.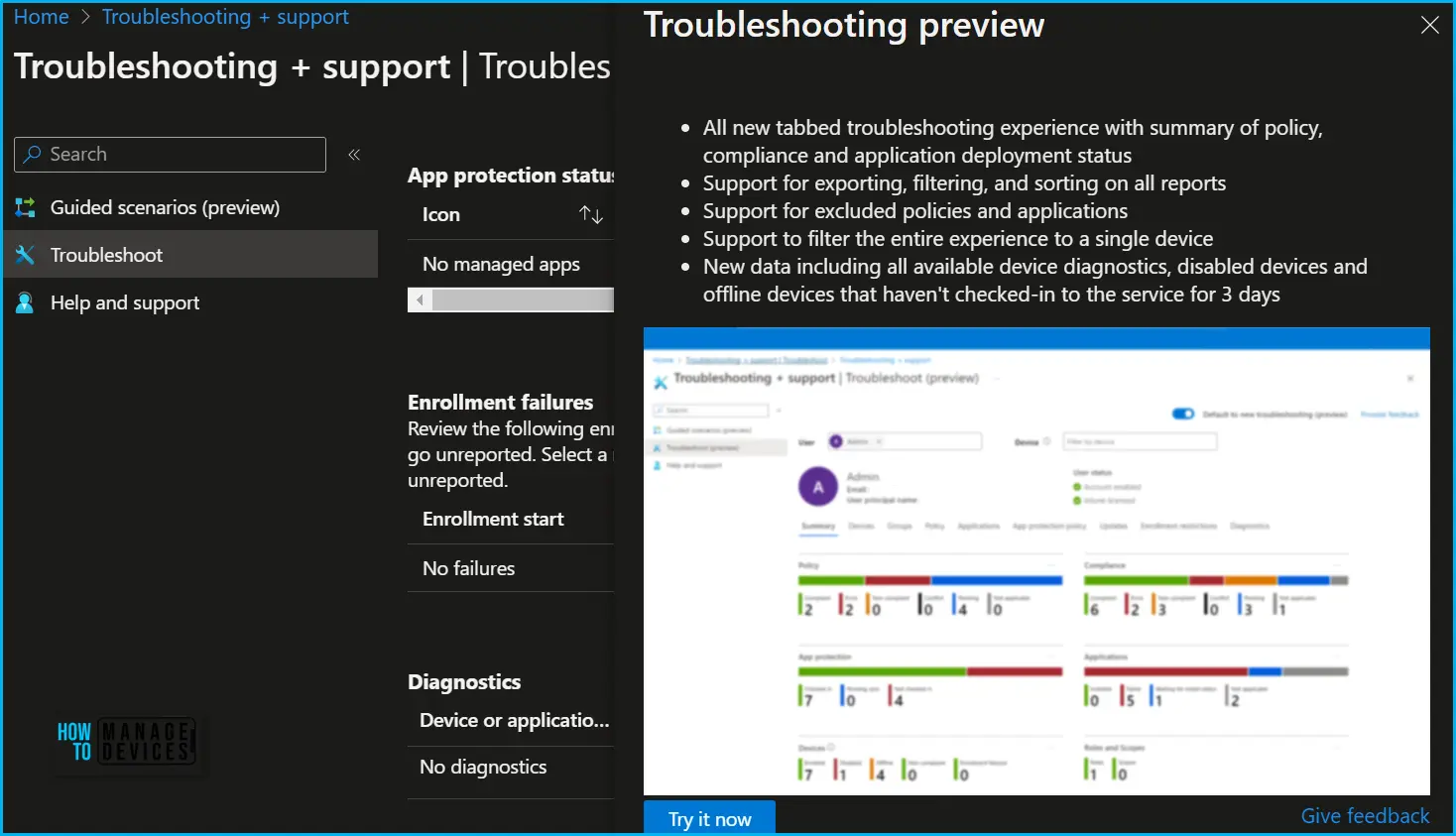 Win32 App Supersedence General Availability
Starting with Intune Service Release 2301, Microsoft Intune team is rolling out the feature set for Win32 app supersedence GA, which will add support for apps with supersedence during ESP and allow supersedence and dependency relationships to be added in the same app subgraph.
Here, you will learn how to use Intune Win32 App Supersedence. You can use Intune to create one or more supersedence relationships between apps.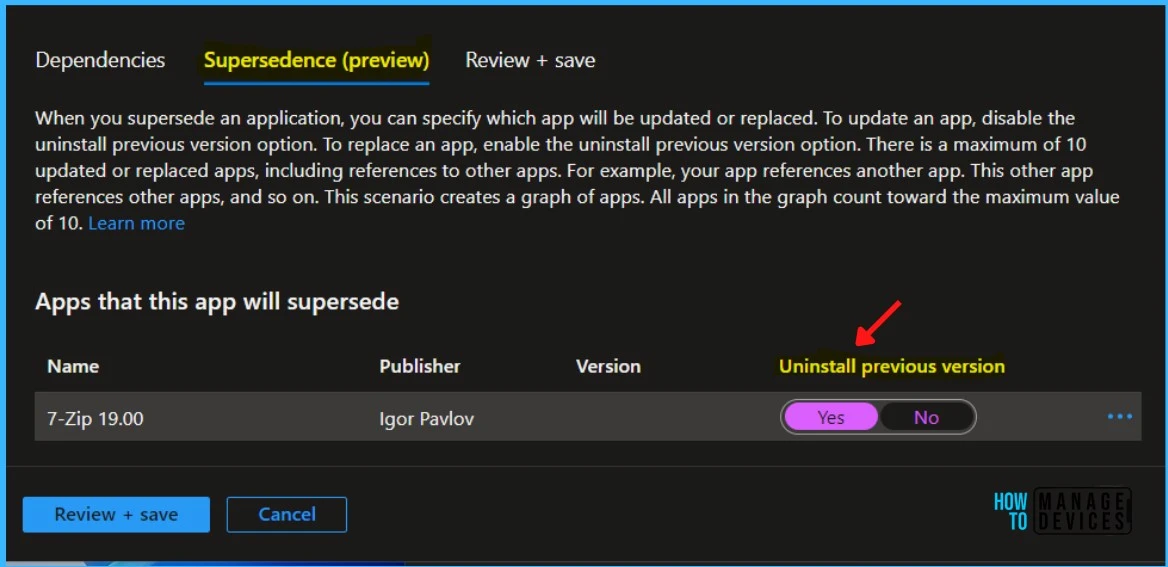 Block Pinning Web Pages to Managed Home Screen App
On Android Enterprise dedicated devices using Managed Home Screen, you can now use app configuration to configure the Managed Home Screen app to block pinning browser web pages to Managed Home Screen. The new key value is block_pinning_browser_web_pages_to_MHS.
Device Configuration Password Complexity Setting for Android Enterprise
The Company Portal app enforces Password Complexity setting on Android Enterprise 12+ personally owned devices with a work profile.
On Android Enterprise 12+ personally owned devices with a work profile, you can create a compliance policy and device configuration profile that sets the password complexity. Starting with the Intune 2211 release, this setting is available in the Intune admin center:
Devices > Configuration profiles > Create profile > Android Enterprise for platform > Personally owned with a work profile.
Devices > Compliance policies > Create policy > Android Enterprise for platform > Personally owned with a work profile.
The Company Portal app enforces the Password complexity setting. It applies to Android Enterprise 12+ personally owned devices with a work profile.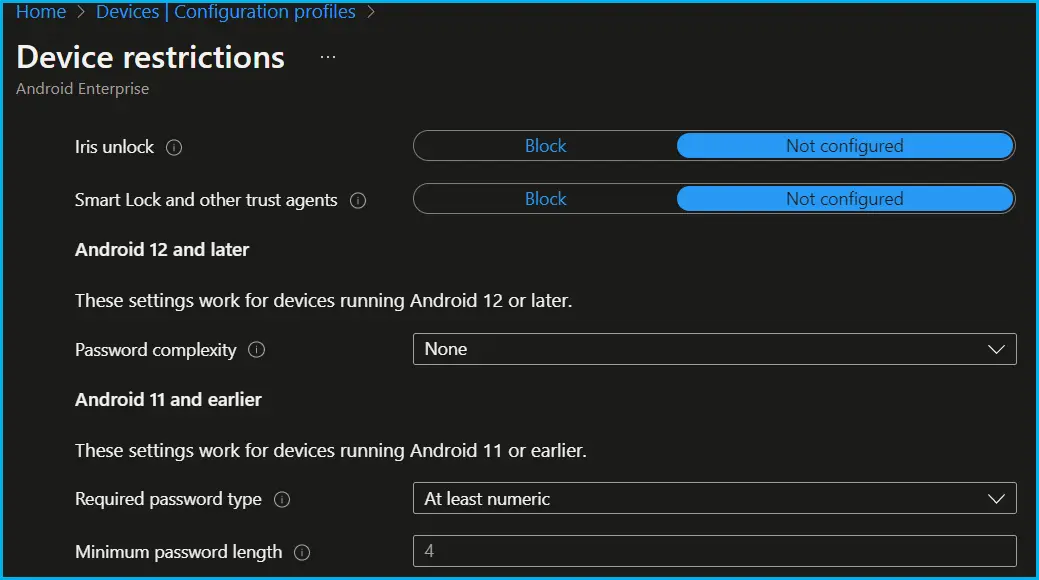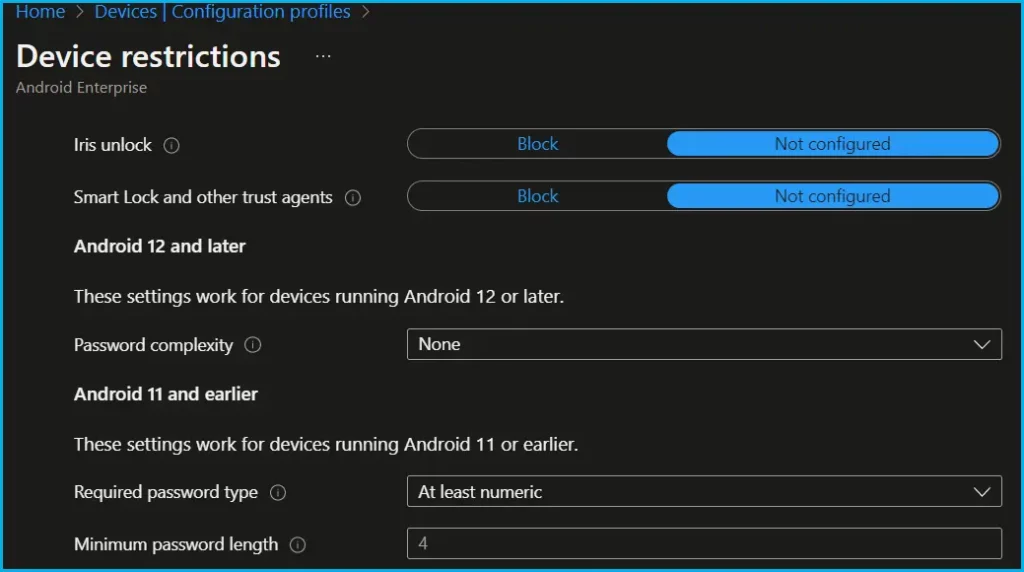 🔔You can find more updates on What's new in Microsoft documents, What's new in Microsoft Intune | Microsoft Learn. The upcoming updates will be listed here and updated. Stay connected with HTMD Community
Author
About Author – Jitesh, Microsoft MVP, has over five years of working experience in the IT Industry. He writes and shares his experiences related to Microsoft device management technologies and IT Infrastructure management. His primary focus is Windows 10/11 Deployment solution with Configuration Manager, Microsoft Deployment Toolkit (MDT), and Microsoft Intune.