In this post, we will check about Intune monthly released new features in Microsoft Intune Service Release 2211 November Update. Microsoft releases updates as frequently as every week to help you manage devices more efficiently and securely.
The Service Release number in the Tenant Status blade in your console shows the released update. The new features are published once Microsoft starts rolling out the admin UI updates in the console.
Every update contains new features, bug fixes, and, most importantly, new capabilities. It allows you to try out new features and provide the best experience. You can get more information about updates by knowing the Intune service release.
Intune Service Health messages keep all health messages for the Intune service in one place. The health page is designed to inform you about known issues so you can troubleshoot issues users may be experiencing and determine when and at what scale, to deploy an update in your organization.

Check Microsoft Intune Service Release Version in Your Tenant
Here, I will show you how to check which Microsoft Intune service version your tenant is running. The following steps help you to check Intune service release version of your tenant.
Under the Tenant Details tab, you will see the current service version for your account under "Service Release". You can see the Intune Service release 2211 indicating the latest released version.
Note💡- Intune Service Release Version numbers are named based on the YYMM format. For example, Here is Intune service release 2211. It means this version is released in November 2022.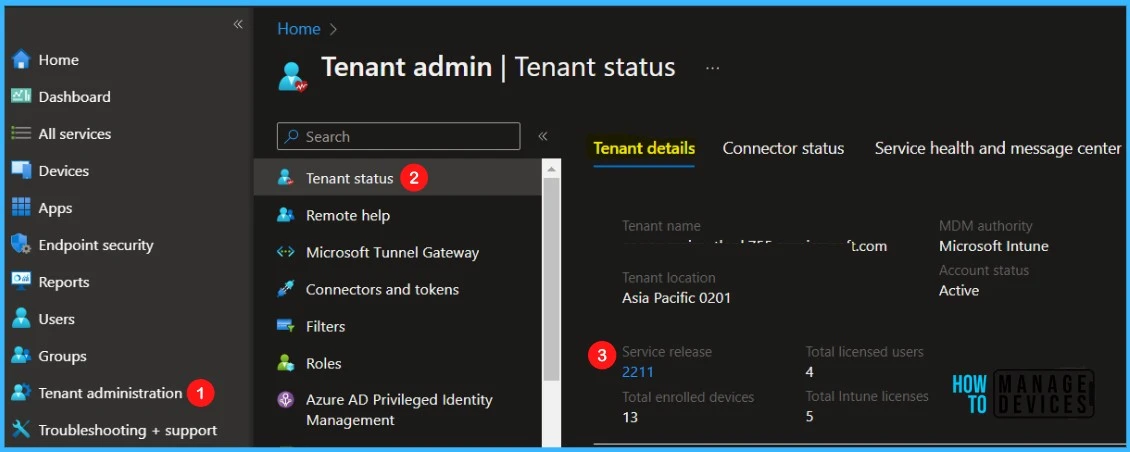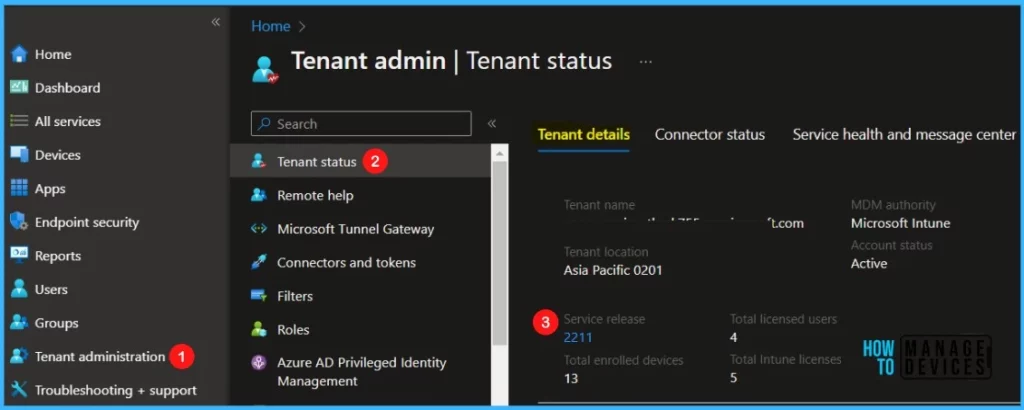 The Intune service release 2211 number is a link that opens the What's new in Intune article on Microsoft docs. Here you can get information about the latest features and updates to the Intune service.

You can also read, Past releases in the what's new to get more information about what new features Intune service updates were released.
Table 1 – Intune Service Release
New Features in Microsoft Intune Service Release 2211 November Update
The Intune service release 2211 update and some features may roll out over several weeks and might not be available to all customers in the first week. The order and duration vary. Each monthly update may take up to three days to roll out and will be in the following order.
Day 1: Asia Pacific (APAC)
Day 2: Europe, Middle East, Africa (EMEA)
Day 3: North America
Day 4+: Intune for Government
Learn what's new to Microsoft Intune. Some features may roll out over several weeks and might not be available to all customers in the first week. This week's newly released feature with Intune service release 2211 will be updated in the post.
Intune Multiple Admin Approval Process
Microsoft shared a screenshot showing where Intune Multi Admin Approval appears in the Tenant admin section of Intune. Microsoft confirmed that there is a slight delay in enabling this feature. As per the latest updates, this would be deployed within 2 weeks time.
Intune Multi Admin approval process is have a more secured way of deployments of applications and policies. This helps to avoid any accidental deployments. This means that any changes that are made won't be applied until a member of the approver's group reviews the suggested change and provides approval.
Login to Intune Admin Center
Navigate to Tenant Admin
Click on the Multi Admin Approval tab to check the workflow.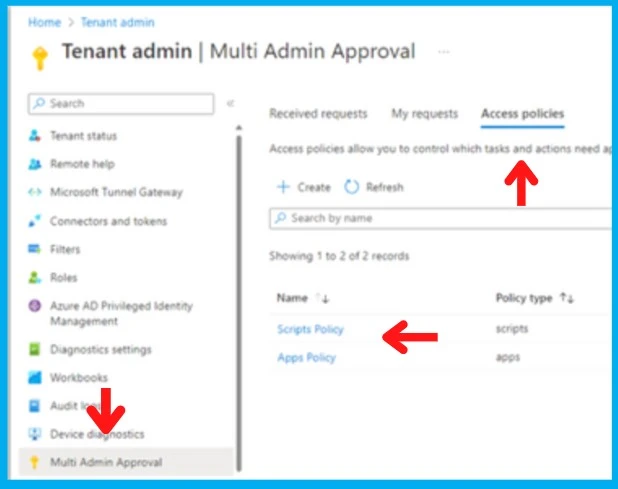 Deliver Organizational Messages for Windows 11
Starting with Intune Service Release 2211, Organizational messages are preconfigured messages intended to improve employee communication in remote and hybrid-work scenarios.
They can be used to help employees adapt to new roles, learn more about their organization, and stay informed of new updates and training. You can deliver messages just above the taskbar, in the notifications area, or in the Get Started app on Windows 11 devices. Read More, Configure Organizational Messages From Intune Portal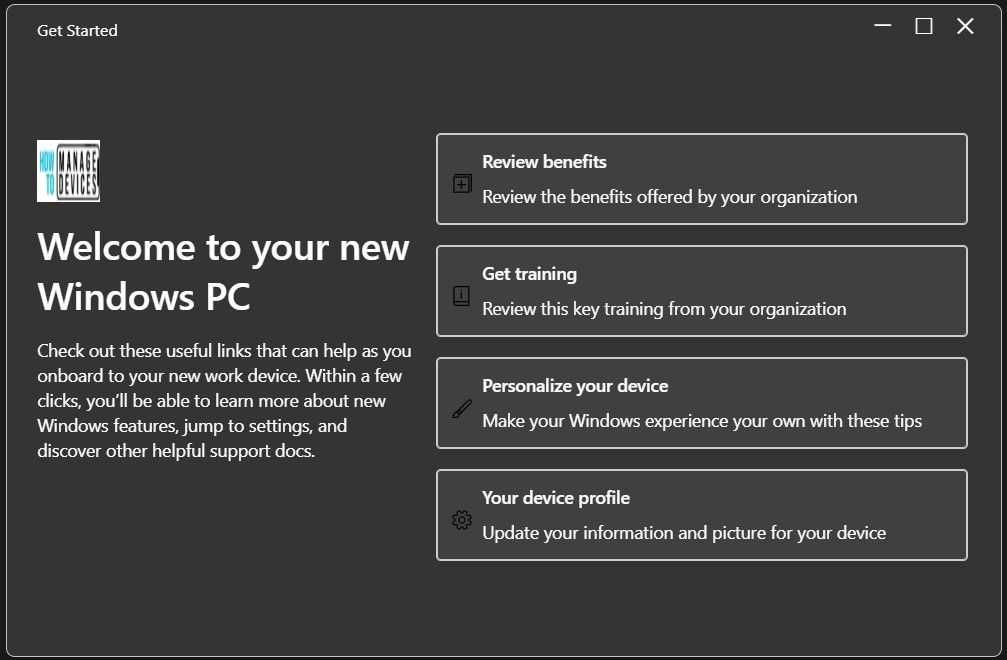 Newly available protected apps for Intune
The following protected apps are now available for Microsoft Intune:
Varicent by Varicent US OpCo Corporation
myBLDNG by Bldng.ai
Enterprise Files for Intune by Stratospherix Ltd
ArcGIS Indoors for Intune by ESRI
Meetings by Decisions by Decisions AS
Idenprotect Go by Apply Mobile Ltd
Review Cloud PC connectivity health checks and errors
You can now review connectivity health checks and errors in the Microsoft Endpoint Manager admin center to help you understand if your users are experiencing connectivity issues.
You'll also get a troubleshooting tool to help resolve connectivity issues. To see the checks, select Devices > Windows 365 > Azure network connections > select a connection in the list > Overview.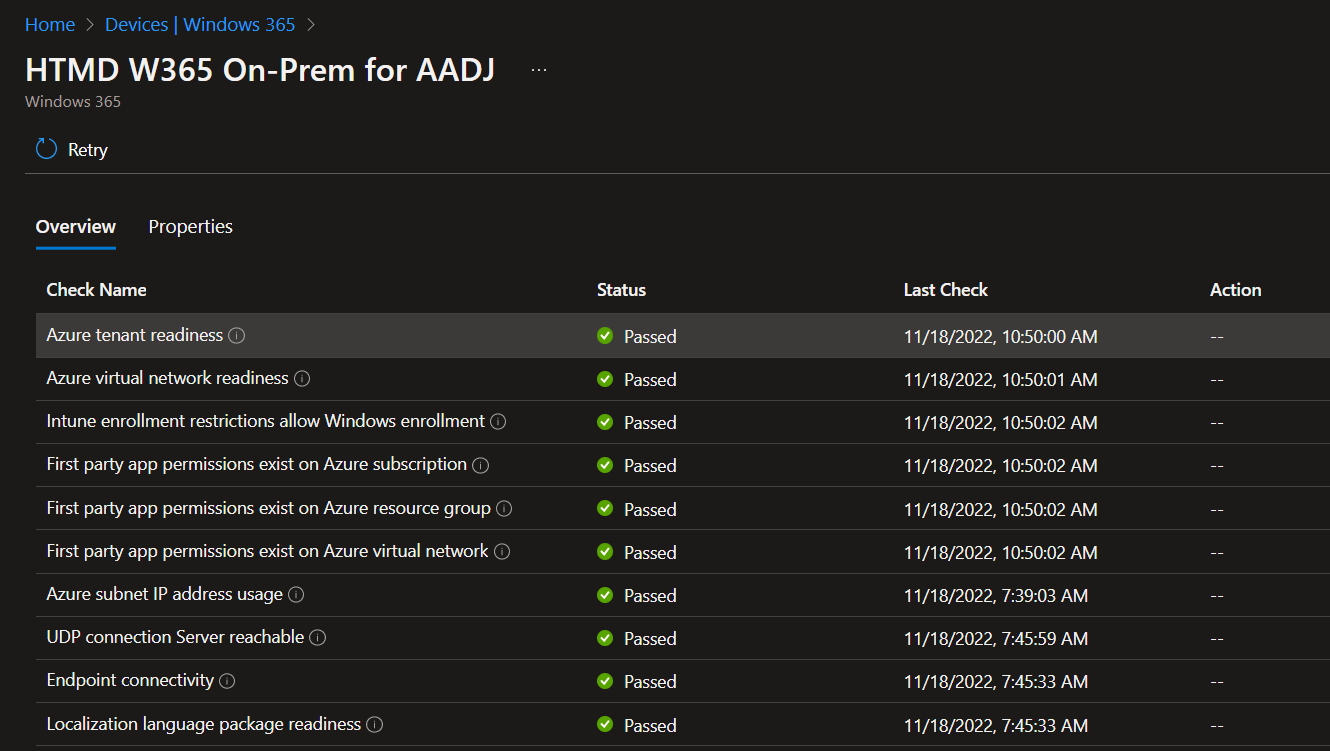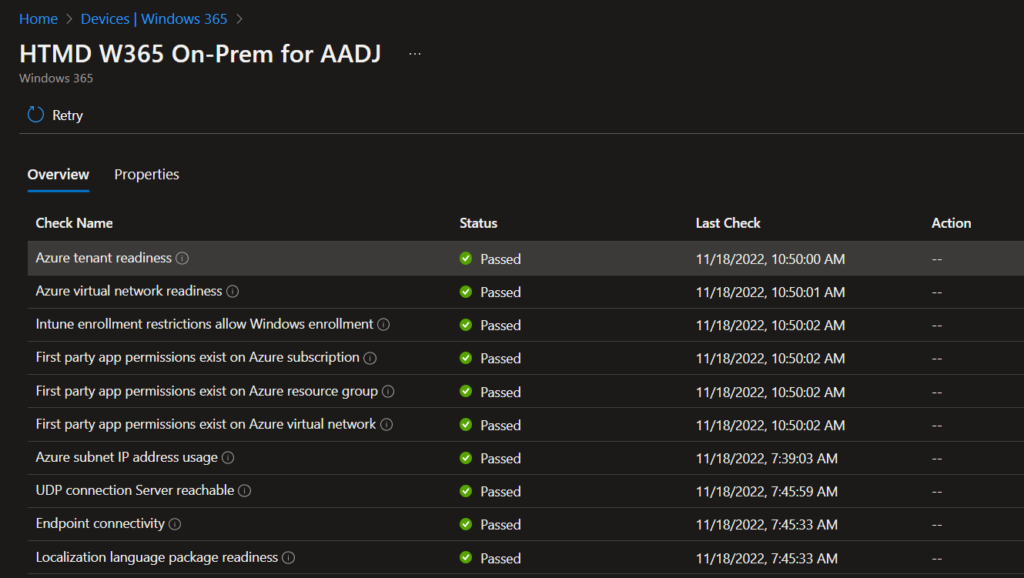 Control the Display of Managed Google Play apps
You can group Managed Google Play apps into collections and control the order that collections are displayed when selecting apps in Intune.
You can also make apps visible via search only. This capability is available in the Microsoft Intune admin center by selecting Apps > All apps > Add > Managed Google Play app. 
Login and background item management support on macOS devices
On macOS devices, you can create a policy that automatically opens items when users sign in to their macOS devices.
In Intune, the settings catalog includes new Service Management settings at Devices > Configuration profiles > Create profile > macOS for platform > Settings catalog > Login > Service Management. These settings can prevent users from disabling the managed login and background items on their devices.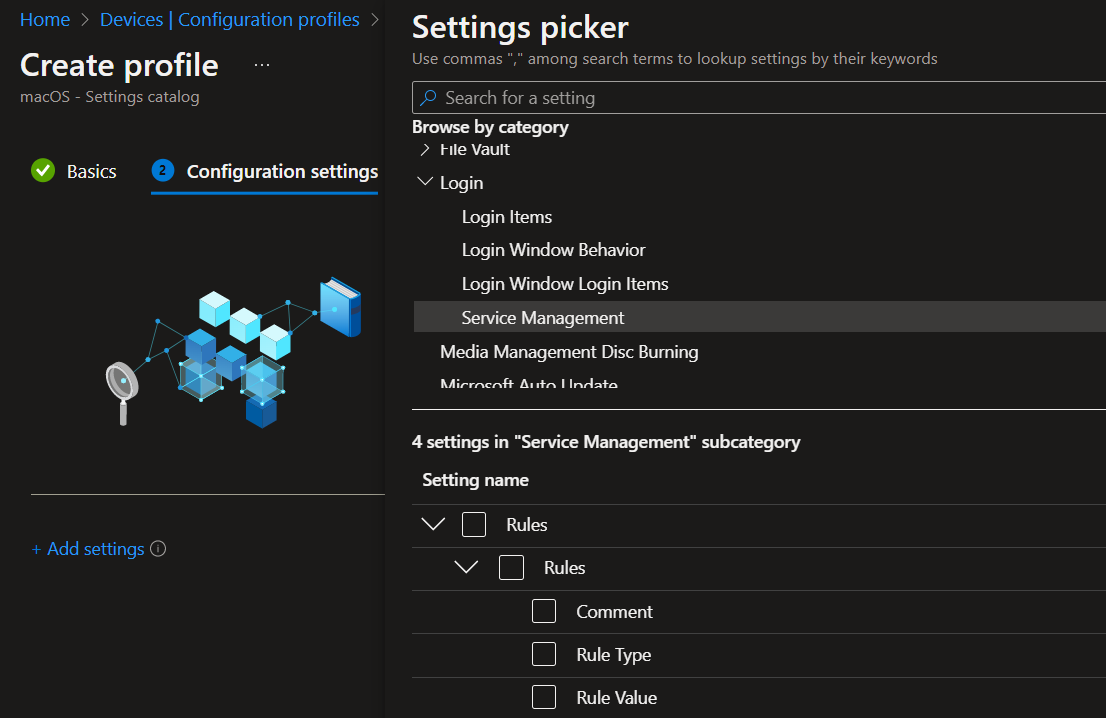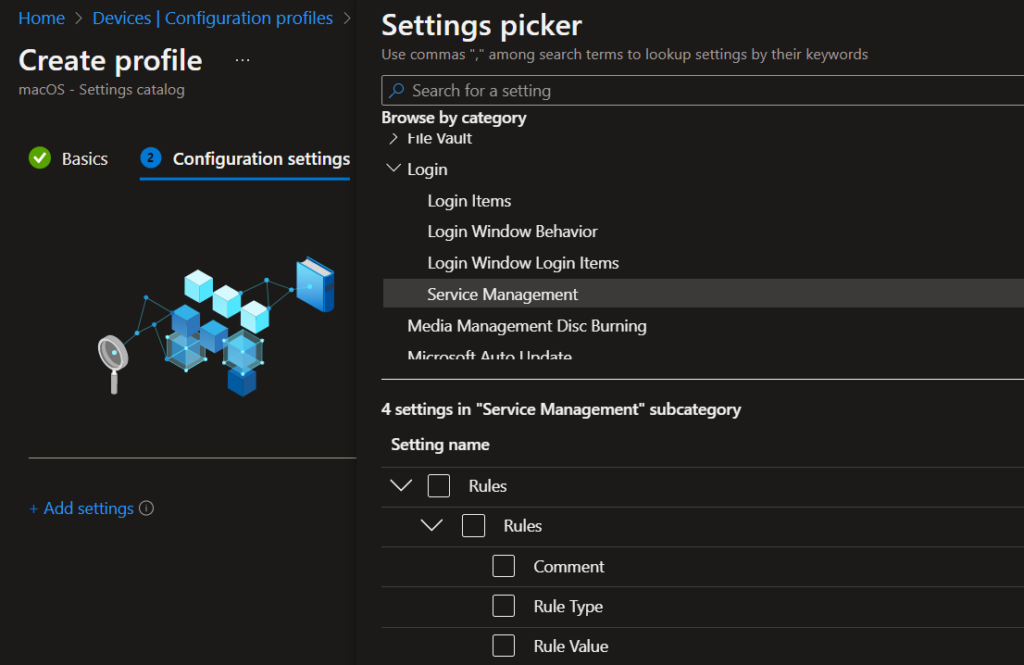 Ending support for Windows Information Protection
Windows Information Protection (WIP) policies without enrollment are being deprecated. You can no longer create new WIP policies without enrollment. Until December of 2022, you will continue to be able to modify existing policies until the deprecation of the without enrollment scenario is complete.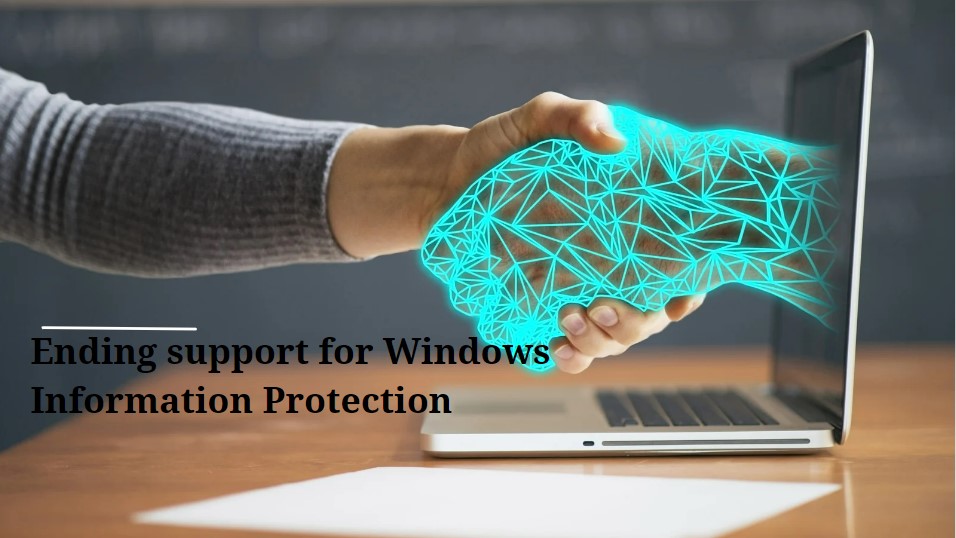 User Configuration Support for Windows 11 multi-session VMs is now Generally Available
Starting with Intune Service Release 2211, You can now Configure user scope policies using the Settings catalog and assign them to groups of users, including ADMX-ingested policies.
Configure user certificates and assign to users
Configure PowerShell scripts to install in the user context and assign to users.
This support will apply to the Windows 11, Virtual machines created in Azure Public and Azure Government clouds.
Primary MTD service app protection policy setting for Intune
Intune now supports both Microsoft Defender for Endpoint and one non-Mobile Threat Defense (MTD) connector to be turned "On" for App Protection Policy evaluation per platform. This enables scenarios where a customer may want to migrate between Microsoft Defender for Endpoint and non-Microsoft MTD service without a pause in protection via risk scores in App Protection Policy.
A new setting has been introduced under Conditional Launch health checks titled "Primary MTD service" to specify which service should be enforced for the end user.
🔔You can find more updates on What's new in Microsoft documents, What's new in Microsoft Intune | Microsoft Learn
Author