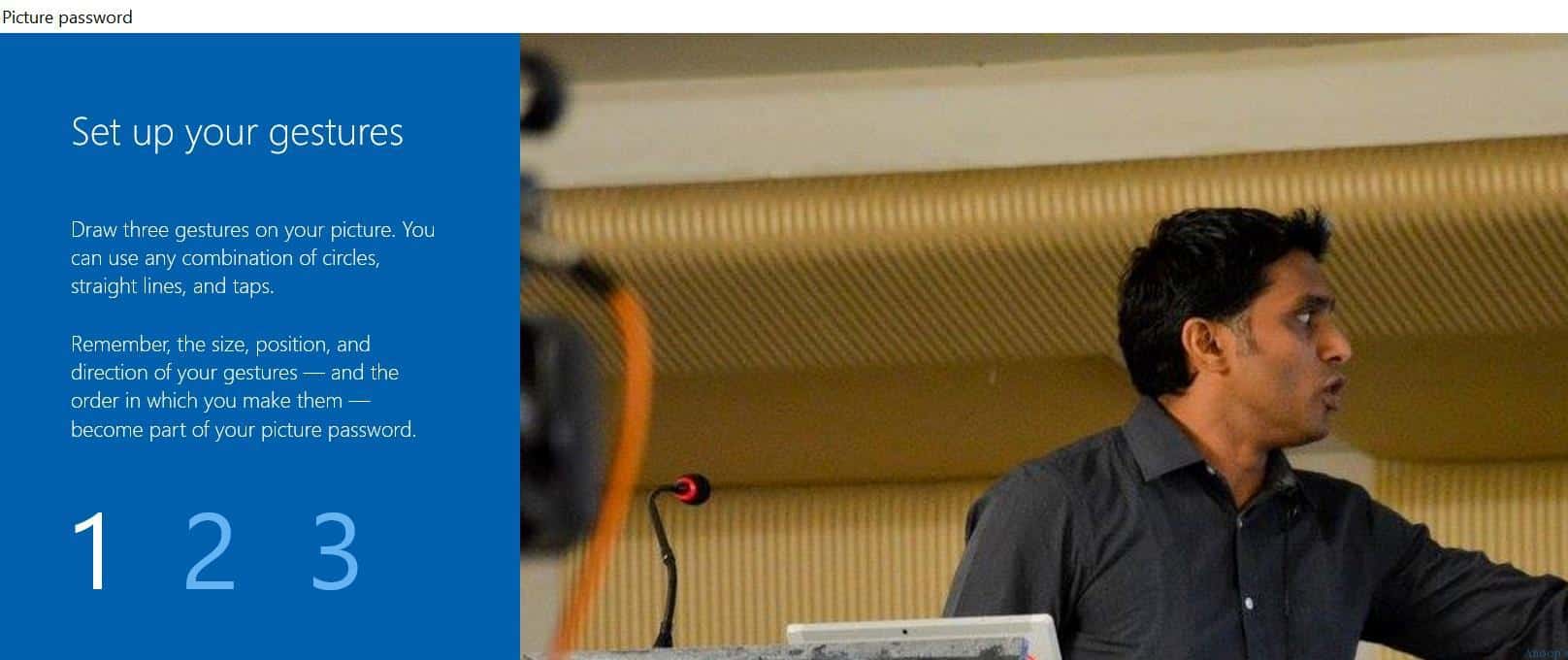 Today morning I noticed that there is a new section in the Windows 10 machine under Sign in options on the settings page. I know picture password was there before on Windows 8 machine as well. Now you can set up picture password for the Windows 10 touch screen machines. Picture password can setup on touch screen machines as well as non touch screen machines. You can draw a picture password directly on a touchscreen with your finger or you can use a mouse to draw your shapes.
Video !! – How to Add, Change and Remove Windows 10 picture password !!
How to add/setup Windows 10 Picture password  
To setup Windows 10 picture password on your Windows 10 machine Navigate through "Setting–> Accounts –> Sign in Options" Or you can run the following command from RUN menu and then click on ADD button. Before adding picture password, you have to authenticate yourself with Windows 10 password.
ms-settings:signinoptions


Windows 10 picture password comes with the following welcome page where is demonstrates how to setup picture password for Touch screen machine :-

Now you need to select the picture you wanted to use for Windows 10 picture password. You can select any picture from the gallery. As you can see in the following screen capture there are two options 1. Use this picture and 2. choose new picture. In this case I selected to use this picture as Windows 10 picture password 🙂

Next is that you need to select 3 gestures as your Windows 10 picture password. You have to remember that a picture password is limited to three gestures. Three gestures must be some combination of circles, straight lines, and taps. I would prefer to have taps. I can tap on the Mic, Surface and stand as 3 gestures 🙂 While setting up picture password gestures, you need to repeat those twice just to confirm your gestures.

It is recommended to make 3 gestures of your Windows 10 picture password not very complex like your signature 🙂 Also, you need remember the sequence of your gestures.

How to Change or Remove Windows 10 Picture Password :-

To change Windows 10 picture password, you need to go to settings –> accounts –> Sign in Options then as you can see in the following screen capture click/Tap on Change button. To remove Windows 10 picture password, you can click on REMOVE button.

While trying to change the picture password,Windows 10 will ask for the Microsoft account password. You can keep your current picture and change your gestures or choose a new picture. Also from this page, you can replay your 3 gestures if you have forgotten the Windows 10 picture password gestures !!