New Text Prediction and other features in MS Edge Browser. The newest version of Microsoft Edge has been released with a small handful of updates and new features. The new features make your browsing experience even better.
The latest update for Microsoft Edge, version 109.0.1518.49, has just been released. It brings some handy additions, like text prediction in longer text fields. You can now link your Microsoft account with your Azure Active Directory account. This update is for the stable version of Edge that is generally available.
We have an article showing Microsoft Edge for Business Review New Business Browsing Experience. Edge for Business is the next big move to bring you the ultimate browser for all your business needs. It is designed to create a separation between work and personal browsing.
Microsoft Edge is the main web browser that comes with Windows. This browser offers a range of features that enhance the user's browsing experience and is also designed for security and privacy. One of the important benefits of Microsoft Edge is its cross-platform compatibility. Users can easily access the web from any device, including Windows, MacOS, iOS, and Android.

What is the New Feature in MS Edge Browser?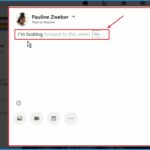 The latest update in MS Edge introduces a text prediction feature. It suggests words and sentences as you type on web pages.
How Does Text Prediction Work?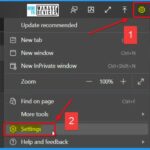 The text prediction feature in MS Edge uses artificial intelligence and deep learning technology to recommend the most suitable words while typing.
Is this Feature Available to All Users?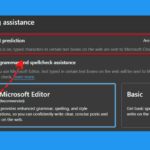 Text prediction is rolling out to all Official build MS Edge browser versions on Windows 10 and Windows 11.
What Version of Edge Browser Provides the Text Prediction Feature?
Is Text Prediction Available in Multiple Languages and Regions?
Now, text prediction is supported in English for users in the United States, India, and Australia. Microsoft plans to expand its availability to more languages and regions.
New Text Prediction and Other Features in MS Edge Browser
Microsoft has released a new update for Edge, bringing it to version 109.0.1518.49. This update is for the regular and everyday version of Edge that most people use. So you should be able to get it easily. In this new Edge version, there are some features and improvements. They are as follows.
Text prediction
Link a personal Microsoft account (MSA) with an Azure Active Directory account.
TLS server certificate verification changes
Text Prediction
You can easily Increase your writing speed and confidence with AI-powered text predictions. This innovative tool predicts your next words. It helps you finish sentences faster and concentrate on your writing tasks. If text prediction is not turned on, you can enable it by following these steps.
Open Microsoft Edge from the Start menu
Go to Settings (click on the 3 dots in the upper-right corner of Edge)
Note! – The availability and functionality of this feature may vary depending on your device type, market, and browser version.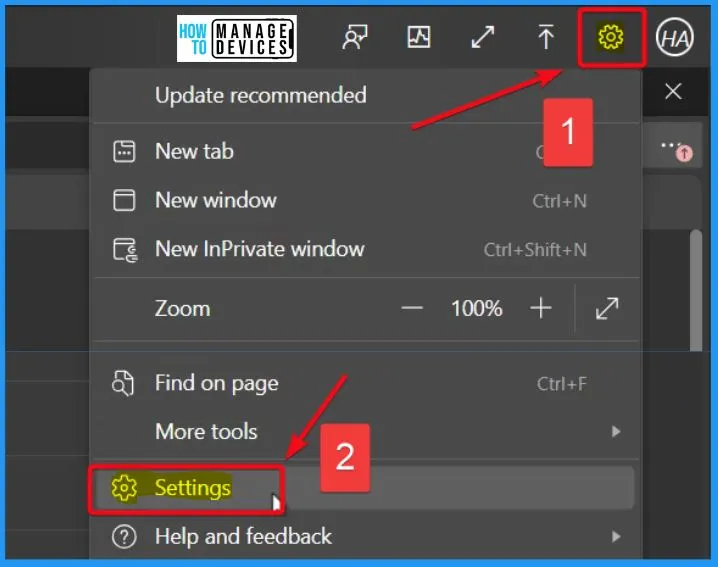 Text prediction uses smart technology to suggest the right words as you type on a web page. It's coming first to some Windows 10 and Windows 11 users through the Canary Channel.
Select the Languages tab on the Left side of the Settings window
Turn on Text prediction from Languages
| Edge Feature | Enable | Disable |
| --- | --- | --- |
| Use Text Prediction | Toggle the pane to the Right side | Toggle the pane to the Left side |
New Text Prediction and other Features in MS Edge Browser – Table 1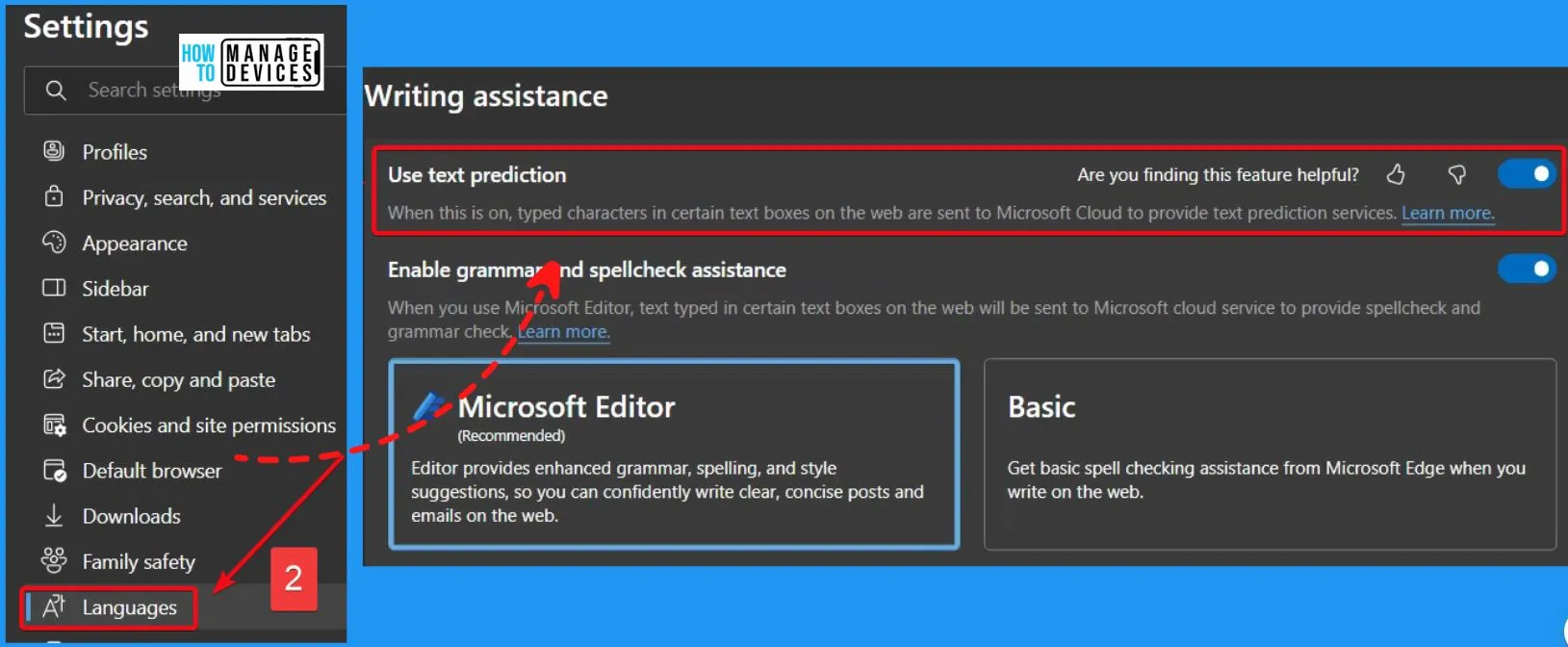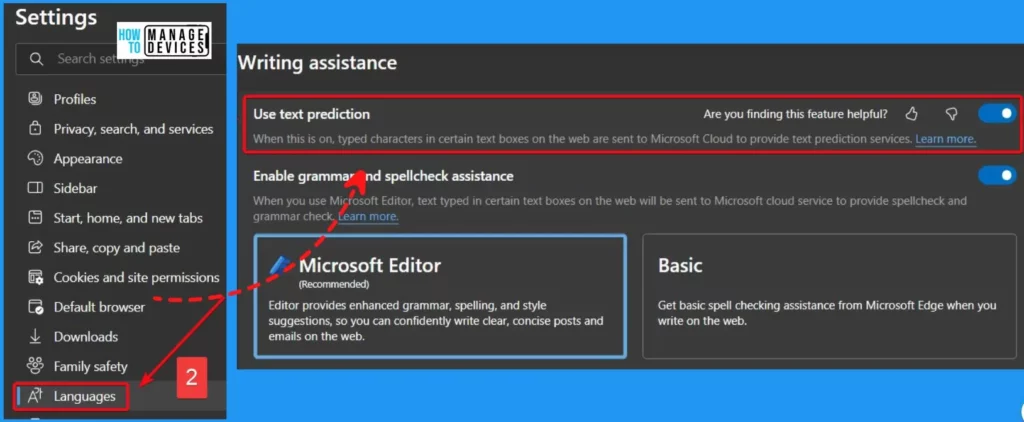 Microsoft Edge now helps you write faster with the help of Text prediction. It suggests words and even whole sentences for longer text fields on web pages. This works for English in the US, India, and Australia. Microsoft plans to expand it to more languages and regions in the future.
IT admins can easily turn off this feature using the Group Policy.
Edge incorporates text prediction features for recommending words as users type.
Microsoft's roadmap indicates that text predictions will be extended to assist users in composing better online messages.
Experimental text prediction can be tried on Edge Dev or Canary by ensuring the device's region and language settings are set to the US.
MS Edge's predictive features only work on Windows 10 or Windows 11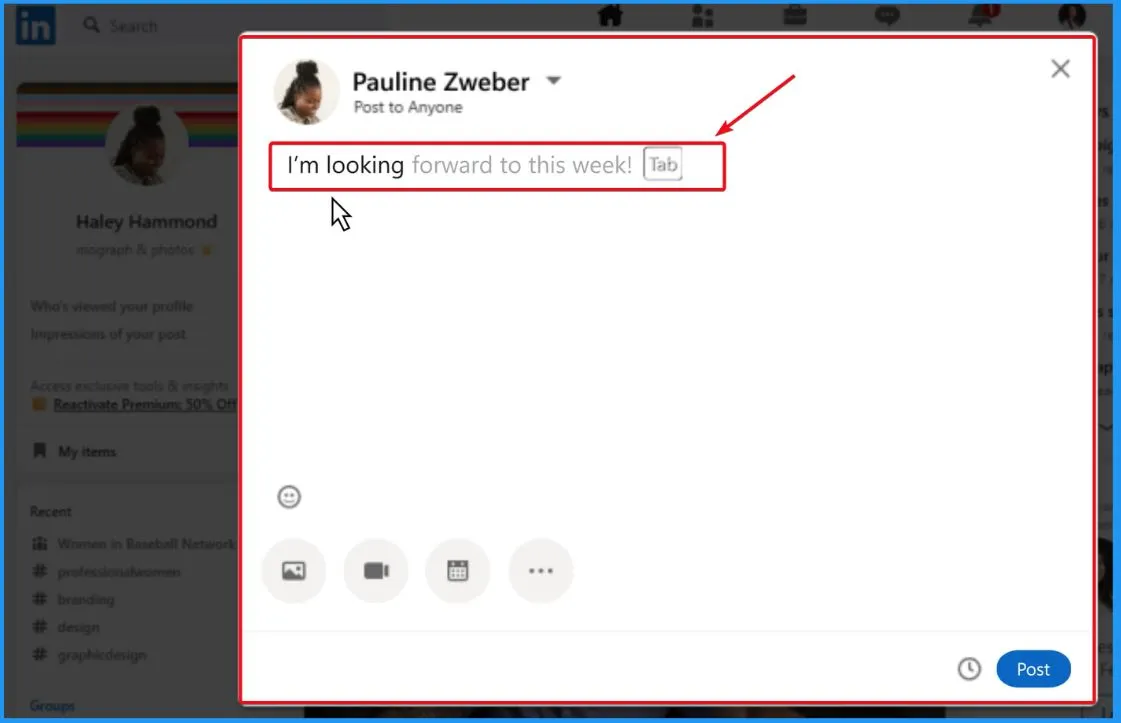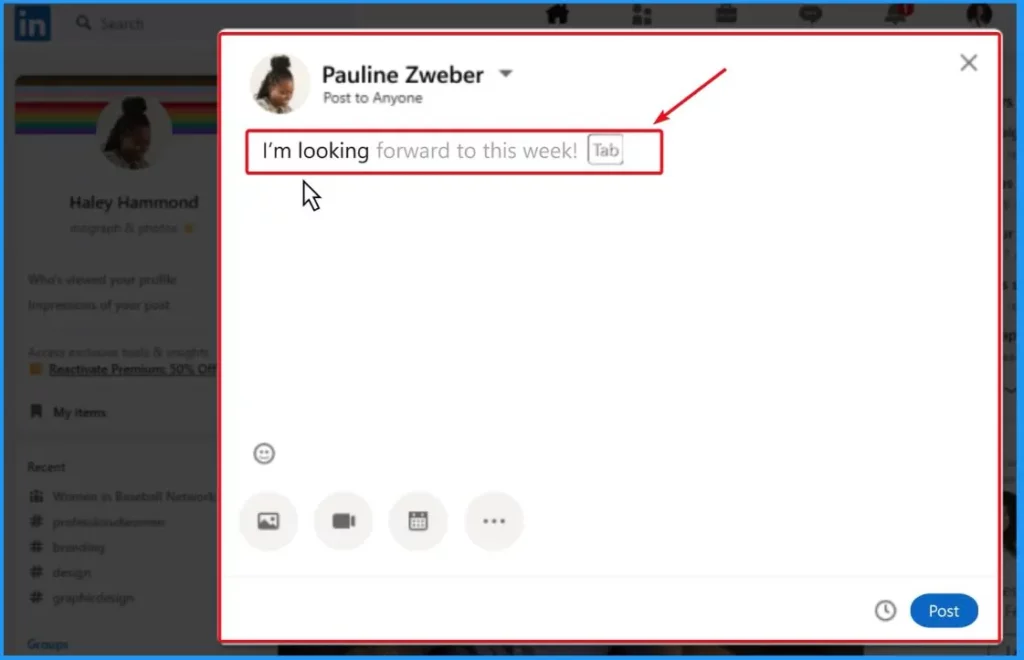 New Text Prediction Work Online
Text prediction operates on websites that lack their built-in spellchecker. This feature assists with suggesting and correcting words as you type, enhancing your writing experience on platforms where this function is not already present.
Supported Languages for Text Predictions
Text prediction is currently available in English in select areas. And it will soon be accessible in Chinese and Japanese as well. This means even more users will soon enjoy the benefits of this helpful feature while typing.
2. Link a Personal Microsoft Account (MSA) with an Azure Active Directory Account
Users can now connect their personal Microsoft account (MSA) with their Azure Active Directory (AAD) account from their workplace or educational institution. This linking enables users to accumulate Microsoft Rewards points when conducting Bing searches in their browser or Windows search box while logged in with their work or school account.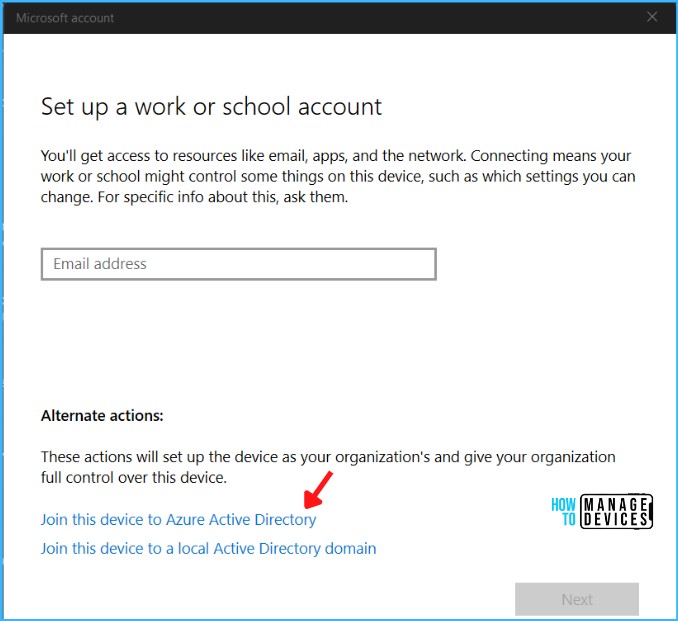 3. TLS Server Certificate Verification Changes
In Microsoft Edge version 110, the browser will no longer rely on the host operating system's root store for certificate trust and verification. Instead, Edge will include its own default trust list and verification system. A testing policy called MicrosoftRootStoreEnabled is now available to control the built-in trust list and verifier use. However, this policy is set to be removed in Microsoft Edge version 111.
Text Prediction | Microsoft Edge
Author
About the Author – Vidya is a computer enthusiast. She is here to share quick tips and tricks with Windows 11 or Windows 10 users. She loves writing on Windows 11 and related technologies. She is also keen to find solutions and write about day-to-day tech problems.