Let's learn the internals of office 365 email backup. Well, it's not the only office 365 mailbox but many more services like OneDrive, etc. I have experienced an office 365 mailbox outage recently because someone accidentally deleted the cloud identity. Of course, it was a great (not) experience!
With this post, let's understand the importance of Office 365 backup. Get to know the Do's and Don'ts of Office 365 mail backup in the below sections by reviewing Microsoft docs and service agreements.
Questions?
Do you really need Office 365 mail backup? Microsoft provides all the types of backup and restores options to cover all the scenarios from the real world?
The quick answer is NO.

As I mentioned above, the real-world scenario – of accidental deletion is not covered by the Microsoft SaaS services offering. During the migration of the Office 365 mailbox (and accidental deletion of cloud identity), I lost access to the following services:
Office 365 mailbox
OneDrive
SharePoint
Teams Channels
Teams Chat history
How can you get the Office 365 Mail backup along with all the other cloud services? Let's dig more into the do's and don'ts to understand the details!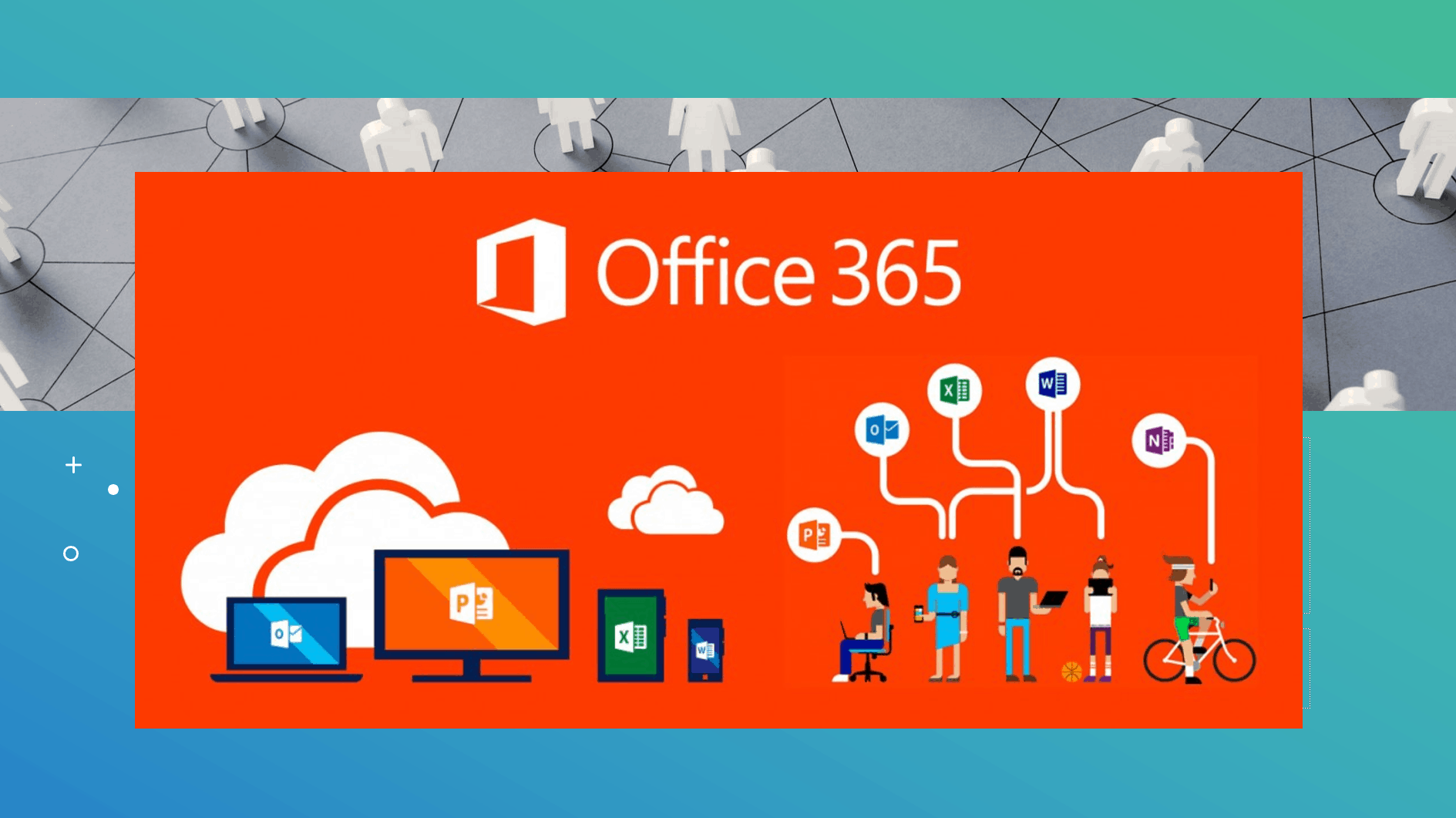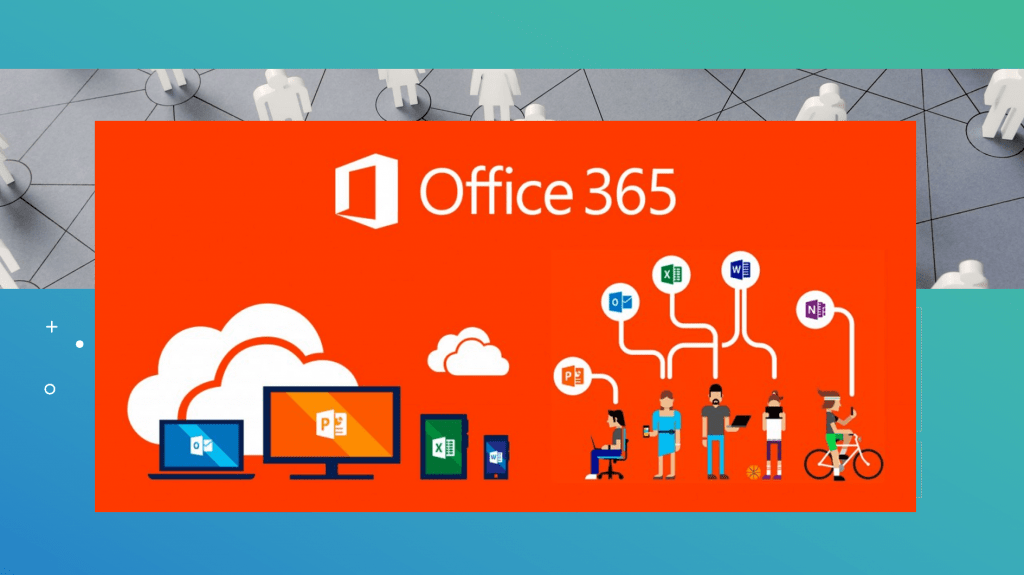 Don'ts
Let's understand the don'ts when you try to build a strategy for Office 365 Mailbox backup solution. The following points might give you more clarity.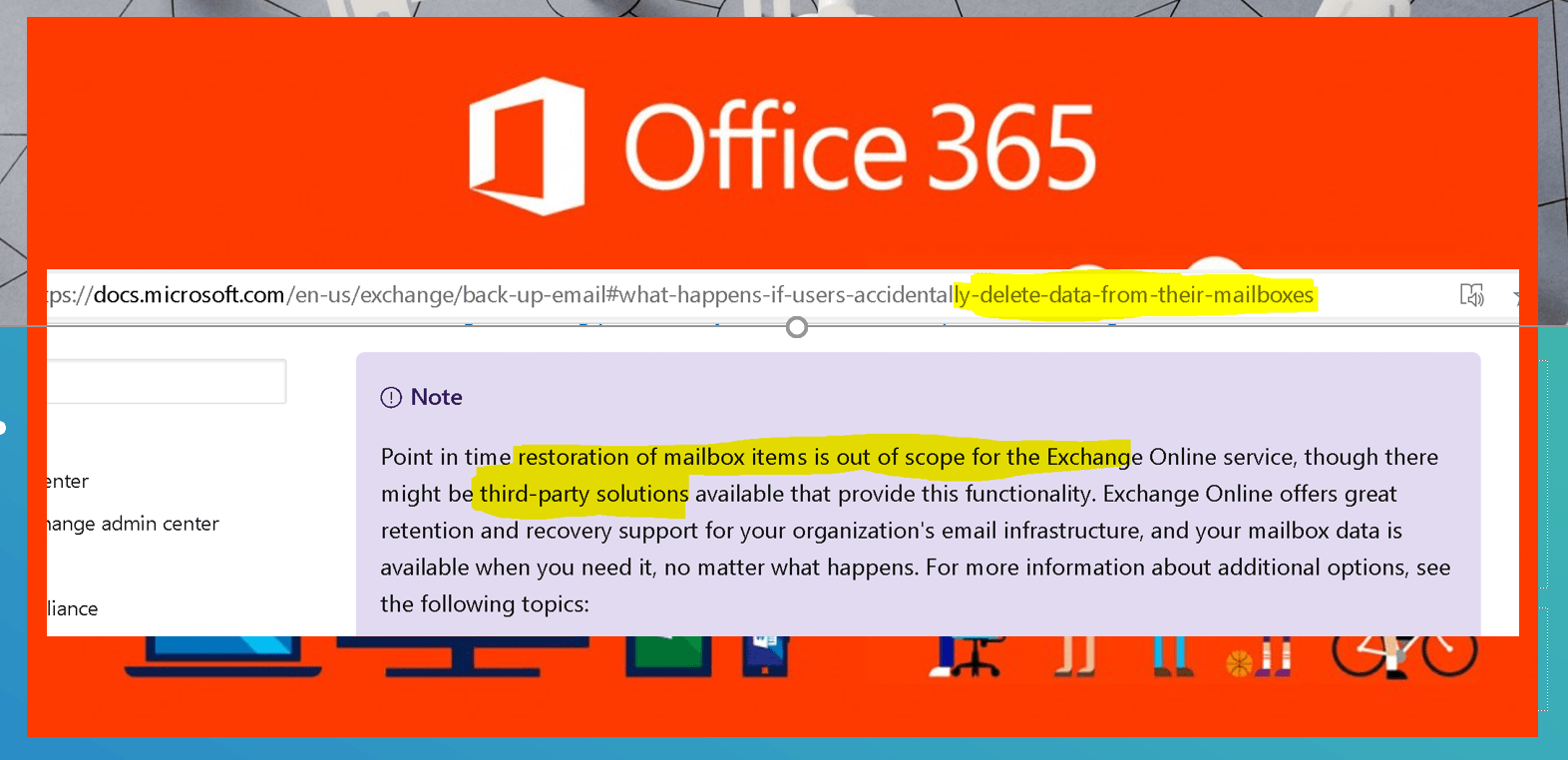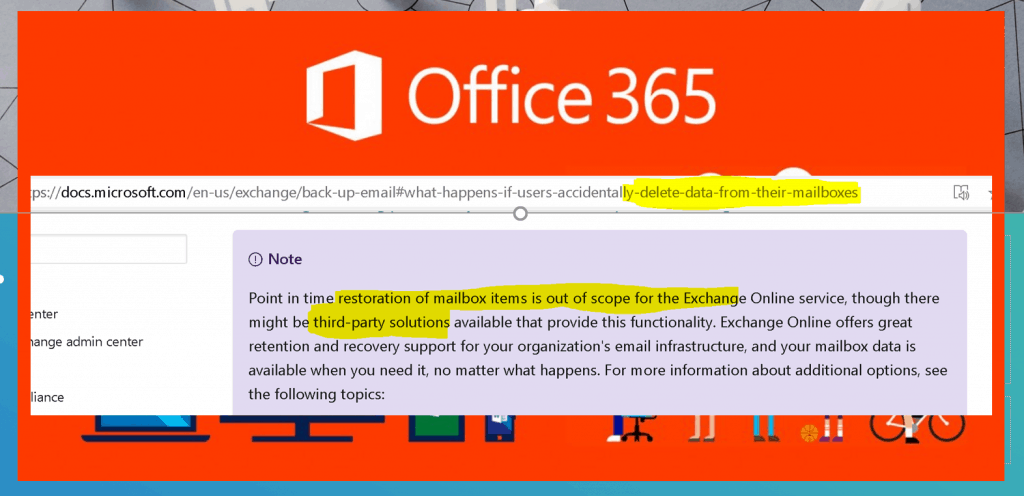 Don't assume that all backup and restore scenarios are covered by the Microsoft SaaS offering.
Don't provide the restoration of mailbox items.
Don't provide a way to perform a traditional backup of mailboxes.
The service Availability agreement from Microsoft confirms the recommendation of using 3rd party backup services/tools.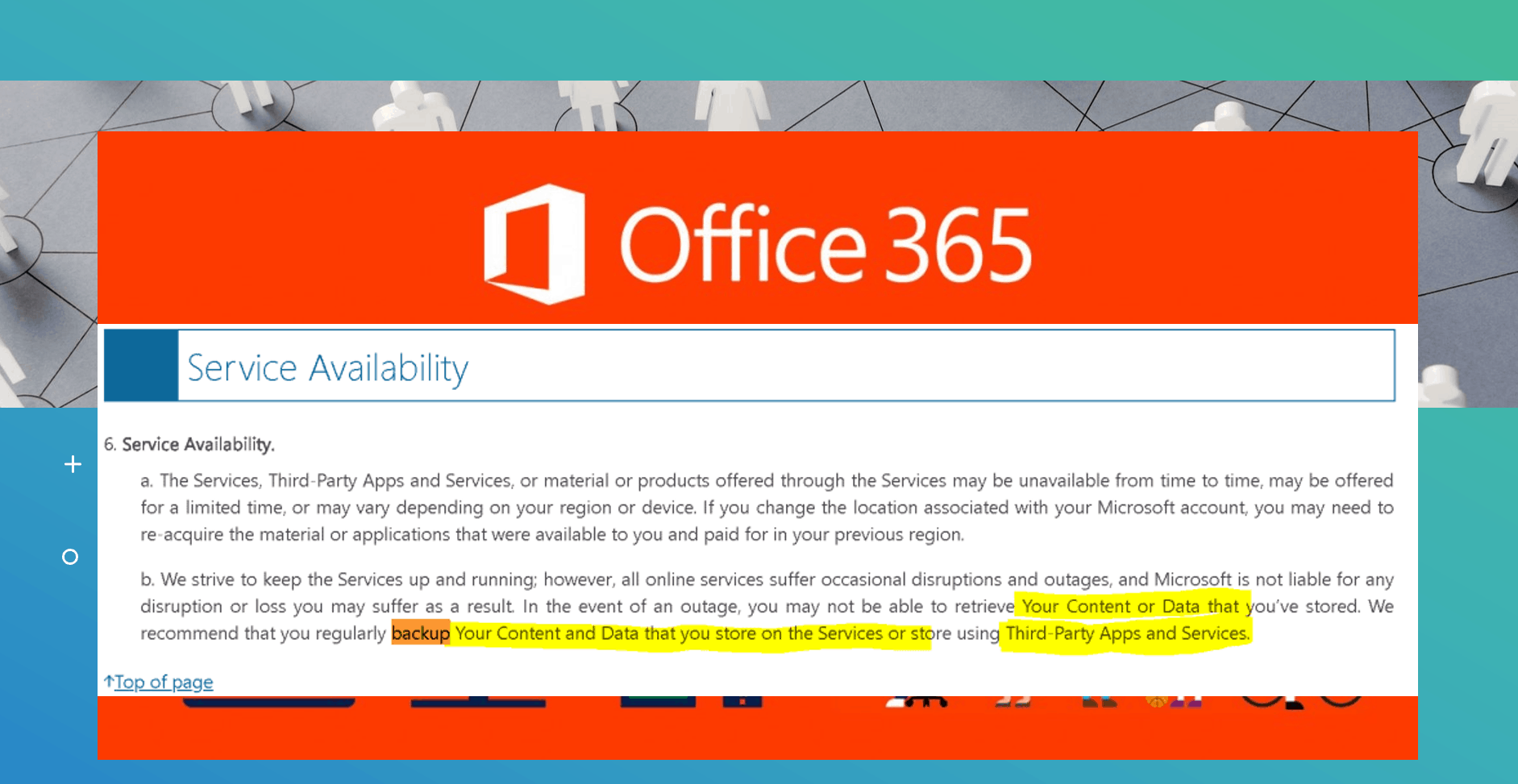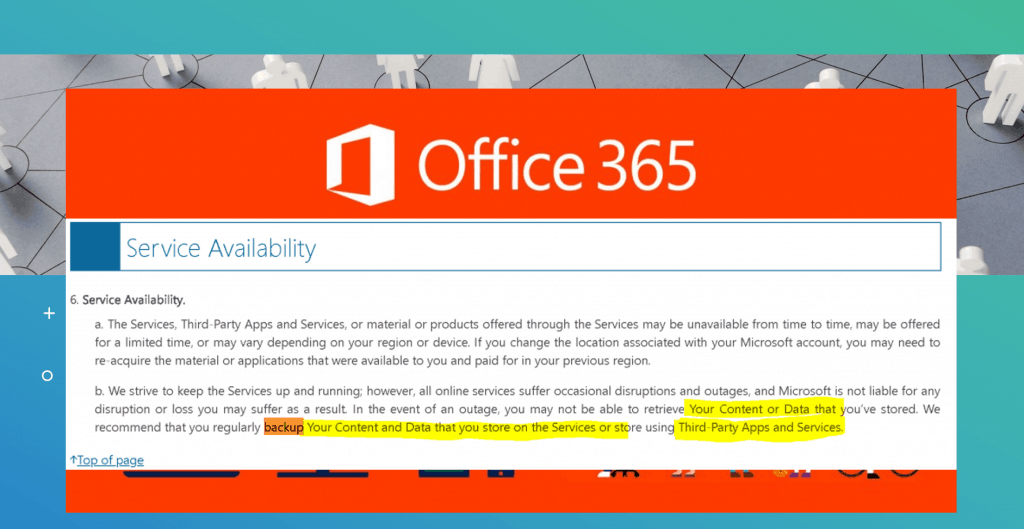 Do's
Microsoft Office 365 mailbox SaaS solution provides default capabilities. More details about all these features are explained in Microsoft docs. The following are some of the features that Microsoft Office 365 provides:

High Availability and Business Continuity in case of Data Center unavailability.
Exchange Online Archiving.
Retention policies.
Basic monitoring of mailboxes.
Exchange Online Protection (EOP).
NOTE! – An Exchange Online mailbox keeps deleted items for 14 days by default, but Exchange Online administrators can change this setting to increase the period up to a maximum of 30 days. More info Soft-Deleted and Hard-Deleted Items.
3-2-1 Backup Golden Rule
Let's quickly check the golden rules (3-2-1) for backup. And also, understand whether Microsoft 365 exchange online SaaS is covered with all these three rules or not.
(3) copies of your data, and store two
(2) backup copies on different storage media, with one
(1) of them is located offsite.
The Microsoft 365 (Office 365 mailbox) SaaS services for exchange online didn't cover all these golden rules per the Do's & Don'ts.
Does this mean you need to look for a third-party Office 365 email backup solution for Office 365 backup? Yes!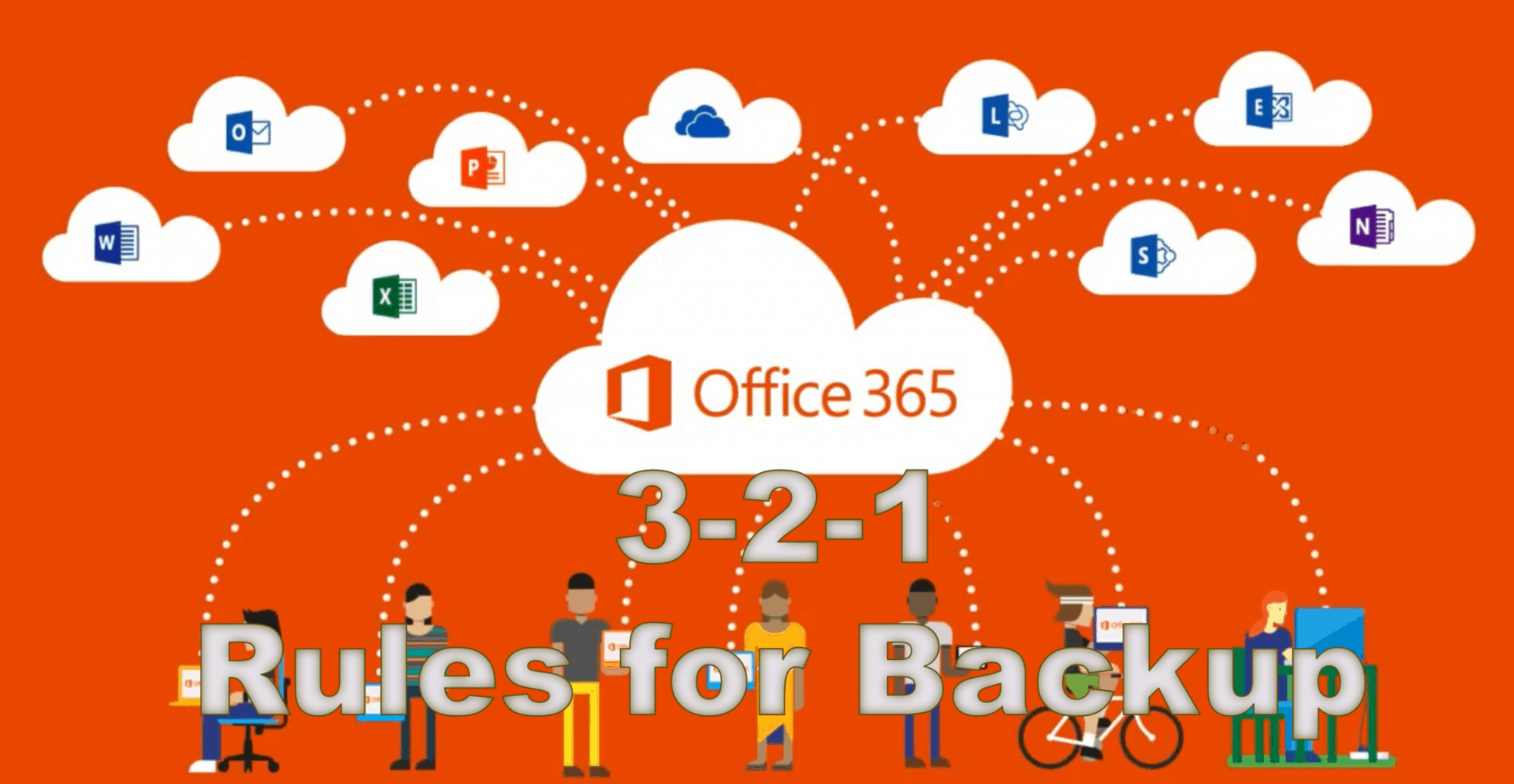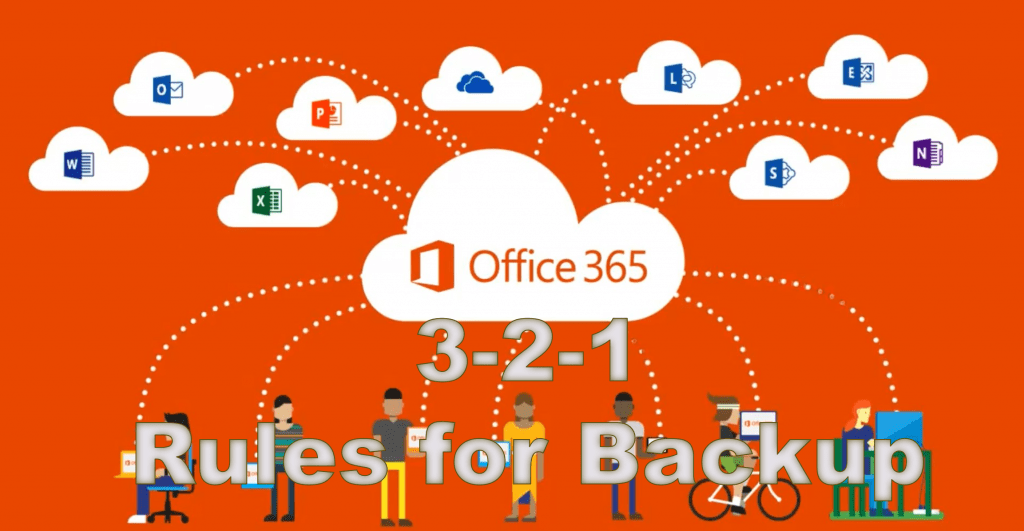 Selection of Office 365 Mail Backup Provider
Now, we understand the need for a third-party backup provider for the office 365 mailbox (Microsoft 365 exchange online). Let's have a quick view of the important selection criteria for backup solution providers:
Trustworthy – email is critical to your business.
Data Security – Pen test and Certifications!
Performance (How fast – backup and restore) – is very important.
Features of the backup solution.
I have done a couple of quick reviews about different office 365 backup providers, and one of them I wanted to highlight here is Altaro Office 365 backup solution.
Resources
Anoop is Microsoft MVP! He is a Solution Architect in enterprise client management with more than 20 years of experience (calculation done in 2021) in IT. He is a blogger, Speaker, and Local User Group HTMD Community leader. His main focus is on Device Management technologies like SCCM 2012, Current Branch, and Intune. E writes about ConfigMgr, Windows 11, Windows 10, Azure AD, Microsoft Intune, Windows 365, AVD, etc…