Let's check the easiest option to find Task Sequences reference Application in SCCM (a.k.a ConfigMgr). Starting with SCCM 1906 release, Task sequences tab is available in the applications node, and This tab lists the task sequences that reference specific applications. I have seen this useful for SCCM admin when you want to know which Task Sequence references specific applications.
Especially when you plan to retire an older version of an application before you delete it, It's important to remove references to the application by other deployments. With the Task sequences tab, you can get the details of the referenced application's task sequence. Later on, you can update or remove an application from all of the task sequences that are no longer used in production.
Before moving to the next steps, I recommend having the latest SCCM Production 2107 version to avail of all the exciting features. More you can check the top 5 features. Starting with the release Implicit Uninstall of an Application feature is introduced. This uninstall behavior applies only to deployments targeted to device collections.
Find SCCM Task Sequences Reference Application
Let's go through the following steps to get the Task Sequences that referenced a specific Application –

In the Configuration Manager console, go to the Software Library workspace, expand Application Management, and select the Applications node.
Select an existing application in the Applications node, Check the botton of the console – there are different tabs available :

Summary
Deployment Types
Deployment
Phase Deployments
Task Sequences
Click on Task Sequences tab to find out the task sequence details that has the application.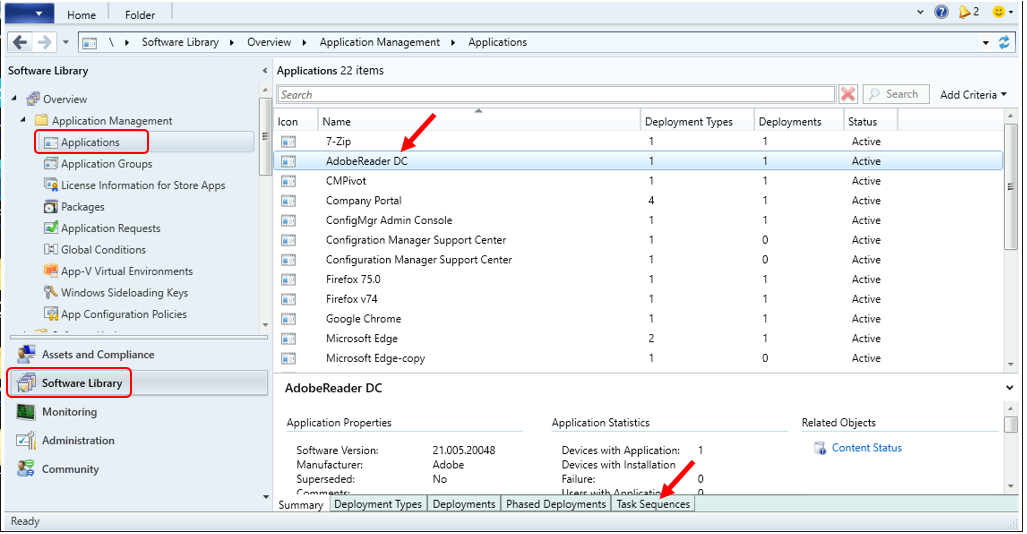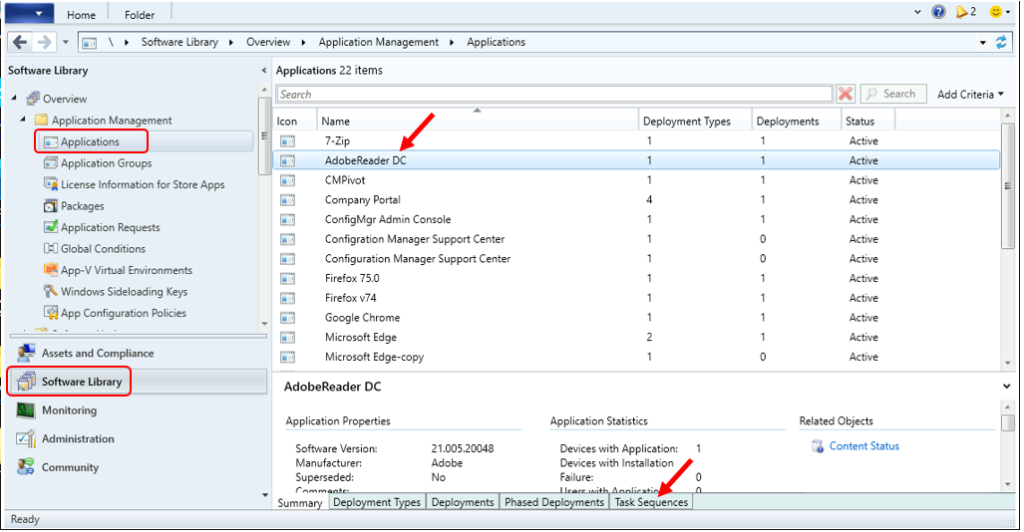 Now, it's time to check lists of SCCM Task Sequences reference application. An application can be part of many task sequences.
Here you can see under the Task Sequences tab, The selected application (For Example Adobe Reader) is part of all appeared lists of the task sequences.
Note – This tab lists the task sequences that reference this application. By referring to Object Path for Task Sequence Name, You can easily find the existing task sequence in SCCM Console.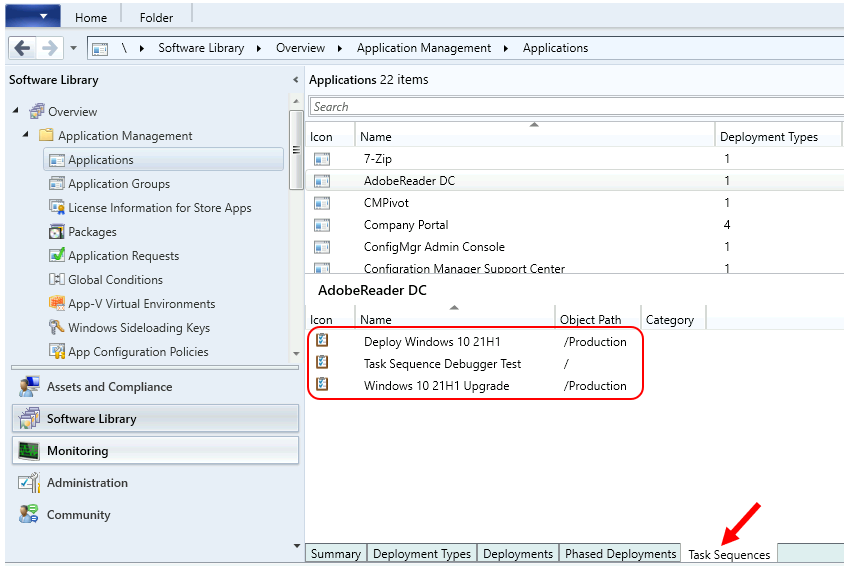 Tips – To remove an application from the task sequence, You need to move to the path of the available task sequence and perform the further process. However, you can take the help of available community scripts to automate the removal process of an application from all of the task sequences that reference the application.

About Author -> Jitesh has over 5 years of working experience in the IT Industry. He writes and shares his experiences related to Microsoft device management technologies and IT Infrastructure management. His primary focus area is Windows 10 Deployment solution with Configuration Manager, Microsoft Deployment Toolkit (MDT), and Microsoft Intune.
Resources