Windows 10 cloud recovery options shall be available with 20H1 updates. You might be able to recover Windows 10 from the cloud without any bootable USB drive. Let's look into Windows 10 on-device recovery and cloud enhancements in the recovery process.
NOTE! – These are the information shared by Suma Sagane Gowda & Steve Diacetis in the MS Ignite session. More details about the session below.
Introduction
Microsoft showed how to recover Windows 10 OS from the cloud in Ignite 2019. Similar to macOS devices, Windows 10 devices will be able to recover from the cloud and get the content from the Windows Update service.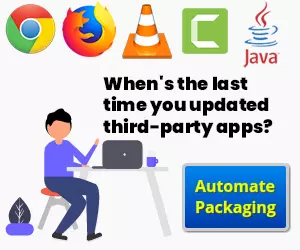 On-disk recovery is the normal recovery method we use in Windows since Windows 8 and Windows 10 early days. Microsoft shared the following details about Cloud recovery in Ignite 2019.
On-Device Recovery
Image-less reinstall of Windows
Leverages DISM/restorehealth options to fix corruption
Option to keep your files or remove everything
On-device recovery can be initiated from Settings, Windows Recovery Environment or Remotely
Seamlessly persists languages and drivers
Enhancements Cloud Recovery
During the cloud recovery process, Windows content shall be downloaded from Windows update
Enhanced recovery helps when the on-device system files have severe corruptions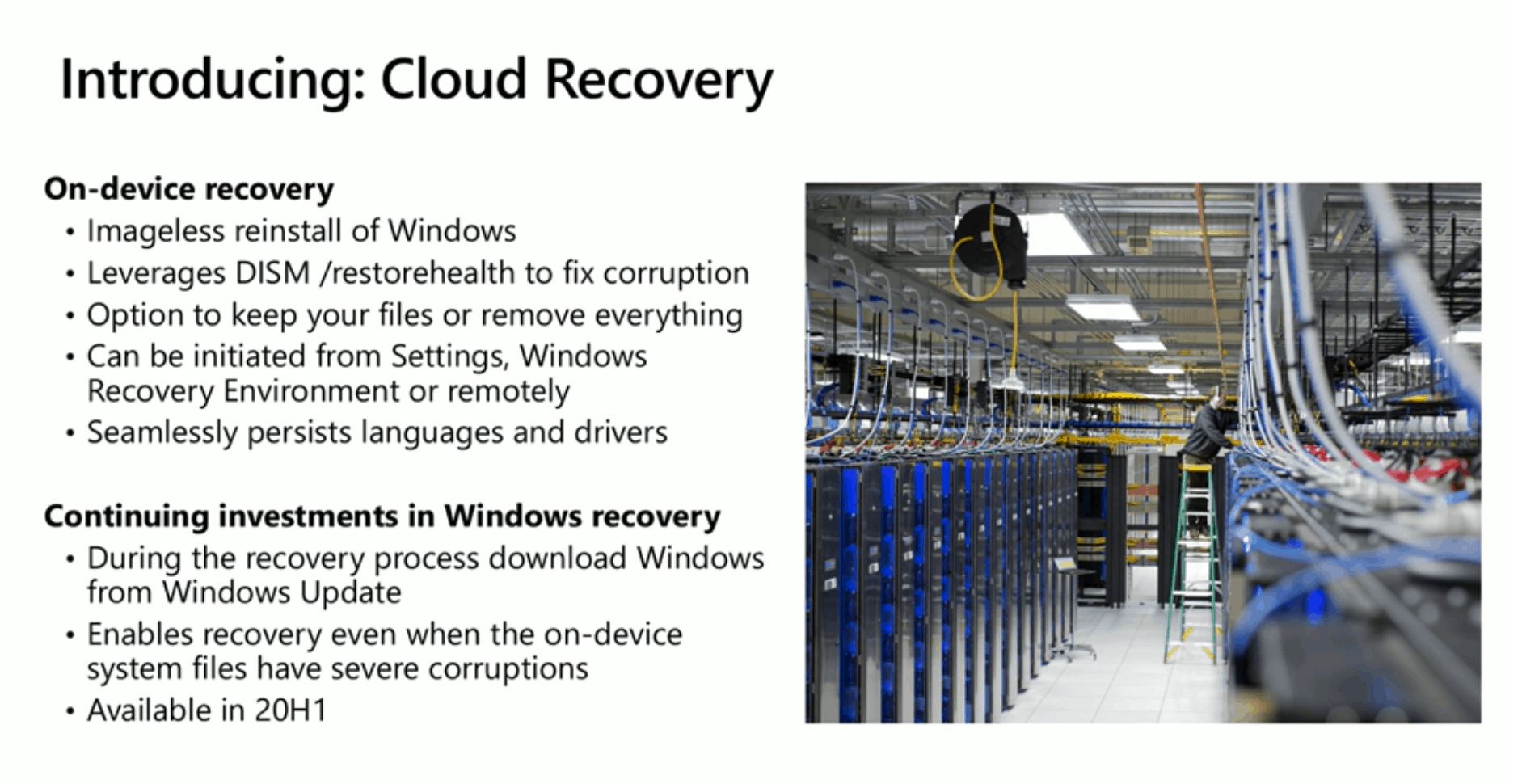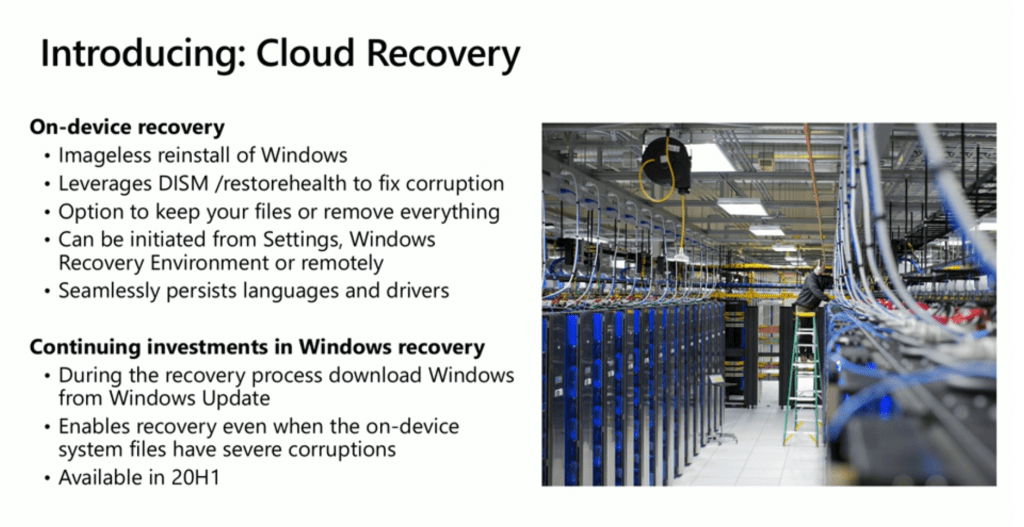 Windows 10 Cloud Recovery
Let's see how to start the cloud recovery options from Windows 10 20H1 device. Following are the steps you can follow:
Settings – Update & Security – Recovery
Click on Get Started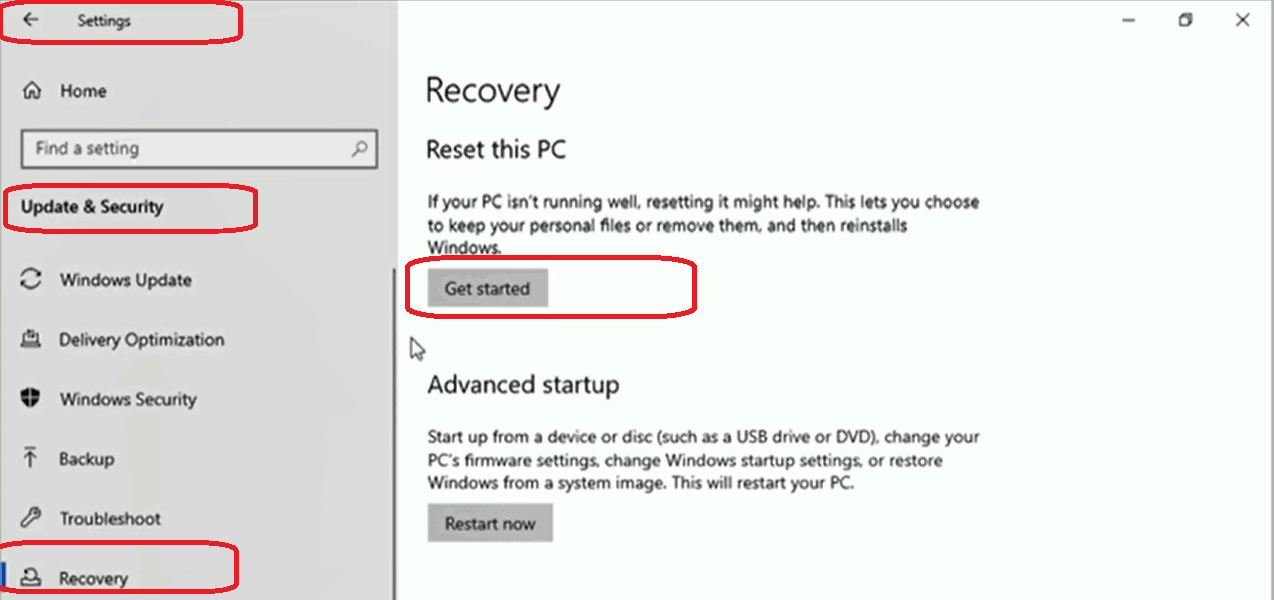 Choose an option to recover

Keep my files
Remove everything

How would you like to reinstall Windows?

Cloud Downloaded – Download and reinstall Windows
Local reinstall

Click on Next additional information page to continue

Initial estimate approx 4GB of data downloaded from the internet?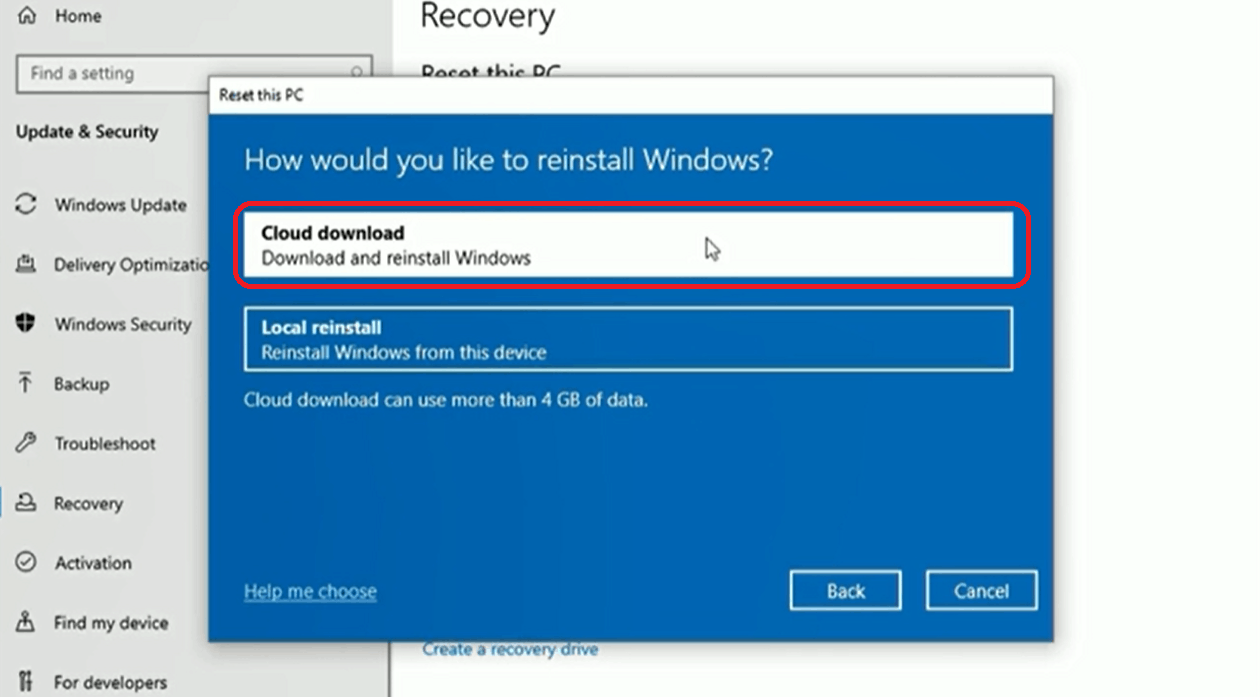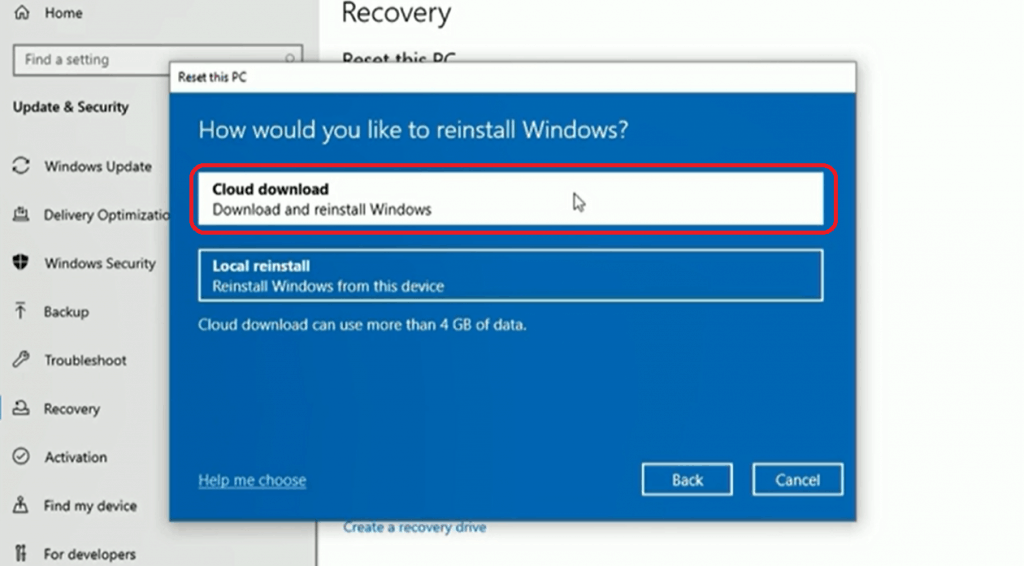 Microsoft Time countdown to download the content starts now.

Windows 10 Cloud Recovery – Download the content

Click on the Reset button on the summary page to start the download
Preparing to reset

Downloading 96%
This device will automatically restart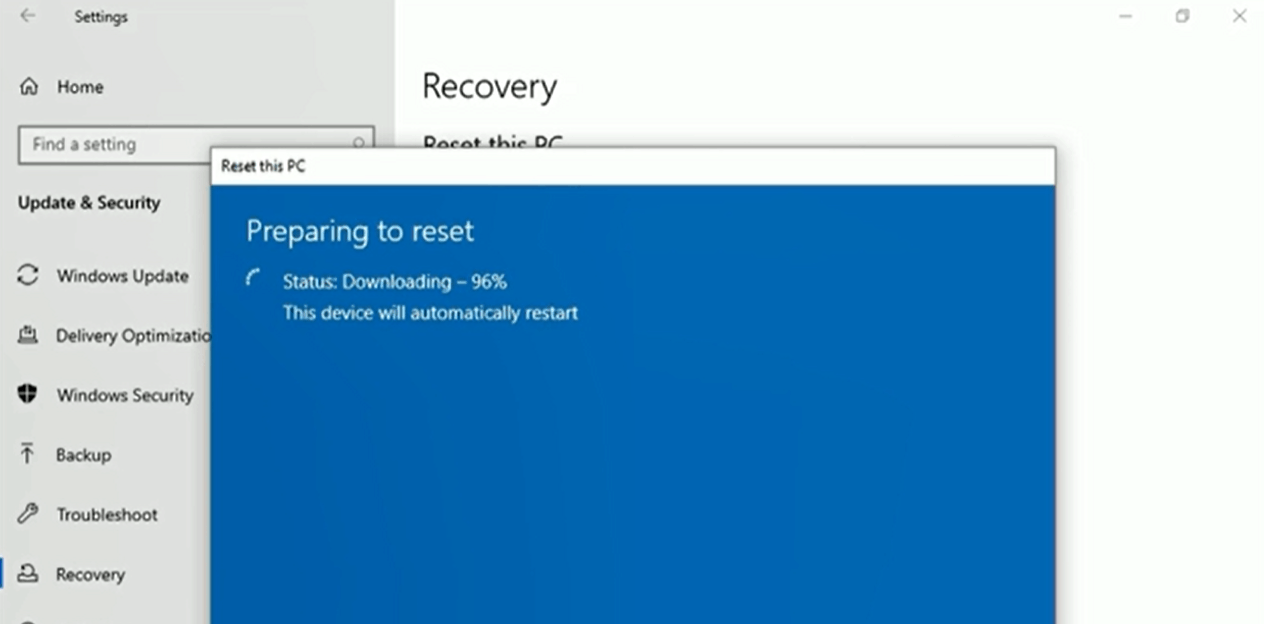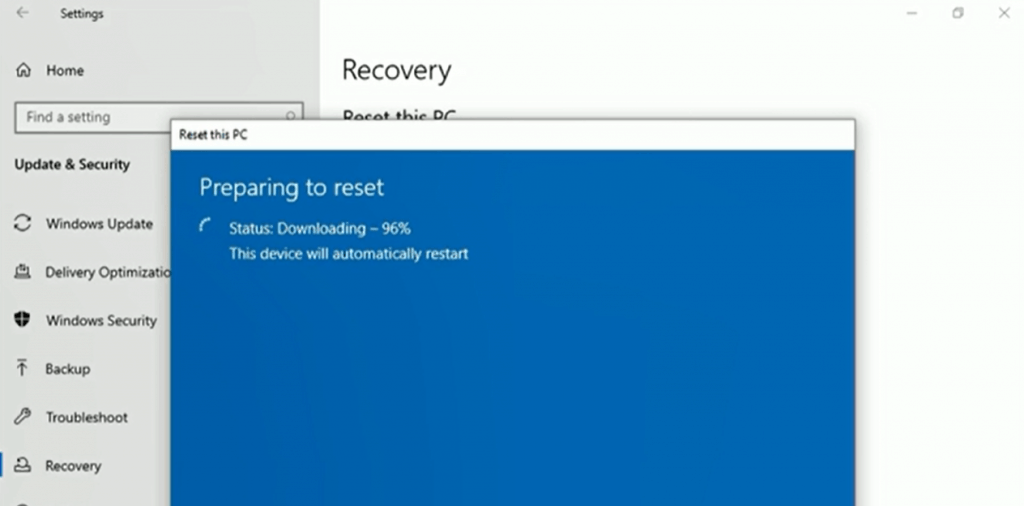 Result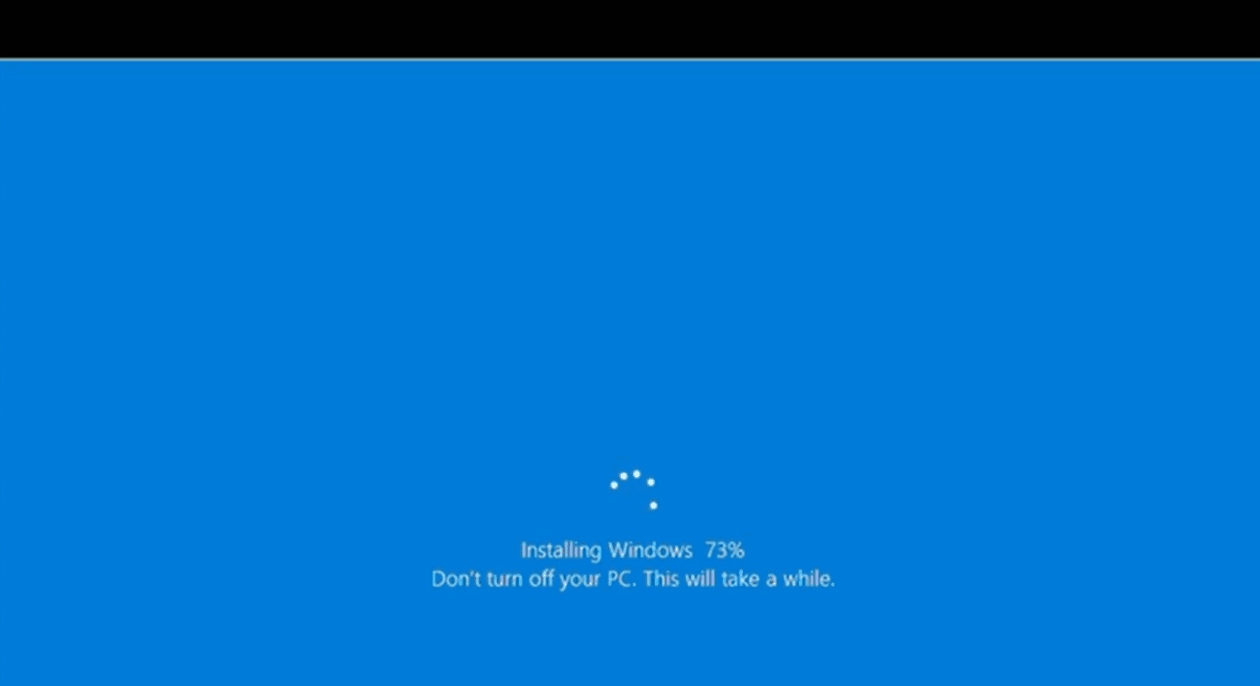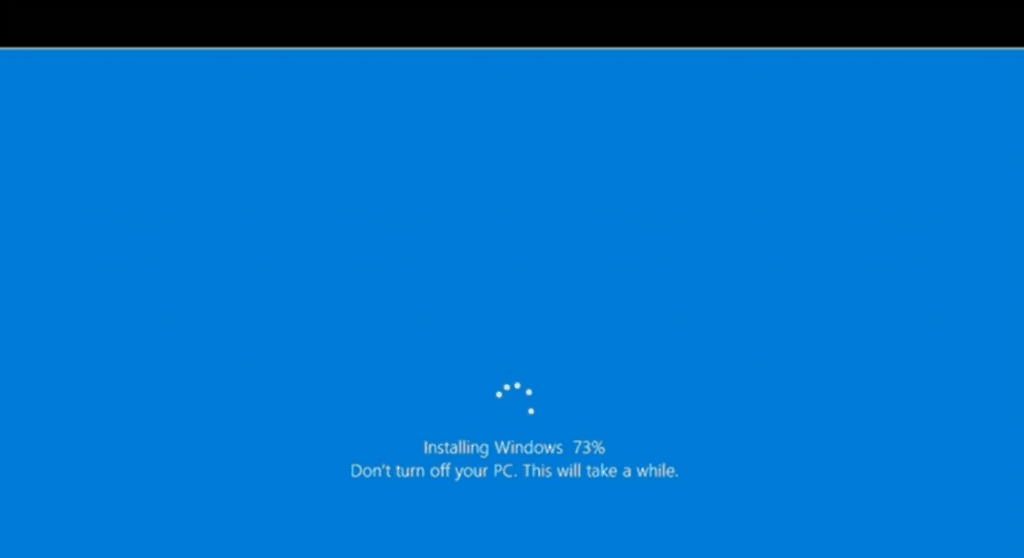 Session – Windows 10 Rollback
Make the Windows update experience smooth and seamless for your IT team and your end users. More details https://myignite.techcommunity.microsoft.com/sessions/81684
Resources