Let's have a quick look at the SCCM and Microsoft connected cache integration (of course with Delivery Optimization – DO) options. All the screenshots are taken from the Ignite session demo by Andy Rivas & Narkis Engler. More details about the session and recording below section of this post.
Ignite 2019 Coverage
Introduction
Microsoft answer to network bandwidth issues in the modern workplace is Microsoft Connected Cache + Delivery Optimization + Microsoft Endpoint Manager. The solution which we are going to see in this post is pure hybrid solution (very tightly integrated with SCCM investments) on the EDGE!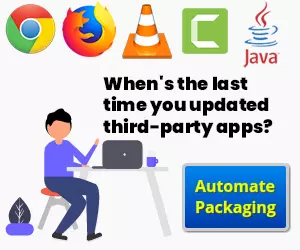 Microsoft Connected Cache can seamlessly integrate with Microsoft Endpoint Manager solution like SCCM/MEMCM.
Microsoft connected cache with DO solution is based on IIS and Application Request Routing (ARR). This solutions are based on Windows Server native tool set. This Windows solution helps to deliver Microsoft connected cache solution with DO & SCCM (MEMCM).
Cloud Managed

Microsoft Connected Cache is designed for cloud era

Localized Cache

Use one or many, along side Delivery Optimization

Efficient

Cache only content that is needed by your devices, at the byte range level

Reliable & Flexible

Cache aware distribution, ensures seamless fallback to the cloud

Configure once and forget

Enjoy with new content that DO supports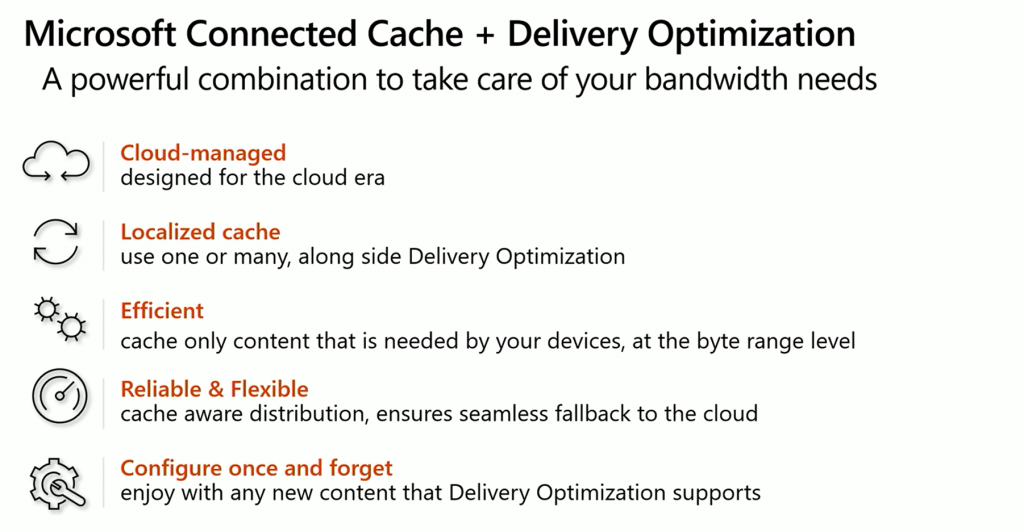 Architecture Flow Diagram
Microsoft Connected Cache service can use Configuration Manager/SCCM or MEMCM DP as it's connected Cache content location. Also, SCCM clients can get the content from the Connected Cache Container.
SCCM DP configured to enable Connected Cache service so that it can download the content from Microsoft CDN on client request
Clients configured with Connected Cache enablement policies
Client requests for Connected Cache supported content
Connected Cache container gets content from CDN and deliver to client
Client uses Delivery Optimization (DO) to share this content with other client devices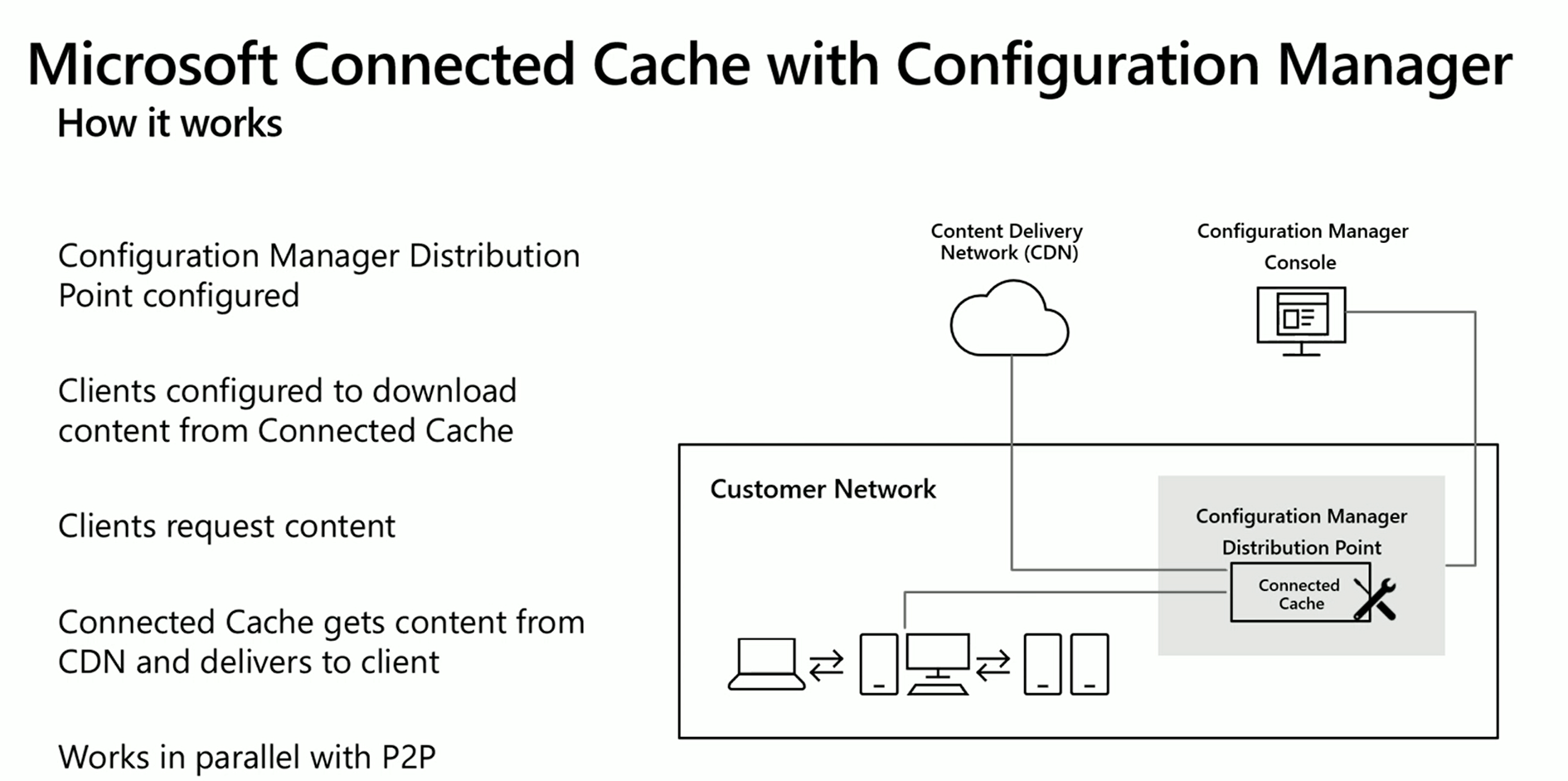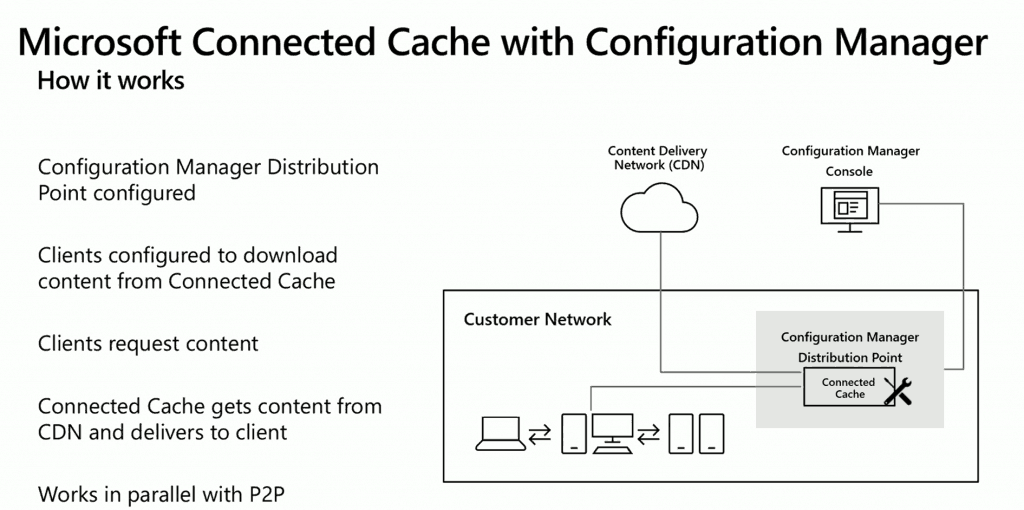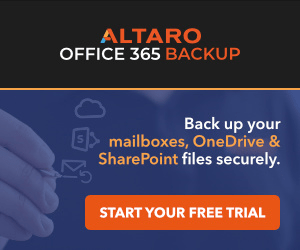 SCCM and Connected Cache Integration
You can fully unitize the existing investment with SCCM and Microsoft Connected Cache. The integration experience will be seamless for SCCM admins.
NOTE! – More details on the setup and configuration of Microsoft Connected Cache Containers and nodes are explained in the blog post here.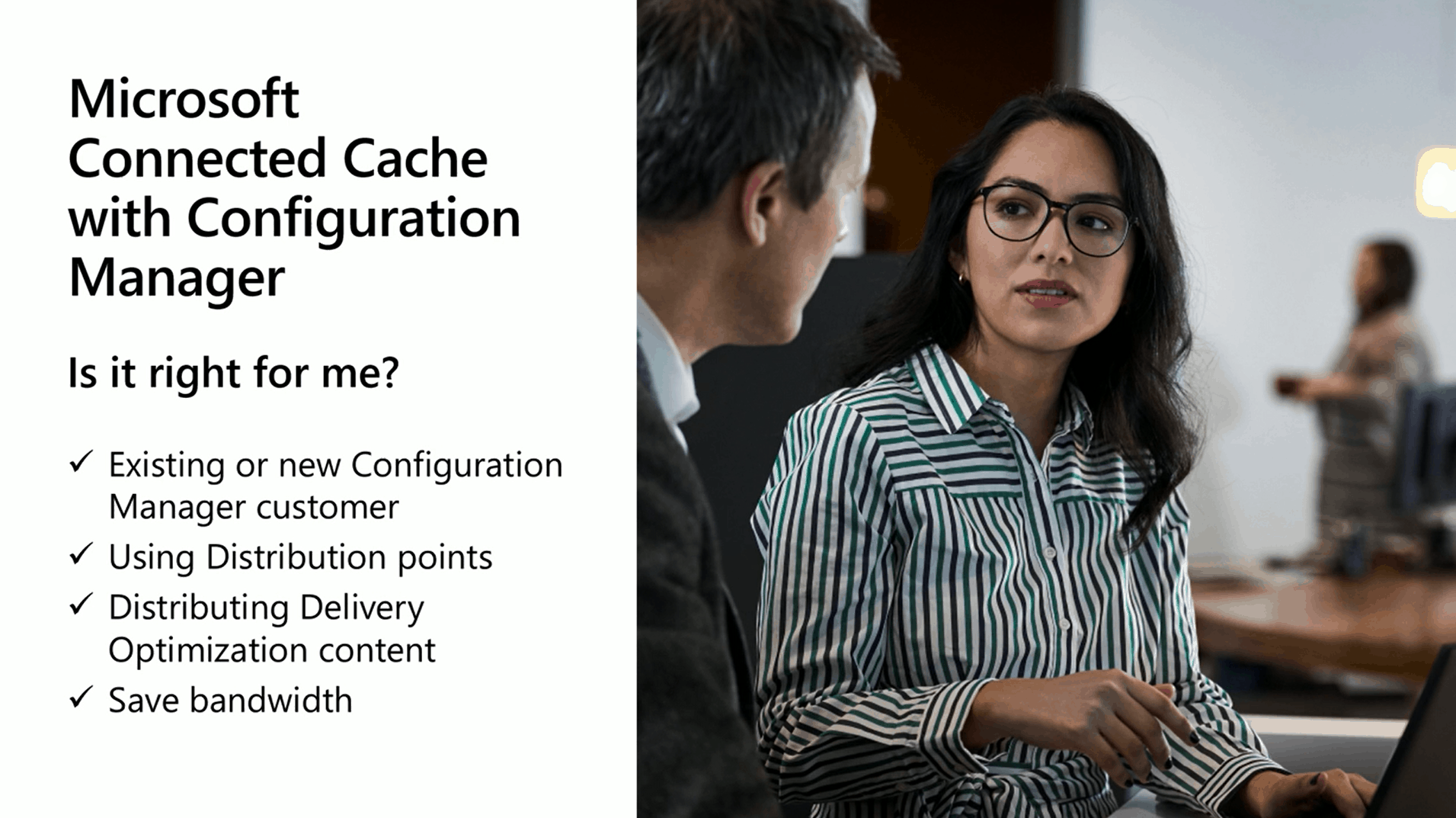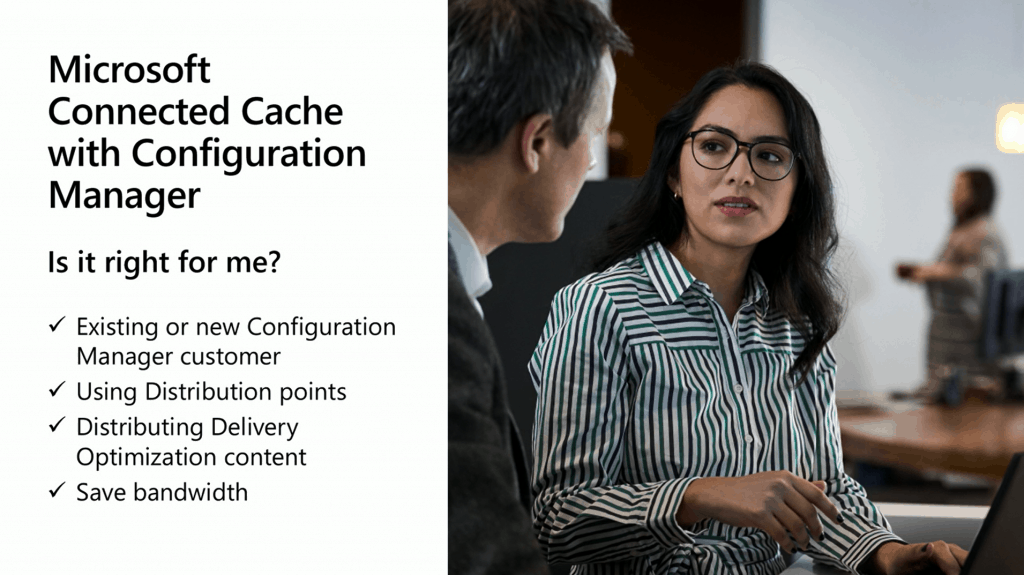 SCCM Server Side Configuration for Microsoft Connected Cache
You can configure Microsoft Connection Cache from SCCM console -> Distribution Point Properties.
Select the option – Enable Distribution Points to be used as Microsoft Connected Server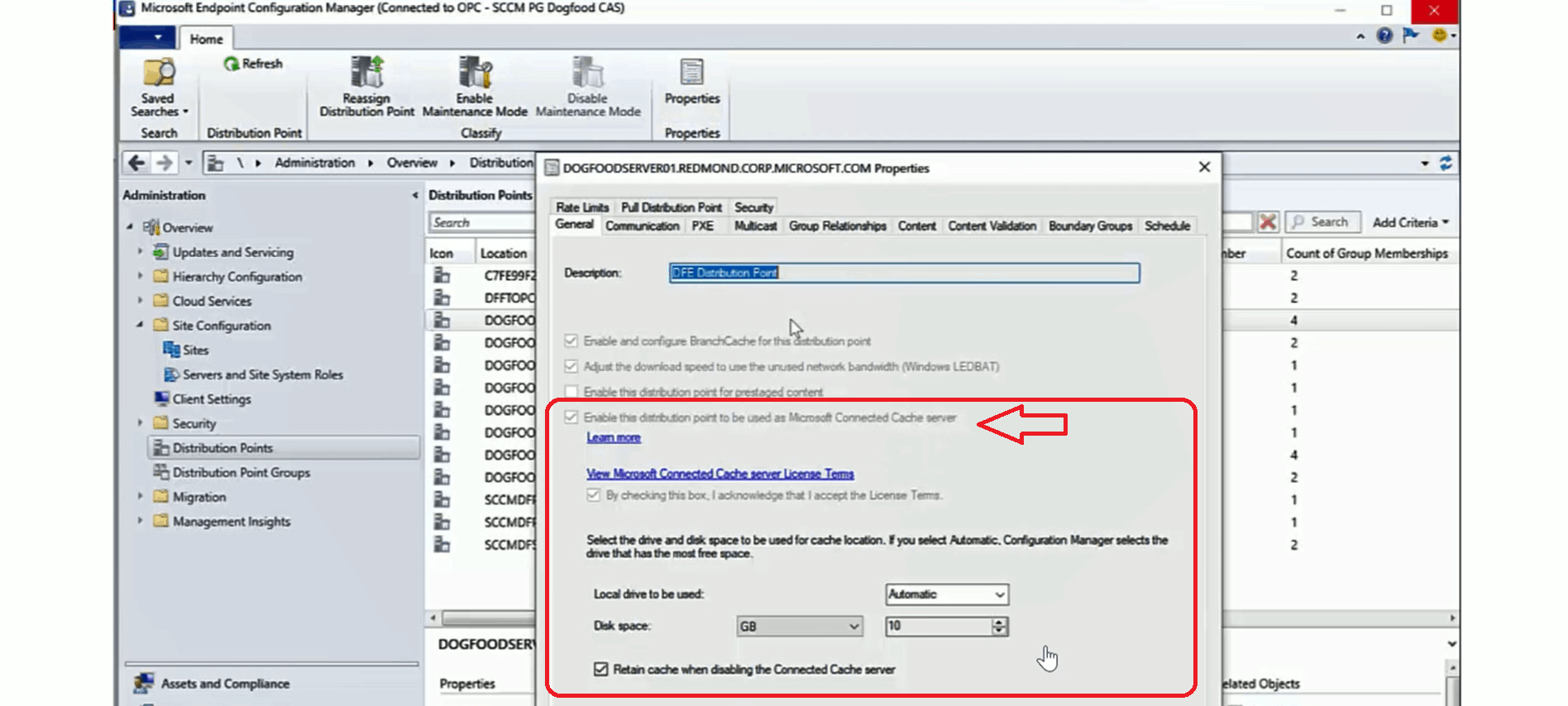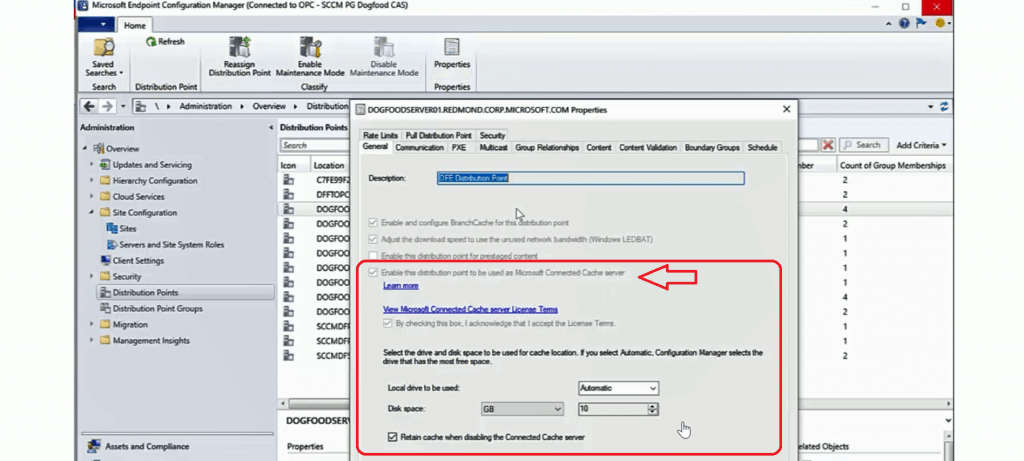 SCCM Client Side Policies for Microsoft Connected Server
You can configure the SCCM client policies from Client Agent policies.
Client Agent Policies – Delivery Optimization
Select YES for the configuration called "Enable Devices Managed by Configuration Manager to use Microsoft Connected Cache servers for content download"


Real World Story – SCCM and Microsoft Connected Cache Integration
This SCCM + Connected Cache is the example provided in the Microsoft ignite session. Highly efficient caching – pilot customer.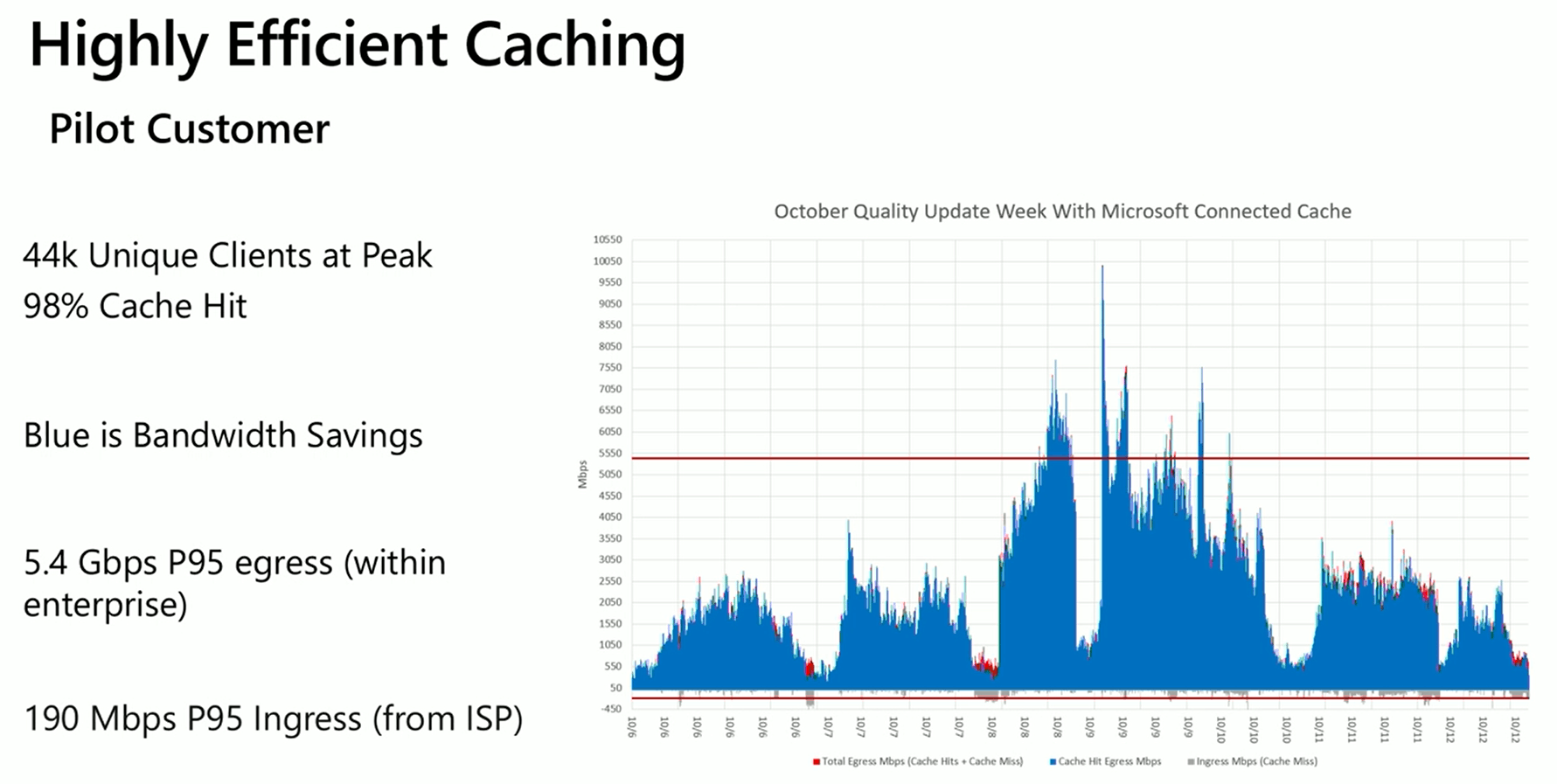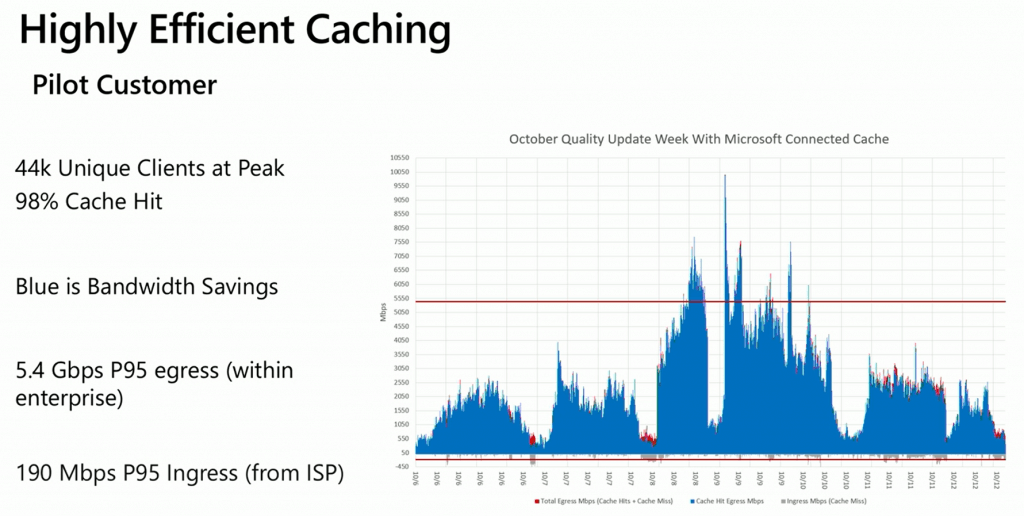 Session
Stay current while minimizing network traffic: The power of Delivery Optimization. Session Recording by Andy Rivas & Narkis Engler. https://myignite.techcommunity.microsoft.com/sessions/81680?
Resources