Let's have a quick look at ConfigMgr Client Component Status in detail. You can use the Components tab of the Configuration Manager client application – Configuration Manager Properties to view the installed, disabled, and enabled components on a Windows 10 computer. The component tab displays the status and version of the components that ConfigMgr (a.k.a SCCM) uses to manage Windows 10 devices.
I know some of you get confused with the different component status scenarios. Should we start looking into some possible issues when all the components have a status as installed? Can we control component status with client settings?
Let's also understand when you disable a feature from the client settings, what will be shown in the component status?
Component Status
I hope you already know how to launch the Configuration Manager client application. There are three (3) kinds of status information you can get from the components tab. You can use status information to when a component is installed or when it's enabled or disabled.

Installed – Component is installed Can't confirm whether it's working or not.
Enabled – Component is installed, enabled, and working?
Disabled – The component is installed but disabled.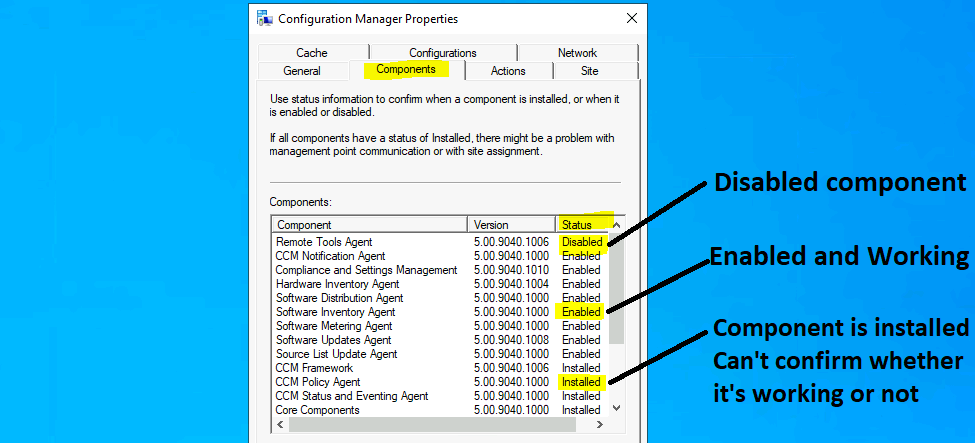 Client Settings Vs Component Status
Let's understand whether there is any relation between the client settings configured from the administration workspace of the admin console. I'm going to take the example of the Remote Tool Agent component. As you can see in the above screenshot, the component status is disabled.
Now, let's check what is the client settings configuration:
Navigate \Administration\Overview\Client Settings.
Select the client settings policy with the highest priority or you can check the resultant policy from collection.
Right-click on policy and Select Properties.
Click on Remote Tools section from the policy.
And Remote Tools feature is disabled in the client settings policy as well.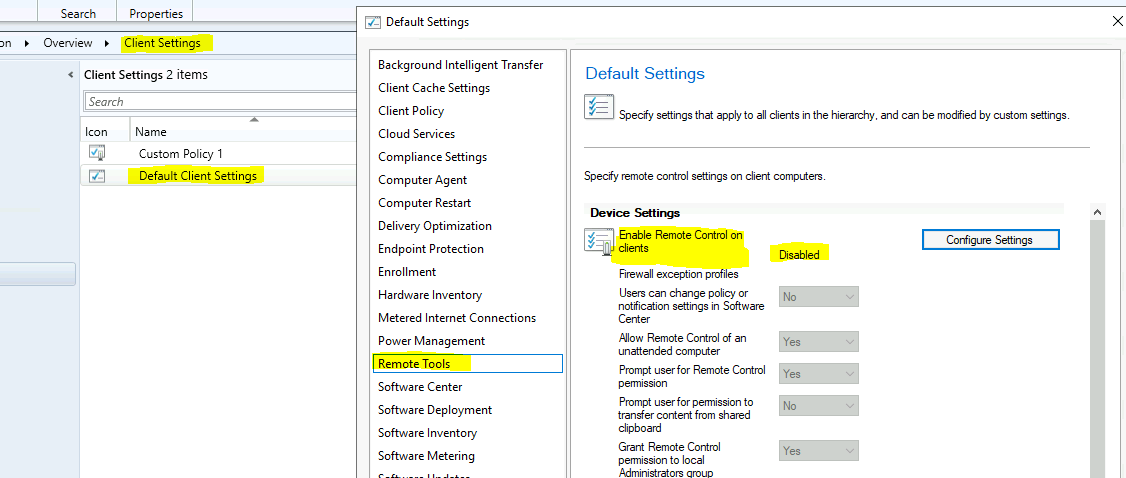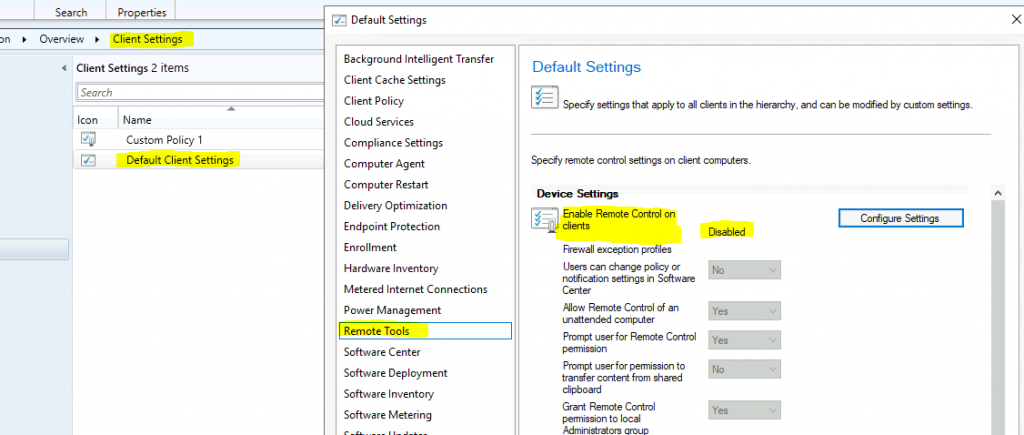 How to Disable a Client Component
To disable the client component on a Windows 10 device, you need to disable the feature from Configuration Manager client settings. I have disabled two additional features (software metering and software inventory) from client settings. After the next policy sync, the SCCM client component status got changed to Disabled.
Software Inventory Agent
Software Metering Agent

List of Components
The following is the list of client components available: The total number of components available as of ConfigMgr 2010 is 18 (eighteen).

CCM Framework
CCM Notification Agent
CCM Policy Agent
CCM Status and Eventing Agent
Compliance and Settings Management
Core Components
Hardware Inventory Agent
Maintenance Task Coordinator
Operating System Deployment Components
Power Management Agent
Remote Tools Agent
Shared Components
Software Distribution Agent
Software Inventory Agent
Software Metering Agent
Software Updates Agent
Source List Updates Agent
Task Sequence Components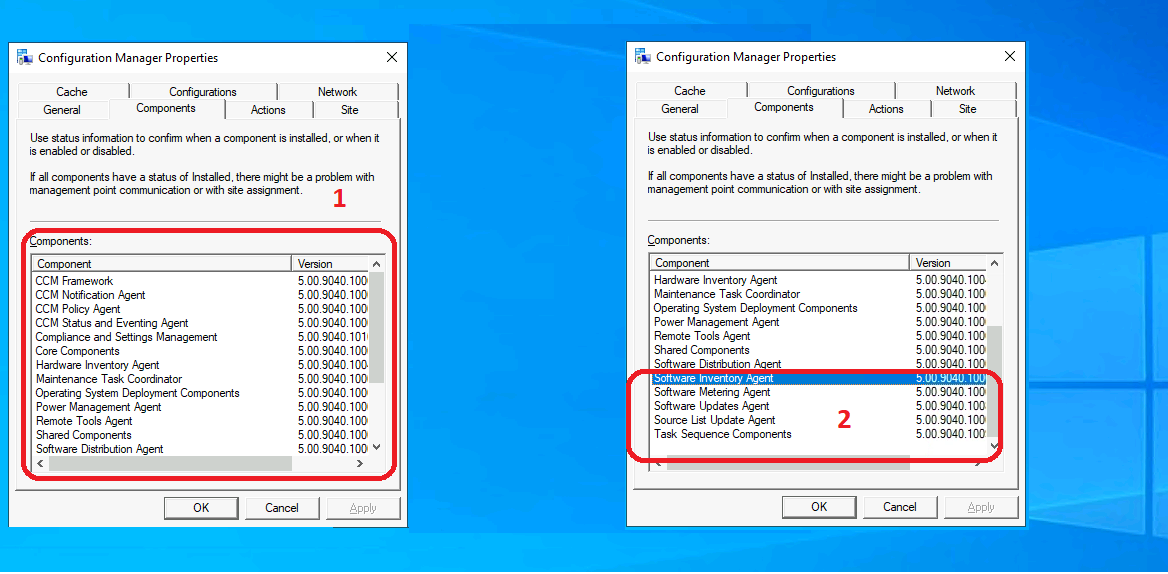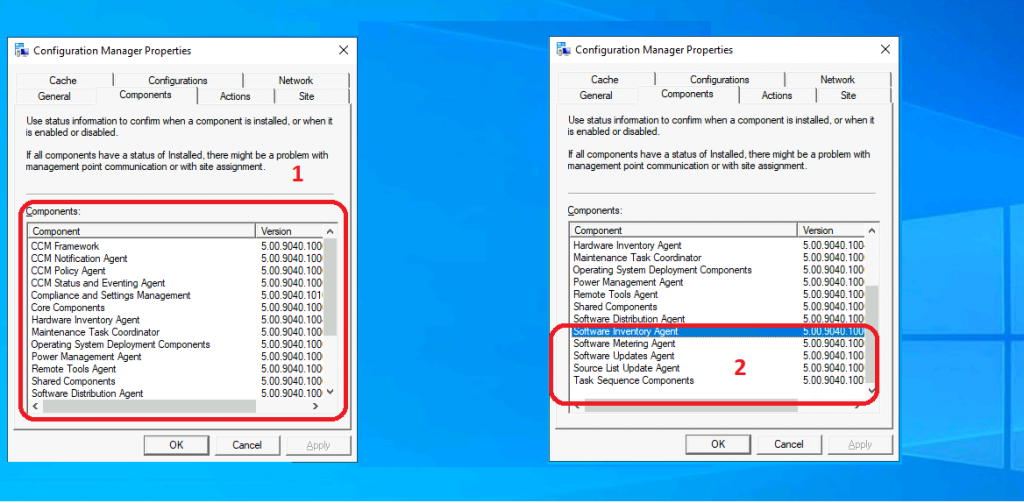 Troubleshooting Tips
When you have a client with all components that have a status of installed, there might be a problem with management point (MP) communication or with site assignment (client is not part of any boundary groups?).
And when you see only two actions in the Actions tab of Configuration Manager properties, the client might have a problem receiving policies from MP. This could be because of several reasons. You might need to deep dive into SCCM client logs to analyze these kinds of issues.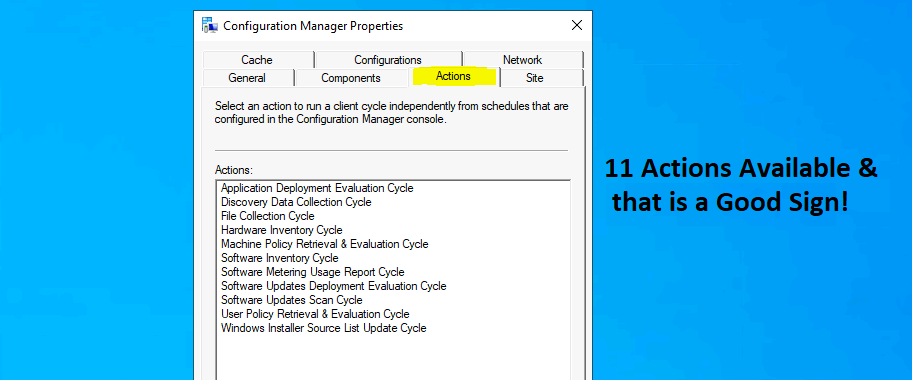 Resources
Author
Anoop is Microsoft MVP! He is a Solution Architect in enterprise client management with more than 20 years of experience (calculation done in 2021) in IT. He is a blogger, Speaker, and Local User Group HTMD Community leader. His main focus is on Device Management technologies like SCCM 2012, Current Branch, and Intune. E writes about ConfigMgr, Windows 11, Windows 10, Azure AD, Microsoft Intune, Windows 365, AVD, etc…