SCCM 1910 early update ring customers might have received a new hotfix KB4535819. Configuration Manager KB4535819 hotfix is available only for the customers who installed the early update version of 1910 via PowerShell script.
[jetpack_subscription_form show_only_email_and_button="true" custom_background_button_color="undefined" custom_text_button_color="#eeeeee" submit_button_text="Subscribe" submit_button_classes="wp-block-button__link has-text-color has-very-light-gray-color has-background" show_subscribers_total="true" ]
Introduction
KB 4535819 shall be available only if Configuration Manager 1910 package GUID is any one of the following.
AC004944-98BC-44C2-A129-320285EC683F
6630E282-AA3F-4921-A65D-4CF493C42066
5AF6B247-224C-49AB-BE48-8909B3689D5E
BBB533A1-E80D-49B6-BC8B-8D2728C6BF43
B1E6FEC0-5A6E-4B56-8F27-7406F9A79CFB
More details about the KB are available – https://support.microsoft.com/en-us/help/4535819/update-for-microsoft-endpoint-configuration-manager-version-1910-early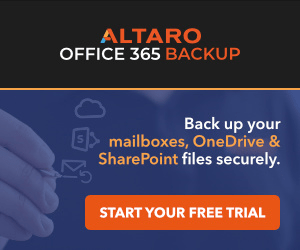 SCCM Package GUID?
Package GUID is the unique identification number for the update (content) of SCCM versions. The above is the package GUID for the early update rings of the 1910 version.

Navigate \Administration\Overview\Updates and Servicing
Right-click and add a column called Package GUID column from List View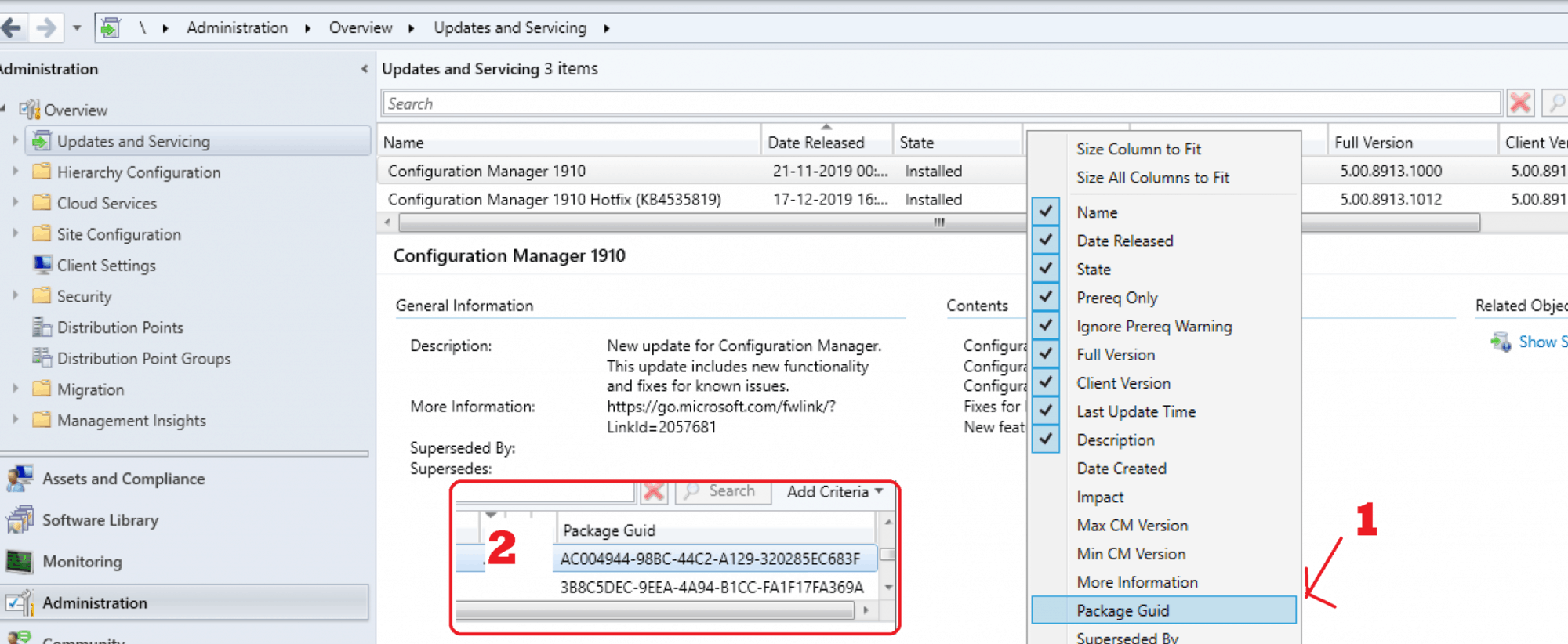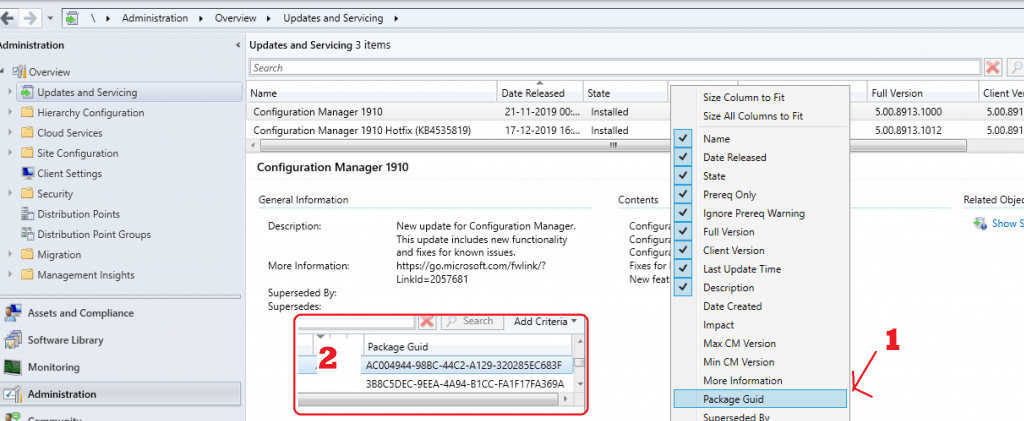 Configuration Manager KB4535819 Details
SCCM KB4535819 shall fix the following issues I explained in the SCCM 1910 known issues. The installation process is straightforward, as I explained in the video tutorial for SCCM 1910.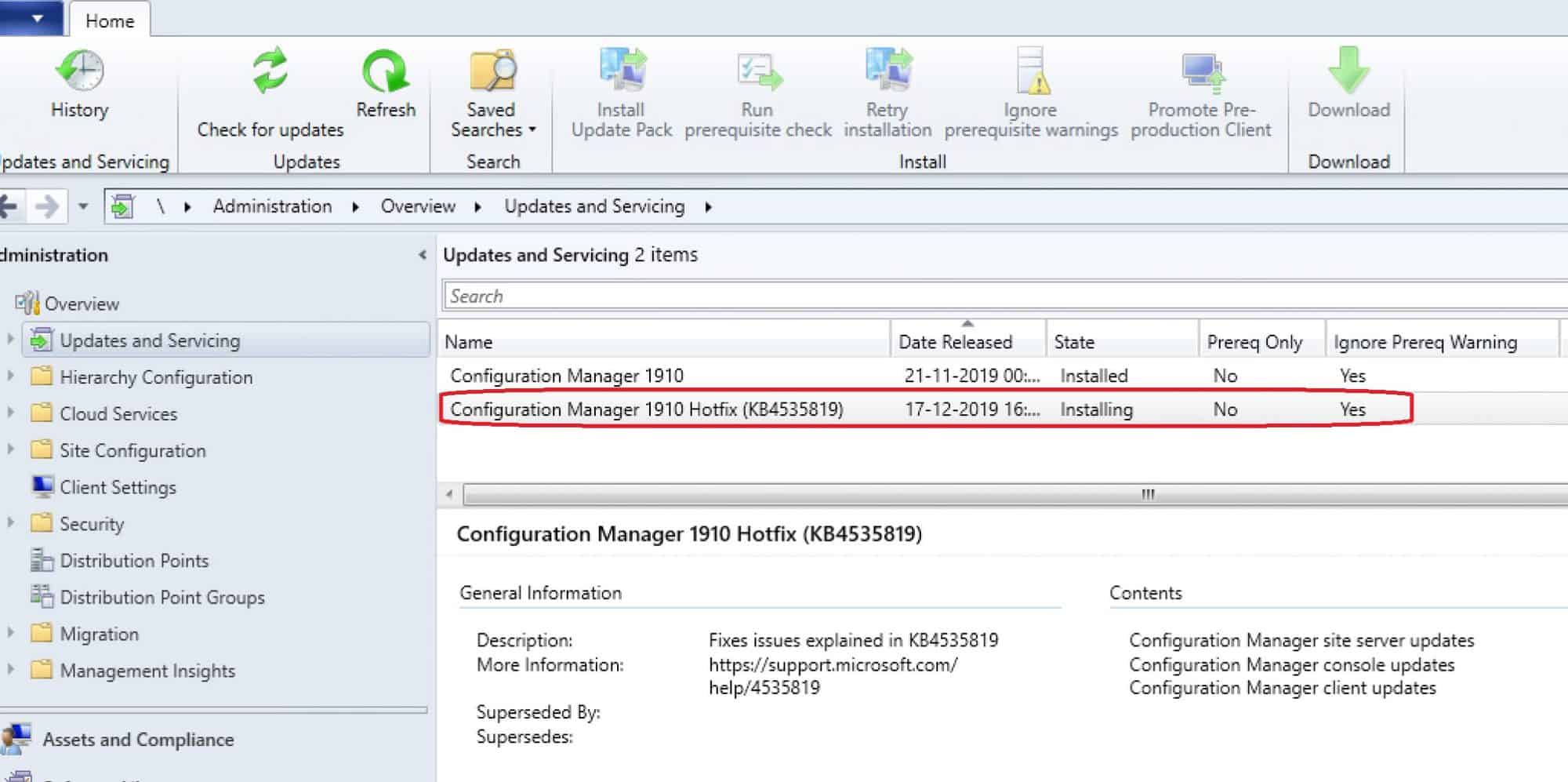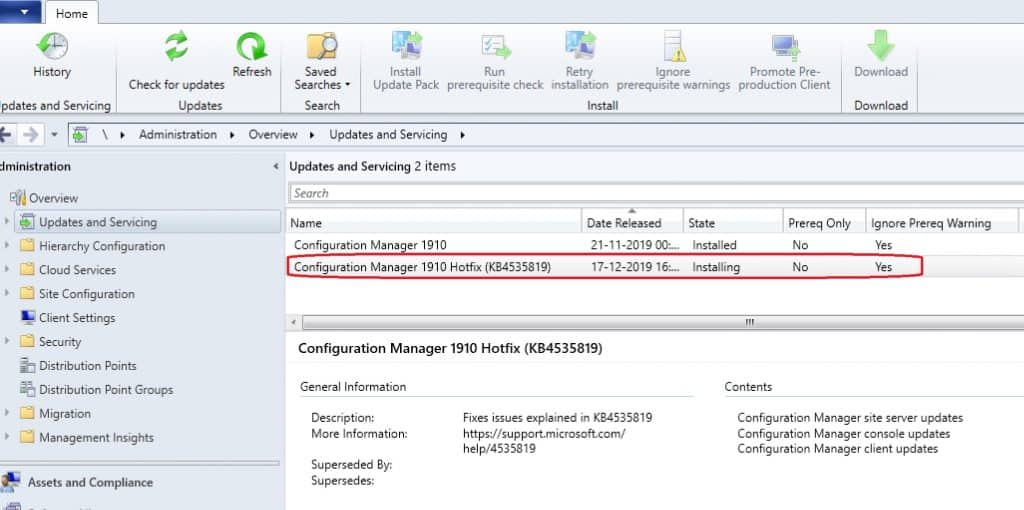 NOTE! – KB4538488 hotfix shall be available in the console only if you have already installed 1910 KB4535819 (applicable only for early update ring customers).
SCCM 1910 Client Side Hotfix
1910 client-side KB4535384 for early update ring customers. I would recommend installing server-side and client-side updates. The client-side update is available in the Microsoft download center, which won't be visible in the SCCM console.
https://download.microsoft.com/download/6/7/d/67d8d96c-86c4-4337-b949-e2b3187e2bbb/KB4535384/CM1910-KB4535384.ConfigMgr.Update.exe

Version Details
Once the Configuration Manager KB4535819 is installed, the console, site, and client version shall get changed. The following are the details of those versions.
SCCM Client and Site version > 5.00.8913.1012
SCCM Console version > 5.1910.1067.1600
More details about SCCM versions are available in the previous post – https://www.anoopcnair.com/sccm-version-numbers-build-number-client/.
Resources