Let's learn New Free Outlook Inbox App for Windows 11 First Look. The Outlook inbox app comes for free with all Windows 11 computers. With all these new inbox applications, Windows 11 will become a premium operating system version.
You must have an Office 365 or Microsoft 365 license to use the Outlook app. It is like a special pass that lets you use the Outlook app on your computer. Without this license, you can not use the Outlook app. Microsoft replaced the default mail application in Windows 10 and 11 with the new Outlook application currently in preview.
Microsoft has shared a FIX Outlook app Hangs issue after June 2023 updates using Intune. We have an article highlighting the FIX Slow Attachment Saving Issue in Outlook App, and FIX Outlook unexpectedly prompts Reopen items from your last session Issue.
The new Outlook for Windows Preview is now an inbox app. With the new Outlook for Windows, you get the fantastic ability to link both your work and personal emails, calendars, and contacts, all in one secure and convenient hub.

What is the New Outlook for Windows?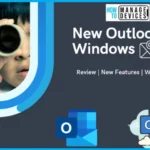 The new Outlook for Windows, currently in preview, the new Outlook for Windows marks a significant stride towards making your Outlook experience more consistent. Whether using a free account or a big-time business user, this new version is designed to provide everyone with a uniform and smooth Outlook experience.
What are the Advantages of a New Outlook Application?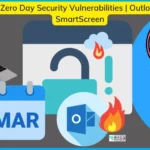 Experience a new era of Outlook seamlessly integrated into Windows without any subscription barriers. Elevate your email communication professionally – enjoy real-time grammar and spelling suggestions that ensure impeccable content.
1. Get Outlook for free with Windows
2. Improve your emails with Microsoft Editor
3. Streamline your email accounts
New Free Outlook Inbox App for Windows 11 First Look
This video will give you a quick overview of configuring the new Outlook inbox application and the new design experience. In this Informative video, you will get all the details about Windows 11 Inbox application which is available for Insider build that is the Canary channel. It would be best to get into Windows 11 Canary channel to get this application.

New Free Outlook Inbox App for Windows 11 First Look
The new Outlook for Windows offers the most popular features and configurations from the current desktop version of Outlook for Windows. It provides various new tools, including easy access to Microsoft 365 apps. The convenience of "pinning" and "snoozing" emails to finely tune your inbox management.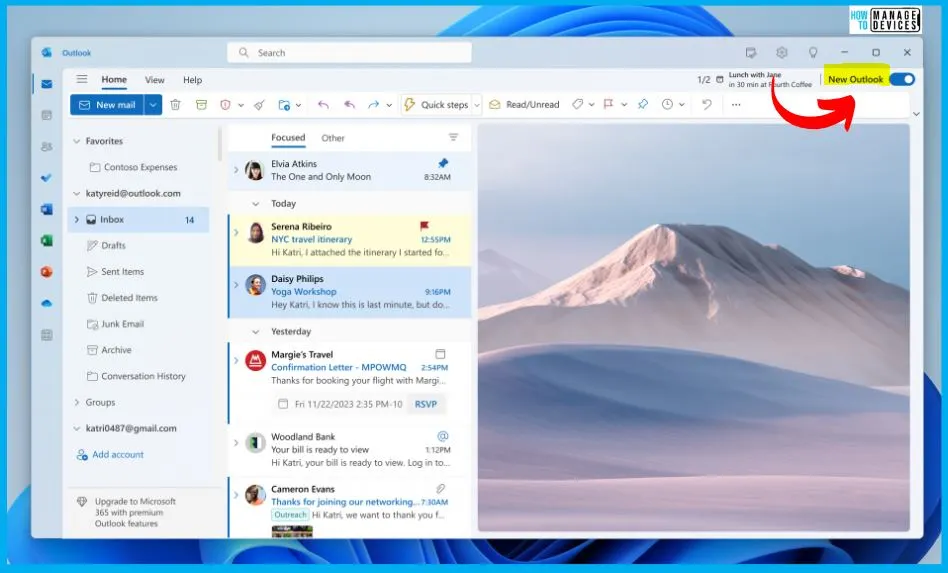 New Free Outlook Inbox App for Windows 11
The Outlook application is available in Windows 11, Inbox application. It is preparing for the launch. We already have an Outlook application installed that is Microsoft 365 Outlook application that is not the inbox application. But the new Outlook application is the inbox Outlook application which is replacing the Microsoft Windows mail application.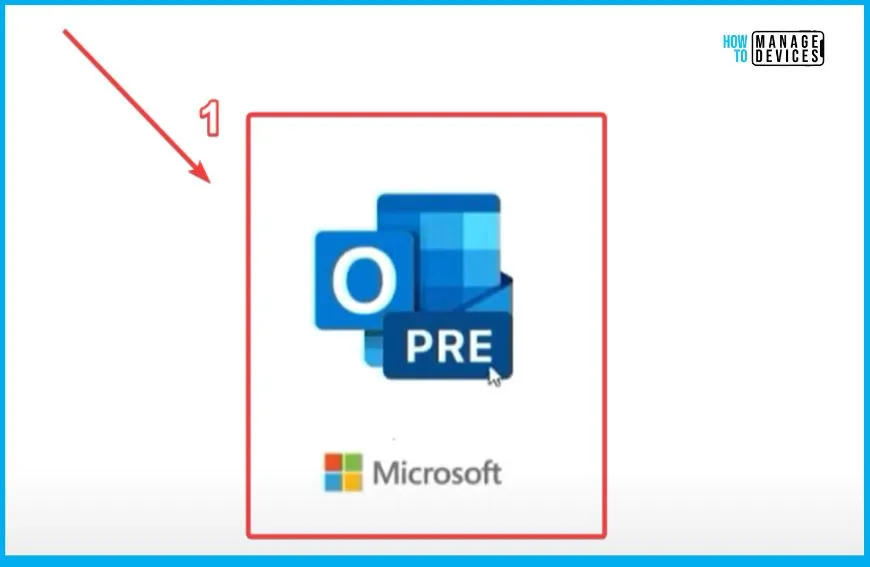 Welcome to the New Outlook
Outlook supports Microsoft 365, Gmail, and Yahoo accounts. Select the account from the suggested accounts dropdown menu. If you have no accounts, create an Outlook.com email account. Let's set up one of the email accounts and click Continue.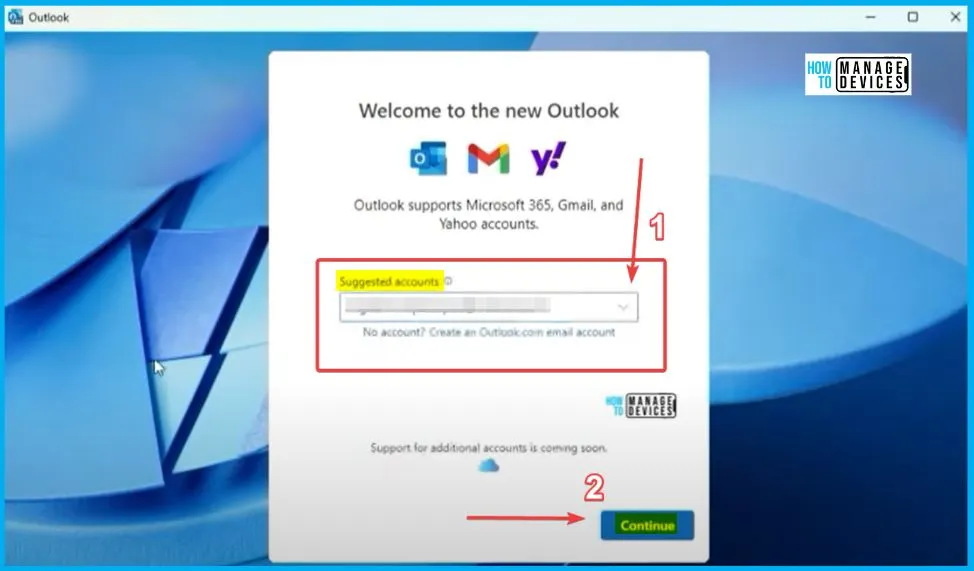 Easily consolidate your email and scheduling needs across various Windows 10+ devices. Seamlessly manage your Outlook.com, Hotmail, and Gmail, as well as professional and educational email accounts, all in a single interface.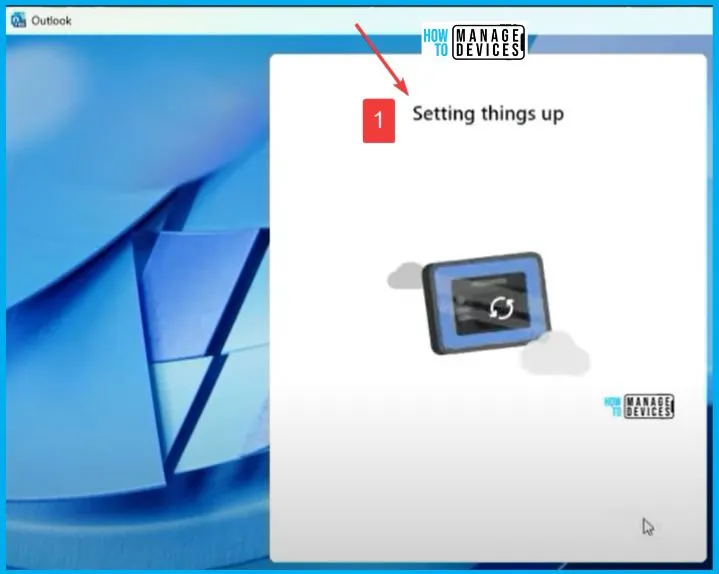 When you entrust your data to Outlook, you remain the owner of that data. We collect required diagnostic data to keep Outlook secure, dated, and performing as expected on the devices where it's installed. This relates to the basic functioning of Outlook and doesn't include your name, email content, or information about apps unrelated to Outlook.
Click the Next button from the below window.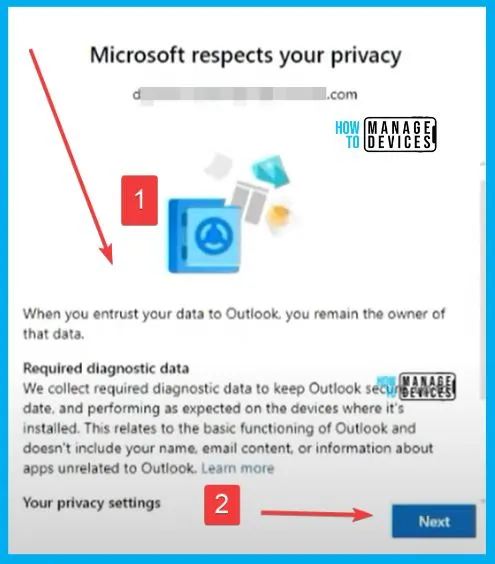 We did like you to share optional diagnostic and usage data. It's how we continue to improve. None of this data includes your name, email content, or information about apps unrelated to Outlook. Do you want to send optional data about Outlook to Microsoft?
Yes, send optional data.
No, don't send optional data
Select No, don't send optional data
Select Accept from the below window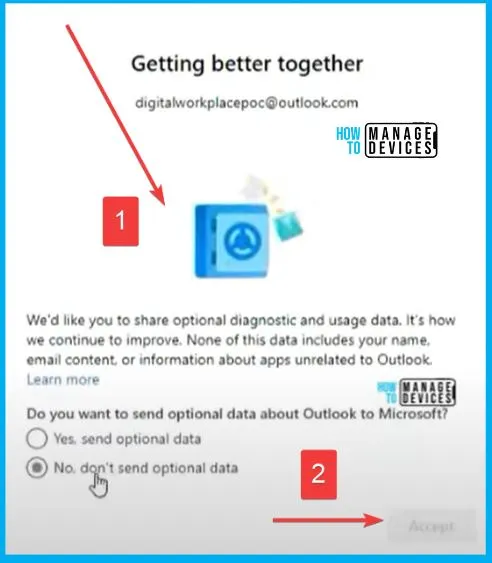 Outlook includes experiences that connect to online services to help you create, communicate, and collaborate more effectively. Some of these connected experiences also analyze your content to give you suggestions and recommendations. To provide connected experiences. Outlook collects required service data. To adjust your connected experiences, go to Privacy settings.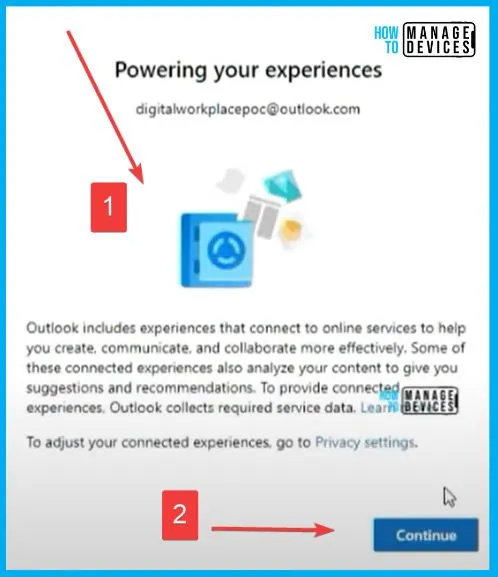 Experience enhanced efficiency through the latest Outlook app. Effortlessly arrange your appointments, easily collaborate on schedules, and get a comprehensive view of your tasks and calendars in one place. Seamlessly link to Microsoft 365 applications like Word, Excel, PowerPoint, and free access to OneDrive online.
Add all your Microsoft accounts. Add your outlook.com, hotmail.com, and live.com for work or school accounts.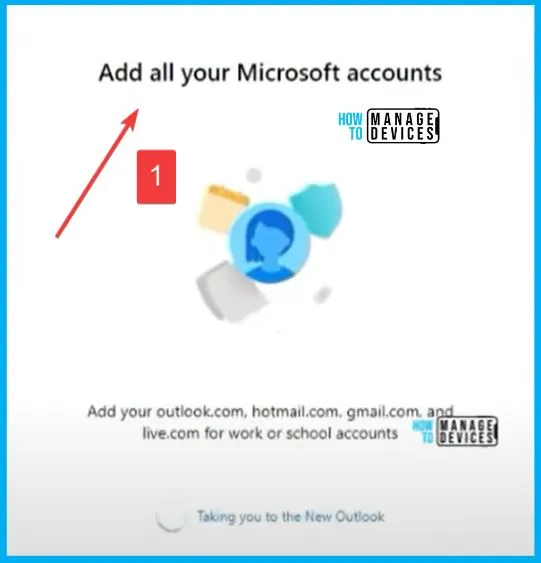 Outlook Inbox App for Windows 11
The new Outlook app is aligned with the new settings menu and Windows 11. Experience the refreshed Outlook for Windows, introducing cutting-edge features, intelligent assistance functionalities, and a contemporary, user-friendly design to your Outlook application.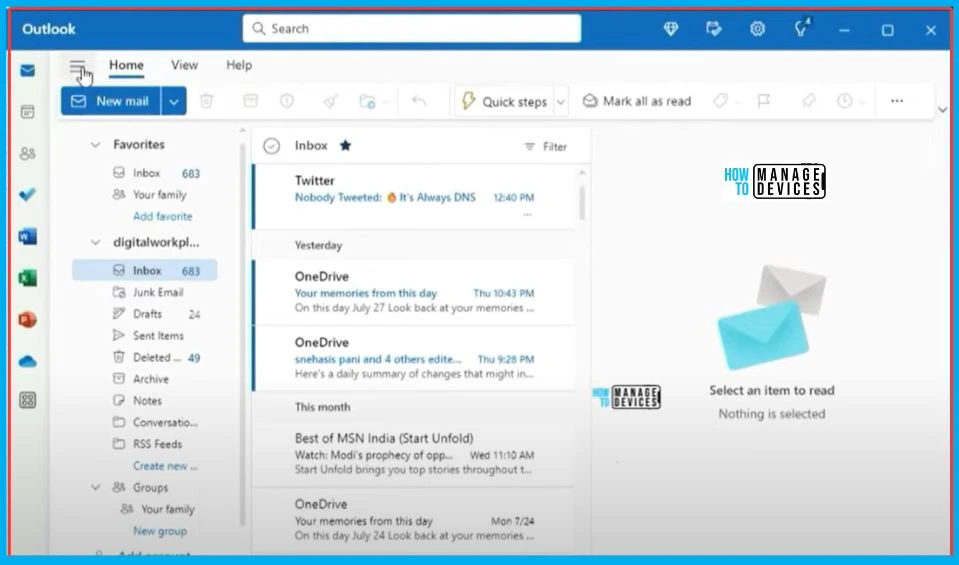 Settings Menu in Outlook
Navigate the Settings Menu within Outlook to set your email and productivity environment. Access a set of customization options to align the application with your preferences. Select the settings app from the Outlook app. The settings include Accounts, General, Mail, Calendar, People and Premium options.
Accounts Tab
Select the Accounts tab from the settings. Select Email Accounts from Accounts. You can switch between your accounts linked to Outlook and add and delete accounts.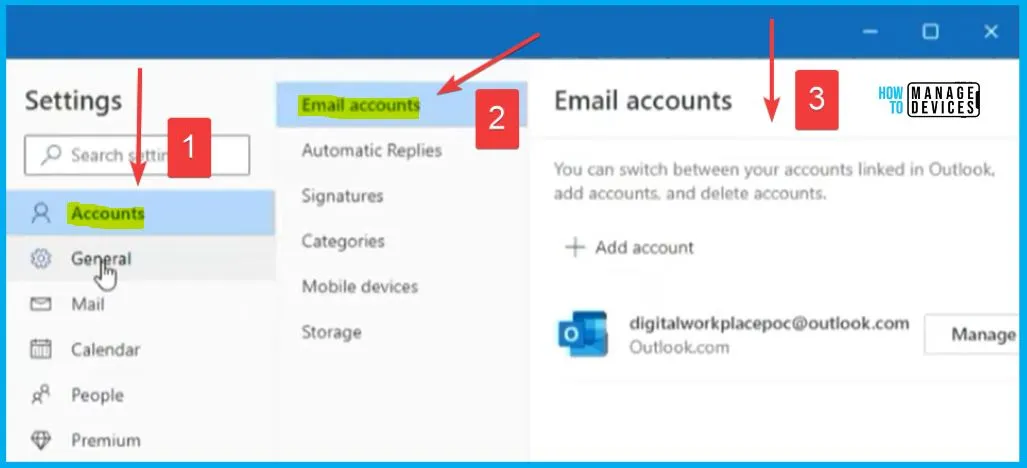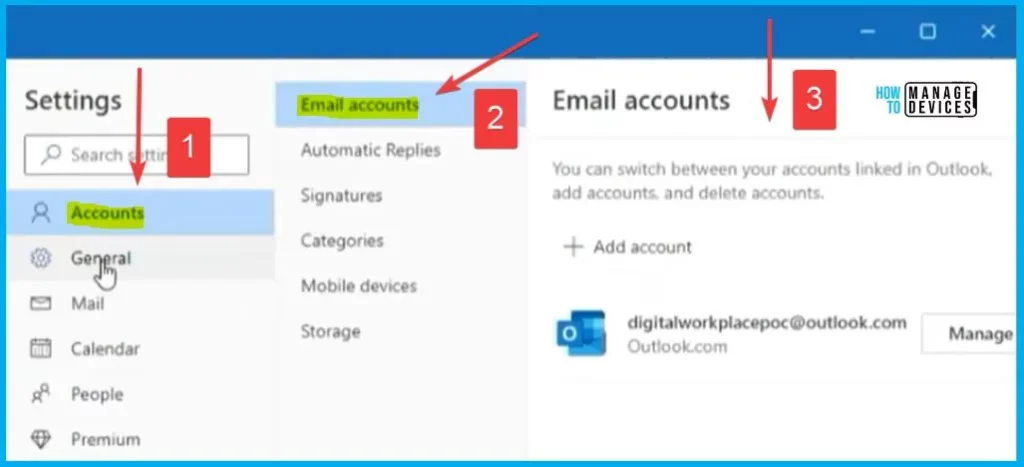 General Tab
Select the General tab from the settings window and select the Language and Time option from the General tab. The language and time contain options such as Language, Date format, Time format, Time zone etc.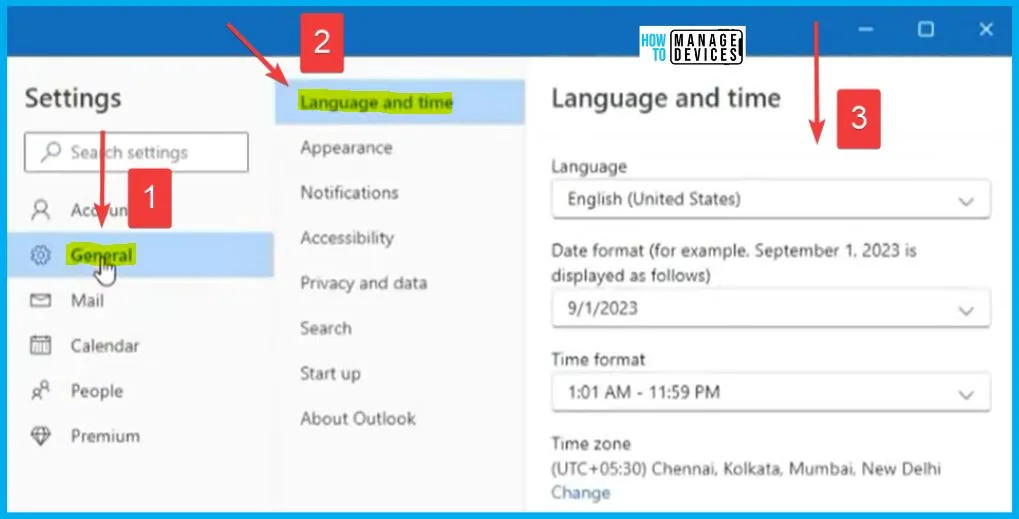 Tips in Outlook
The Tips section is located at the top right side of the Outlook app. Tips are very useful, and it helps you to show what's new, search in Outlook etc. Search in Outlook. Use the search box at the top of the app to find emails, files, events and more.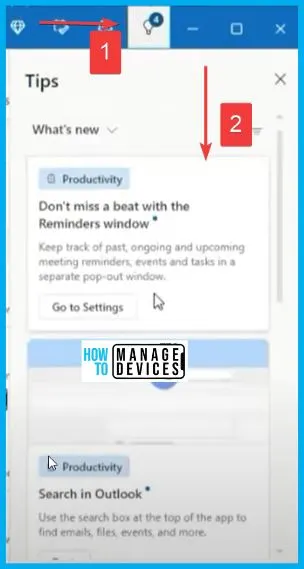 Appearance in General Tab
Select the General tab in the settings menu and select the Appearance option from General. The Appearance helps you to show the Light, Dark and Use system settings modes and Modern themes. The Modern themes allow you to add a background image for further customization.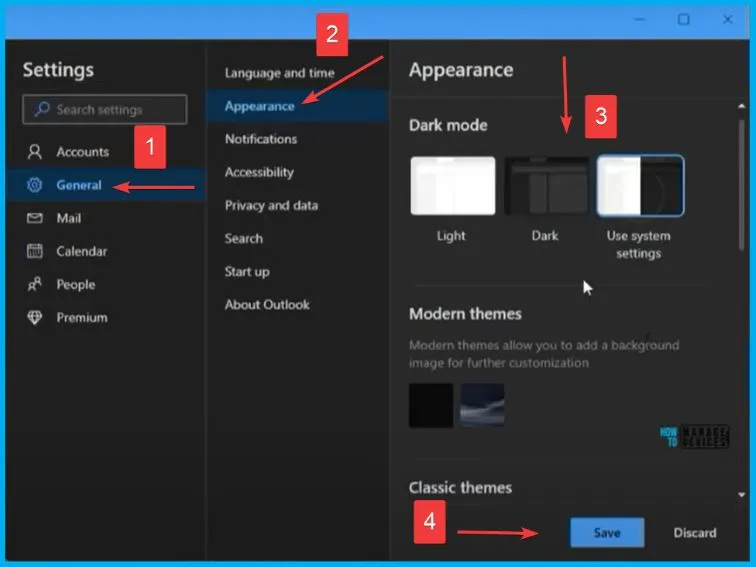 Notifications in General Tab
Notifications are one of the options in the General tab. The notifications include in-app notifications, Desktop notifications etc. Take control of your notifications within Outlook to streamline your communication experience. With Outlook's notification settings, you can hit the perfect balance between staying connected and maintaining uninterrupted productivity.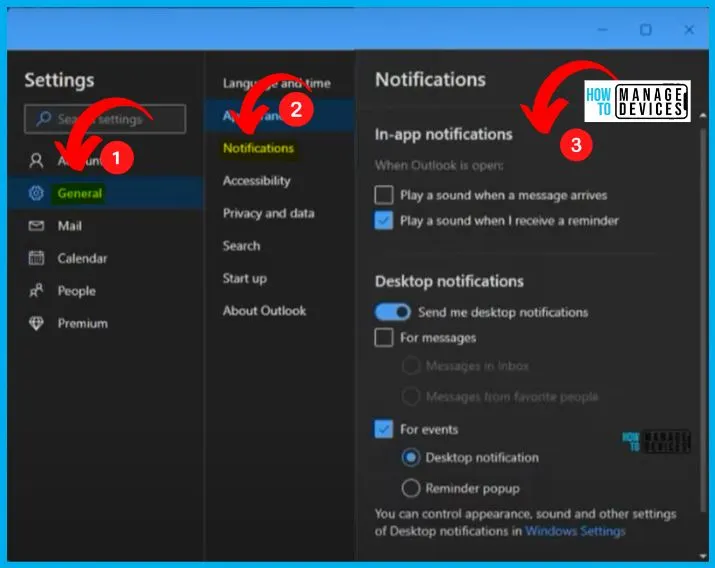 Accessibility in General Tab
In the Accessibility option, you can see Keyboard Shortcuts, Screen Readers, High Contrast Themes etc. You can perform many common tasks using the keyboard. Choose which version of the shortcuts to use.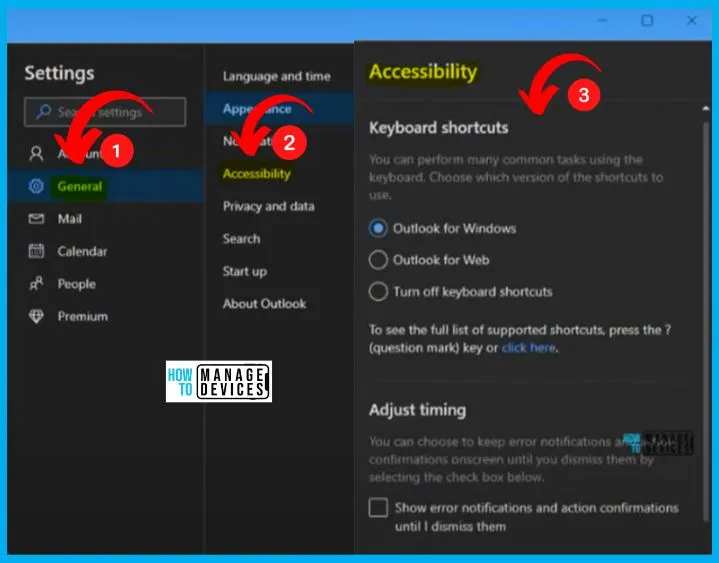 Privacy and Data
The General tab shows the Privacy and data. It shows the Export mailbox, Search history etc. Outlook stores all your email, calendar items and contacts in your mailbox. You can request a copy of your mailbox anytime by clicking export mailbox.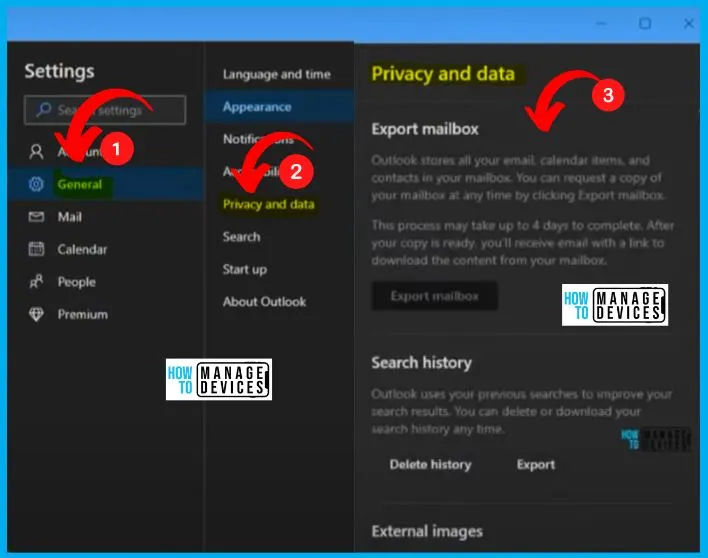 Search Option in Outlook
The search functionality in Outlook empowers you to swiftly locate emails, contacts, events, and more, enhancing your productivity. It shows the Search scope, Search results, History etc. Go to your privacy and data settings to see search details or take action on your search history.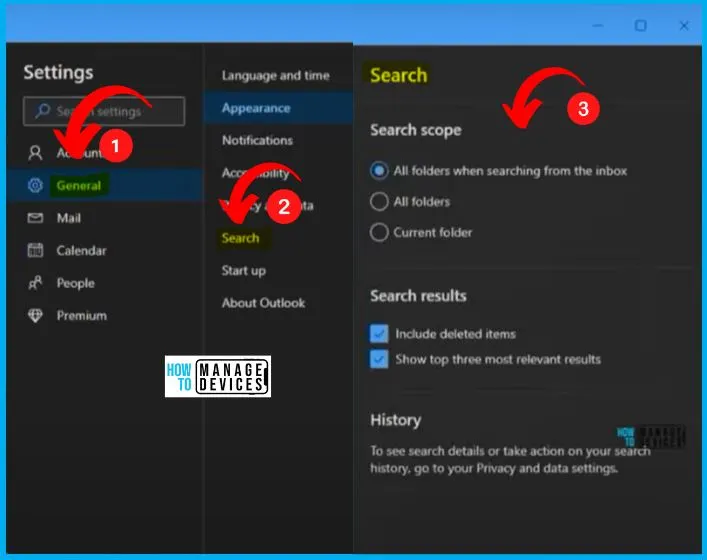 About Outlook
The "About Outlook" option within the Outlook application provides essential information about the software version, licensing, and other details. Outlook is a widely used personal information manager and email application developed by Microsoft.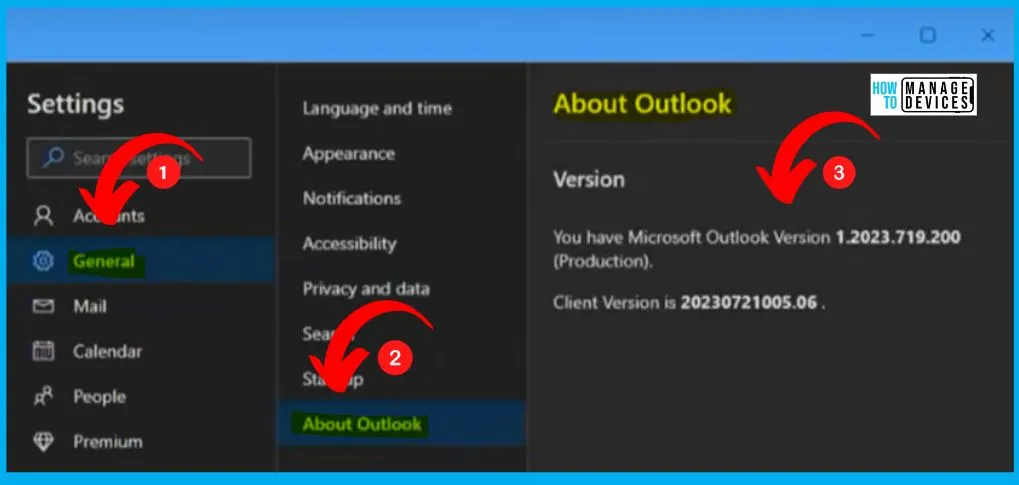 Announcing Windows 11 Insider Preview Build 25915 | Windows Insider Blog
Author
About Author – Vidya is a computer enthusiast. She is here to share quick tips and tricks with Windows 11 or Windows 10 users. She loves writing on Windows 11 and related technologies. She is also keen to find solutions and write about day-to-day tech problems.