Microsoft released the new SCCM 2006 Hotfix KB4584759 to Fix Desktop Analytics Error. This hotfix applicable to all the environments that are using Desktop Analytics, and was installed by using early update ring or globally available builds of version 2006.
More Details about SCCM Primary Server Upgrade to 2006 | ConfigMgr | Guide | Step by Step.
Introduction
I have added all the hotfixes released for the 2006 production version of Configmgr in the known issues post. You can read more details about the known issues of ConfigMgr 2006 from the following post. ConfigMgr 2006 Known Issues | Fixes | SCCM Current Branch.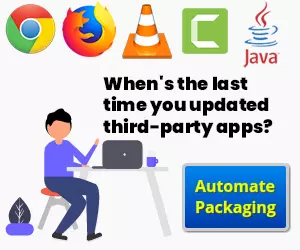 The desktop analytics errors resembling the following are also recorded in the M365AHandler.log on affected clients could be fixed after applying KB 4584759.
Executing command line: Run ConnectivityDiagnosis.exe with options (0, 0)
Process completed with exit code 4294967295
CheckConnectivityDiagnosis failed. Exit code -1 
Applicable
The ConfigMgr 2006 hotfix KB 4584759 is applicable only to the environments that are configured the feature called Desktop Analytics. You can confirm the desktop analytics configuration from:
Administration – Cloud Services – Azure Services

Install KB 4584759 – Install Update Pack
This is the step to update the standalone primary server or CAS server. The child primary servers shall get automatically updated.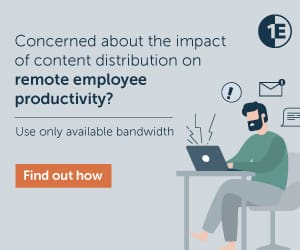 Launch the Configuration Manager Console
Select the Administration tab
Expand Overview -> Select Updates and Services
The update Configuration Manager 2006 Hotfix Rollup KB 4584759 is Ready to install stage
Click on Install Update Pack

Click Next
Select Client Update Settings (Client without validation for my lab environment).
Click on Next.
NOTE! – ConfigMgr client upgrade validation details are explained in the following post. I will let you go through to have more details. SCCM Client Upgrade Promote Pre-Production Client to Production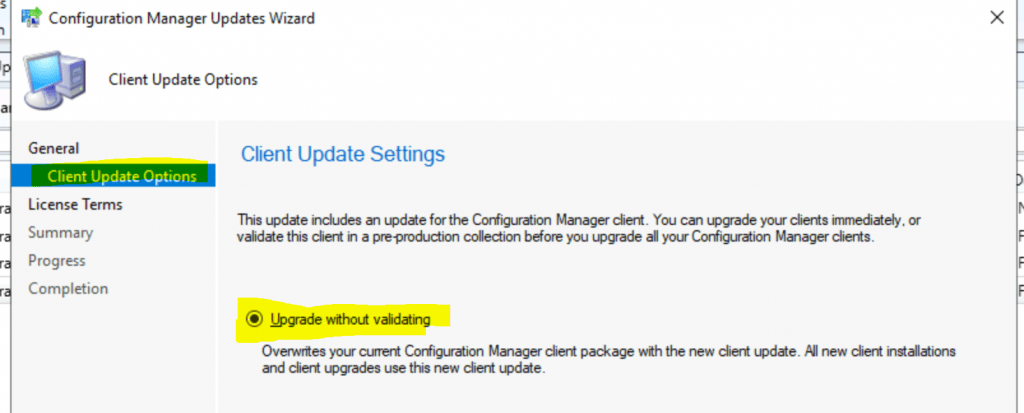 Accept the license and click on Next to continue.
Summary of update package installation
Install Update Package Configuration Manager 2006 Hotfix Rollup (KB 4584759)
Prerequisite warnings will be ignored
Test a new version of the client in production
Click on Close to complete Configuration Manager Updates Wizard.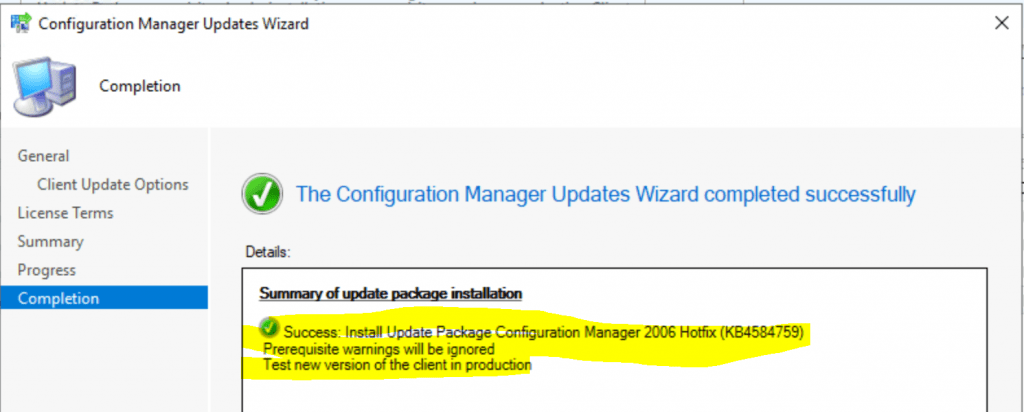 Completed
You can confirm whether the ConfigMgr 2006 KB installed successfully from the below screen capture.
NOTE! – I have seen the status of the Post Installation section showed as not completed until the server is restarted.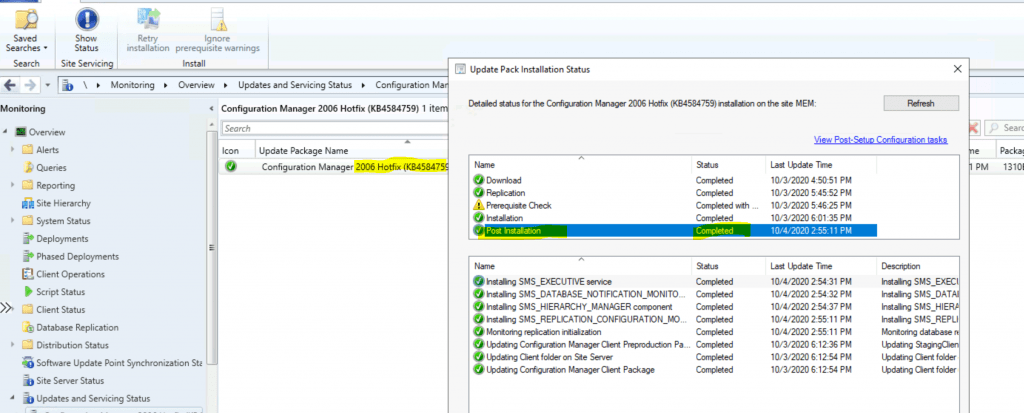 Resources