In this post, you will see more details about SCCM Co-Management Virtual LAB. Many IT Pros use Microsoft Virtual LABs as their free training resource. Recently there were many changes in Microsoft Virtual Labs, and most of the SCCM Labs disappeared.
[Related Post – Intune, SCCM, and Windows 10 Free Virtual Labs to Get Hands On Experience]
Introduction
First of all a Special Thanks to Santos Martinez (Microsoft Senior Program Manager) to build a co-management virtual lab. You would be able to test end to end SCCM co-management scenarios with this SCCM Co-management Virtual LAB.
NOTE! – The SCCM Co-management virtual lab is created with SCCM 1902 version (as of 14th May 2019). So, there are loads of other advantages with this lab.
Check out the new features of SCCM 1902
Get the Hands-On Experience with SCCM 1902
Free SCCM Virtual Labs is a service provided by Microsoft to help IT Admins and Developers to learn new Technologies. The old links to SCCM and Intune TechNet Virtual Labs are NOT working.
NOTE! – Can you please comment if you want to cover any specific topic?
SCCM Virtual Labs in Azure Platform?
Microsoft moved TechNet Labs http://technet.microsoft.com/en-us/virtuallabs to new hosting solution or Azure called Microsoft Self Paced Labs. More details about Self paced labs here – https://www.microsoft.com/handsonlabs/SelfPacedLabs.
Advantages of New Free Virtual LABS from Microsoft
Microsoft technologies are getting changed frequently. The IT pros are struggling to get their private labs updated with the same pace Microsoft is releasing new features.
Microsoft self-paced labs can help IT Pros to get hands-on experience with new features of technologies. There are only 151 Self-paced Labs available as of 14-May-2019.
NOTE! – As I mentioned below, there are only two virtual labs available for SCCM admins. One is Free SCCM Co-Management Virtual Lab, and Another one is Free Windows 7 to Windows 10 Upgrade Task Sequence virtual Lab.
The migration to Azure CloudApps is suitable for IT admins to help to learn new technologies in an agile method. There is no browser and OS dependency on the new platform. These SCCM Intune Windows 10 Hands-On Labs training will run on Chrome, Firefox, Safari, Mac-OS, etc.
SCCM Virtual Labs
Following are the links to get access to Hands-on virtual labs. There are only 2 Self-paced Labs for SCCM.
You might need to use Outlook account to launch the Virtual LAB. All the further instructions will be provided on the right-hand side of the virtual lab browser.
NOTE – Only two (2) labs are available for SCCM now as of 14th May 2019. Start searching with the keyword "Configuration Manager".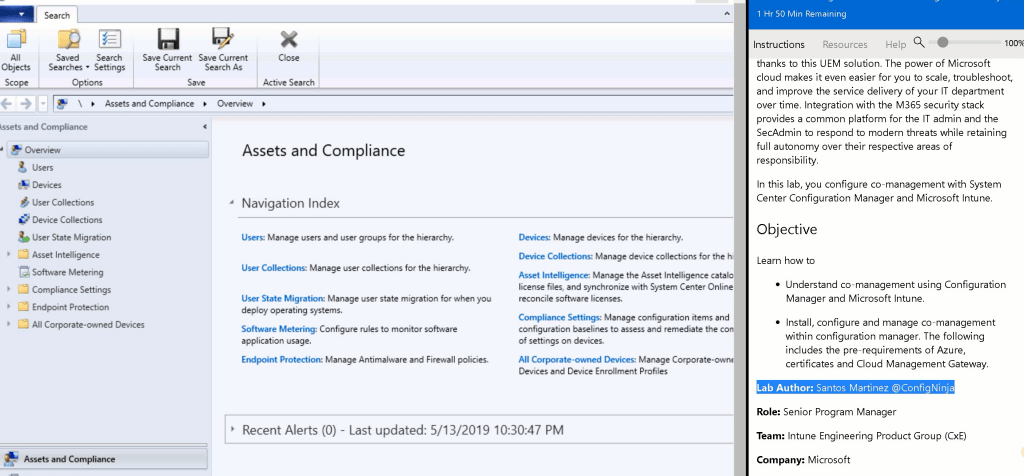 Free SCCM CO-Management Virtual Lab
Getting Started with Co-Management and System Center Configuration Manager (SCCM) and Intune – SC00116.
SCCM Windows 10 In-place Upgrade Task Sequence
Microsoft 365 Deployment Workshop – OS00203
Resources