Let's learn how to uninstall remove SCCM Primary Site | ConfigMgr CB | Configuration Manager | Endpoint Manager? So why do you want to uninstall/remove your primary site?
What if the SCCM CB primary is there in your LAB environment, and you want to get rid of it? Ok, then that is fine; go ahead and remove it. But you can delete the entire virtual machine and create a new one. Isn't it? That is a cleaner way of setting up a new lab environment.
You can have a quick look at my old video that shows the process of decommissioning the SCCM | ConfigMgr hierarchy. The approach that you will need to take to remove SCCM infra is a bottom-up approach.
Introduction – Uninstall Remove SCCM Primary Site
In this video tutorial, I'm going to show you how you can remove or uninstall SCCM/ConfigMgr Current Branch Primary site. This is a standalone SCCM CB primary site, and I don't have much data on the site. So again log file related to SCCM CB primary site server uninstallation is also ConfigMgrsetup.log.

So what is the list of Tasks that the SCCM CB primary site uninstallation program will go through:-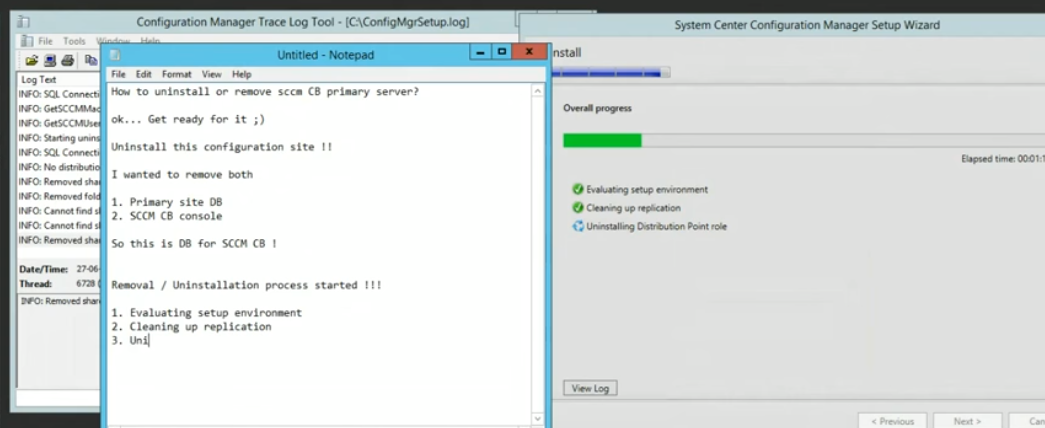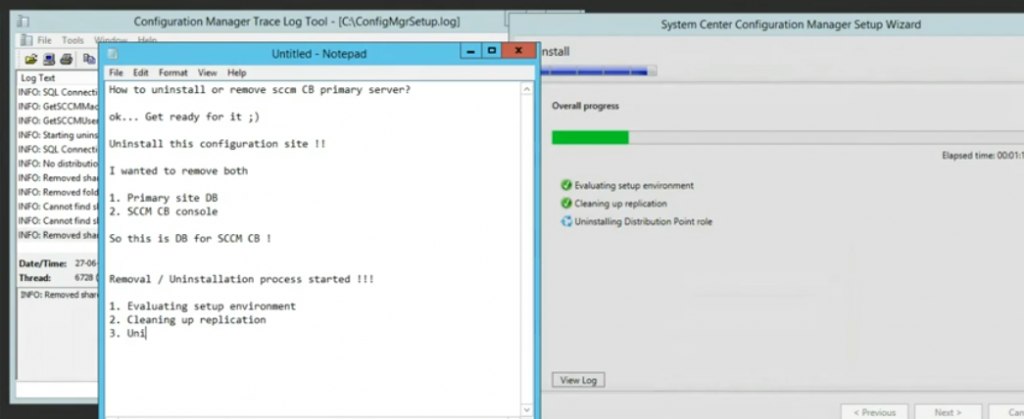 Evaluating setup environment
Cleaning up replication
Uninstalling the DP role
Uninstalling Cloud role
Uninstalling clients
Removing inbox definitions
Uninstalling services ( It took the Longest time ;))
Uninstalling SQL Server Database done
Cleaning Active Directory
Removing files
Uninstalling SMS Provider
Cleaning Registry
Deleting program group
Learn How to Uninstall Remove SCCM ConfigMgr CB Primary Site
Uninstall Remove SCCM Primary Site | ConfigMgr CB | Configuration Manager | Endpoint Manager? P.S…As part of the SCCM CB primary server uninstallation process, I saw the "SMS_Server_BootStrap_CMCBTP" service kicked off ……
Author
Anoop is Microsoft MVP! He is a Solution Architect in enterprise client management with more than 20 years of experience (calculation done in 2021) in IT. He is a blogger, Speaker, and Local User Group HTMD Community leader. His main focus is on Device Management technologies like SCCM 2012, Current Branch, and Intune. E writes about ConfigMgr, Windows 11, Windows 10, Azure AD, Microsoft Intune, Windows 365, AVD, etc…