Let's check the Windows 365 Cloud PC New Features announced at Microsoft Ignite. Windows 365 creates a new hybrid personal computing category called cloud PC.
Windows 365 Cloud PC uses both the power of the cloud and the capabilities of the device to provide a fully personalized Windows experience from the cloud to any device.
This offers workers and organizations power, simplicity, and security for hybrid work. Windows 365 is available in two editions, Enterprise Edition and Business Edition.
Windows 365 Business helps customers make it easy to create Cloud PCs for your users. You can have a quick look at the comparison of Windows 365 Business Vs. Enterprise versions.

You'll see how Microsoft enhances the admin experience to bring a new Windows 365 specific admin role to the Windows 365 experience for small businesses and the Windows 365 Cloud PC new features helping customers.
In Microsoft Ignite Digital Event announced the major updates to Windows 365 Business rolling out as the end of the year for customers –
Windows 11 support: Experience Windows 11 in the cloud on any device. Windows 365 Business will soon provide a powerful, simple, and secure Windows 11 experience for your users.
Enhanced admin capabilities: Benefit from new lifecycle management features, including setting the default operating system (OS) and account type for your users' devices at the organizational level, as well as device-level actions on individual Cloud PCs.
Microsoft Graph API availability: Graph APIs will be available for Windows 365 Business, so organizations can build additional capabilities and automation on top of the service.
Microsoft 365 Lighthouse integration: Managed Service Providers (MSPs) will be able to manage Windows 365 Business Cloud PCs on behalf of customers through the Microsoft 365 Lighthouse admin panel.
Windows 365 Cloud PC New Features Announced at Microsoft Ignite
Here's a quick summary of all Windows 365 new features that are available or in development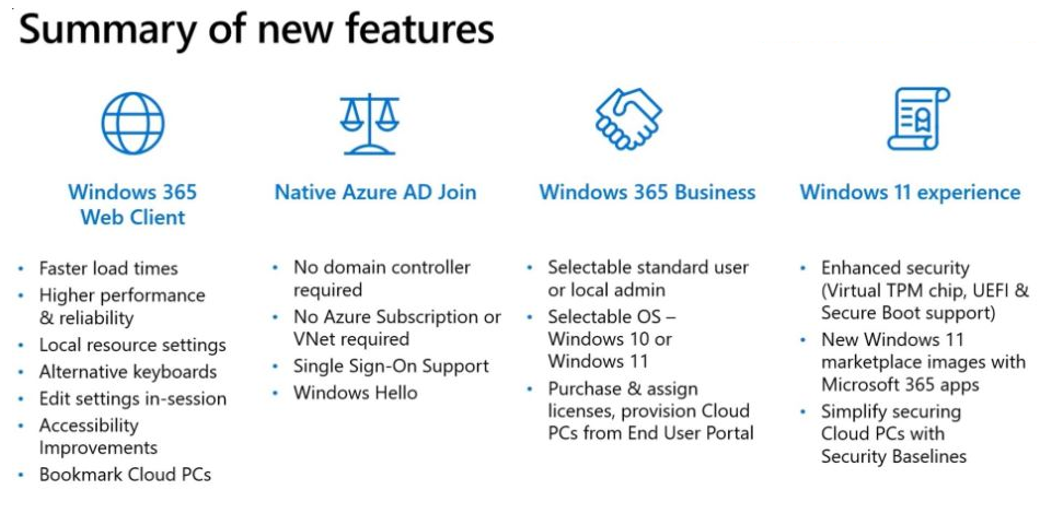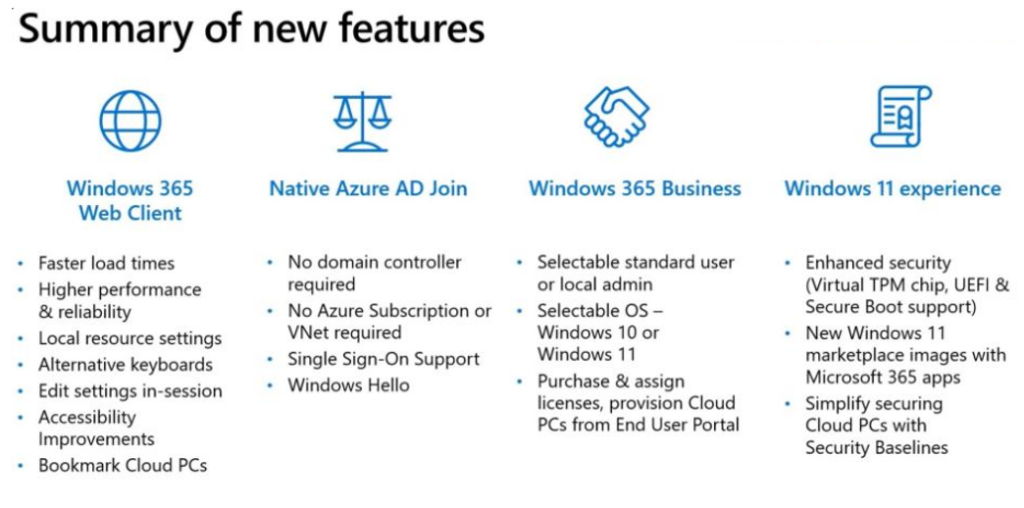 Windows 365 Business Improvements
Windows 365 Business admins will have full life-cycle management control over the users in the cloud PCs in their organization and perform device-level actions. You will be able to perform all the actions in the Microsoft 365 Admin Center and windows365.microsoft.com.

Let's look at some of the Windows 365 new features that are in development for the Business edition. At the organization level, admins will be able to control the following settings –
You'll be able to change the account type of users either Standard user or Local Admin. By default, new Cloud PCs will be set up with a Standard user account type. If an admin chooses, they can change the default to Local Administrator to allow users to install apps and change all settings on their Cloud PC.
Select the default operating system from Windows 11 or Windows 10. By default, new Cloud PCs will have Windows 11. Admins can change the default to Windows 10 if that better suits their organization's needs.
Note – These settings will affect only newly created Cloud PCs and not existing ones.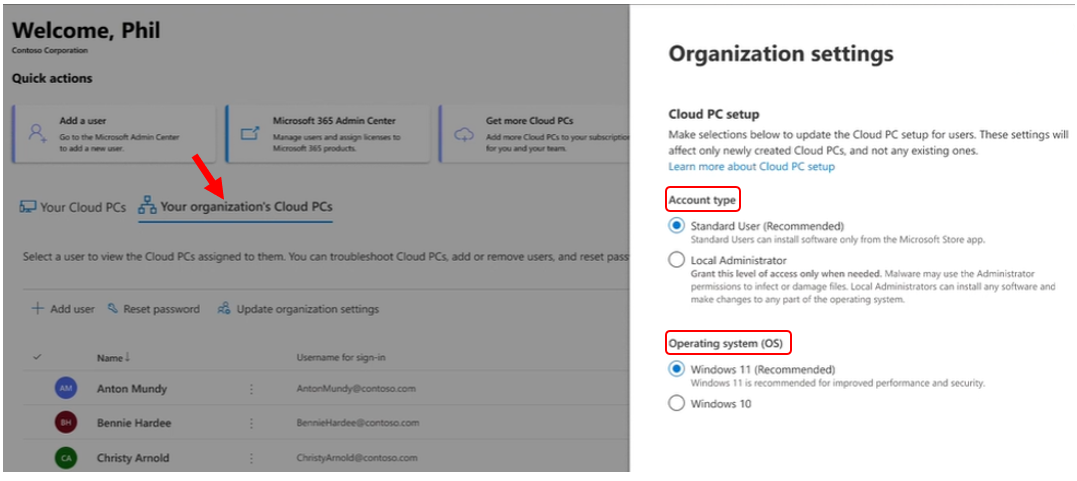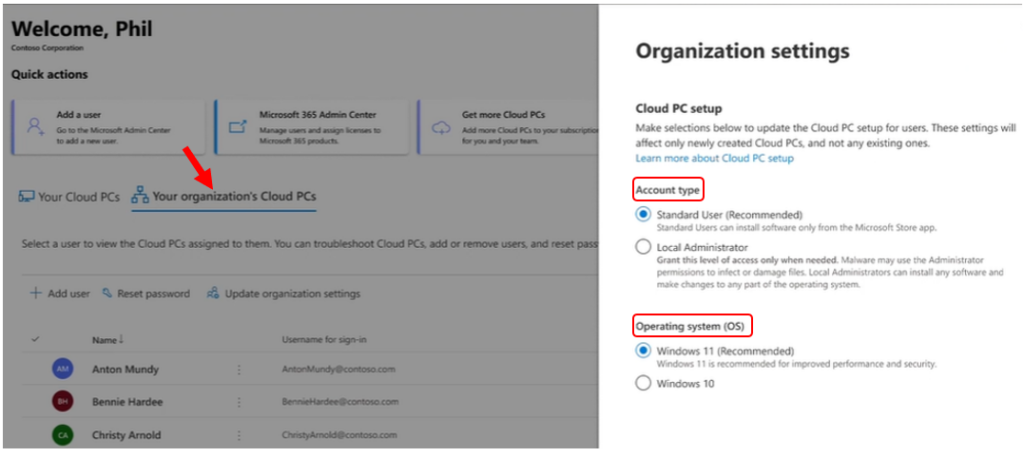 At the device level, admins will perform five actions – Restart: Admins can restart a user's Cloud PC on their behalf. Reset: If a user is having trouble with their Cloud PC, admins will reset the Cloud PC for them. This will:
Reinstall Windows (with the option to choose between Windows 11 and Windows 10). Remove all apps and locally stored files.
Remove changes made to settings. Rename: Admins can change the Cloud PC name that users see on windows365.microsoft.com.
Troubleshoot: Troubleshoot checks whether your organization's Cloud PCs are in a connectable state. If any issues prevent a user from connecting to their Cloud PC, admins are given guidance on how to resolve them.
Change account type: Admins will be able to seamlessly switch the user's role on their Cloud PC between Standard user and Local Administrator.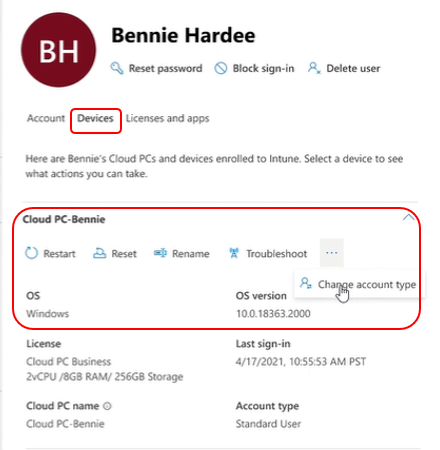 Admins will be able to perform other basic management capabilities on windows365.microsoft.com, including –
Create and delete users
Reset passwords
Manage licenses for Windows 365 Cloud PCs and Microsoft 365 products
Support for Azure AD joined Cloud PCs in Windows 365 Enterprise
You can create provisioning policies for Windows 365 to specify the connection, images, and user groups. The provisioning policy helps you configure the settings required to host and manage cloud PCs.
With the latest announced Windows 365 new features, you will be able to select the Join type Azure AD join or Hybrid Azure AD Join as shown; This feature will be available to public preview very soon –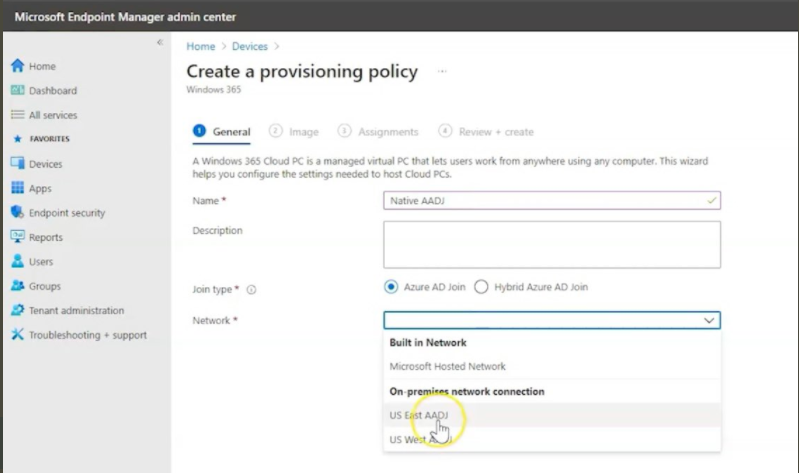 Azure AD joined Cloud PCs provide the following key benefits –
Create Azure AD joined Cloud PCs without bringing any Azure infrastructure.
Create Azure AD joined Cloud PCs on your own network, by using an on-premises network connection.
Provide Cloud PCs for cloud-only users in your organization.
Gain more flexibility to sign in to your Cloud PC using Windows Hello for Business.
Author
About Author -> Jitesh has over 5 years of working experience in the IT Industry. He writes and shares his experiences related to Microsoft device management technologies and IT Infrastructure management. His primary focus area is Windows 10, Windows 11 Deployment solution with Configuration Manager, Microsoft Deployment Toolkit (MDT), and Microsoft Intune.