Let's check the settings of Windows Update Policies in Windows 11. The Windows update policy help to give recommendations for the latest patch file or any updates to the current version of Windows to install.
Microsoft made certain policies to update the Windows operating system from time to time. Microsoft provides its updates whenever it makes changes to the current version of Windows installed in your system. These updates make your device and data secure.
The windows updates ensure that your device with the latest improvements and bug fixes. The updates are required; it is impossible to disable Windows 11 completely. As explained in this post, you can temporarily pause the windows updates for one week to five weeks.
To disable the updates permanently, you can make changes in the windows update policies through Group Policy or Registry Editor. You can also use the same to enable the setting that changed by you. In this post, the step-by-step guideline using various methods is represented.

When was the IE11 desktop application permanently disabled?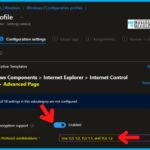 As per Microsoft, The out-of-support Internet Explorer 11 (IE11) desktop application was permanently disabled on certain versions of Windows 10 on February 14, 2023, through a Microsoft Edge update.
This IE 11 Desktop app is NOT disabled with Windows Update. Note, this update will be rolled out over the span of a few days up to a week, as is standard for Microsoft Edge updates.
Different Methods to Enable or Disable Windows Update Policies
There are some methods of windows to enable or disable its updates from the settings that start from manual to auto settings. The processes are listed below:
Windows update settings
Windows local services
Group policy settings
Registry editor settings
Intune Policy settings
Windows Update Settings – Enable or Disable Windows Update Policies
To update the windows settings, you need to go to the search bar on your desktop and type windows update. Now click on open to the right pane of the search window. The procedure illustrates in the image below: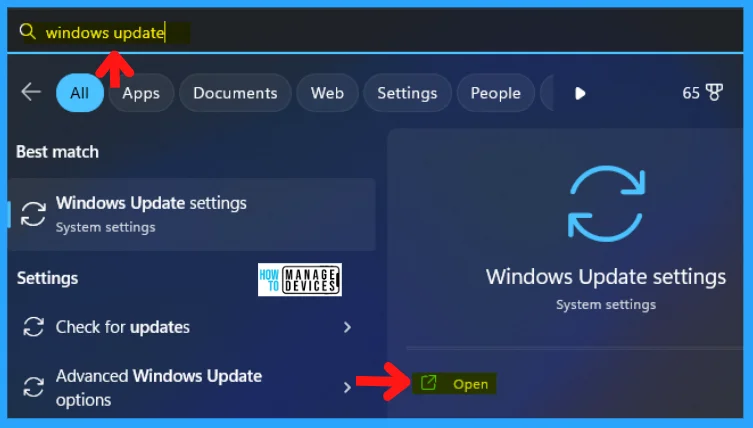 When you click to open windows update settings, there is an option as Pause Updates under More Options. This option helps you to manage the updates, like pause updates for a specified period, as the options available from 1 week to 5 weeks, shown below:
Pause for 1 week – It helps to Pause Windows Updates for 1 week
Pause for 2 weeks – It helps to Pause Windows Updates for 2 week
Pause for 3 weeks – It helps to Pause Windows Updates for 3 week
Pause for 4 weeks – It helps to Pause Windows Updates for 4 week
Pause for 5 weeks – It helps to Pause Windows Updates for 5 week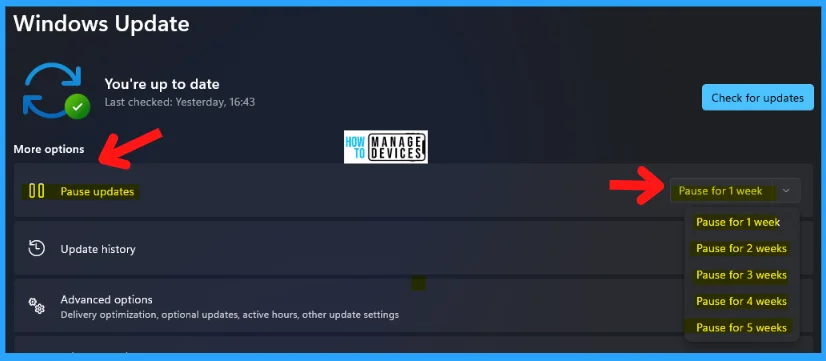 Windows Local Services – Enable or Disable Windows Update Policies
You can enable or disable windows update policies using Windows Local Services. To access the local services to change the setting for windows update policies manually, follow the steps below:
Press Win Key + R to open the Run command box
Type Services.msc and click on OK or press ENTER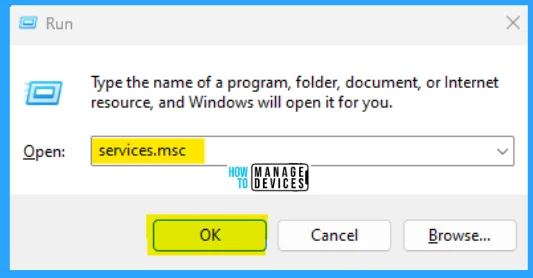 The local window services window opens, containing many functionalities that can be modified manually. Please scroll down the options, locate Windows Update, and double-click on it to make any changes.

Double-clicking on the Windows Update option available in the services opens the Windows Update Properties (Local Computer) window. From its General tab, you can modify to enable or disable the windows updates. The options are illustrated in the table below:
Options
Details
Service Name
wuauserv
Display Name
Windows Update
Description
Enables the detection, download, and installation of updates for Windows and other programs. If this service is disabled, users of this computer will not be able to use Windows Update or its automatic updating feature, and programs will not be able to use the Windows Update Agent (WUA) API.
Path to executable
C:\WINDOWS\System32\svchost.exe -k netsvcs -p
Startup type
Automatic (Delayed Start)
Automatic
Manual
Disabled
Enable Disable Windows Update Policies using GPO or Intune – Table 1
In the Windows Update properties (Local Computer) window, move to Startup type and select Disabled to disable the update service; click on other options to make available the update process as per the requirement shown in the table above.
Click on OK to apply the changes.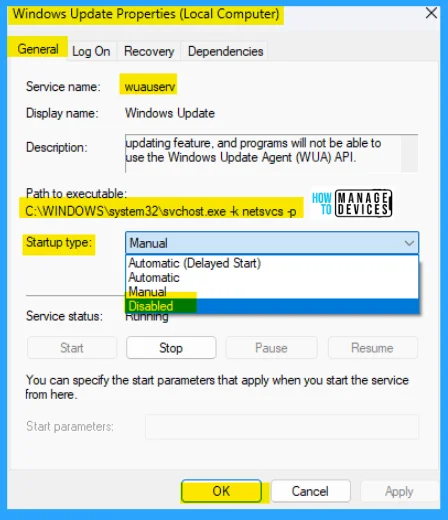 Group Policy Settings – Enable or Disable Windows Update Policies
You can also enable or disable the windows update policies using the Group Policy Settings. Open Group Policy to allow enable or disable updates and follow the process.
Open the Run command, press Win Key + R
Type gpedit.msc
Click Ok or press Enter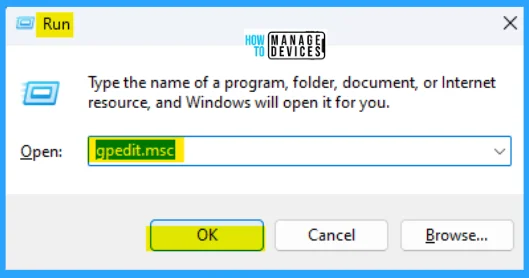 When the Group Policy Editor opens, navigate to the following path to reach the required policy settings and select Configure Automatic Updates to make changes in Windows Update settings.
| Edit | Requirements | Description | Note |
| --- | --- | --- | --- |
| Policy Settings | Windows XP Professional Service Pack 1 or At least Windows 2000 Service Pack 3 Option 7 is only supported on servers of at least Windows Server 2016 edition. | Specifies whether this computer will receive security updates and other important downloads through the Windows automatic updating service | This Policy does not apply to Windows RT |
Best Ways to Enable or Disable Windows Update Policies | Windows 11 – Table 2
Computer Configuration>Administrative Templates > Windows Components>Windows Update>Manage End User Experience>Configure Automatic Updates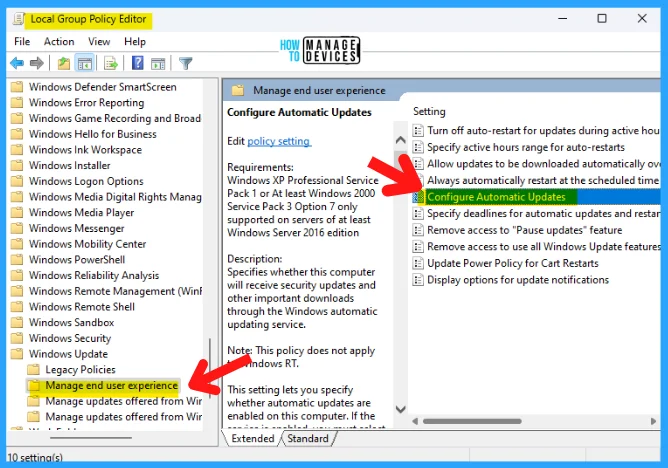 Double-click on Configure Automatic Updates and the configure automatic updates windows settings open, which default setting is "Not Configured". Select Disable to stop Windows auto updates.
Not Configured: The particular update policy is not configured on your computer
Enabled: The particular update policy is configured on your computer
Disabled: The particular update policy is disabled on your computer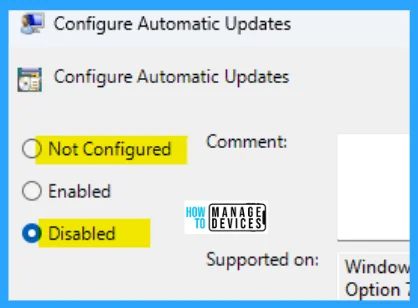 If you want to enable the Automatic Updates, then some options appear, as shown in the figure below. The five options are their specifications described in detail in the table.
This setting lets you specify whether automatic updates are enabled on this computer. If the service is enabled, you must select one of the five options in the Group Policy settings.
Options
Descriptions
2 – Notify before downloading and installing any updates
When Windows finds updates that apply to this computer, users will be notified that updates are ready to be downloaded. After going to Windows Update, users can download and install any available updates.
3 – (Default setting) Download the updates automatically and notify when they are ready to be installed
Windows finds updates that apply to the computer and downloads them in the background (the user is not notified or interrupted during this process). When the downloads are complete, users will be notified that they are ready to install. After going to Windows Update, users can install them.
4 – Automatically download updates and install them on the schedule specified
When "Automatic" is selected as the scheduled install time, Windows automatically checks, downloads, and installs updates. The device will reboot as per Windows default settings unless configured by group policy. (Applies to Windows 10, version 1809 and higher)

Specify the schedule using the options in the Group Policy Setting. For version 1709 and above, there is an additional choice of limiting updating to a weekly, bi-weekly, or monthly occurrence. If no schedule is specified, the default schedule for all installations will be every day at 3:00 AM. If any updates require a restart to complete the installation, Windows will restart the computer automatically. (If a user is signed in to the computer when Windows is ready to restart, the user will be notified and given the option to delay the restart.)

On Windows 8 and later, you can set updates to install during automatic maintenance instead of a specific schedule. Automatic maintenance will install updates when the computer is not in use and avoid doing so when the computer is running on battery power. If automatic maintenance is unable to install updates for 2 days, Windows Update will install updates right away. Users will then be notified about an upcoming restart, and that restart will only take place if there is no potential for accidental data loss.
5 – Allow local administrators to select the configuration mode that Automatic Updates should notify and install updates. (This option has not been carried over to any Win 10 Versions)
With this option, local administrators will be allowed to use the Windows Update control panel to select a configuration option of their choice. Local administrators will not be allowed to disable the configuration for Automatic Updates.
7 – Notify for installation and notify for restart. (Windows Server only)
With this option from Windows Server 2016, applicable only to Server SKU devices, local administrators will be allowed to use Windows Update to proceed with installations or reboots manually.

If the status for this policy is set to Disabled, any updates that are available on Windows Update must be downloaded and installed manually. To do this, search for Windows Update using Start.

If the status is not Configured, the use of Automatic Updates is not specified at the Group Policy level. However, an administrator can still configure Automatic Updates through Control Panel.
Best Ways to Enable or Disable Windows Update Policies | Windows 11 – Table 3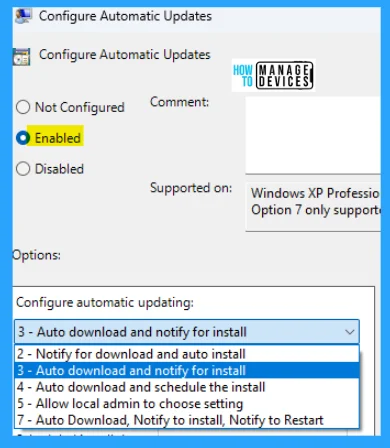 Registry Editor Settings – Enable or Disable Windows Automatic Update
Now you can also change the settings from the registry editor settings to enable or disable the Windows update policies. To change the updated policy setting, follow the path below.
Computer\HKEY_LOCAL_MACHINE\SOFTWARE\Policies\Microsoft\Windows
In the Windows folder, scroll down. If you do not find any folder like Windows Update, create one. The process of creating a new key is shown below:
Right-click on the Windows folder, click on New
Then click on Key
Now named it as Windows Update

As you created the Windows update folder under the Windows folder, now create another key under the Windows update key, and repeat the above procedure.
Right-click on Windows Update
Select New, then Key
Name it AU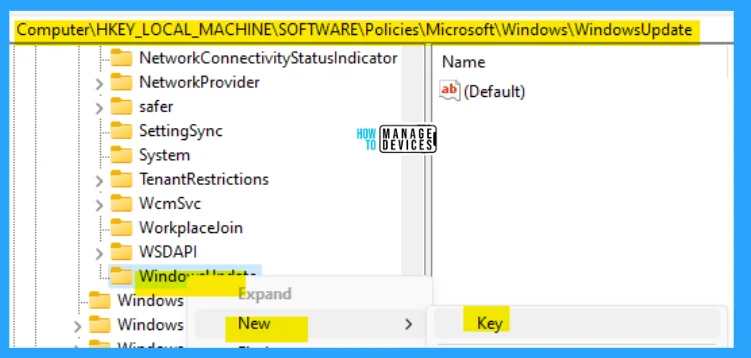 Click on the AU key that you created; it opens there is a default value available. It's time to make a value under the AU key. The process of developing a value is represented below:
Right-click on the Blank area of the AU key in the right panel
Select New, then DWORD (32-bit) Value
Named the DWORD Value as NoAutomaticUpdate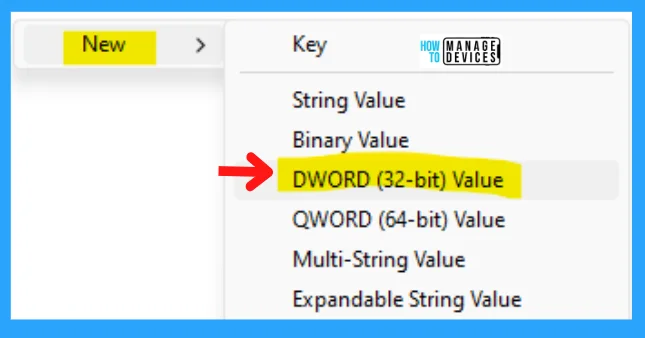 Double-click on the NoAutoUpdate REG_DWORD, and the Edit DWORD (32-bit) Value window appears. Here you can implement the value data 0 to enable Windows to update and value data 1 to disable Windows update.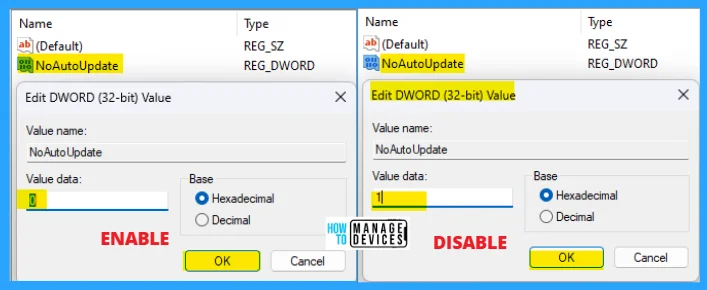 NOTE! The system needs to be restarted after modifying both Group Policy settings and Registry Editor.
Intune Policy Settings – Enable or Disable Windows Automatic Update
Let's look at Intune policy options to check the settings for Windows Update Policies. We have already seen 4 methods to do this in this post and the Intune settings catalog method to implement the same.
Go through Intune Settings Catalog Guide (linked below) to create the policy in detail. However, search with keywords Windows Update in the Settings picker search box, and Select Allow Auto Update. This is what is explained in the next section.
NOTE! More details on Intune settings catalog guide – Create Intune Settings Catalog Policy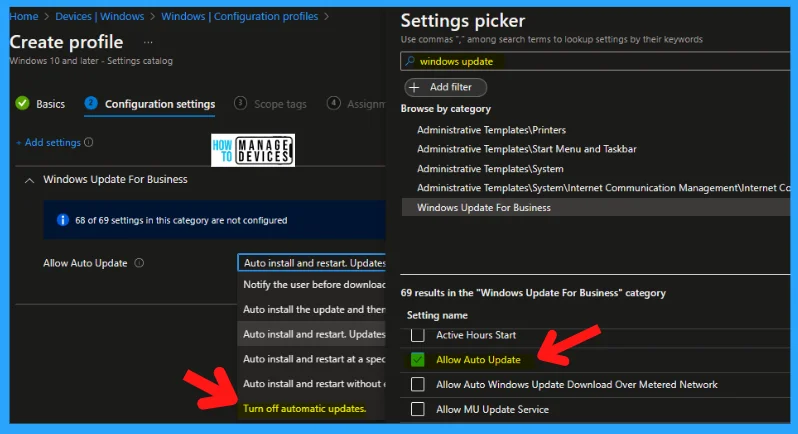 It enables the IT admin to manage automatic update behavior to scan, download, and install updates. Supported operations are Get and Replace. Important.
This option should be used only for systems under regulatory compliance, as you will not get security updates. If the policy is not configured, end-users get the default behavior (Auto install and restart).
The information on the Best Ways to Enable or Disable Windows Update Policies in Windows 11 is helpful. Please follow us on HTMD Community and visit our website HTMD Forum if you like our content.
Author
Alok is a Master of Computer Applications (MCA) graduate. He loves writing on Windows 11 and related technologies. He likes to share his knowledge, quick tips, and tricks with Windows 11 or Windows 10 with the community.