There are two ways to access Remote desktops and remotes apps which you published. In this post, we will discuss both options in details. Also, you would be able to see a video experience of the Windows Virtual Desktop (WVD) remote desktop.
** Updated on June 5 2020
NOTE! – WVD is GA'd Generally Available World Wide with App Attach Feature?
Related Post – Install Subscribe Windows RD Client for WVD End User Step by Step Guide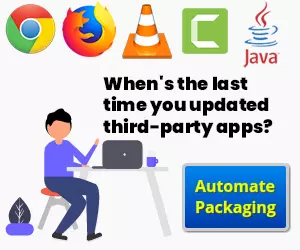 Introduction
Microsoft WVD is the new VDI story from Microsoft. I have a post in which I explained about Microsoft WVD Vs. Citrix, WVD Myths, WVD Known Issues, and WVD setup. More details in the Microsoft VDI Story post.
Microsoft shared details about Microsoft WVD release dates (GA), and future roadmap of WVD are explained in the Windows Virtual Desktop Ask Me Anything (AMA). I have a post which highlighted the points WVD engineering team shared in the WVD AMA. More details in WVD AMA post.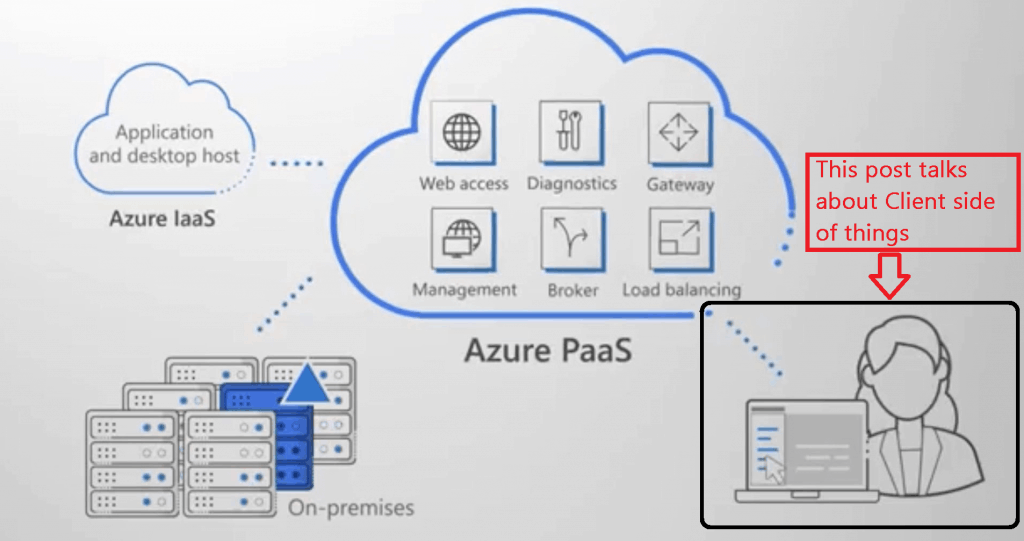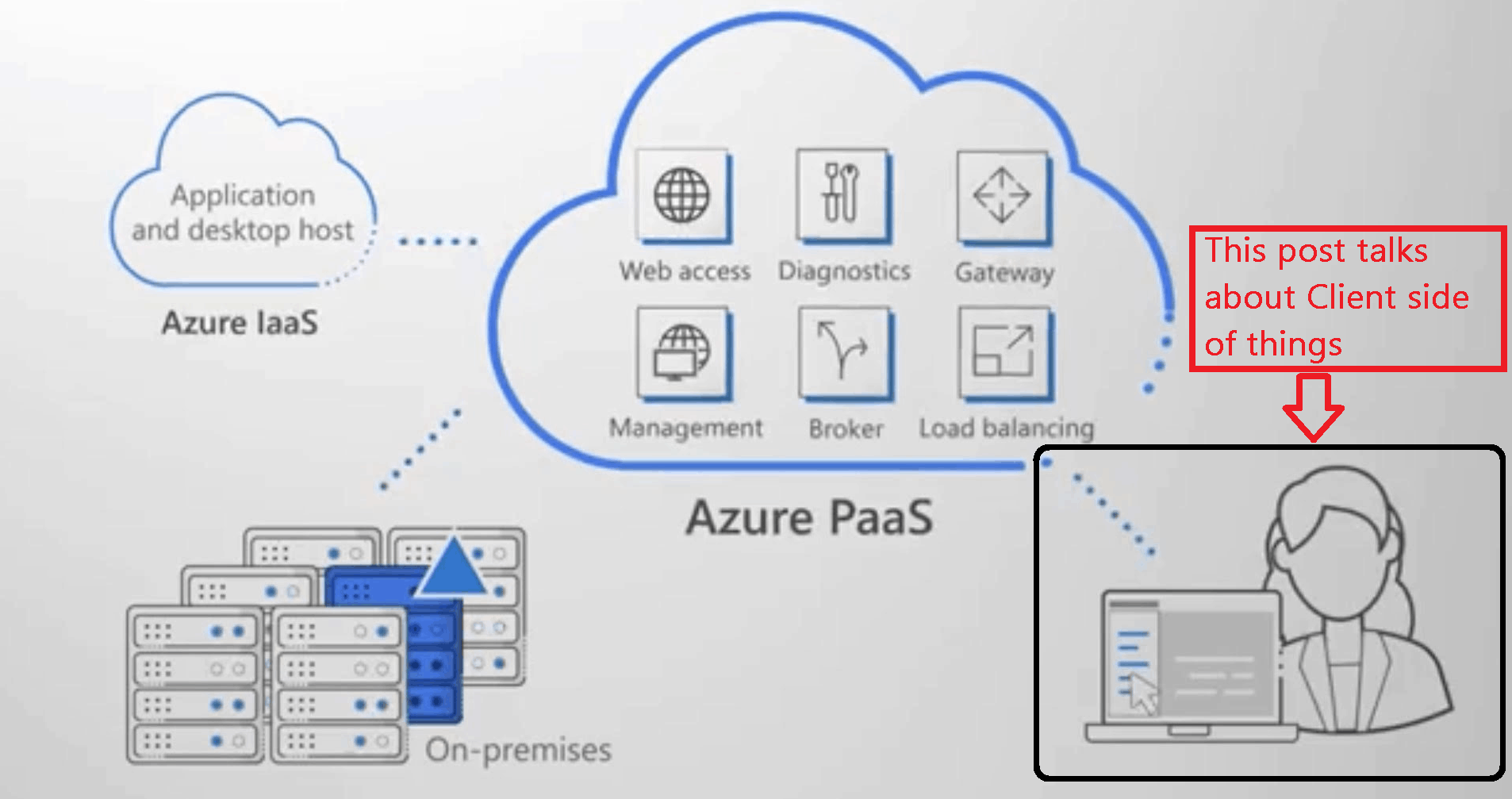 In this post, you are going to see two methods to access WVD remote apps and remote desktops from a Thin client or physical desktop. The following are the two options available to access WVD Remote Desktops and Apps.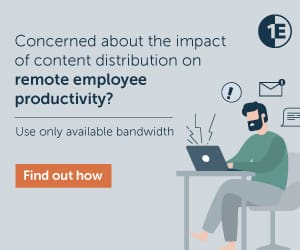 NOTE! -- PWA (Progressive Web Apps)options are NOT enabled for WVD web browser yet. Maybe this is coming in the future?
NOTE! – Do you have Questions about WVD Remote/Web SSO? The following link will help you to understand better. https://www.anoopcnair.com/microsoft-wvd-ama-faq-ga-dates/#WVD_SSO_Related_Questions
Web Browser (HTML5 supported browser)
Remote Desktop Client (Windows Devices)
Thin Clients?
WVD Web Client Browser (HTML5 based browser)
The Web browser is the easiest way to connect to WVD remote desktops and apps. WVD remote desktop resources can be accessed from any web browsers which supports HTLM5.
NOTE! – The end-user experience of WVD Remote Desktop Client (explained) is better than a Web browser. I have seen inconsistency in Single Sign-On(SSO) and a couple of pop-ups etc…
NOTE! – You can use the following URL to connect to WVD remote desktop resources. https://rdweb.wvd.microsoft.com/webclient/index.html (This won't work for WVD V2 or new WVD with ARM support or WVD Spring release).
Windows 10 Device
I use the web browser to connect to WVD resources during the test scenarios as it's straightforward to test with different web browsers on my Windows 10 Surface book.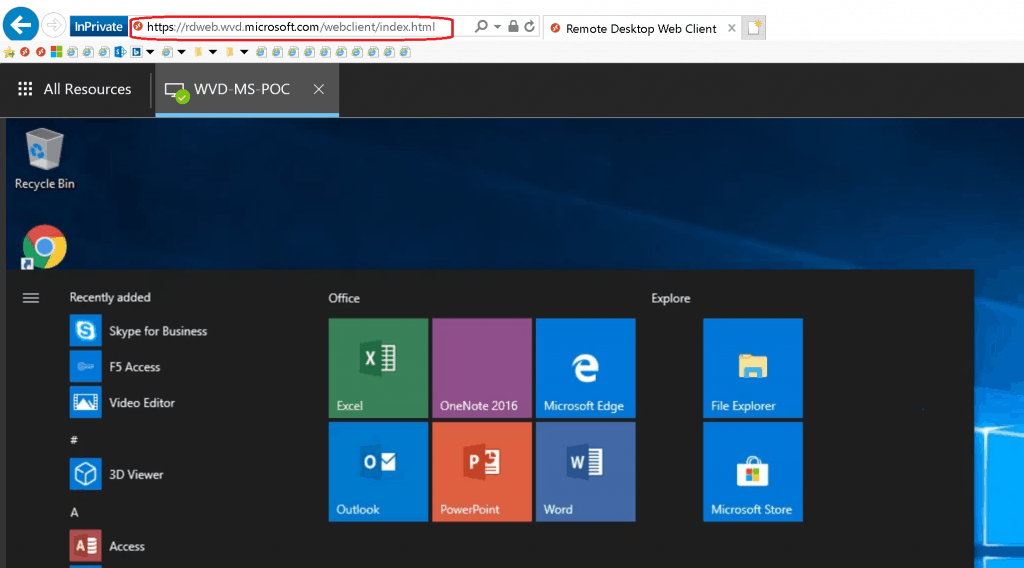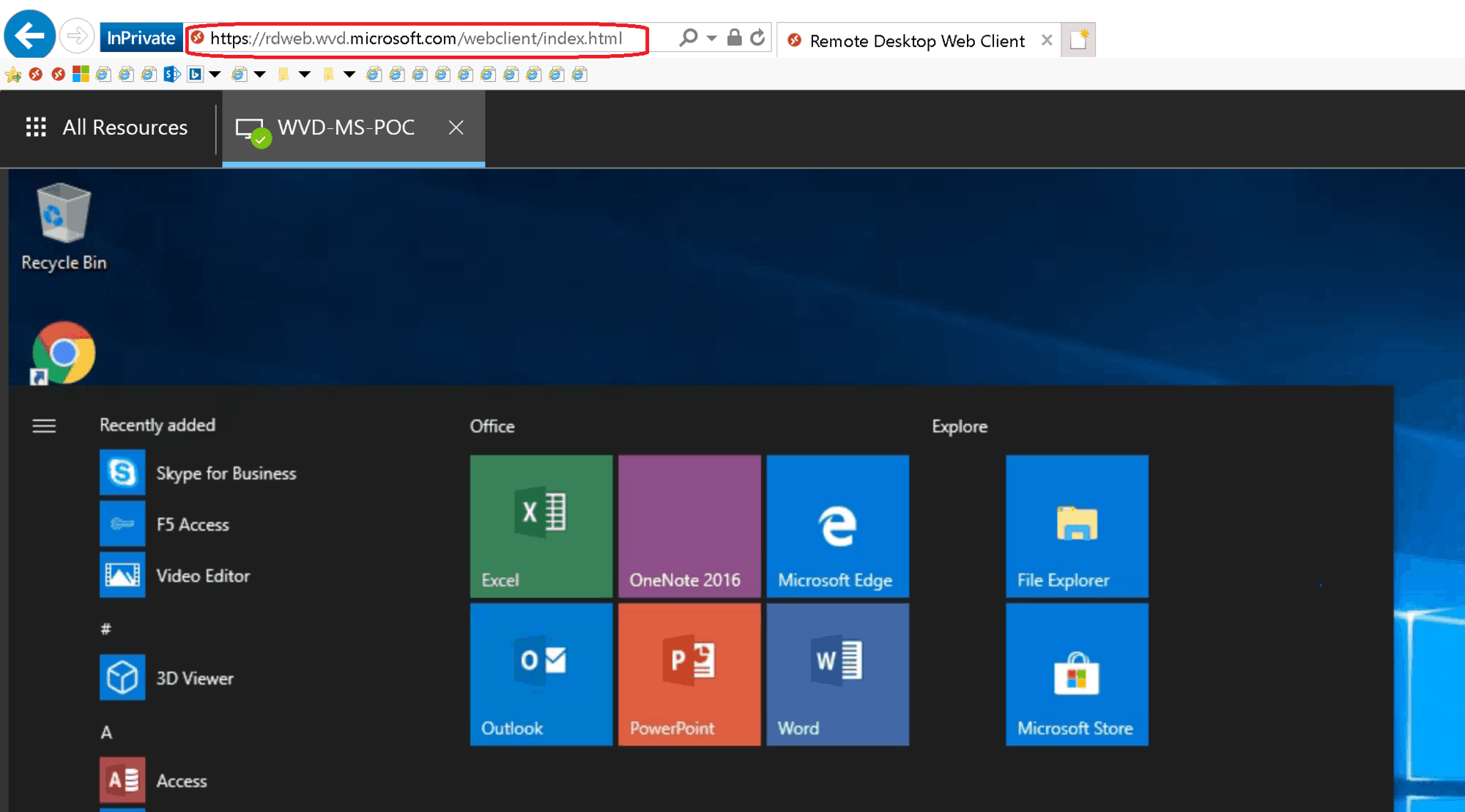 Mobile Devices – Non Windows Devices
The only option to access WVD resources from mobile and non Windows devices is via a Web Browser. Microsoft mentioned in their documentation that you could access WVD remote desktop resources from all non-windows devices with HTML5 support.
I tried to access WVD resources from iOS 12 device on different browsers, and the following are the results.
Chrome – Works perfectly fine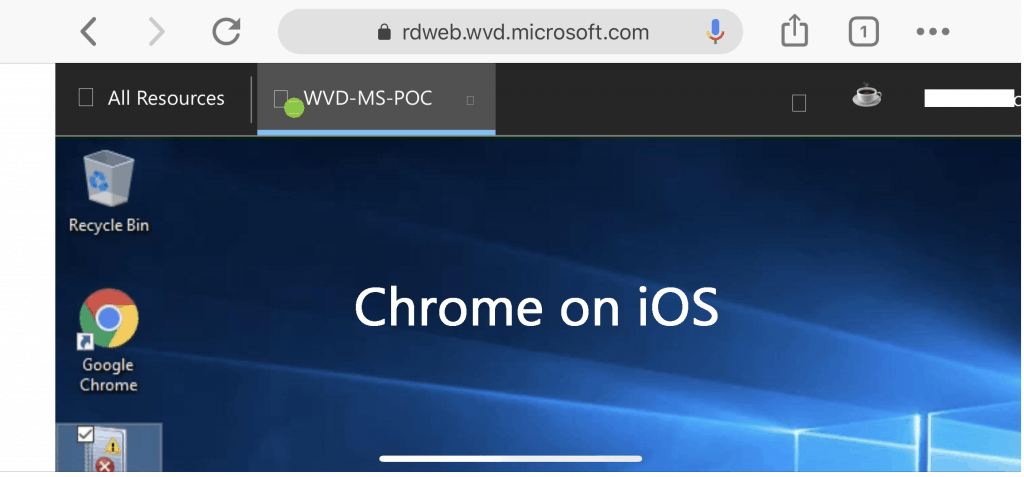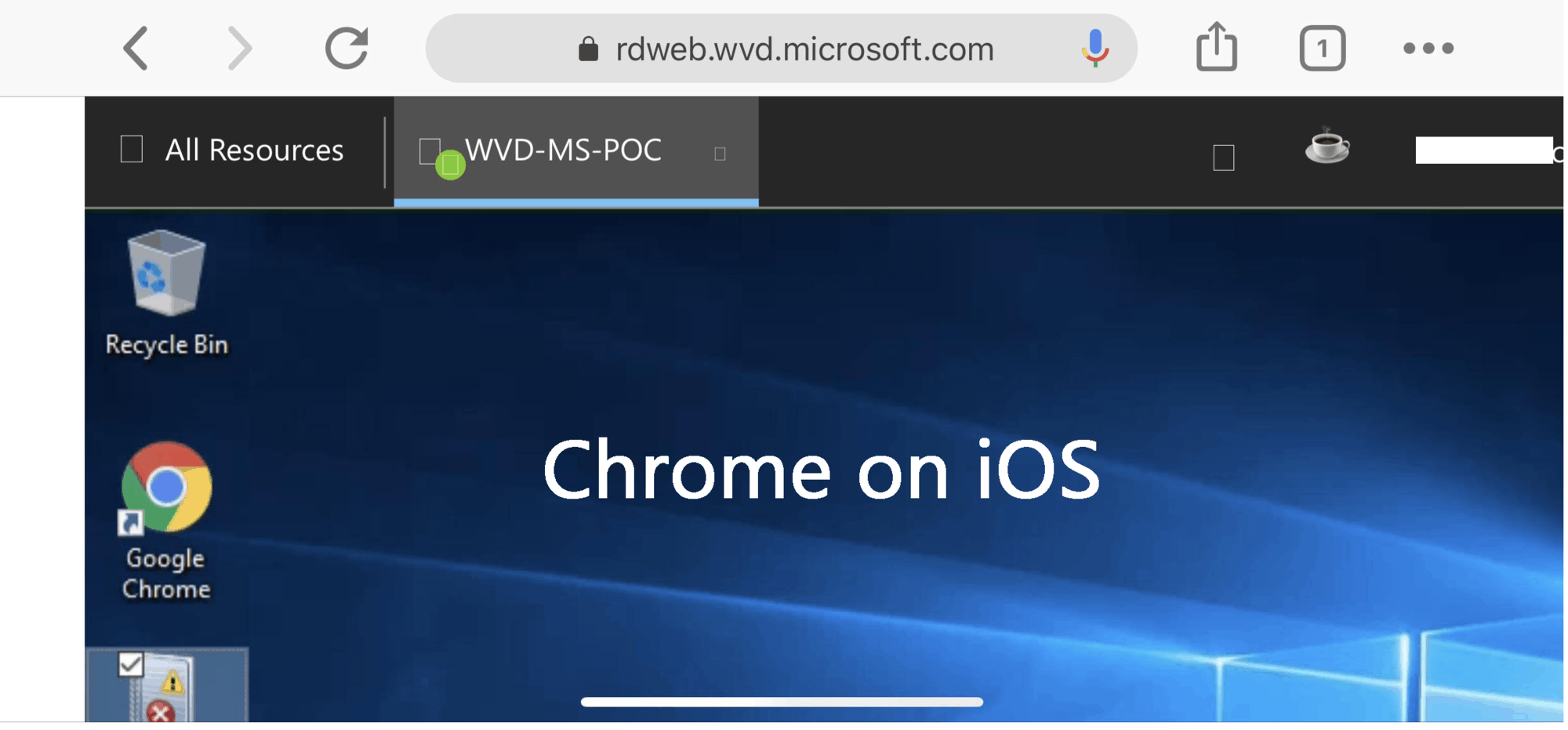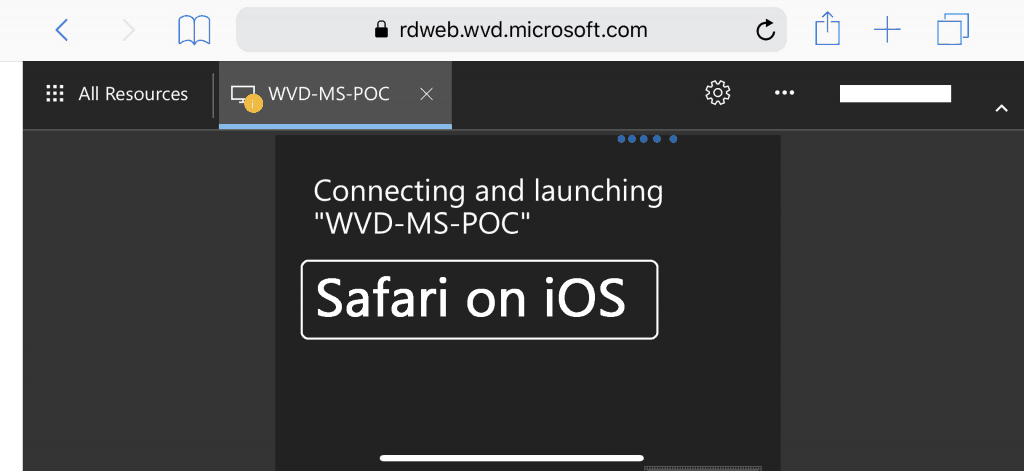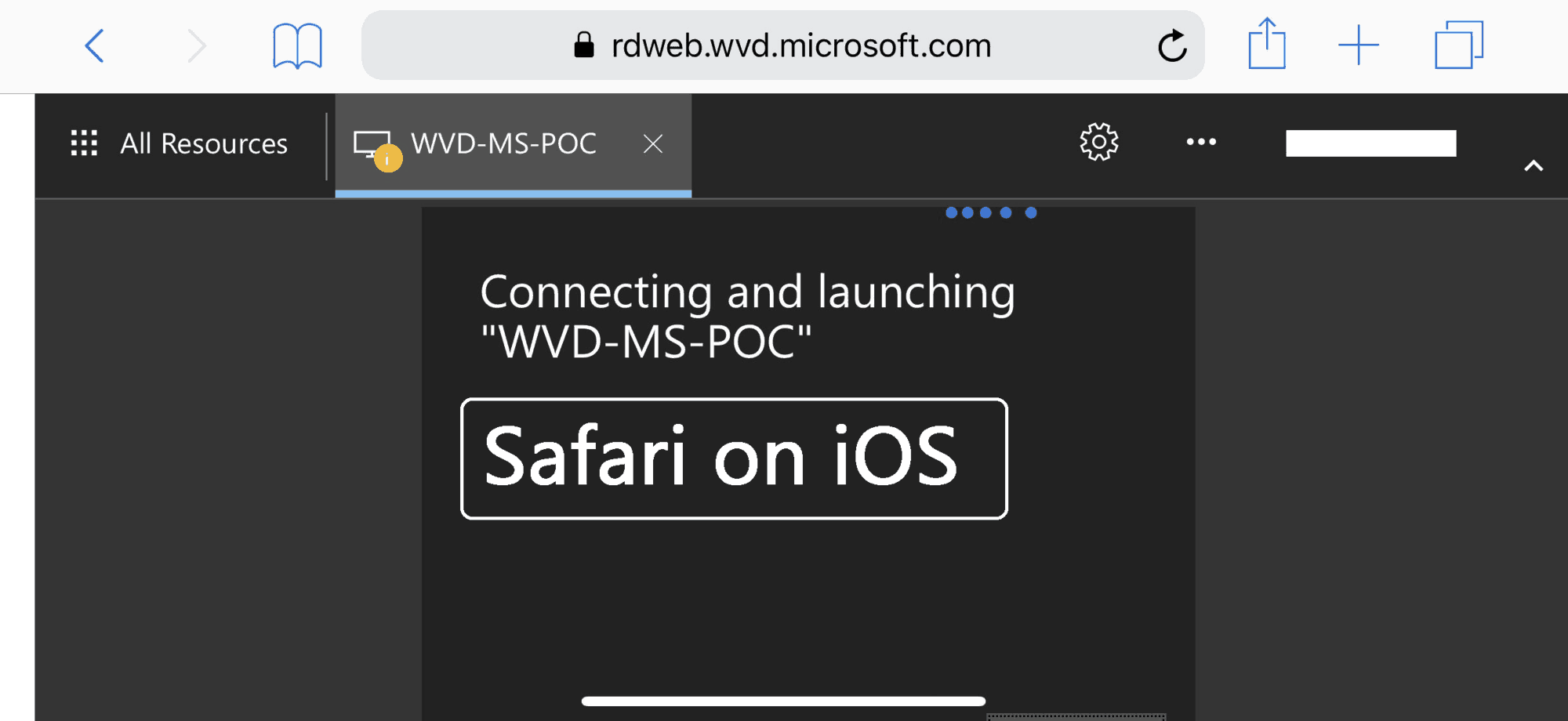 Microsoft Edge – Not able to list down the WVD resources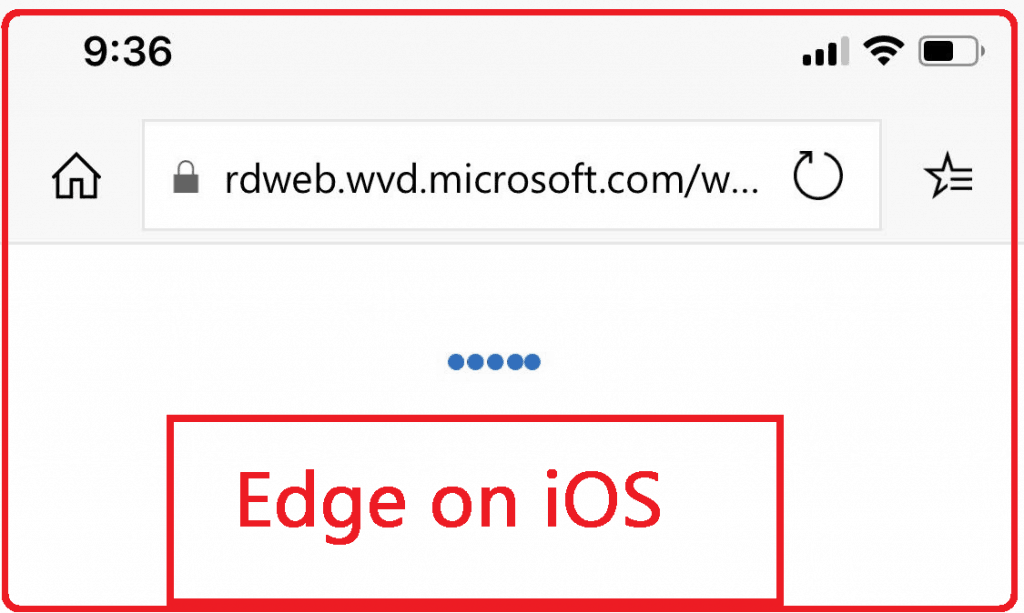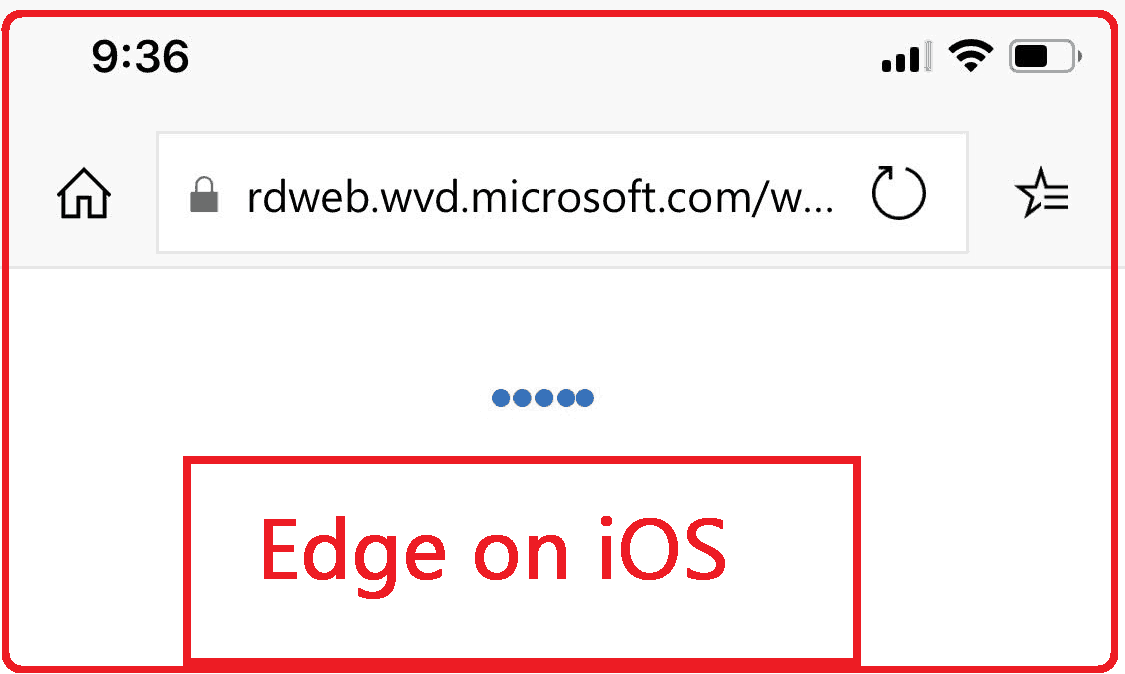 WVD Remote Desktop Client (Windows Devices)
The second option to connect to WVD remote desktop resources is to download and install the WVD Remote Desktop client. This client is available only for Windows devices.
Features of Update Microsoft Remote Client for WVD
Following are the features included in the latest version of Microsoft Remote desktop client as per Freek Berson @fberson.
Fallback language for localized version is improved
Upon removing a subscription, cached credentials in the credential manager are adequately cleaned up.
Unattended client update process and client relaunch once completed (noticeable once the next update is available)
The Microsoft Remote Desktop Client can be used on Windows 10S
Once the client is installed, it will get the Automatic update from the cloud. You can see the notification within the WVD remote desktop client/Windows Action Center. The latest Microsoft Remote Desktop client supports Windows 10S version, and it's more stable.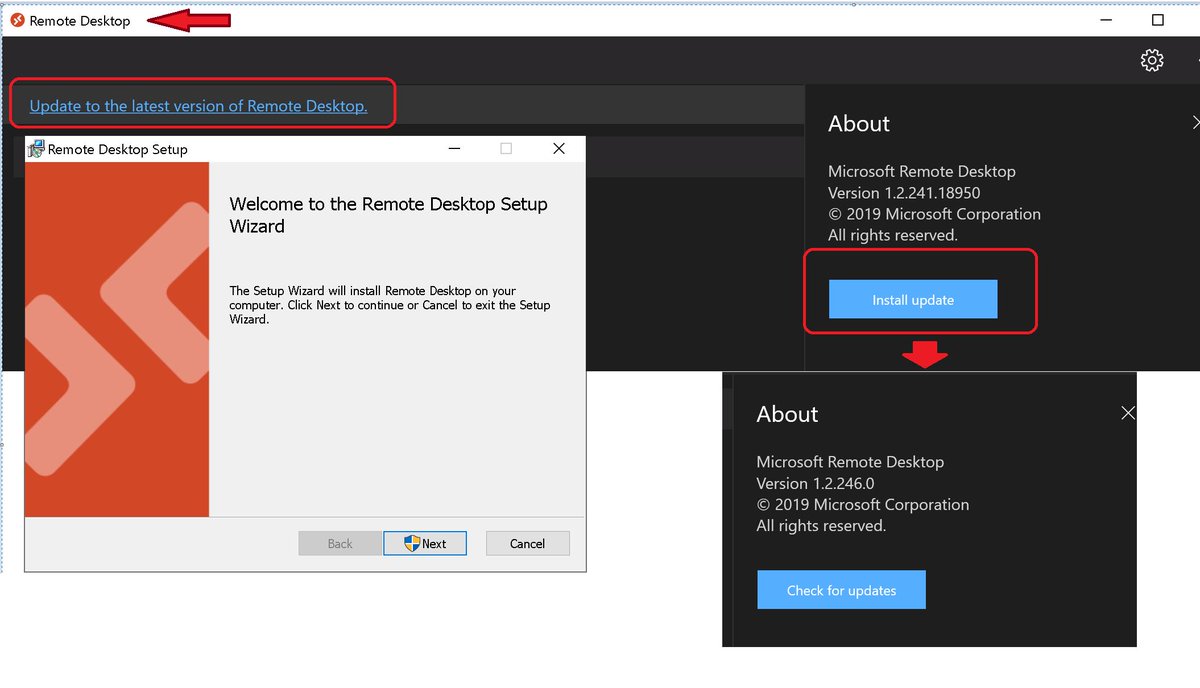 NOTE! – In Microsoft documentation, there are only Windows 7, and Windows 10 support statement is available. I hope Windows 8.1 is also supported.
Download WVD Remote Desktop Client
You can download the latest Windows Remote Desktop (WVD) client from Microsoft website here. Latest version ✔ https://docs.microsoft.com/en-us/azure/virtual-desktop/connect-windows-7-and-10#install-the-client
Video Experience WVD Remote Desktop Client
The following video will give you the experience of Microsoft remote desktop client app installation, subscription, display settings, and automatic client update.
✔Microsoft WVD Remote Desktop Client Download
✔Microsoft Remote Desktop Client app installation
✔WVD Remote Desktop Client subscription
✔WVD Remote Desktop Client display settings
✔WVD Remote Desktop Client automatic client update
WVD Remote Desktop Client – Display Settings
Following are the WVD remote desktop client display settings available with the latest version of the client. If you don't change the setting, it will automatically take the display settings of your physical device. This behavior is a bit troublesome user experience (when you connect to dual-screen etc..)
NOTE! – Right client on your WVD Remote Resources listed down in the client and select Settings. In the settings menu, you can adjust the display setting as you need.
The following are my favorite display settings for Microsoft Remote Desktop Client when I test WVD Remote Desktops/Remote Apps.
Use Default Settings – OFF

Display Settings
Use All Monitors – OFF
Start in full screen – OFF
Update the resolution on resize – OFF
Resolution – Choose for me – 1280 x 1024
Change the size of the text and apps: 175% (this will show the windows inside the remote desktop much clear)
Fit Session to Window – ON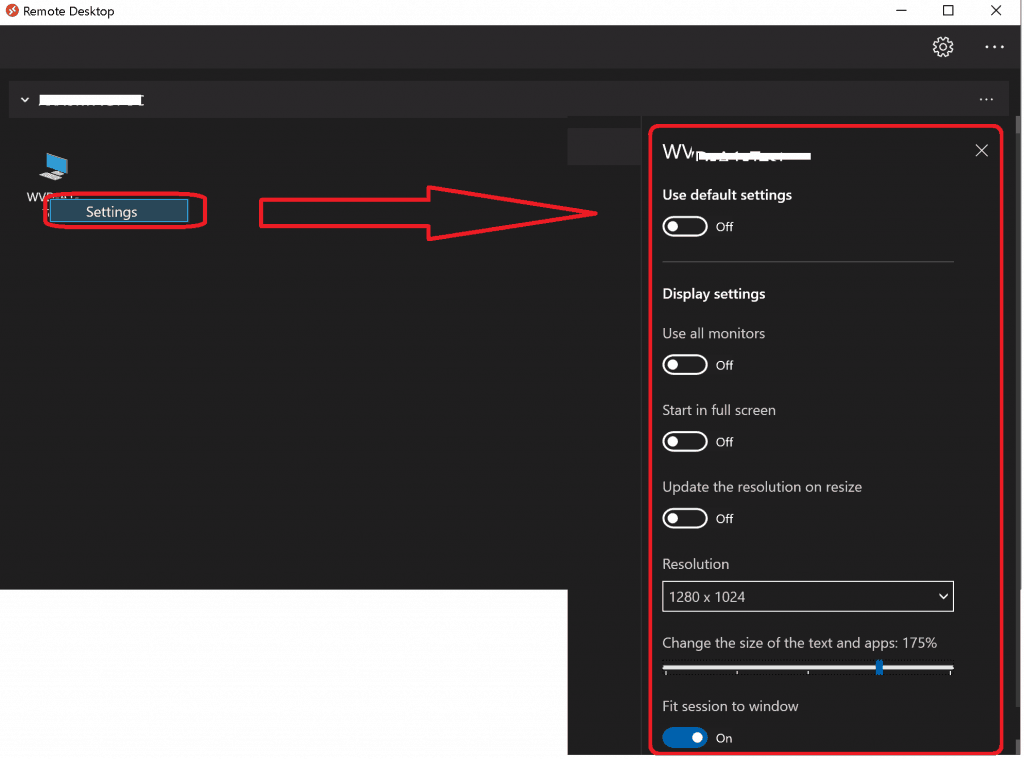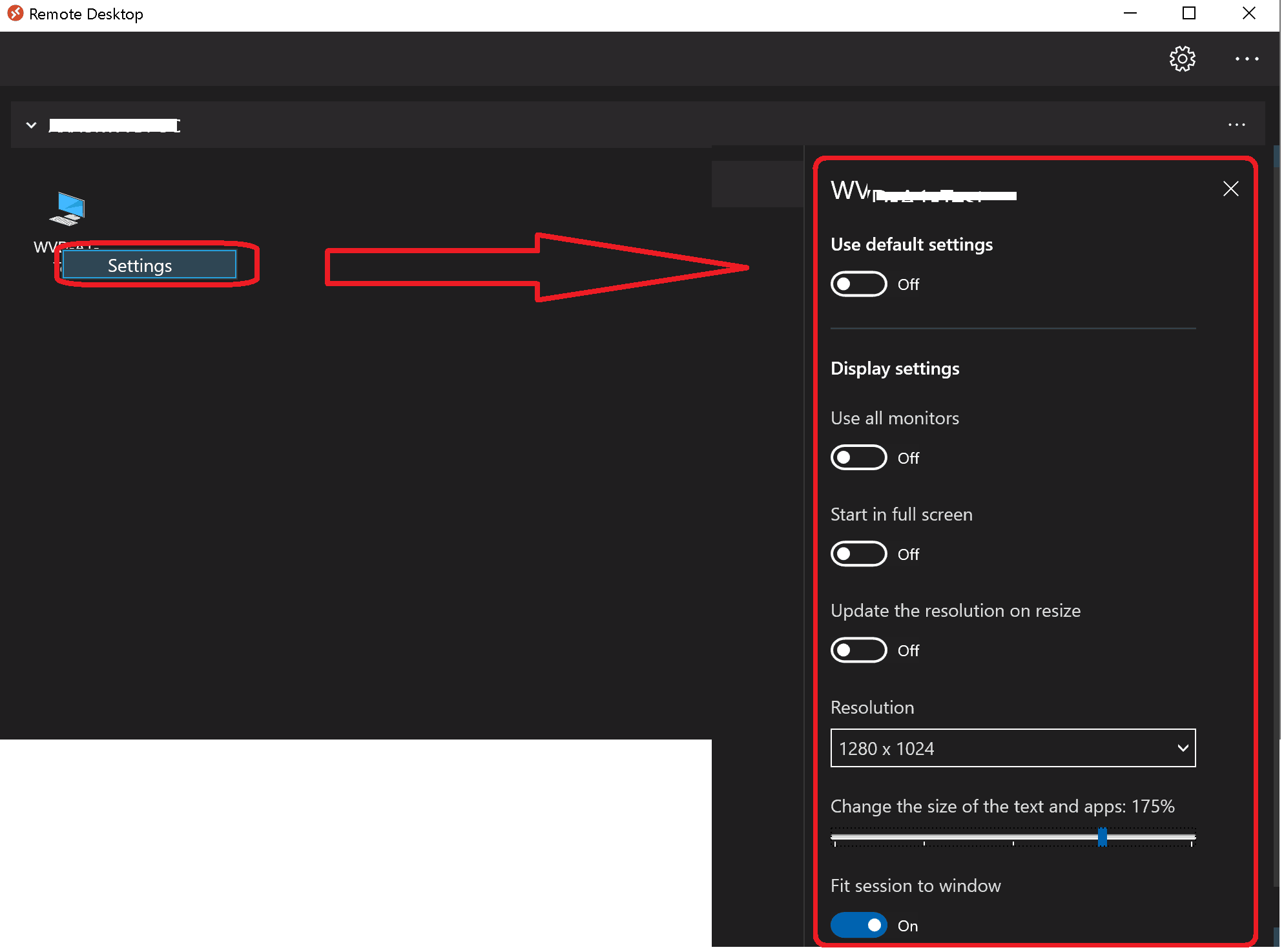 WVD Microsoft Remote Desktop Client – WIP – Conflict?
I think there is a conflict between Windows Information Protection (WIP) policies (deployed through Microsoft Intune) and Microsoft Remote Desktop Client.
You might be able to reproduce the issue once the subscription is timed out and you need to unsubscribe and subscribe again. The same issues is there with newest version 1.2.246.0.
I could see Microsoft Remote Desktop is WIP enlighten app. But, not sure whether the RD client (msrdcw.exe) we use for WVD is enlightened or not.
More details about WIP enlightened app https://docs.microsoft.com/en-us/windows/security/information-protection/windows-information-protection/enlightened-microsoft-apps-and-wip#list-of-enlightened-microsoft-apps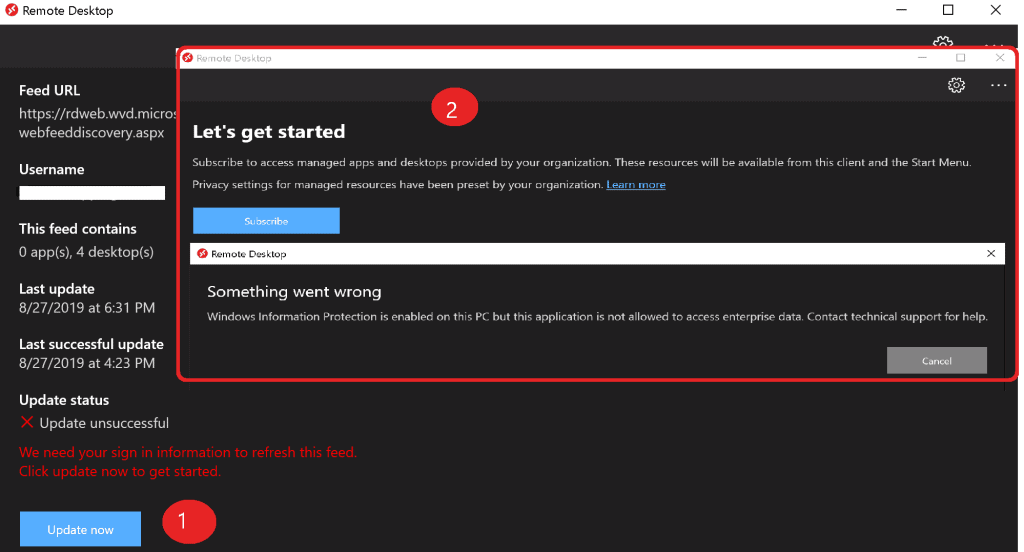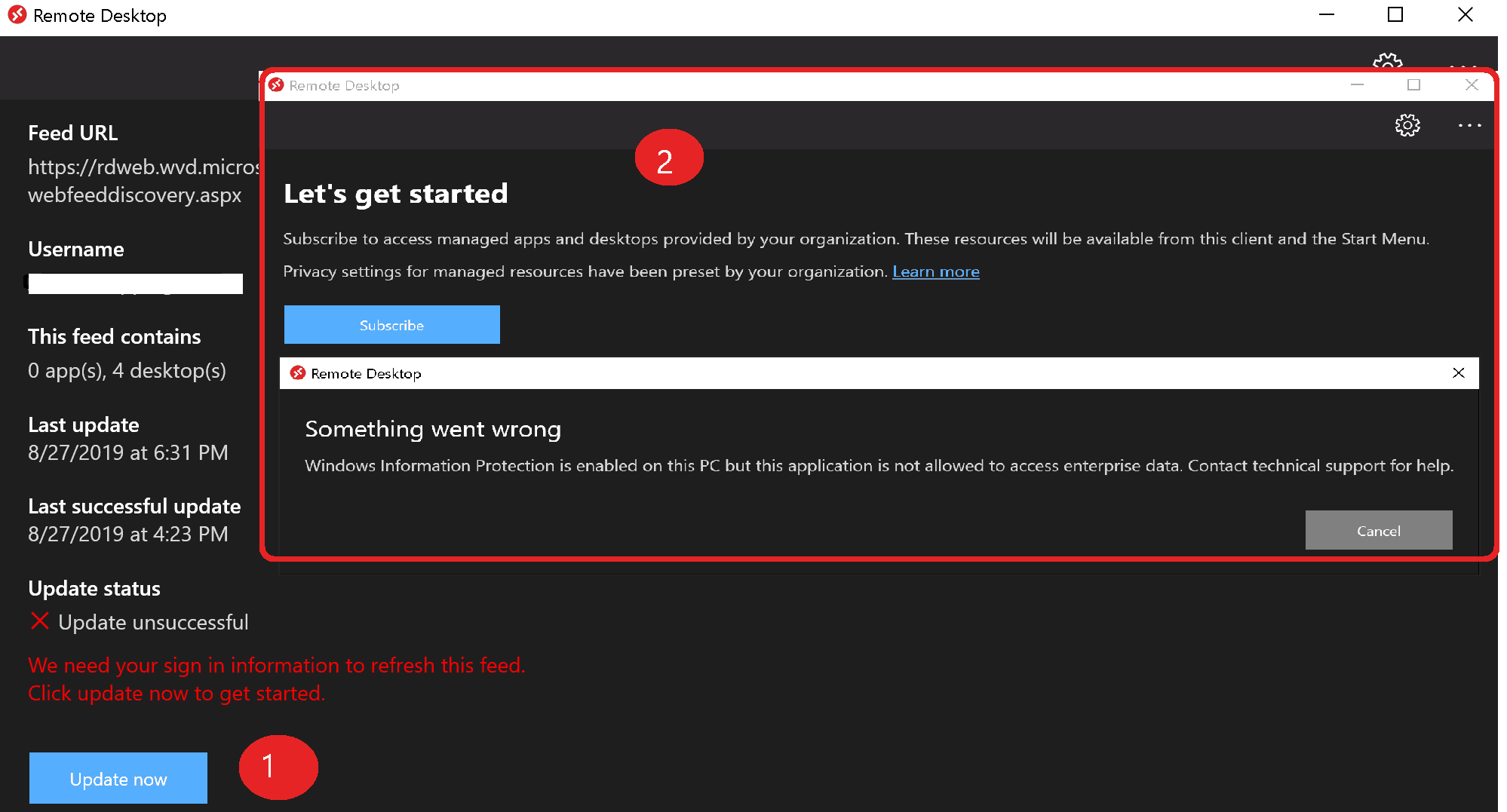 Thin Client Access
Microsoft is closely working with all the thin client vendors and specifically with DELL as they mentioned in the WVD AMA. The following are the Thin client OSes which Microsoft is going to support currently/future.
Windows 10 IoT Enterprise (supported)
Linux based thin clients (Future roadmap)
Dell Thin Clients (Future roadmap)
Resources