Let's learn how you can set Do Not Track for Browsing Activity In Edge Using Intune. Microsoft Edge will send Do Not Track requests to websites when the Send Do Not Track requests setting is turned on. Websites may still track your activities even when a Do Not Track request is sent.
Tracking refers to how websites, third-party content providers, advertisers, and others learn about how you interact with sites. Do Not Track is a privacy preference available in most web browsers, Sending a Do Not Track request to sites doesn't guarantee privacy protection.
This might include tracking what pages you visit, links you click, and products you buy or review. This helps these sites offer personalized content like ads or recommendations, but it also means that your browsing activity is collected and often shared with other companies.
When Do Not Track is turned on, Microsoft Edge will send a Do Not Track request to both the sites you visit and to the third parties whose content is hosted on those sites. The Do Not Track request lets these sites, and content providers know that you prefer not to have your browsing activity tracked.

You can perform the basic Microsoft Edge security policy troubleshooting from the MEM admin center portal. One example is given below How To Start Troubleshooting Intune Issues from the server-side. The next level of troubleshooting is with MDM Diagnostics Tool to collect the log and information from the client side.
Set Do Not Track for Browsing Activity In Edge Using Intune MEM
Let's follow the steps to send Do Not Track for Browsing Activity In Edge Using Intune –
Sign in to the Endpoint Manager Intune portal https://endpoint.microsoft.com/
Select Devices > Windows > Configuration profiles > Create profile.

In Create Profile, Select Platform, Windows 10, and later and Profile, Select Profile Type as Settings catalog. Click on Create button.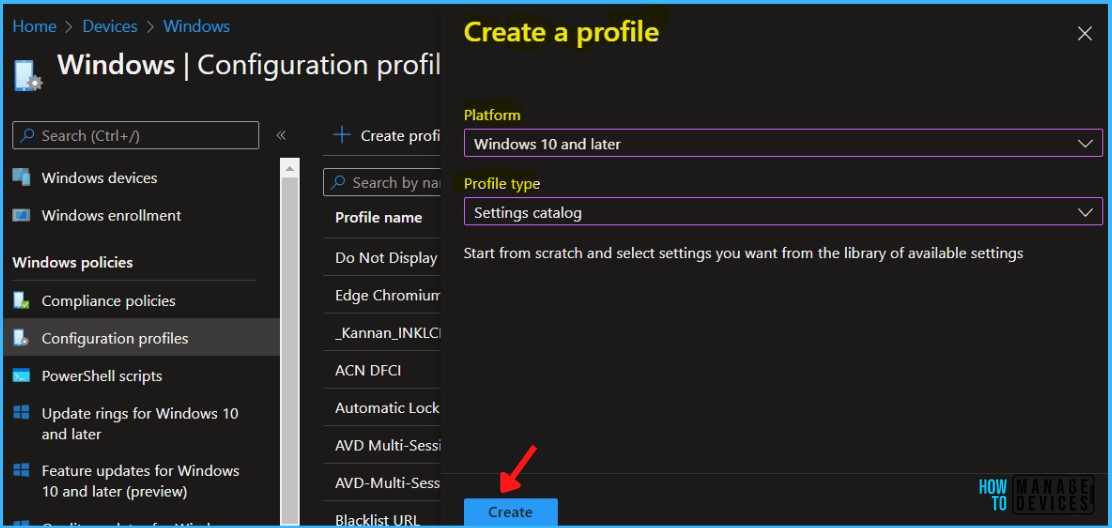 On the Basics tab, enter a descriptive name, such as Send Do Not Track Requests for Edge Using Intune. Optionally, enter a Description for the policy, then select Next.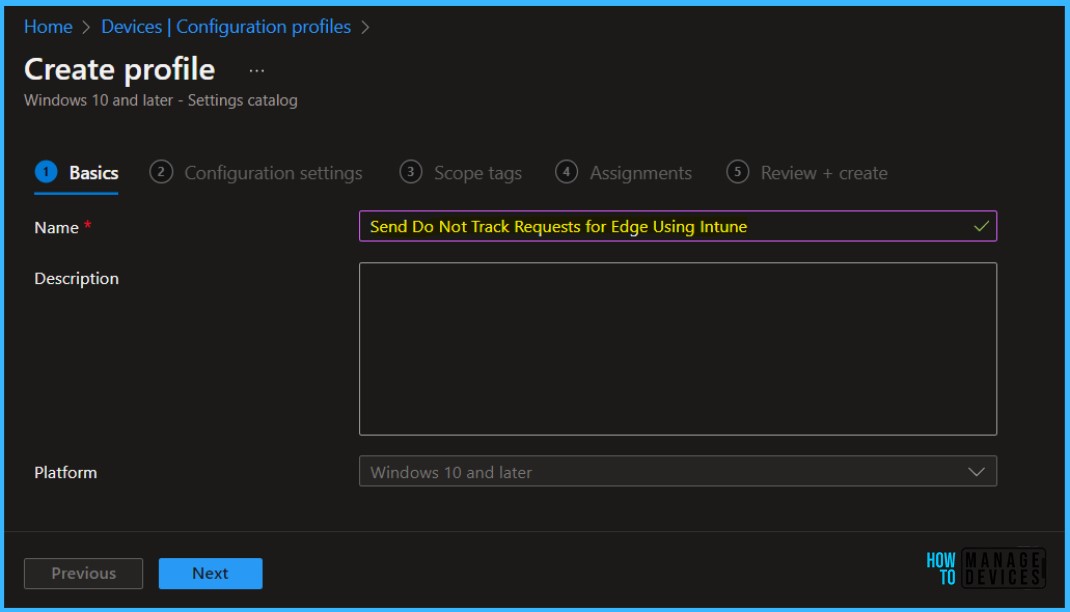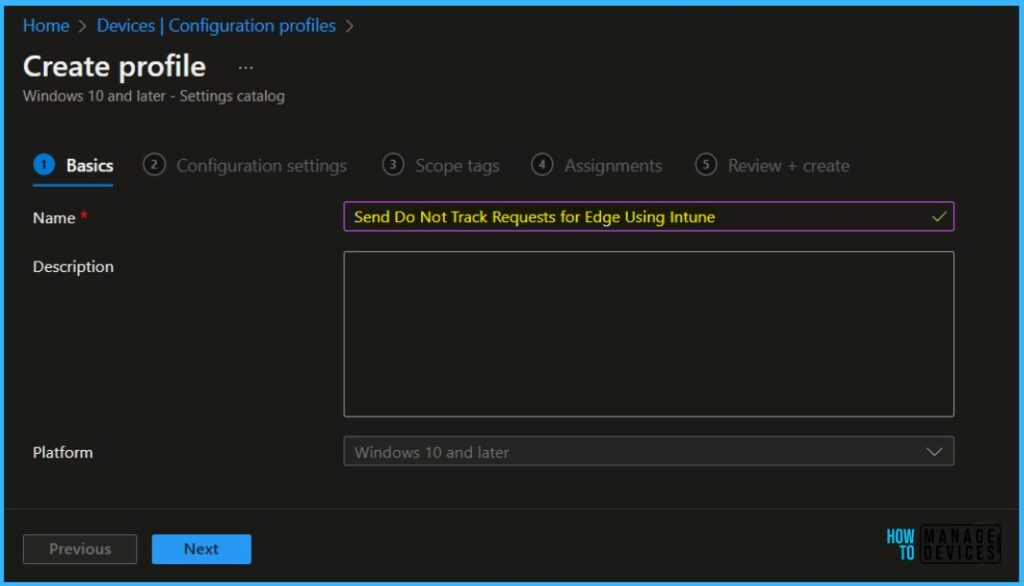 In Configuration settings, click Add settings to browse or search the catalog for the settings you want to configure.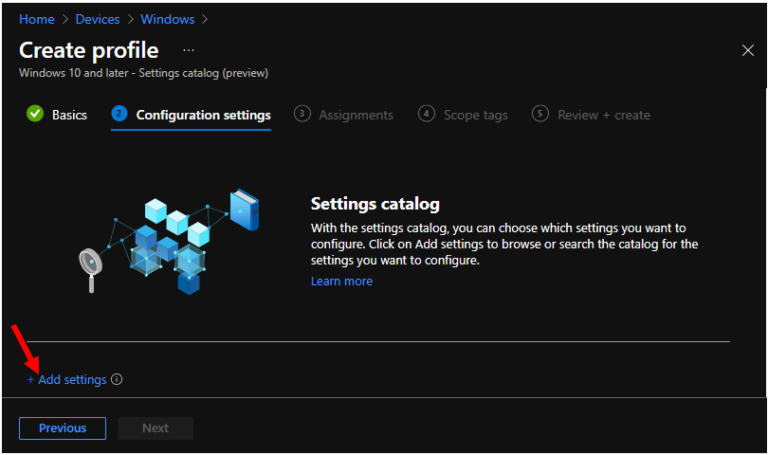 On the Settings Picker windows, Select Microsoft Edge to see all the settings in this category. Select Configure Do Not Track below. After adding your settings, click the cross mark at the right-hand corner to close the settings picker.
Note – In policy, use the search box to find specific settings. You can search by category or a keyword, such as Do Not Track. It will display the related settings available.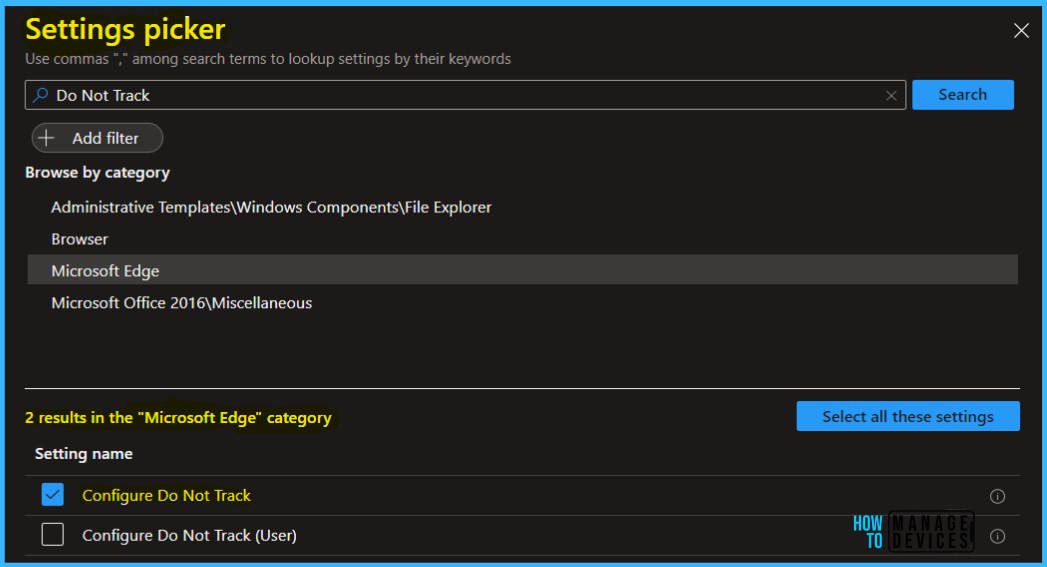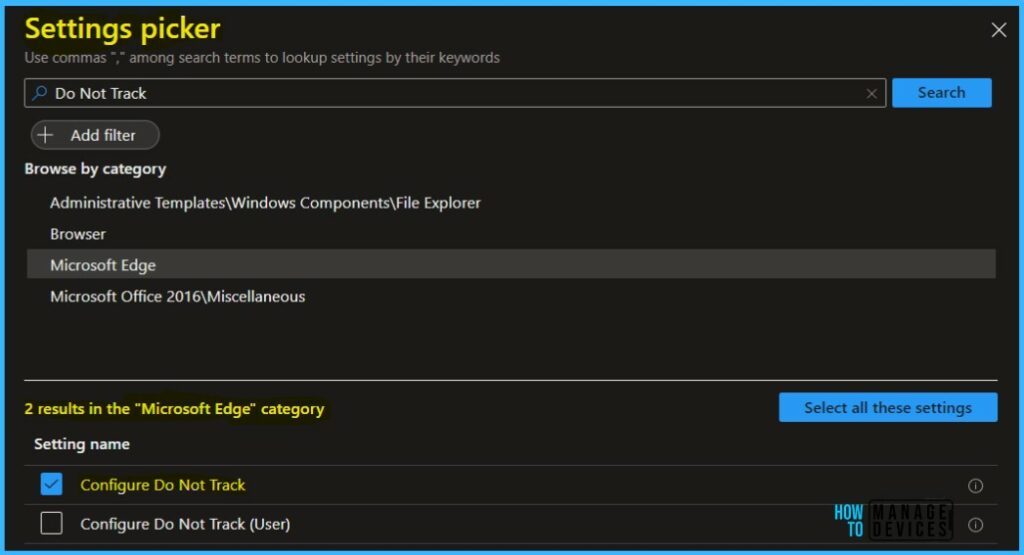 Specify whether to send Do Not Track requests to websites that ask for tracking info. Do Not Track requests let the websites you visit know that you don't want your browsing activity to be tracked.
By default, Microsoft Edge doesn't send Do Not Track requests, but users can turn on this feature to send them. If you enable this policy, Do Not Track requests are always sent to websites asking for tracking info.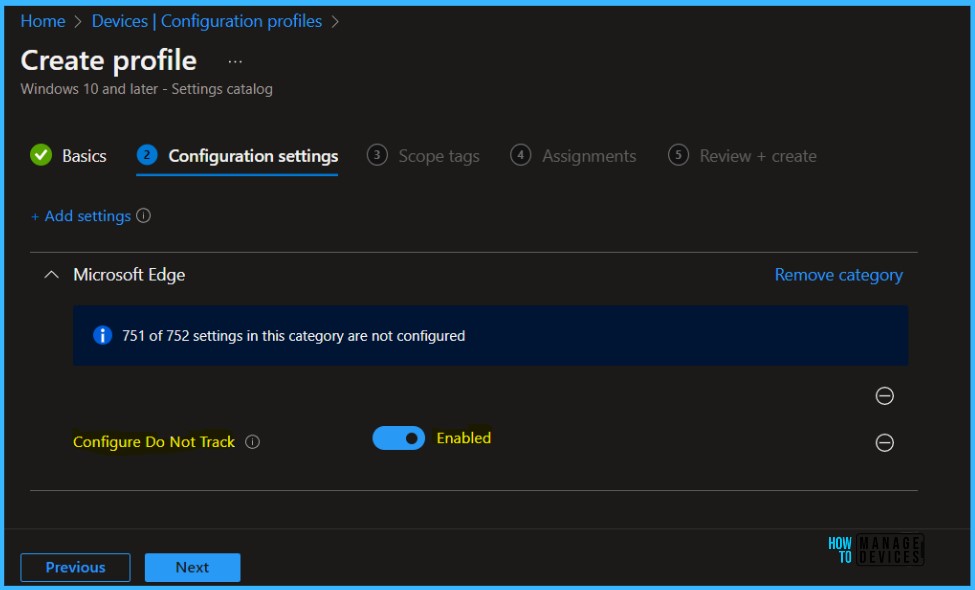 Under Assignments, In Included groups, click Add groups and then choose Select groups to include one or more groups. Click Next to continue.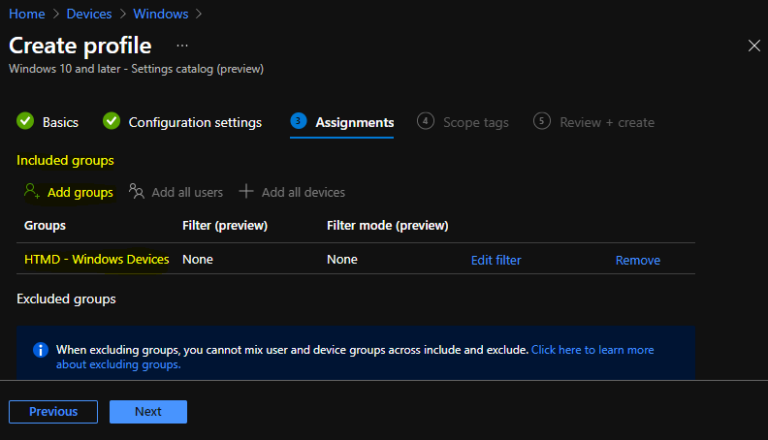 In Scope tags, you can assign a tag to filter the profile to specific IT groups. Add scope tags (if required) and click Next.
In Review + create, review your settings. When you select Create, your changes are saved, and the profile is assigned.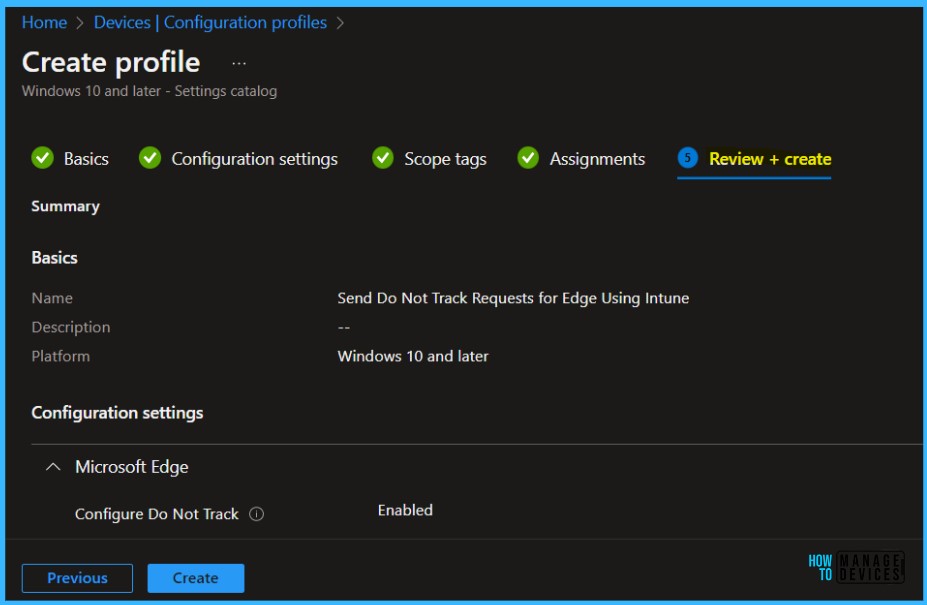 A notification will appear automatically in the top right-hand corner with a message. You can see that Policy "Send Do Not Track Requests for Edge Using Intune" created successfully. The policy is also shown in the Configuration profiles list.
Your groups will receive your profile settings when the devices check in with the Intune service the policy applies to the device.
Intune Reporting
You can check Intune settings catalog profile report from Intune Portal, which provides an overall view of device configuration policies and deployment status.
To monitor the policy assignment, from the list of Configuration Profiles, select the policy, and here you can check the device and user check-in status. If you click View Report, additional details are displayed.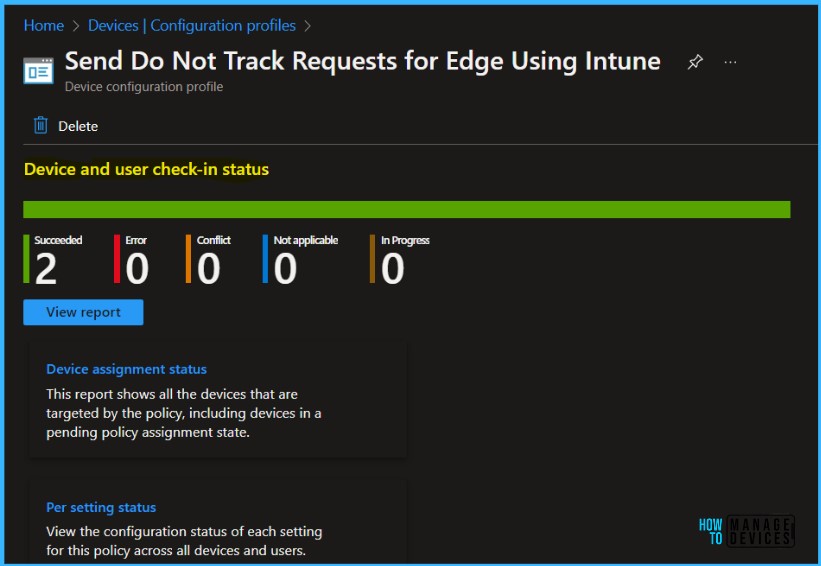 Additionally, you can quickly check the update as devices/users check in status reports –
Intune MDM Event Log
The Intune event ID 814 indicates that a string policy is applied to Windows 10 or 11 devices. You can also see the exact value of the policy being applied to those devices –
You can check the Event log path to confirm this – Applications and Services Logs – Microsoft – Windows – Devicemanagement-Enterprise-Diagnostics-Provider – Admin.
MDM PolicyManager: Set policy string, Policy: (ConfigureDoNotTrack), Area: (microsoft_edge~Policy~microsoft_edge), EnrollmentID requesting merge: (6C05885D-4A9C-4EF9-A8A7-1EE0190B36A9), Current User: (Device), String: (), Enrollment Type: (0x6), Scope: (0x0).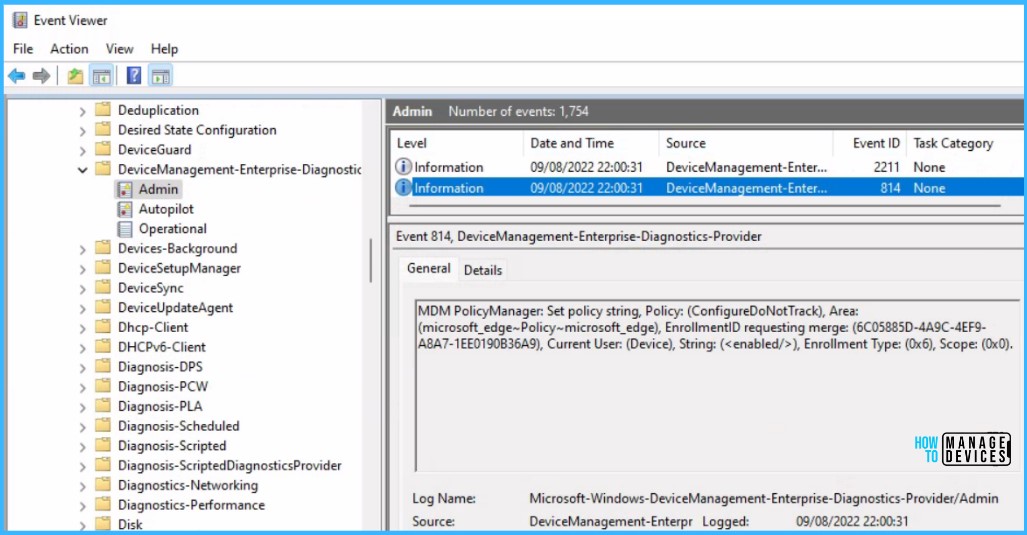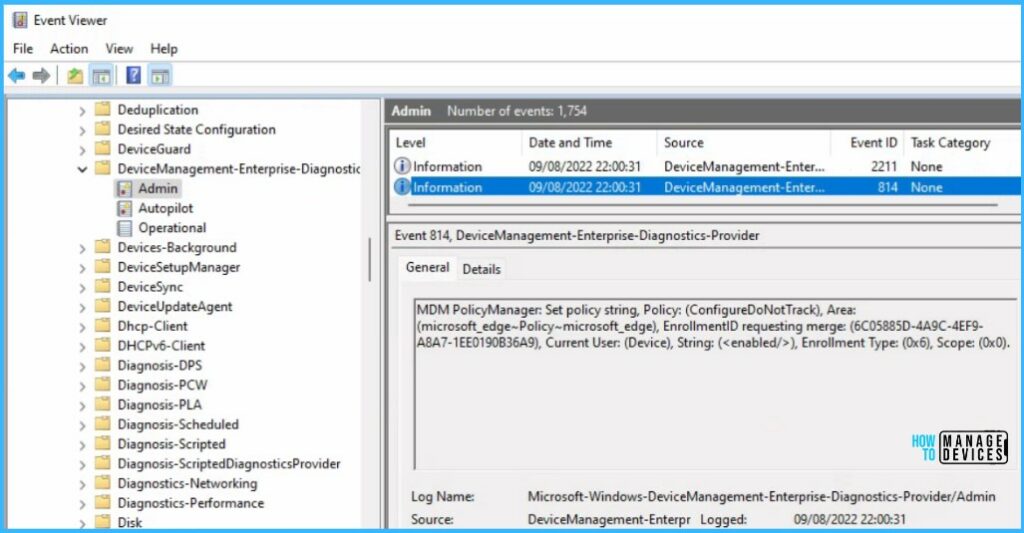 You can use REGEDIT.exe on a target computer to view the registry settings that store group policy settings. These settings are located at the registry path –
Computer\HKEY_LOCAL_MACHINE\SOFTWARE\Policies\Microsoft\Edge Value Name: ConfigureDoNotTrack, Value Data: 1 (Enabled)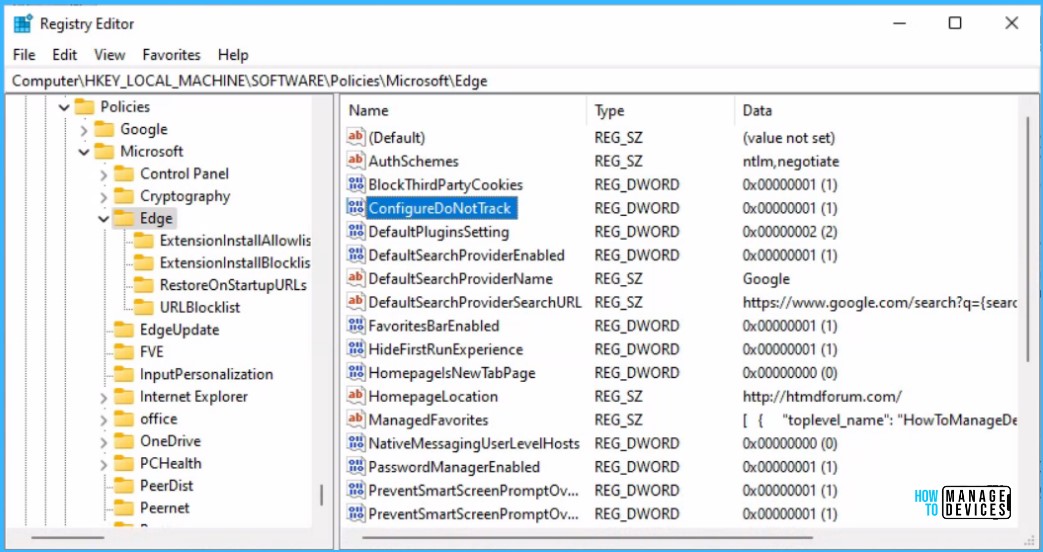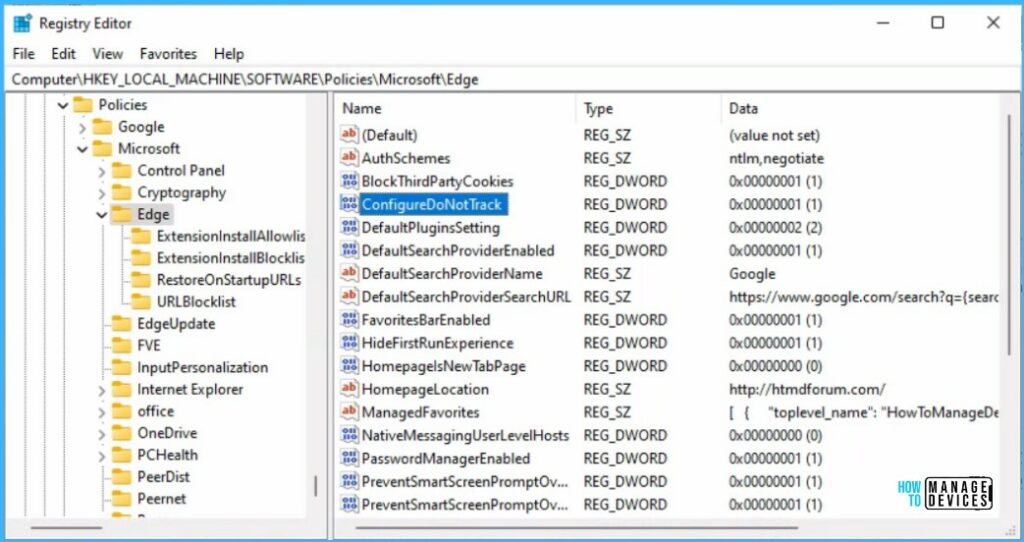 End User Experience – Send Do Not Track Requests in Microsoft Edge
Open Microsoft Edge, Go to Settings and more > Settings. In the Settings tab, select "Privacy, search, and services" on the left sidebar.
Under Privacy, you can see "Send Do Not Track requests" is turned on.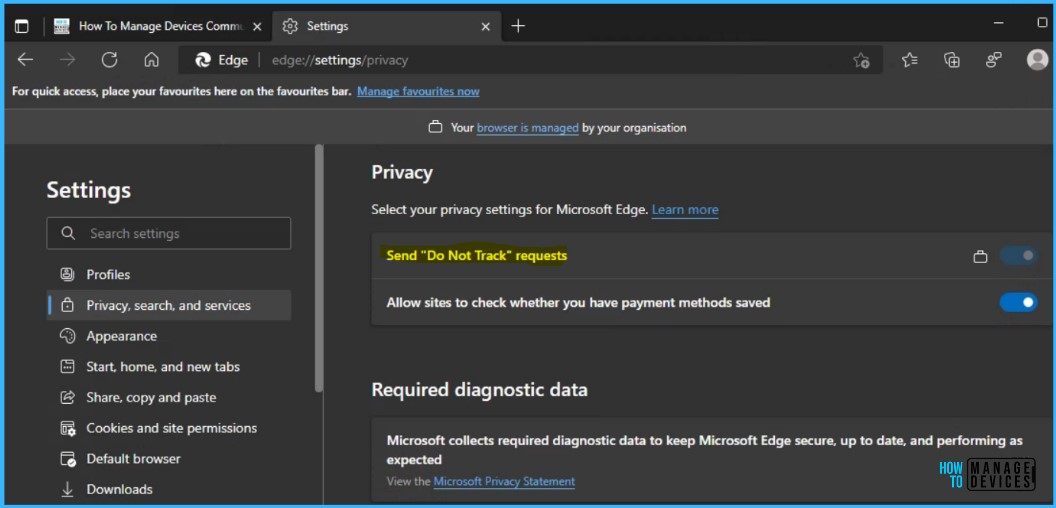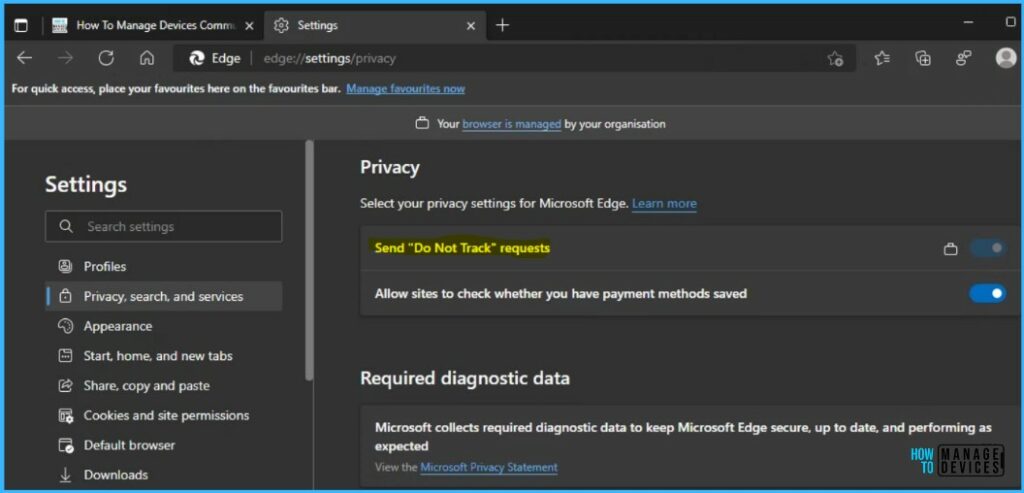 Author