Intune How to Setup Android Work Support Step by Step Guide Microsoft Endpoint Manager? Google's strategic approach is to support management only via the Android Work channel, and Microsoft Intune's strategy is to support Android work. In this post, we will see how to set up Android work support in Intune portal.
Latest Post – How To Configure Intune Enrollment Setup For Android Enterprise Device Management – HTMD Blog #2 (howtomanagedevices.com)
I have blogged about the enrollment for Android Work management via Intune "Intune How to Enroll Android for Work Supported Devices for Management". The video embedded in the above post explains the process of enabling Android Work support in Intune Silverlight portal.
As you can see in the embedded video guide attached to this post, we will see how to unbind or change the Gmail/Google account which we used to set up Android work support in Intune Azure portal.

Once the existing Gmail account has been removed, then we can use a different Gmail account to configure, or set up Android Work support in Intune Azure console.
How to Unbind Android Work Account from Intune Azure Portal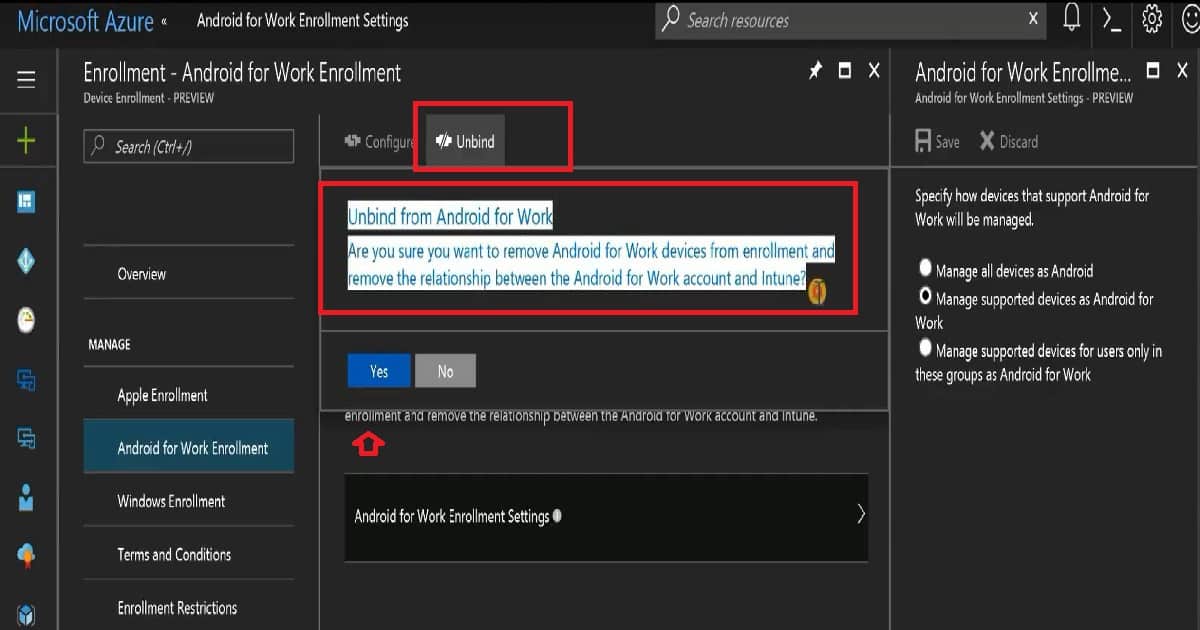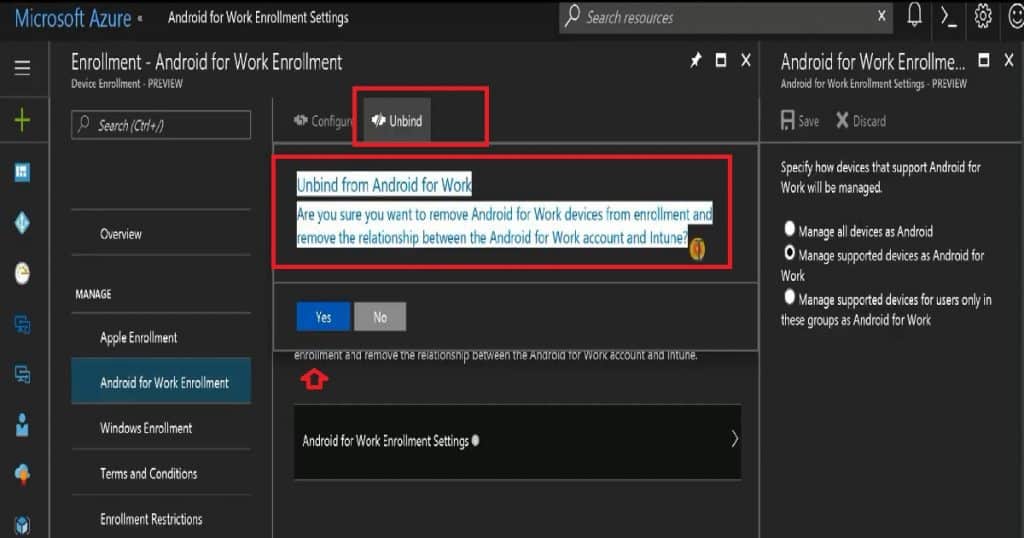 We need to unbind the account from Intune Azure console when we want to change the Setup Android Work Google account. Unbind button in Intune Azure removes support for Android Work enrollment and removes the relationship between the Android work account Gmail and Intune.
I have seen some delay in the process of unbinding the Gmail account from Intune blade in the Azure portal. As you can see in the video here, I removed the Gmail account from the Android work setting in Intune blade in the Azure portal, but it took 2 minutes to reflect these changes. However, the removal of Android Work was immediately reflected on Intune Silverlight portal.
Setup Android Work Support in Intune Azure Portal
The configuration or setup of Android Work support in Intune Azure portal is very similar to the one in the Silverlight portal. You just need to click on the Configure button, and that will open up a pop where you can log in with a new Gmail or Android work account. The Google configuration wizard will help you to set up the connection between Intune and Google API like Google Play for Work, Android Work management, etc…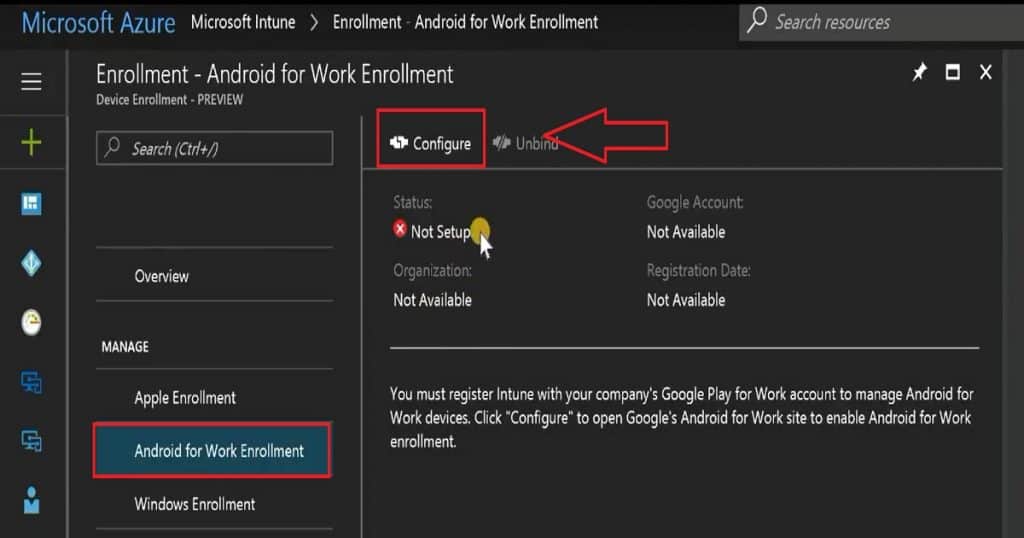 Setting up Android Work Enrollment & Management via Intune
Android for Work enrollment settings is also the same as Intune Silverlight console. We get three options for setting up Android work enrollment in Intune Azure portal.
1. Manage all devices as Android – This is opposite to Google's strategic approach regarding managing the Android devices
2. Manage supported devices as Android for Work – As per my testing, all the Android 6.0 and above devices are supported for Android work enrollment and management via Intune. I have a blog post that explains A4W supportability "Intune Entry Level Low-Cost Device Support for Android for Work Enrollment". Hence this is my best bet option for enrollment.
3. Manage supported devices for users only in these groups as Android Work – This could be used in case of testing or pilot process if your organization doesn't have any test Intune environment.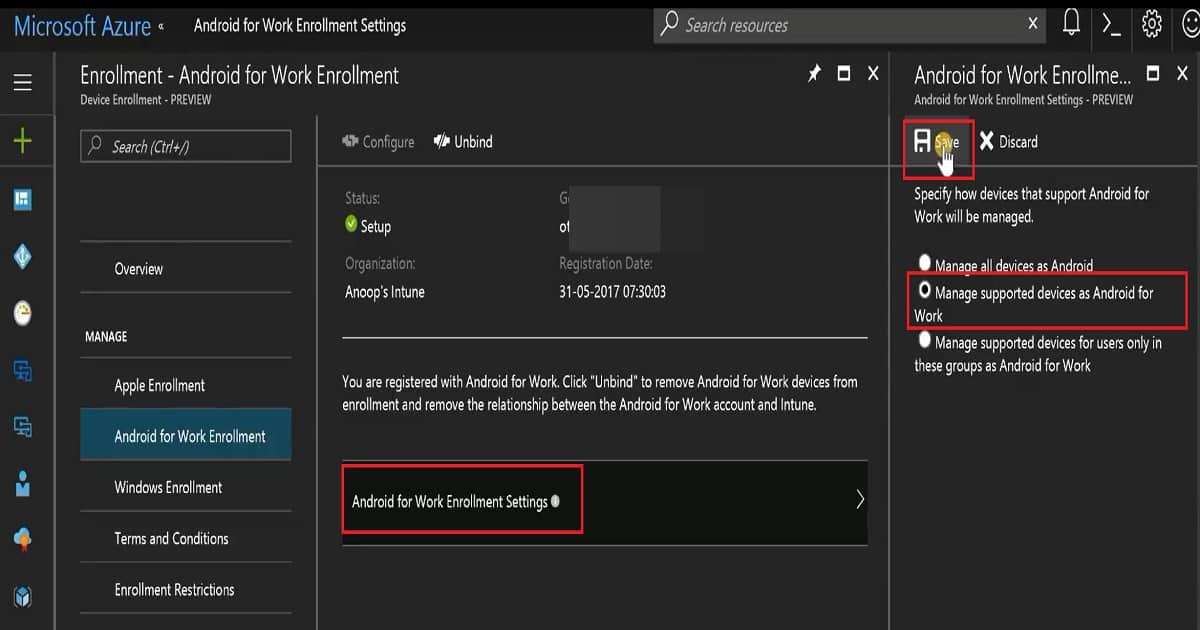 Author
Anoop is Microsoft MVP! He is a Solution Architect in enterprise client management with more than 20 years of experience (calculation done in 2021) in IT. He is a blogger, Speaker, and Local User Group HTMD Community leader. His main focus is on Device Management technologies like SCCM 2012, Current Branch, and Intune. E writes about ConfigMgr, Windows 11, Windows 10, Azure AD, Microsoft Intune, Windows 365, AVD, etc…