Let's learn how you can initiate a Manually Sync Android Device with Intune. By initiating a manual sync, you can ensure that any changes made in Intune are promptly applied. Manual sync of an Android device with Intune allows you to proactively update and synchronize device policies, configurations, and settings.
Intune notifies the device to check in with the Intune service. The notification times vary, including immediately up to a few hours. These notification times also vary between platforms.
The Sync device action in Intune also enables you to trigger an immediate check-in with Intune for the selected device. When a device performs a check-in, it promptly receives any pending actions or policies that have been assigned to it.
The capability to perform manual sync is particularly valuable as it allows you to quickly validate and troubleshoot the assigned policies without having to wait for the next scheduled check-in. If a device doesn't check in to get the policy or profile after the first notification, Intune makes three more attempts.

An offline device, such as turned off, or not connected to a network, may not receive the notifications. In this case, the device gets the policy or profile on its next scheduled check-in with the Intune service. The same applies to checks for non-compliance, including devices that move from a compliant to a non-compliant state.
Advantages of Manual Sync Option with Intune
There are several benefits to manually syncing an Android device with Intune. By utilizing Intune remote sync or manual sync options, you can expedite the deployment of policies. When a device checks in, it promptly receives any pending actions or policies assigned to it. This manual action offers the following advantages: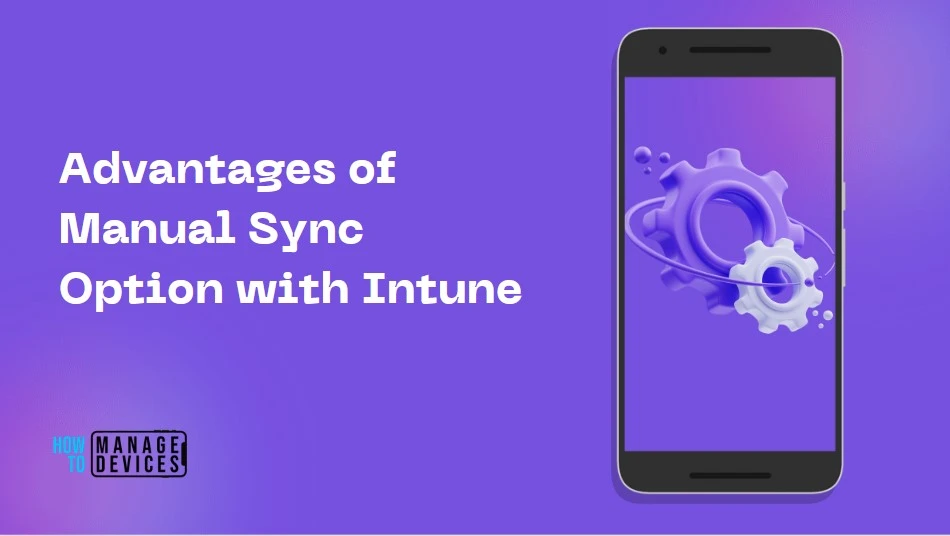 Immediate updates: By manually syncing the device, you can ensure that any changes or updates made in Intune are immediately applied to the device. This can be useful in situations where you need to enforce a new policy or configuration quickly.
Test scenarios: Manual syncing allows you to troubleshoot and test specific policies or configurations on a device. You can make changes in Intune, sync the device, and observe the impact of those changes in real-time.
Offline scenarios: In some cases, an Android device may not have a constant internet connection or maybe in a restricted network environment. In such situations, manual syncing allows you to update the device when it is online, ensuring that it receives the latest policies and configurations.
Compliance and security: Manual syncing can be helpful in enforcing compliance and security measures on the device. By initiating a manual sync, you can ensure that the device is up to date with the latest security patches, software updates, and compliance policies defined in Intune.
Steps to Manually Sync Android Device with Intune
You can access the Company Portal app at any time to check for policy or profile updates immediately. This can be done by navigating to the Sync option within the Intune company portal app, here's how you can perform the manual sync Android Device.
Sign in to the Company Portal app. Tap the menu located at the top left side, and Tap on Settings.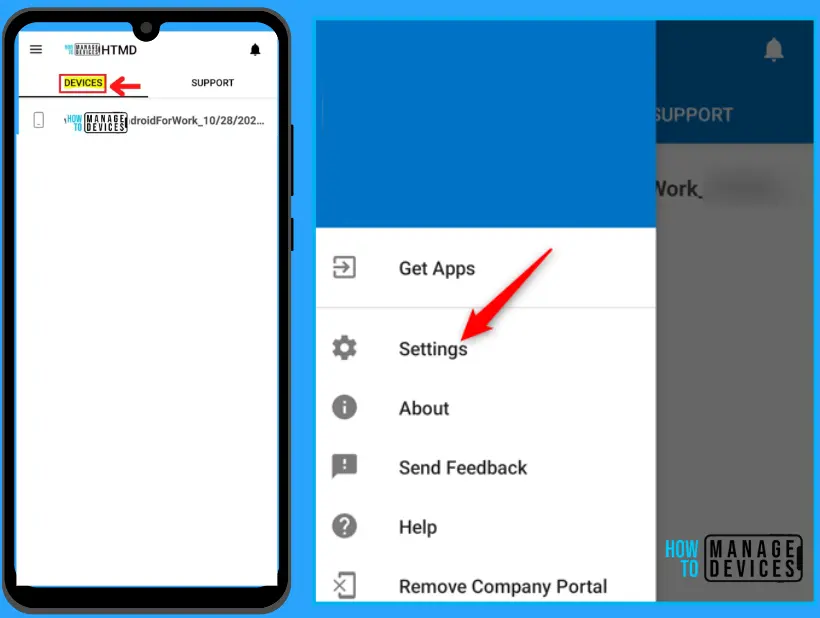 The settings option in the Company portal includes the Usage data, Turning off battery optimization, Verbose logging, Diagnostic logs, Management policy, Enable Browser Access, Default Apps, etc. Scroll down to Management Policy and tap Sync.

Note! Depending on your device model and Android version, you may see a "Sync" or "Sync now" option. Tap on it to initiate a manual sync.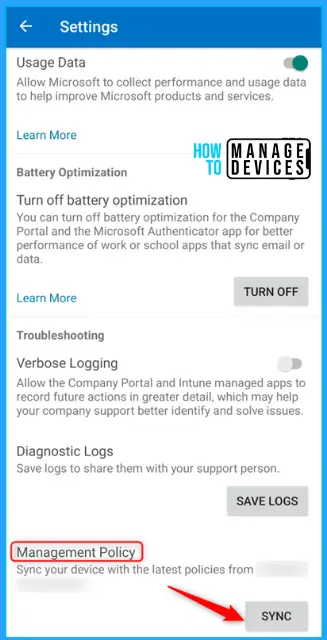 After initiating the sync, please wait while the Company Portal synchronizes your device. This process may take a few minutes. Once completed, the screen will display the timestamp indicating the successful completion of the last sync.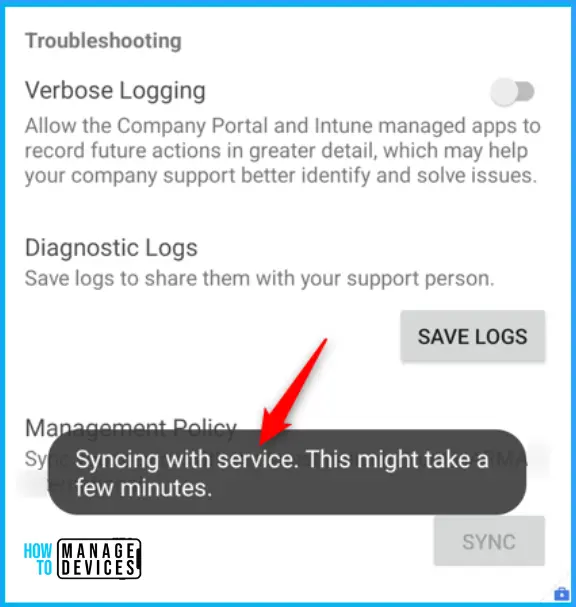 You may receive notifications from Company Portal about updating your device settings. By performing a manual sync, your Android device will update any pending changes, policies, or configurations set by your organization through Intune.
How to Check Device Settings for Android Device
The steps help you to check the device settings for Android devices. Whenever Company Portal prompts you to make changes to your settings, make the change and then select Check device settings to regain access to work or school apps.
It is important to note that the Company Portal Sync feature differs from the Check device settings feature. The Check device settings feature in the Company Portal app specifically ensures that your device settings align with your organization's requirements.
By using this feature, the Company Portal verifies and validates the settings on your device to ensure compliance with your organization's policies and configurations.
Open the Company Portal app on your mobile device. In the Devices tab, select your device.
Tap Check device settings. Wait while Company Portal checks your device.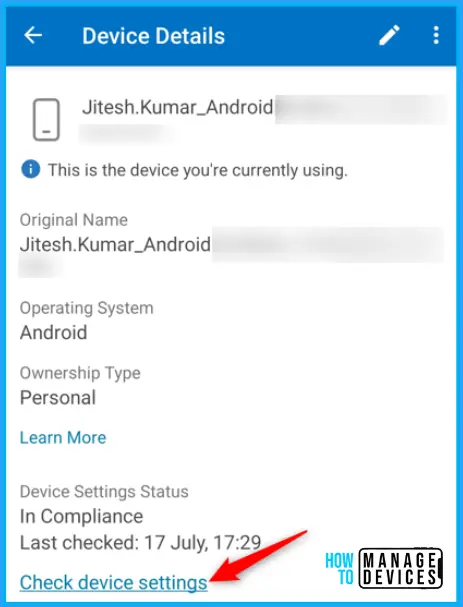 During a status check, the Company Portal app examines your device to ensure that it meets the requirements set by your organization. After the check, your device settings status changes to In Compliance or Not in Compliance. This check is conducted to verify compliance with the necessary policies and configurations.
Important – If you are required to make any changes, the message You need to update settings on this device appears at the top of the screen. Tap the message for more details.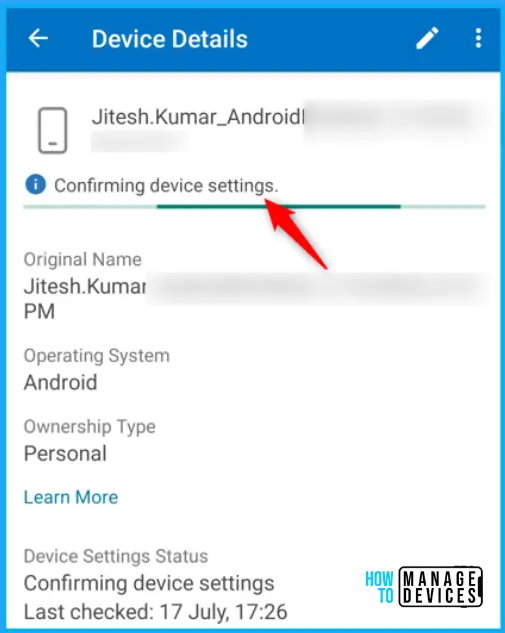 If your device fails to meet these requirements, your organization may enforce limitations or restrictions on the device's access to work resources. To regain access, you will need to make the necessary changes to bring your device into compliance with your organization's requirements.
By default, when Intune detects a device that isn't compliant, Intune immediately marks the device as noncompliant. Additionally, You can configure and send Notifications for Noncompliant Devices in Intune.
Policy Refresh Intervals for Android Device
Policy refresh intervals for Android devices in Intune can vary depending on the specific configuration and settings applied by your organization. However, by default, Android devices typically have the about every 8 hours policy refresh intervals.
If you are worried about the time taken to sync Intune policies specific to Android devices, Admins can also initiate a manual sync or force a policy refresh on Android devices when necessary to ensure immediate updates.
When devices are recently enrolled, the frequency of compliance, non-compliance, and configuration check-ins increases. These check-ins occur more frequently during this initial period. The exact intervals for these check-ins are estimated as follows:
| Intune Device Type | Default Intune Policy Refresh Intervals | Policy Refresh Frequency |
| --- | --- | --- |
| Android | Every 8 Hours | Every 3 minutes for 15 minutes, then every 15 minutes for 2 hours, and then around every 8 hours. |
Table 1 – Policy Refresh Intervals for Android Device – Sync Android Device
Author
About Author – Jitesh, Microsoft MVP, has over six years of working experience in the IT Industry. He writes and shares his experiences related to Microsoft device management technologies and IT Infrastructure management. His primary focus is Windows 10/11 Deployment solution with Configuration Manager, Microsoft Deployment Toolkit (MDT), and Microsoft Intune.