Hi, Let's discuss Windows 11 22H2 New Features Coming soon as part of Moment 3 Drop. The upcoming "Moment 3" update for Windows 11 will start its rollout in the coming months. Since its launch last year, Microsoft has followed a "continuous innovation" strategy for Windows 11, which involves delivering frequent feature updates to users every few months.
Microsoft released Windows 11 Build 22621.1776 (KB5026446) to Insiders in the Release Preview Channel on Windows 11, version 22H2. Microsoft plans to gradually roll out new features and enhancements for devices that install Build 22621.1776.
HTMD community covered all the new features of the Windows 11 22H2 release in the May patches blog post. All these features are included in the latest Cumulative Update released on the patch Tuesday, 9th May 2023. There are vulnerabilities fixed by Microsoft with May Patches, and one of them is FIX Windows Boot Manager Vulnerability CVE-2023-24932 BlackLotus UEFI Bootkit.
In the next few weeks, Microsoft will release another feature update for Windows 11 users, including various enhancements to enhance user experience. These improvements will primarily focus on the Taskbar, Widgets Board, Settings, and accessibility features, among other areas, to provide a better quality of life for Windows 11 users.

Windows 11 22H2 New Features Coming soon as part of Moment 3 Drop
In October 2022, Microsoft launched the first feature drop for Windows 11, Moment 1. This update introduced several minor additions, including the ability to use tabs in File Explorer. In February 2022, the company released Moment 2, which brought more substantial improvements such as enhanced touch functionality, an updated system tray, and other notable enhancements.
Microsoft is planning to release the third feature update, Moment 3, for Windows 11, which is anticipated to commence its gradual deployment between May and June.
The update is expected to bring many new features and changes to the operating system, enhancing its functionality and user experience.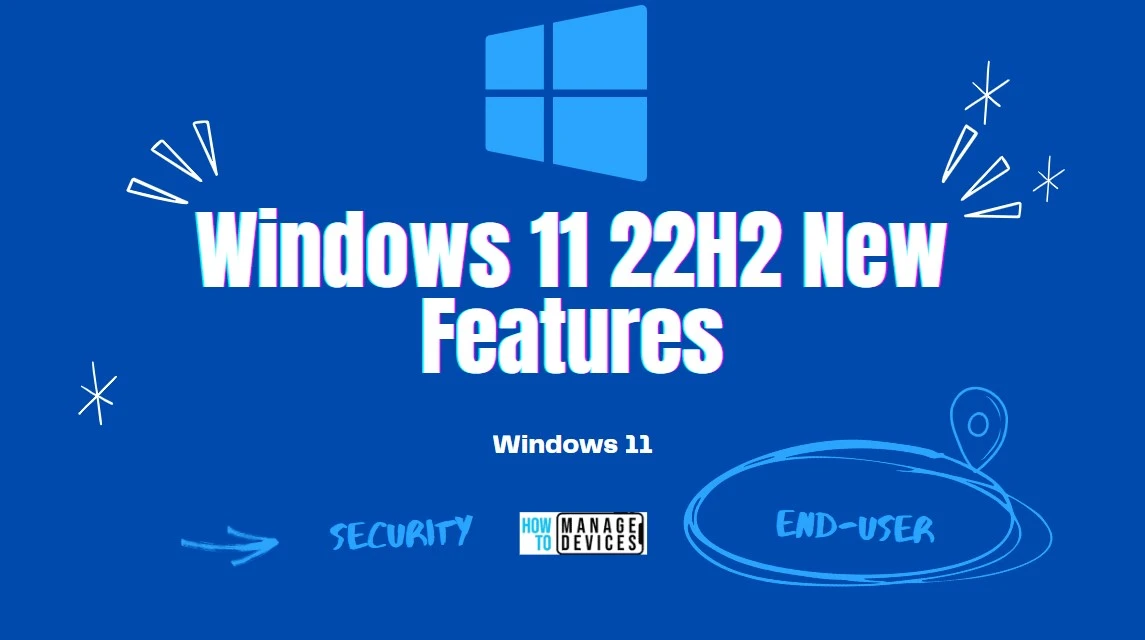 Windows 11 22H2 New Features – Moment 3 Drop
Windows 11 version 22H2 is expected to receive a range of new features and improvements as part of the upcoming Moment 3 feature drop. Microsoft has not officially confirmed the full list of changes, but some anticipated additions include the following.
An updated Widgets Board layout and pinning experience
New animated Taskbar weather icons
Bing AI button in the Taskbar search bar
2FA code recognition in notifications
Multi-app kiosk mode
Show clock seconds in the system tray
Glanceable VPN status icon in the Taskbar
Various improvements to Voice Access
Support for more languages in the live captions feature
Updated touch keyboard settings
Cloud suggestions in Simplified Chinese IME
USB4 settings page
The search box will be lighter when app mode is set to light
Access keys in File Explorer
Create live kernel dumps in Task Manager
Settings search is faster
New presence-sensing settings
1. Settings Updates – Get the Latest Updates as soon as They're Available
If you have Windows 11, version 22H2, or later, You can easily enable the "Get the latest updates as soon as they're available" feature. With this feature enabled, users do not need to select and install updates as they become available manually.
By toggling the On button, your device will be among the first to receive the latest non-security updates, fixes, improvements, and enhancements as soon as they become available.
You only need to enable this option once, which will remain active indefinitely.
However, you always have the opportunity to turn it Off at any time if you so choose.
NOTE! – This feature appeared in April's optional patch Windows Updates and was released in May patch Tuesday in production. The new feature is called Get the Latest Updates as Soon as They're Available. Allow Temporary Enterprise Feature Control video to learn how to control New Monthly Features Enablement via monthly LCU using Intune WUfB Policy.


2. Better Understand of Audio Using Live Captions
Microsoft introduces a valuable feature called Live Captions that benefits not only individuals who are deaf or hard of hearing but also aids all users in comprehending audio content more effectively. This feature automatically transcribes spoken words in real-time, providing on-screen captions that align with the audio being played.
Live Captions in Windows 11 version 22H2 and beyond offer seamless integration with the Windows desktop, enabling users to read captions while working with other applications conveniently. With these features, Windows 11 empowers users with enhanced accessibility and a more inclusive computing experience.
You can stay engaged in your tasks without missing out on important audio content.
Live Captions continue to function even when you're offline, ensuring uninterrupted access to audio transcription.
Users can personalize how captions are displayed, tailoring them to their preferences.
Live Captions can include microphone audio, facilitating smoother in-person conversations by transcribing spoken words in real-time.
How to Enable Live Captions on Windows 11 PC –

Look for the battery, network, or volume icon on the taskbar.
Click on one of these icons to open the quick settings menu.
Within the quick settings, locate the Accessibility flyout.
In the Accessibility flyout, you will find the Live Captions toggle.
Turn on the Live Captions toggle to activate the feature. OR
Press the Windows logo key + Ctrl + L, OR
Select Start > All apps > Accessibility > Live captions, OR
Go to Settings > Accessibility > Captions, and turn on the Live Captions toggle.
New! This update adds live captions for the following languages: Chinese (Simplified and Traditional), French (France, Canada), German, Italian, Japanese, Portuguese (Brazil, Portugal), Spanish, Danish, English (Ireland, other English dialects), Korean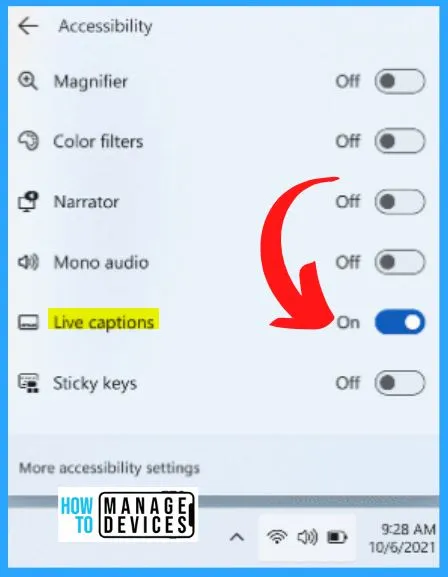 3. Use Voice Access to Control your PC & Author Text with your Voice
Windows 11 introduces an innovative feature called Voice Access, which provides a new and inclusive way for individuals, including those with mobility disabilities, to operate their PCs and compose text using only their voice. With Voice Access, users can effortlessly navigate their computers, execute commands, and create written content, all by simply speaking.
The new update – adds voice access command support for the following English dialects.

English (United Kingdom)
English (India)
English (New Zealand)
English (Canada)English (Australia)

Windows will ask you to download a speech model to enable voice access for the first time. It's worth noting that you may not find a speech model that corresponds to your selected display language.
You can still use voice access in English (US).
You can choose a different language from Settings > Language on the voice access bar.
The new update – adds unique text selection and editing voice access commands. The below table shows some examples related to this update.
| To do this | Say this |
| --- | --- |
| Select a range of text in the text box | "Select from [text 1] to [text 2]", e.g., "Select from have to voice access." |
| Delete all the text in a text box | "Delete all" |
| Apply bold, underlined, or italic formatting for the selected or last dictated text. | "Bold that," "Underline that," "Italicize that" |
Windows 11 22H2 New Features Coming soon as part of Moment 3 Drop – Table 1
4. Connect to a VPN in Windows 11
You can connect to a virtual private network (VPN) on your Windows PC. A VPN connection can help you provide a safer connection and access to your company's network and the internet. It is important to note that this feature is not available in Windows 11 SE.
5. New Widget Picker Experience
A new widget picker experience is gradually being introduced to the Beta and Release Preview Channels. This enhanced feature offers users a visual preview of widgets before pinning them, allowing for a more intuitive selection process.
The deep linking enables seamless direct navigation from the provider app or service to the widget picker. This streamlined integration enhances the user experience and facilitates quick access to desired widgets.
Moreover, users can explore a wider range of apps with widgets through the widgets Store collection page, expanding their widget options and customization possibilities.
With these updates, Windows 11 aims to provide an enhanced widget experience that combines visual appeal, convenience, and expanded app discovery.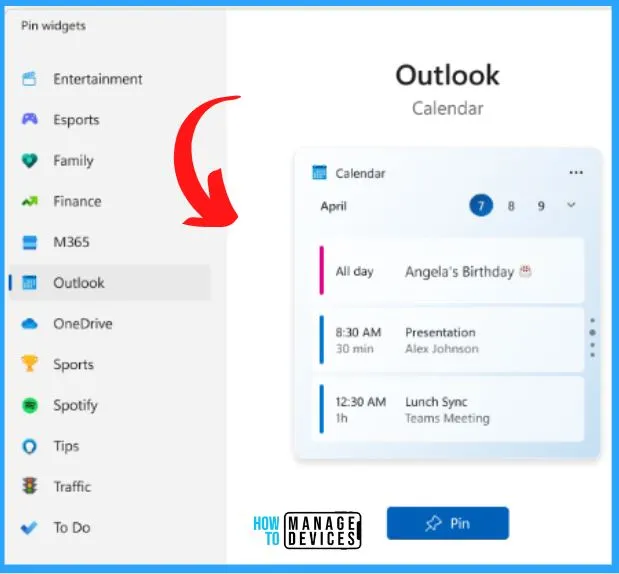 6. Updated Widgets Board on Windows 11
Microsoft is set to enhance the Widgets Board on Windows 11 by introducing a fresh layout that effectively segregates your widgets from the MSN feed. The widgets will appear on the left in their column and are arranged vertically. Microsoft updated the interface for pinning widgets, which helps you to make it easier to pin installed widgets to the board.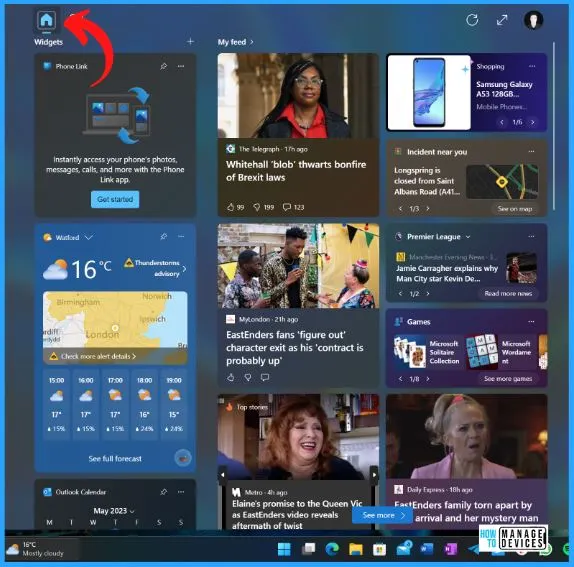 7. Updates on Notifications & Taskbar
Microsoft introduced a smart 2FA code recognition in notifications on Windows. This intelligent feature has been designed to streamline securely accessing accounts by promptly identifying 2FA codes received on the device using Windows PhoneLink Application.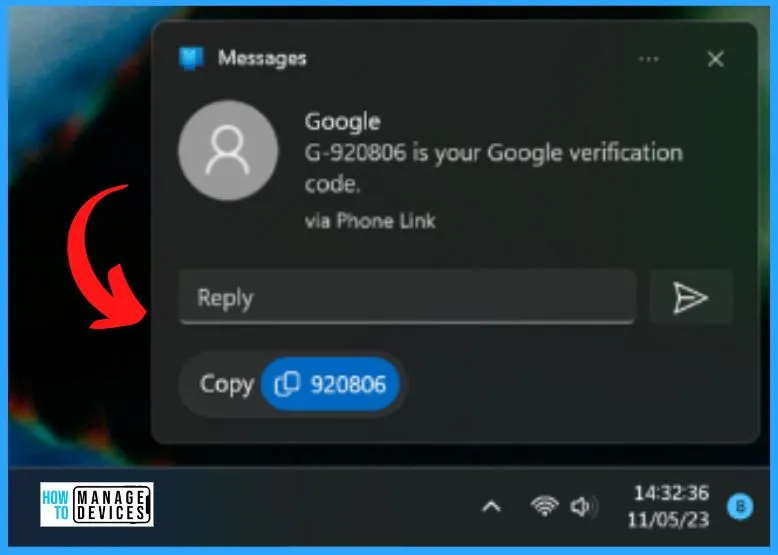 Lockdown Feature – Multi-App Kiosk Mode
Multi-app kiosk mode in Windows 11 proves highly beneficial for scenarios where multiple individuals utilize a shared device. This functionality suits various settings, including frontline worker environments, retail establishments, educational institutions, and test-taking scenarios.
By leveraging multi-app kiosk mode, organizations can create a controlled and secure user experience, allowing individuals to access only designated applications and features on the device. This ensures data privacy, limits distractions, and promotes a focused, efficient work or learning environment.
Windows 11multi-app kiosk mode effectively manages shared devices across diverse industries and use cases. Windows 11 offers a range of lockdown customizations as follows.
Limit access to Settings, except certain pages, such as Wi-Fi and screen brightness.
Show only the apps that are allowed on the Start menu
Block certain toasts and pop-up windows
You can easily enable multi-app kiosk mode using PowerShell and WMI Bridge. Support for Microsoft Intune, mobile device management (MDM), and provisioning package configuration is coming soon.
New Features of Windows 11 22H2
Windows 11, version 22H2, is a highly anticipated feature update for the Windows 11 operating system. Windows 11, version 22H2, promises to elevate the overall performance and usability of the operating system, empowering users with innovative features and a more stable and secure computing environment.
New Features
Details
Adds a VPN status icon, a small shield, to the system tray
It displays when you are connected to a recognized VPN profile. The active network connection overlaps the VPN icon in your system's accent color
Choose to display seconds in the clock on the system tray
Go to the Taskbar behaviors section in Settings > Personalization > Taskbar. You can also right-click the taskbar to get to taskbar settings quickly.
It provides a copy button to copy two-factor authentication (2FA) codes.
The notification toasts you receive from apps installed on your PC or linked phones play a significant role in keeping you informed.

It is important to note that this specific feature currently supports the English language exclusively.

These notification toasts appear on your screen, providing essential updates and alerts about various activities and events.
Adds access key shortcuts to File Explorer's context menu
An access key is a one-keystroke shortcut; use it to run a command in a context menu using your keyboard. Each access key corresponds to a letter in the display name of the menu item.

To try this out, click on a file in File Explorer and press the menu key on your keyboard.
Live kernel memory dump (LKD) collection from Task Manager
To capture an LKD, go to Task Manager > Details. Right-click the System process. Select Create live kernel memory dump file.
Replaces the settings for Show the touch keyboard when there's no keyboard attached
Settings > Time & language > Typing > Touch keyboard

Three options to control whether tapping an edit control should open the touch keyboard


Enables Content Adaptive Brightness Control (CABC) to run on laptops and 2-in-1 devices
It provides a copy button to copy two-factor authentication (2FA) codes.
Adds a USB4 hubs and devices Settings page
You can get this ne update from Settings > Bluetooth & devices > USB > USB4 Hubs and Devices. It helps you to provide information about the system's USB4 capabilities and the attached peripherals on a system that supports USB4.
Presence sensor privacy setting in Settings > Privacy & security > Presence sensing
If you have a device with compatible presence sensors, you can now choose the apps that can access those sensors and also cho the apps that do not have access.
Improves the performance of search within Settings
It helps you to enhance the performance of search within Settings
Changes the default print screen (print screen) key behavior
Pressing the print screen key opens the Snipping Tool by default. Turn off this setting from Settings > Accessibility > Keyboard. If you have previously changed this setting, Windows will preserve your preference.
Introduces a limit of 20 most recent tabs in Settings > Multitasking
This affects the number of tabs that appear when you use ALT + TAB and Snap Assist.
Improves the cloud suggestion and the integrated search suggestion
It helps you to easily type popular words in Simplified Chinese using the Input Method Editor (IME)
Windows 11 22H2 New Features Coming soon as part of Moment 3 Drop – Table 2
Issues Fixed with Windows 11 22H2
The issue fixed with Windows 11 22H2 shows new improvements and highlights. The selected issues with Windows 11 22H2 are shown in the below table.
| Fixes with Windows 11 22H2 | Details |
| --- | --- |
| The storage capacity issue is fixed | It provides the full storage capacity of all your OneDrive subscriptions and displays the total storage on the Accounts page in the Settings app. |
| The Narrator's issue is fixed. | It announces text attributes correctly for words, such as "misspelled."deletion change," and "comment." |
| searchindexer.exe. Issue is fixed | This issue occurs after you upgrade your machine to Windows 11 Azure Virtual Desktop (AVD) and sign in to that machine. |
| The Server Message Block (SMB) issue is fixed. | You cannot access the SMB shared folder. The errors are"Insufficient memory resources" or "Insufficient system resources." |
| Sends unexpected password expiration notices to users issue is fixed | This occurs when you set up an account to use "Smart Card is Required for Interactive Logon" and set "Enable rolling of expiring NTLM secrets |
| The Local Security Authority Subsystem Service (LSASS) issue is fixed | It stops working. This occurs when you use Azure Virtual Desktop (AVD). |
| Storage Spaces Direct (S2D) cluster issue is fixed | It might not come online. This occurs after a periodic password rollover. The error code is 1326. |
Windows 11 22H2 New Features Coming soon as part of Moment 3 Drop – Table 3
Microsoft Release Notes – Releasing Windows 11 Build 22621.1776 to the Release Preview Channel | Windows Insider Blog
Author
About Author – Vidya is a computer enthusiast. She is here to share quick tips and tricks with Windows 11 or Windows 10 users. She loves writing on Windows 11 and related technologies. She is also keen to find solutions and write about day-to-day tech problems.