Let's discuss the New Features of Windows 365 Cloud PC 2306 Service Release June Update. This article provides an overview of the latest enhancements introduced in the recent service release of Windows 365 Cloud PC, version 2306. The June Windows 365 Service Release 2306 update introduces many fresh and innovative features.
This latest release brings many enhancements designed to enrich your Windows 365 experience. Microsoft consistently delivers updates, often every week, aiming to enhance the security and optimize the performance of its software.
We have an article highlighting the new features introduced in the June update of Microsoft Intune Service Release 2306. This update brings a more uniform user interface (UI) and streamlined navigation experience within the Intune admin center.
Windows 365 is a new Cloud PC subscription that Microsoft offers, allowing you to access a Windows 10 or Windows 11 PC in the cloud. The release of monthly updates from Microsoft may occur over several weeks, and it may not be immediately accessible to all customers. This rollout ensures a smooth and controlled deployment of the updates to ensure a seamless experience for users.

What are the New Features in Microsoft 365 Cloud PC Service Release 2306?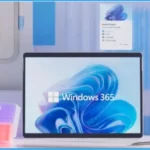 The most recent service release of Microsoft 365 Cloud PC provides a range of fascinating new features that aim to elevate your computing experience. You can expect enhancements in the Microsoft 365 Cloud PC Service Release 2306 in the following key areas.
1. Device management
2. End-user experience
3. Monitor and troubleshoot
4. Windows 365 Government
New Features of Windows 365 Cloud PC 2306 Service Release June Update
The most recent release of Windows 365 brings many exciting features; this update promises to take your Windows 365 experience to new heights, offering enhanced capabilities and optimized performance.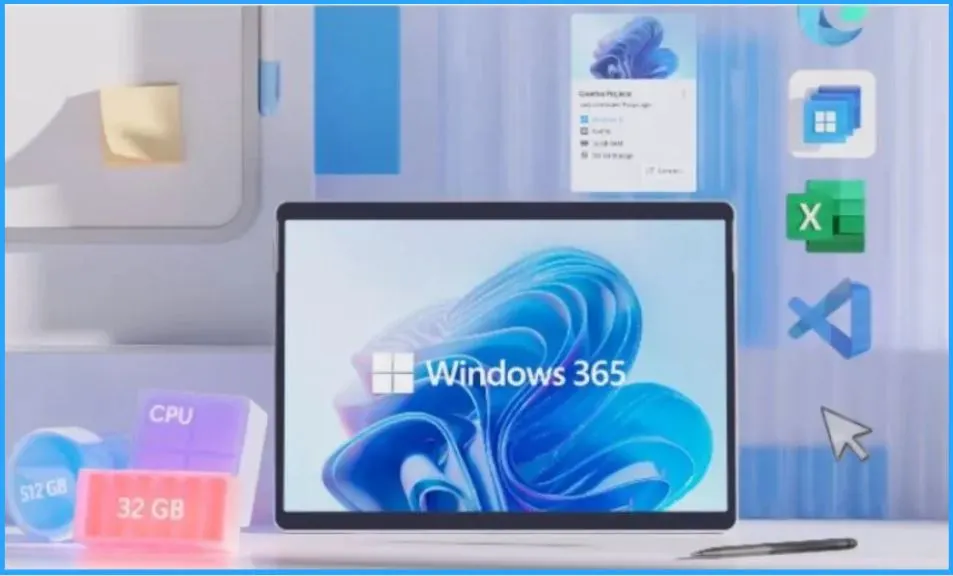 The following Video shorts give you a quick summary of the Windows 365 Cloud PC 2306 Service Release. Microsoft released Windows 365 Service release for June by July 3rd, 2023.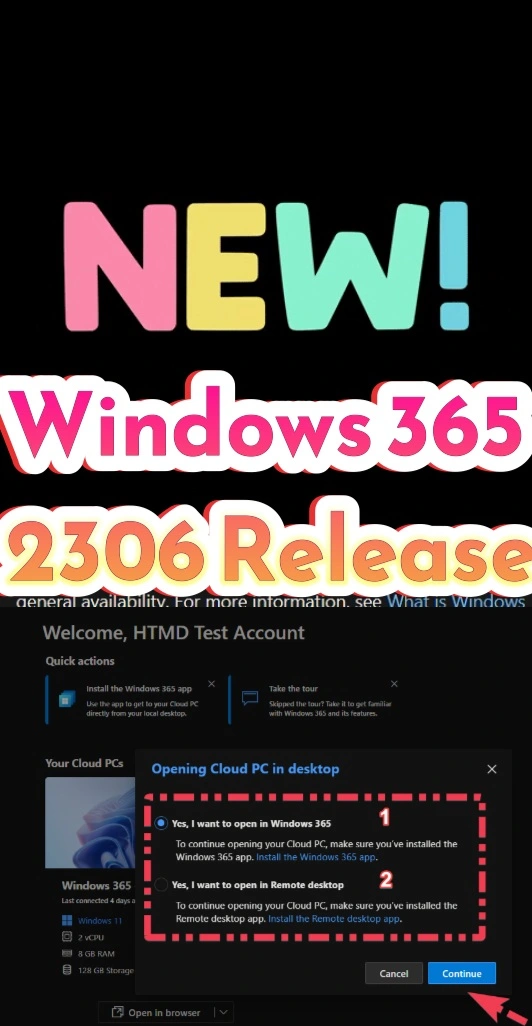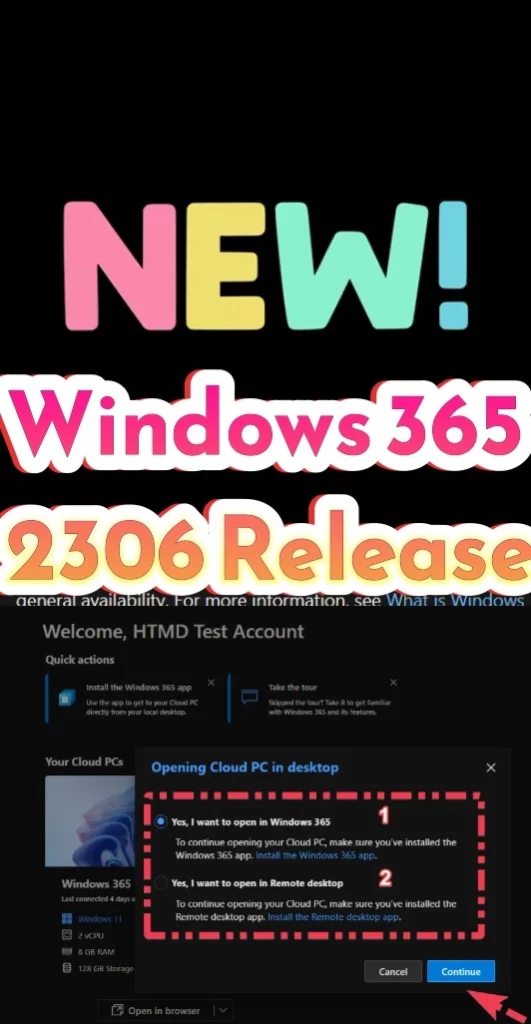 A. Device Management
The Device management includes 2 new Microsoft 365 Cloud PC Service Release 2306 features. The Microsoft Intune admin center is your go-to platform to manage your Cloud PCs effectively. Intune is a fully cloud-based solution for mobile device management (MDM) and mobile application management (MAM) that caters to your apps and devices, including Cloud PCs.
Device Management Features
Windows 365 Frontline is now generally available
Group-based license support for Cloud PC resizing
New Features of Windows 365 Cloud PC 2306 Service Release June Update – Table 1
1. Windows 365 Frontline is Now Generally Available
Windows 365 Frontline has significantly transitioned from the preview phase and is now readily available to all users as it enters general availability. Windows 365 Frontline opens up new possibilities for companies by extending the capabilities of Windows 365 Cloud PCs to accommodate shift and part-time workers.
With remarkable ease and affordability, organizations can now provide these employees access to their personalized and secure Frontline Cloud PCs from anywhere, using any device.
Windows 365 Frontline helps to meet the distinct needs of shift and part-time employees.
Windows 365 Frontline provides Cloud PCs freeing your frontline employees to work from anywhere.
It helps to boost their productivity and improve job satisfaction.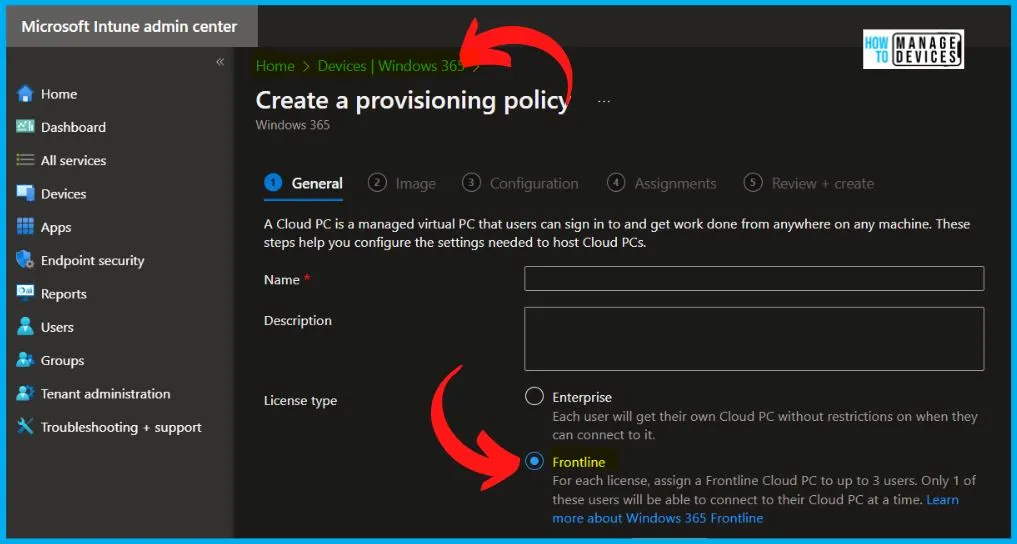 Windows 365 Frontline policies is a Unique Cloud PC for every employee, and No scheduling is required. Based on demand for active sessions – reducing the number of licenses needed. Same rapid deployment at scale as Windows 365 Enterprise and Windows 365 Business.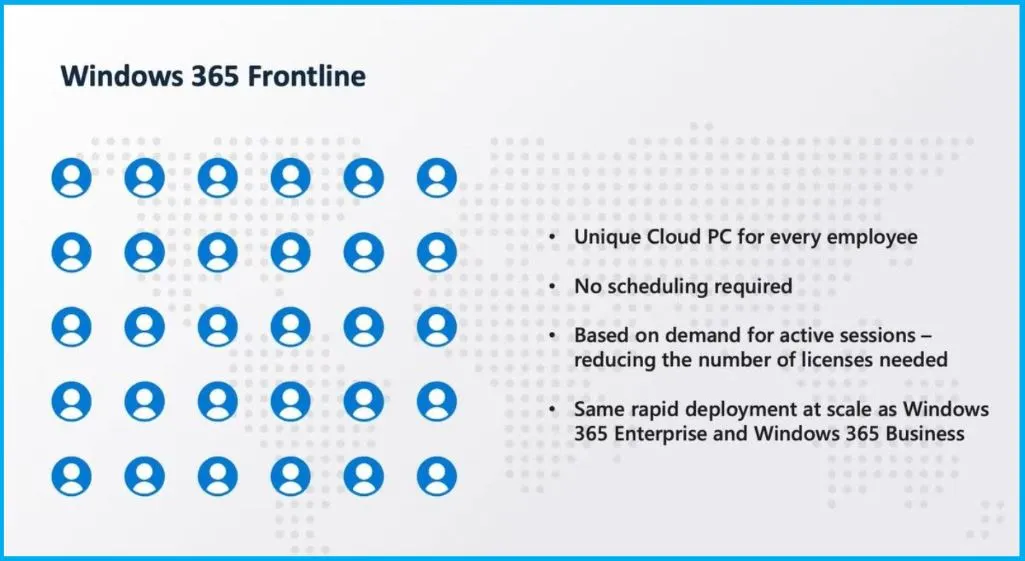 2. Group-Based License Support for Cloud PC Resizing
The latest advancements in Windows 365 bring expanded capabilities to single and bulk resizing, accommodating Cloud PCs initially provisioned with group-based licenses. When resizing Cloud PCs that are provisioned through directly assigned licenses, the Windows 365 service streamlines the process by automatically handling the following tasks.
Unassigning the original license – The service removes the previously assigned license from the Cloud PC.
Assigning the new license on behalf of the admin: Windows 365 assigns the new license to the Cloud PC, relieving the administrator from manually performing this task.
By automating the above steps, the Windows 365 service simplifies the process of resizing Cloud PCs, enabling administrators to efficiently manage their resources and provide an optimal computing experience for users.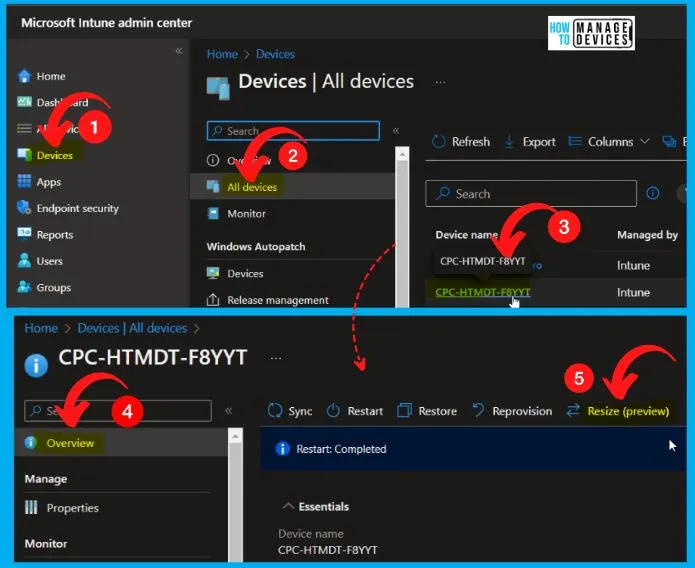 B. End User Experience
The Windows 365 Cloud PC end-user experience is designed to provide a seamless and familiar Windows environment that can be accessed from anywhere on any device. Windows 365 Cloud PC End User Experience section, includes the following new features.
Windows365.microsoft.com Open in browser button includes Windows 365 app and Open in Remote Desktop app
Windows 365 app update notifications for users
1. Windows365.microsoft.com Open in Browser Button includes Windows 365 App and Open in Remote Desktop App
To access their Cloud PCs, users can conveniently navigate to the website windows365.microsoft.com, and users need to ensure that their device meets the requirements, such as the supported operating systems, including Windows, macOS, ChromeOS, and Linux. Additionally, users must have a modern browser installed, such as Microsoft Edge, Google Chrome, Safari, or Mozilla Firefox (version 55.0 and later).
Users have two options for accessing Cloud PC based on their preferences and device capabilities.
They can select "Open in browser" to launch their Cloud PC in the web client.
However, it's important to note that this option is not available for mobile devices.
Alternatively, users can choose "Open in Remote Desktop app" to open their Cloud PC using the Remote Desktop app.
This provides a more specialized and dedicated desktop experience, enhancing performance and functionality.
By providing these two options, Windows 365 ensures flexibility and convenience, enabling users to access their Cloud PC in a way that best suits their needs and device capabilities.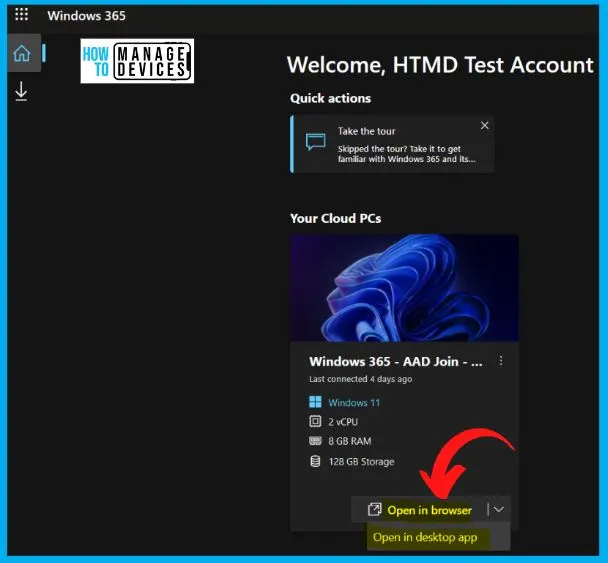 So, if you click on the Desktop App option from the drop-down, you will get 2 options, as shown in the below screenshot.
Yes, I want to open in Windows 365 – To continue opening your Cloud PC, make sure you have installed the Windows 365 App.
Yes, I want to open in Remote Desktop – To continue opening your Cloud PC, make sure you have installed the Remote Desktop App.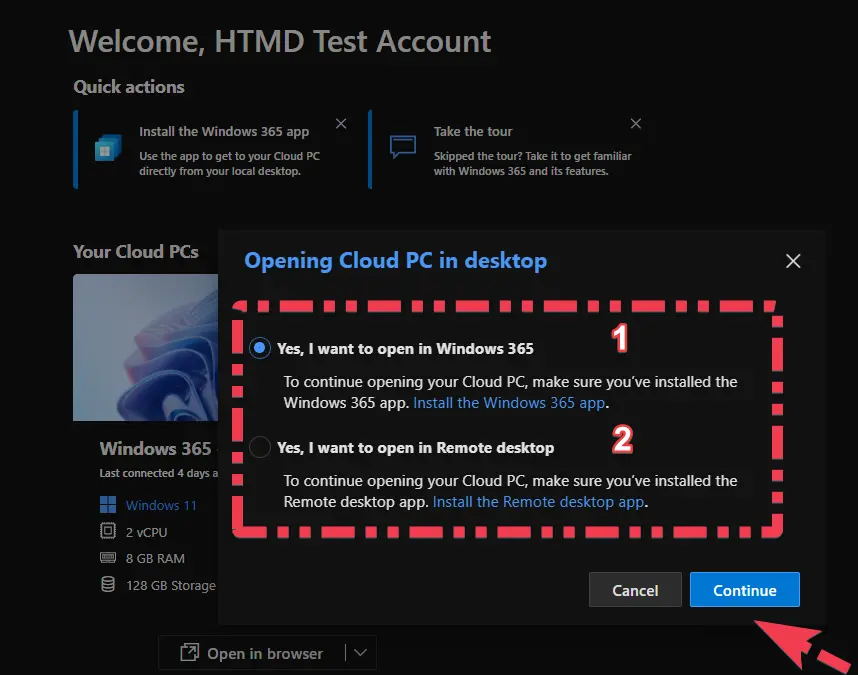 2. Windows 365 App Update Notifications for Users
Users of the Windows 365 app will receive notifications whenever an update becomes available. When users opt to update the Windows 365 app, it will automatically close, and they will receive a Windows notification indicating the update's progress.
Once the update is complete, another Windows notification will notify users that the update has finished. This update process ensures that Windows 365 app users stay up to date with the latest enhancements and features, providing them with an optimized and good experience.
C. Monitor and Troubleshoot
Monitor and troubleshooting includes the options such as Resource performance report in Endpoint Analytics, now available for Windows 365 Government, and Correlation IDs for Azure network connection notifications.
1. Resource Performance Report in Endpoint Analytics now Available for Windows 365 Government
Endpoint Analytics offers the Resource Performance report specifically for Windows 365 Government customers. This report provides valuable insights into the performance and resource utilization of Windows 365 Government instances.
With the Resource Performance report, administrators can assess the efficiency of their Windows 365 Government deployment, identify potential performance and optimize resource allocation to enhance user experience and productivity.
Log in to the Microsoft Intune admin center to access the Resource Performance report.
Navigate to the "Reports" section
And select "Endpoint analytics" from the Reports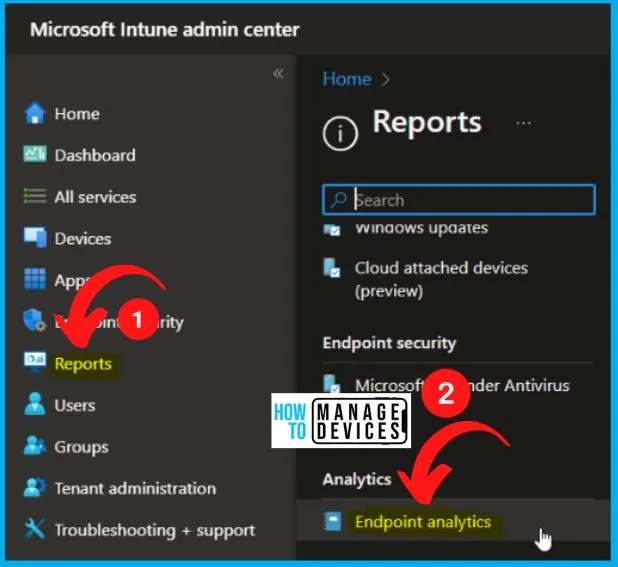 Windows 365 resource performance helps optimize CPU and RAM resources on the devices in your organization. Review your current resource performance score and compare it to the selected baseline. Refer to the insights and recommendations to improve your resource performance score.
Select Resource Performance from Endpoint Analytics.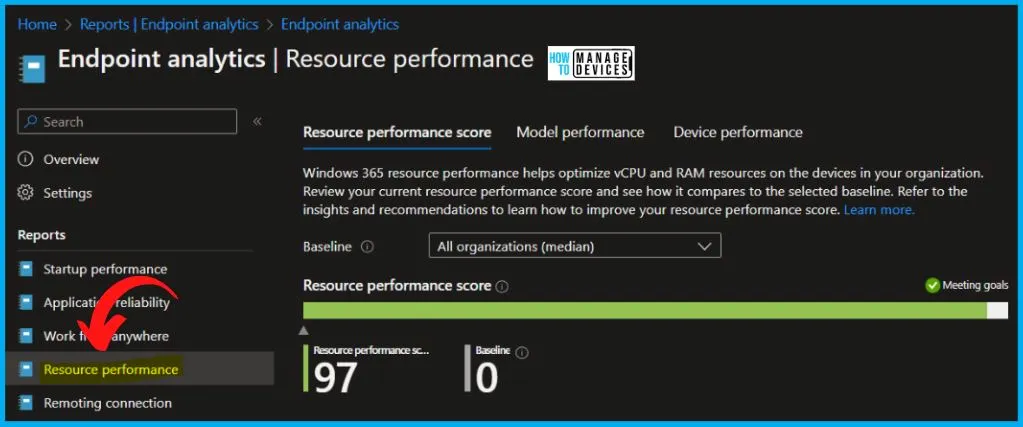 2. Correlation IDs for Azure Network Connection Notifications
Microsoft Intune now includes a correlation ID in the Azure network connection health check status, enhancing the troubleshooting process for customer issues. This unique ID is a valuable reference point for the support team when investigating and resolving network connectivity problems.
D. Windows 365 Government
Windows 365 Government shows the new service release features such as Windows 365 app support for Windows 365 Government environments and Windows 365 app pin Cloud PC to taskbar now supports Windows 365 Government.
1. Windows 365 App Support for Windows 365 Government Environments
The latest update to the Windows 365 app brings support for Windows 365 Government environments. With this enhancement, users can seamlessly access and utilize their Windows 365 Government instances through the dedicated Windows 365 app.
2. Windows 365 App Pin Cloud PC to Taskbar now Supports Windows 365 Government
Windows 365 Government users can now enjoy the convenience of pinning their Cloud PC directly to the taskbar within the Windows 365 app on Windows 11 platforms. This exciting feature allows quick and easy access to their Cloud PC, providing a seamless and streamlined experience.
By pinning their Cloud PC to the taskbar, users can efficiently switch between their local applications and their Cloud PC with just a click, enhancing productivity and accessibility.
With the help of this feature, Windows 365 Government continues to cater to the unique needs of government users, empowering them with a user-friendly and efficient virtual computing environment.
What's new in Windows 365 Enterprise | Microsoft Learn
Author
About Author – Vidya is a computer enthusiast. She is here to share quick tips and tricks with Windows 11 or Windows 10 users. She loves writing on Windows 11 and related technologies. She is also keen to find solutions and write about day-to-day tech problems.