This article overviews the new features in the Intune Service Release 2306 June Update. Microsoft regularly releases updates, sometimes even every week, to improve the security and efficiency of device management.
Microsoft Intune Service Release 2306 June Update Introducing a more consistent user interface (UI) and navigation in the Intune admin center. You can also use Mobile Application Management (MAM) for Microsoft Edge for Business on Windows, manage Windows drivers and firmware updates, and also the New endpoint security Application Control policy in preview.
Each update brings enhancements and, crucially, new capabilities, empowering you to experiment with functionalities and deliver the best user experience. Familiarizing yourself with the Intune service release new features can provide you with additional insights into updates and their benefits.
With the Intune Message Center, you can conveniently access informational communications directly from the Intune service team. Communications include messages about changes that have recently happened to the Intune service or are on the way for your tenant.

How to Check Intune Tenant Service Release Version
The steps guide you to check the latest version of Microsoft Intune for your tenant. Follow the steps below to check the Intune service release version for your tenant.
Navigate to the "Tenant Details" tab to view your current service version, which will be displayed under the "Service Release". The latest released version by Intune Service Release 2306.
Note💡Intune Service Release Version numbers are named based on the YYMM format. Here you can see Intune service release 2306. It means this version is released in June 2023.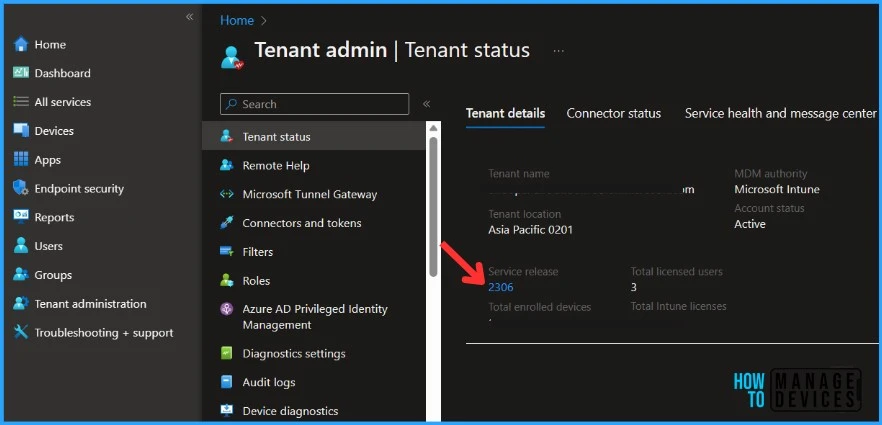 The Intune service release 2306 number provides access to the "What's new in Intune" article on Microsoft docs, where you can find information about the latest features and updates to the Intune service.

You can also read, Past releases in the What's New to get more information about what new features Intune service updates were released.
Table 1 – New Features in Intune Service Release 2306 June Update
New Features, Improvements in Microsoft Intune Service 2306 June Update
The Intune service releases the 2306 June update, and some features may roll out over several weeks and might be available to all customers this week. Quick catchup of new features of Intune 2306:
1. MAM for Microsoft Edge for Business [Preview]
2 New settings available in the Apple settings catalog
3. Asus devices running Windows 10/11 are enabled for DFCI to manage UEFI settings
4. Telecom Expense Management Feature Removal
5. Settings insight within Intune Security Baselines
6. New endpoint security Application Control policy in preview
7. In-session connection mode switch in Remote Help
8. Endpoint Privilege Management runs with an elevated access option now available on the top-level menu for Windows 11
9. Newly available protected apps for Intune – FIVE new applications
10. Microsoft Intune troubleshooting pane is now GA (generally available)
11. Updated troubleshooting + support pane in Intune includes all relevant role and scope data
12. Download the mobile app Diagnostics GA (generally available)
Microsoft Intune Troubleshooting Pane is now Generally Available
The new experience for the Intune Troubleshooting pane will provide details about the user's devices, policies, applications, and status. The troubleshooting pane will include the following information:
All new tabbed troubleshooting experience with a policy, compliance, and application deployment status summary.
Support for excluded policies and applications filters the entire experience to a single device.
Additionally, the Troubleshooting pane provides data insights for all available device diagnostics. It adds the ability to download mobile device logs, such as the Intune Company Portal and App Protection logs. For more details, you can check to Explore New Intune Troubleshooting Dashboard For Intune Issues.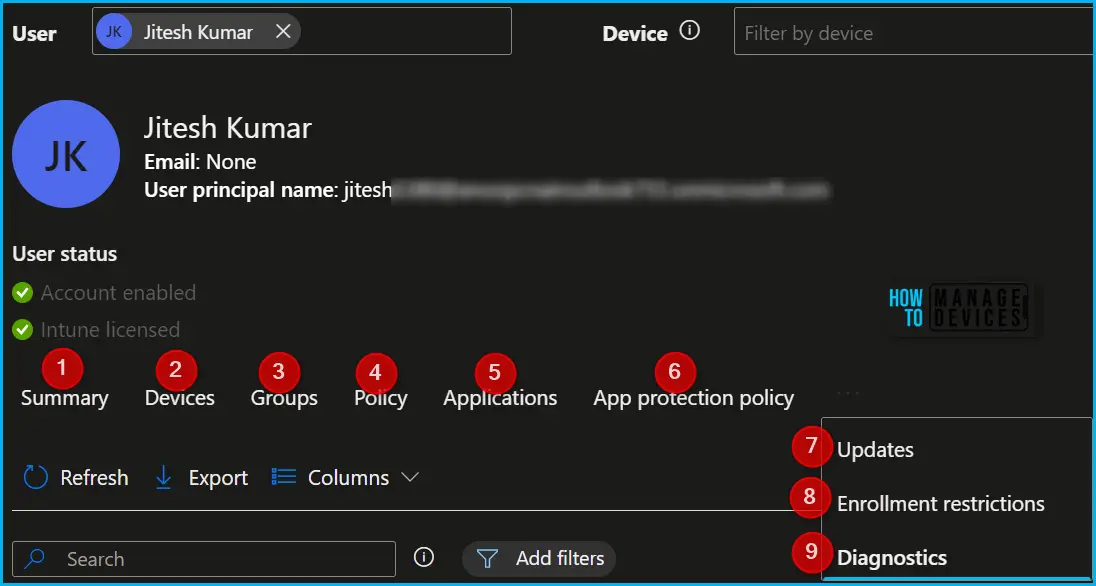 New Intune RBAC viewer in Intune Troubleshooting Blade
The Troubleshooting + support pane in the Intune admin center has been updated by consolidating the Roles and Scopes report into a single report. This report now includes all relevant role and scope data from both Intune and Azure Active Directory, providing a more streamlined and efficient experience.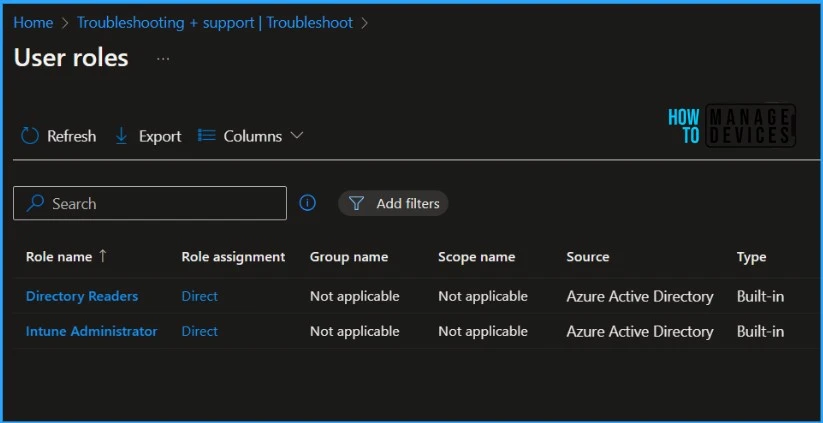 Endpoint Security Application Control Policy in Public Preview
Starting with Intune June Update, you can use a new endpoint security policy category, Application Control, in the public preview. The endpoint security Application Control policy includes the following:
Policy to set the Intune Management Extension as a tenant-wide managed installer.
Application Control policies that are an implementation of Defender Application Control (WDAC). It allows you to configure a policy that allows trusted apps to run on your managed devices.
In the Microsoft Intune admin center and go to Endpoint security > Application control (Preview). Here you can see the two tabs, Application Control and Managed Installer. You can select the Application control tab > and then select Create Policy. Application Control policies are automatically assigned to a platform type of Windows 10 and later.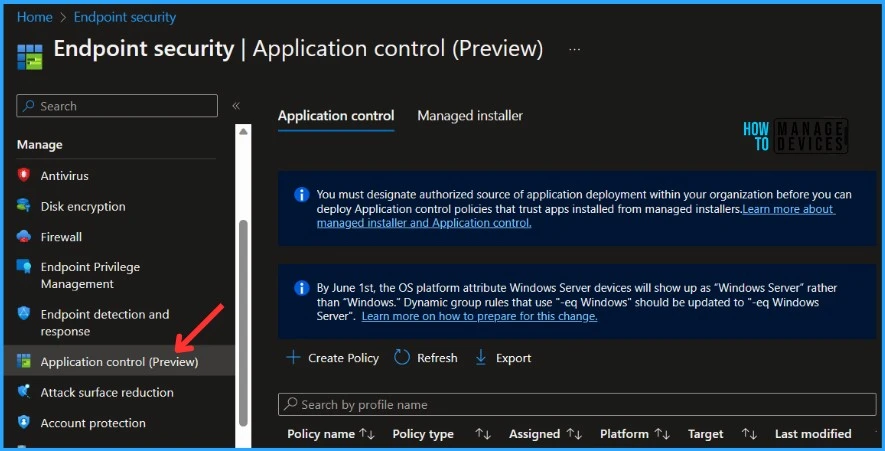 Settings Insight within Intune Security Baselines
Intune makes it easy to deploy Windows security baselines to help you secure and protect your users and devices. Security baselines are groups of pre-configured Windows settings that help you apply and enforce granular security settings recommended by the relevant security teams.
The Settings Insight feature adds insights to security baselines, giving you confidence in configurations that have been successfully adopted by similar organizations.
In Intune Admin Center, You need to navigate to Endpoint security > Security baselines. While creating and editing the workflow, these insights will be available for you in the form of a light bulb.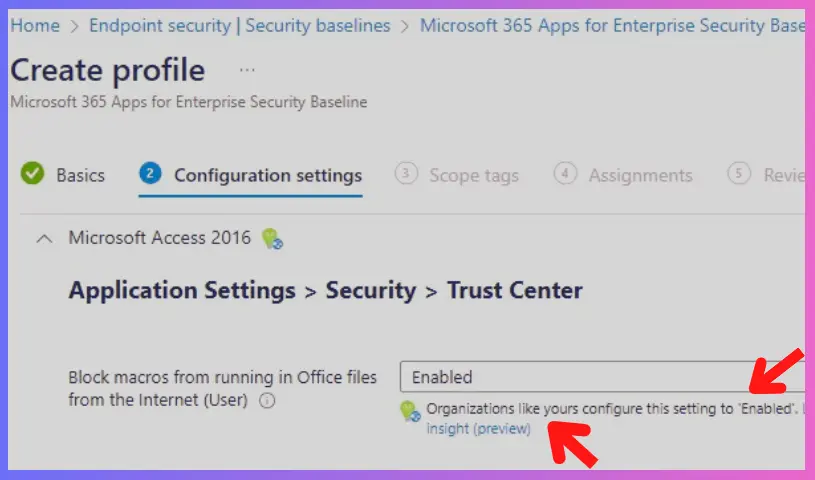 Download Mobile App Diagnostics
Access to user-submitted mobile app diagnostics is now widely accessible through the Intune admin center. This includes the ability to view app logs that are sent through various Company Portal apps, such as those designed for Windows, iOS, Android, Android ASOP, and MacOS.
Furthermore, you can also retrieve app protection logs using Microsoft Edge, Manage Microsoft Edge on iOS and Android with Intune.
MAM for Microsoft Edge for Business
Starting with Intune June update, MAM capability is now available in public preview for Microsoft Edge for Business on Windows. Using MAM, Microsoft Edge for Business provides users with secure access to organizational data on personal Windows devices with a customizable user experience.
You can now enable protected MAM access to org data via Microsoft Edge on personal Windows devices. This capability uses the following functionality:
Intune Application Configuration Policies (ACP) to customize the org user experience in Microsoft Edge
Intune Application Protection Policies (APP) to secure org data and ensure the client device is healthy when using Microsoft Edge
Windows Defender client threat defense integrated with Intune APP to detect local health threats on personal Windows devices
Application Protection Conditional Access to ensure the device is protected and healthy before granting protected service access via Azure AD.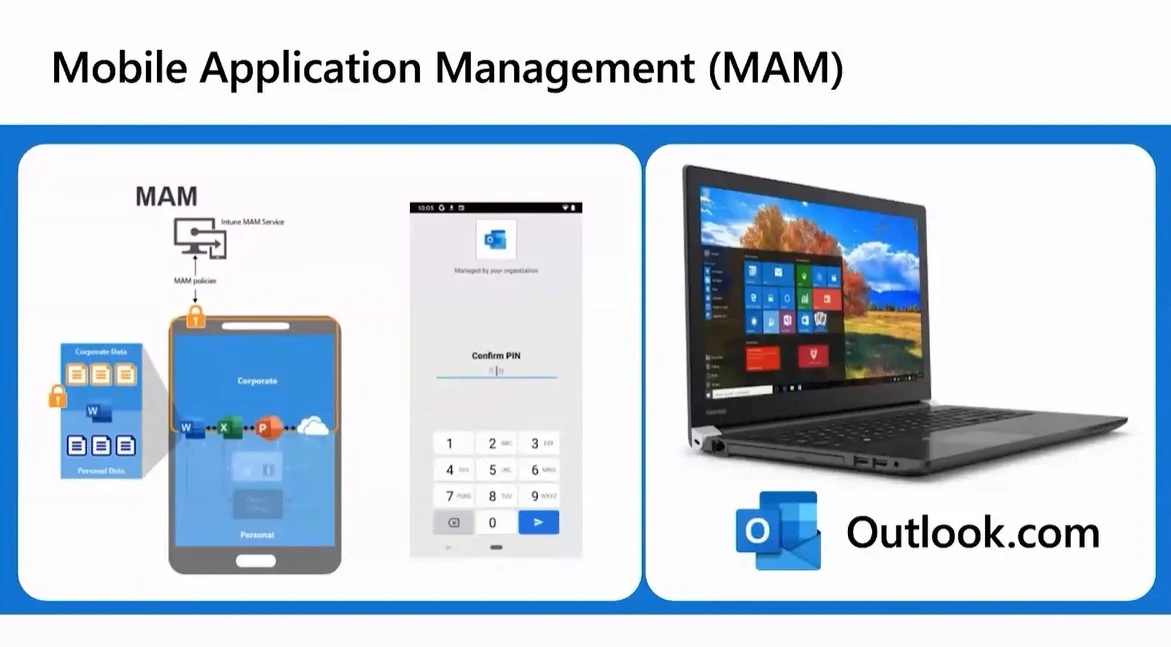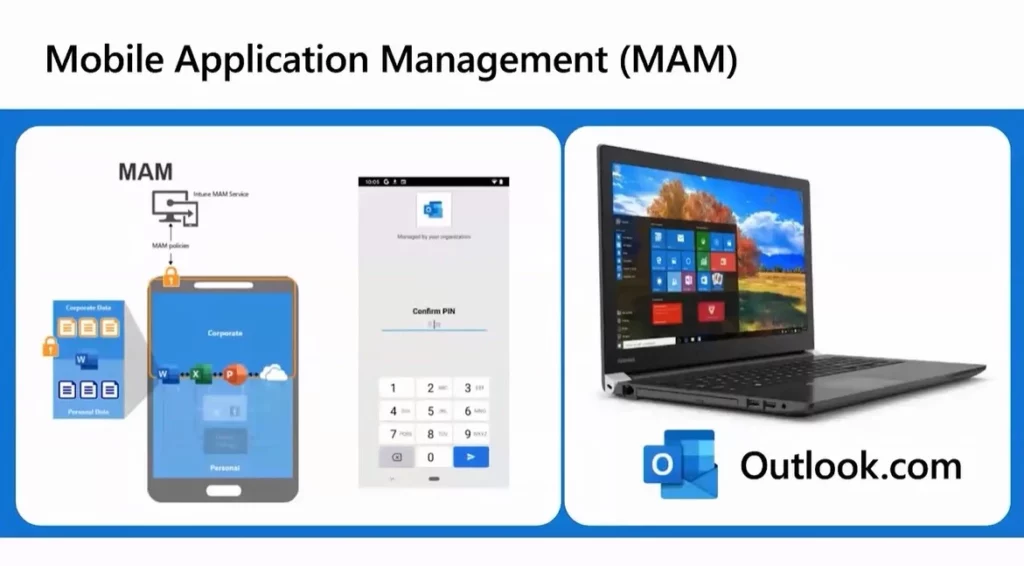 HTC and Pico Supports on Intune for Android Open Source Devices
Staring with Intune Service release 2306, The new addition on Microsoft Intune for Android Open Source Devices supported by HTC and Pico devices. Intune offers comprehensive management capabilities for Android devices, including support for Android Open Source Project (AOSP) devices, Intune Supports HTC, and Pico For Android Open Source Devices.
New Zebra OEMConfig app for Android 11 and later
Zebra recently released a new OEMConfig app called Zebra OEMConfig Powered by MX for Android Enterprise devices running Android 11 and later.
However, it is crucial to acknowledge that the Legacy Zebra OEMConfig app will not be compatible with devices operating on Android 13 or later. Administrators must switch to the new Zebra OEMConfig Powered by MX app for devices running Android 13 and later.
| | | | |
| --- | --- | --- | --- |
| OEMConfig app | Android 10 or Lower | Android 11 | Android 13 or Higher |
| Legacy Zebra OEMConfig | ✔ | ✔ | X |
| Zebra OEMConfig Powered by MX | X | ✔ | ✔ |
Table 2 – New Features in Intune Service Release 2306 June Update
Users with Zebra devices running Android 11 now have the option to utilize the new Zebra OEMConfig Powered by MX app or stick with the Legacy Zebra OEMConfig app, Intune Supports Zebra OEMConfig App For Android Enterprise 11+ Devices.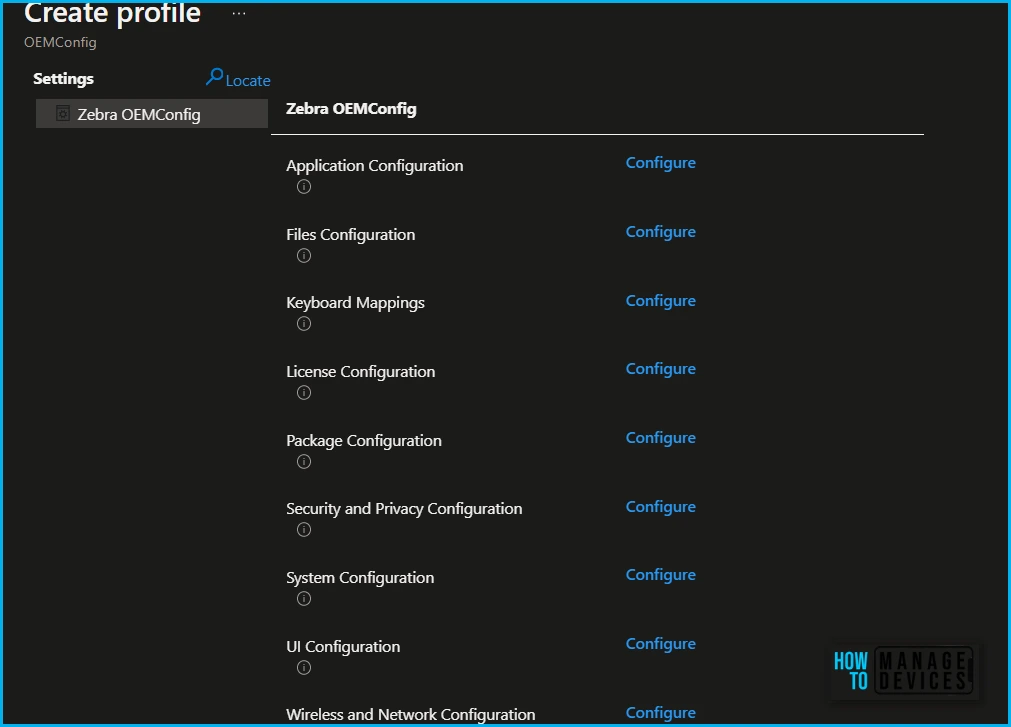 Introducing in-session Connection Mode Switch in Remote Help
Remote Help is a tool that will assist helpdesks—especially important as workers now work away from the office more often. Remote Help is available for Windows users and will also come to Android and Mac endpoints in future releases.
In Remote Help, you can now take advantage of the in-session connection mode switch feature. This feature provides the ability to effortlessly transition between full control and view-only modes, granting flexibility and convenience.

Quick Recap Video on Intune 2306 Release
Intune 2306 June Month Service Release Updates and New Features in Intune Service Release 2306 June Update.
Author
About Author – Jitesh, Microsoft MVP, has over six years of working experience in the IT Industry. He writes and shares his experiences related to Microsoft device management technologies and IT Infrastructure management. His primary focus is Windows 10/11 Deployment solution with Configuration Manager, Microsoft Deployment Toolkit (MDT), and Microsoft Intune.