This article overviews the new features in the Intune Service Release 2305 May Update. Microsoft regularly releases updates, sometimes even every week, to improve the security and efficiency of device management.
The new release highlighted three admin-requested capabilities that increase security and ease of use. You can now use filters to gain more options for assigning app protection and app configuration policies. Additionally, Conditional Access has been integrated into Remote Help to help admins manage organizational access policies on the Remote Help app.
Release of Lifeguard Over-the-Air service updates which will provide an efficient and secure way to update ruggedized Zebra Android devices managed by Intune. There are a few exciting developments in the pipeline that will benefit IT admins. The Service Release number in the Tenant Status blade in your console shows the released update.
Each update brings enhancements, and, crucially, new capabilities, empowering you to experiment with functionalities and deliver the best user experience. Familiarizing yourself with the Intune service release new features can provide you with additional insights into updates and their benefits.

Intune Service Health messages consolidate all health-related messages for the Intune service in a single location. The Health page is designed to provide insight into known issues, enabling you to troubleshoot problems and decide when and how to deploy updates.
Steps to Check Microsoft Intune Version
The steps guide you through determining the latest version of Microsoft Intune for your tenant. Follow the steps below to check the Intune service release version for your tenant.
Navigate to the "Tenant Details" tab to view your current service version, which will be displayed under the "Service Release" heading. The latest released version is denoted by Intune Service Release 2305. Refer to the overview below for a summary of the naming convention used for Intune Service Releases.
Note💡Intune Service Release Version numbers are named based on the YYMM format. Here you can see Intune service release 2305. It means this version is released in May 2023.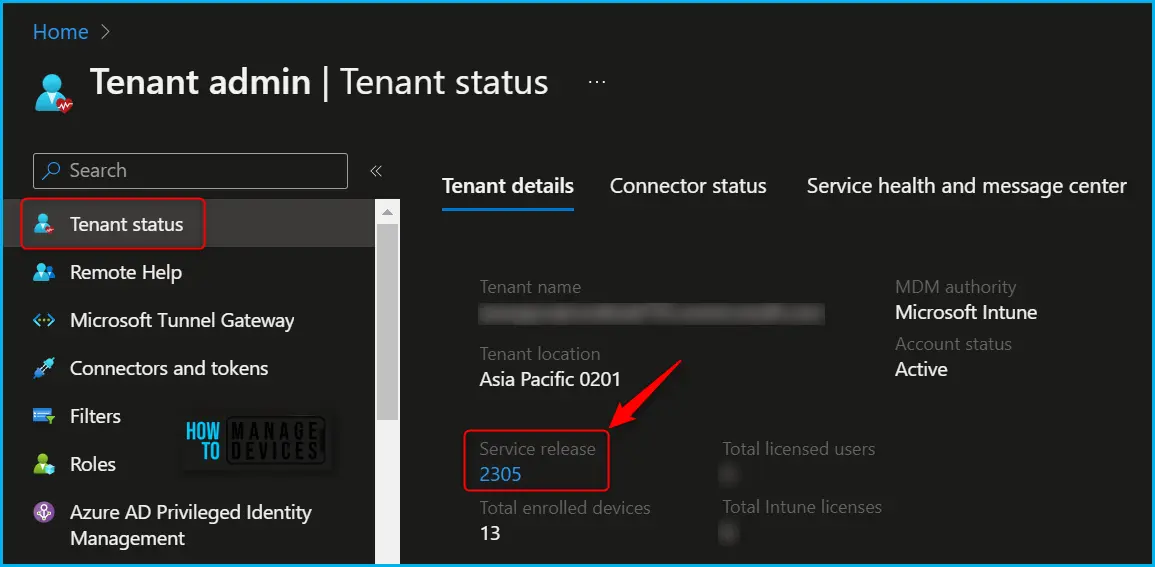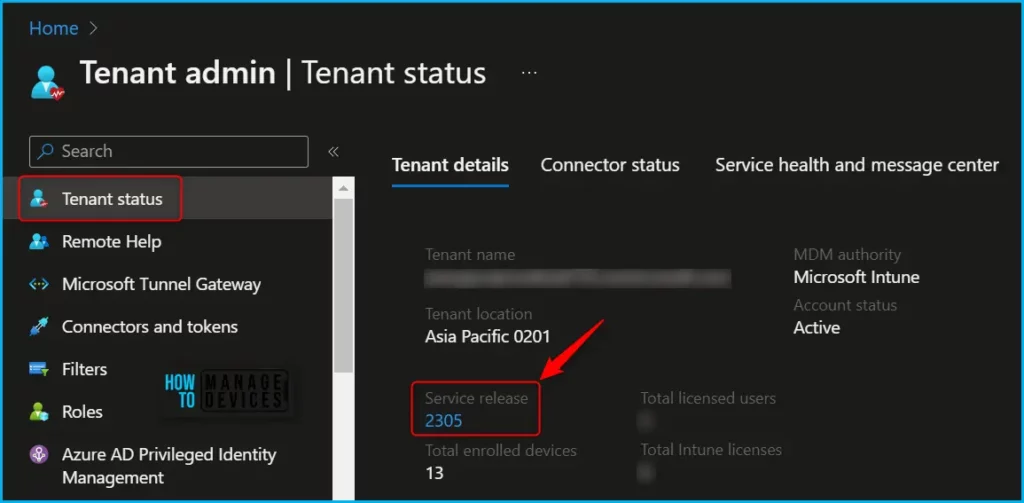 The Intune service release 2305 number provides access to the "What's new in Intune" article on Microsoft docs, where you can find information about the latest features and updates to the Intune service.
You can also read, Past releases in the What's New to get more information about what new features Intune service updates were released.
Table 2 – New Features in Intune Service Release 2305 May Update
New Features, Improvements in Microsoft Intune Service 2305 May Update
The Intune service releases 2305 May update, and some features may roll out over several weeks and might not be available to all customers in the first week. This week's newly released feature with Intune service release 2305 will be updated in the post.
Quiet Time Policy for iOS iPadOS and Android Apps
The new Intune service release May update (2305) added capabilities that allow you to create an iOS/iPadOS and Android quiet time policy within Intune Admin center.
By utilizing these settings, admins can automatically mute Microsoft Outlook email and Teams notifications. These policies serve the purpose of limiting the notifications received by end users outside of their work hours, Configure Intune Quiet Time Policy For IOS IPadOS And Android Apps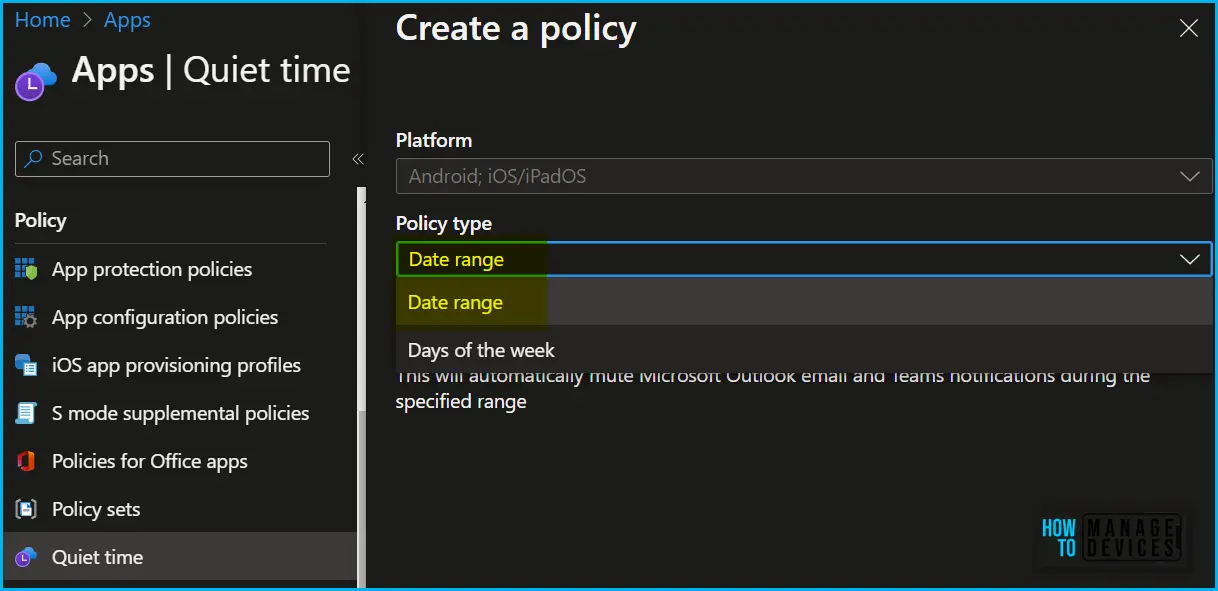 Create Filter Rules Based on App Version
Starting from, Intune 2305 May Update, Admins now have more flexibility in Intune Managed Apps Filter Rules and create filter rules based on the managed application version.
Intune Filters is an integral component of Microsoft Intune that enables administrators to filter and target specific groups of devices or users based on certain criteria. All the Intune Workloads are NOT supported for Intune Filters. New Intune Managed Apps Filter Rules | Create Filter Rules Based On App Version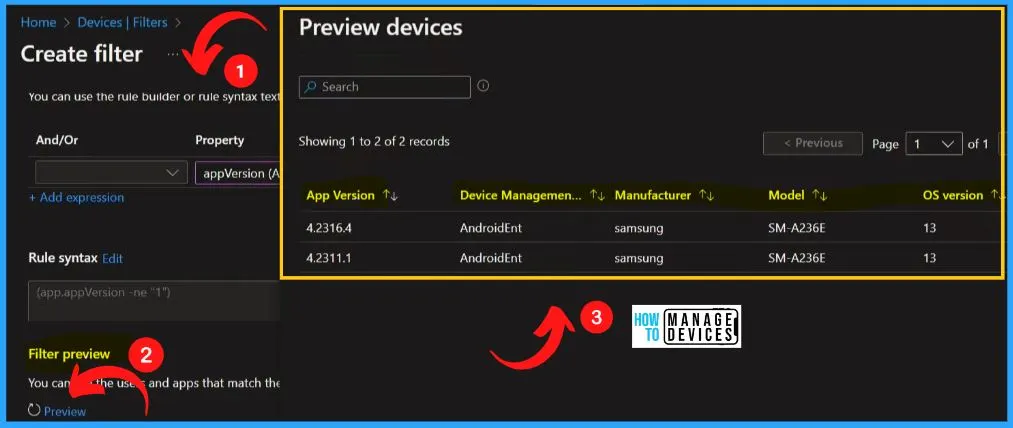 Renamed Proactive remediation to Remediations and moved to a new location
Starting with Intune May update 2305, Proactive remediations will be known as Remediations and will be available from Devices > Remediations. You will still be able to find Remediations in both the new location and the existing Reports > Endpoint Analytics location until the next Intune service update.
Remediations are not currently available in the Explore New Devices Experience In Intune.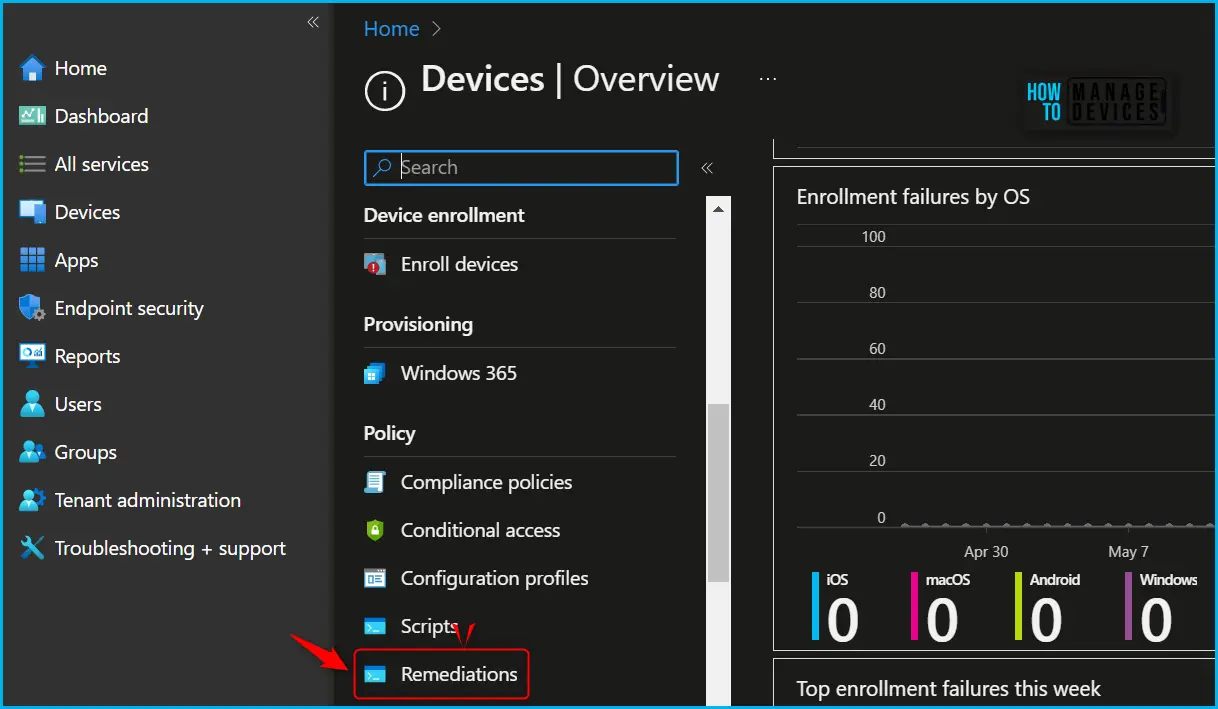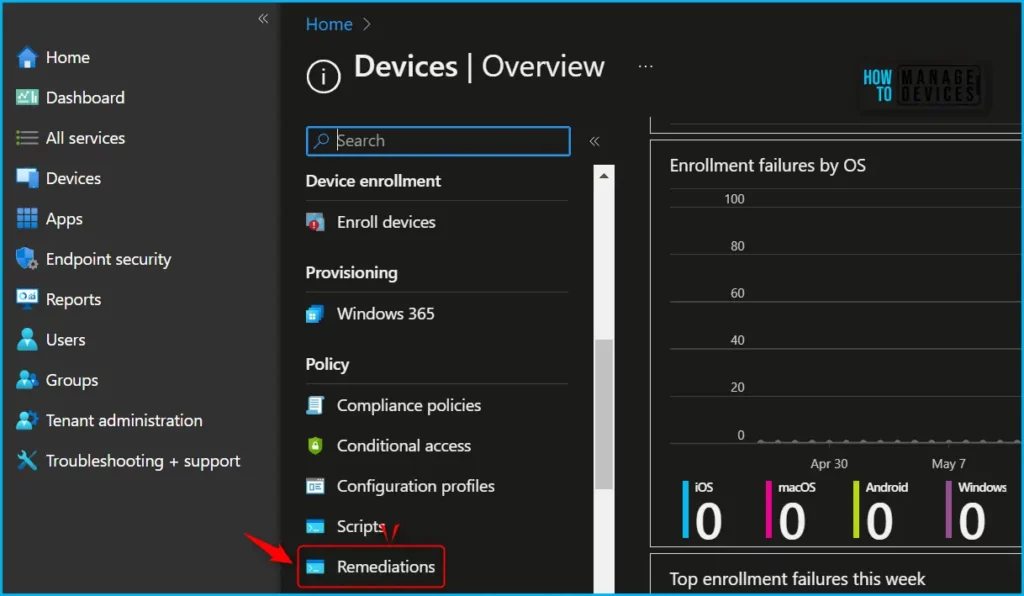 Security Baseline for Microsoft 365 Apps for Enterprise
You can manage and deploy the Office security baseline using mobile device management (MDM) settings and the Intune experiences around upgrades, comparison, and reporting.
Security baselines are groups of pre-configured settings that help you apply and enforce granular security settings recommended by the relevant security teams. You can also customize each baseline you deploy to implement only the required settings and values.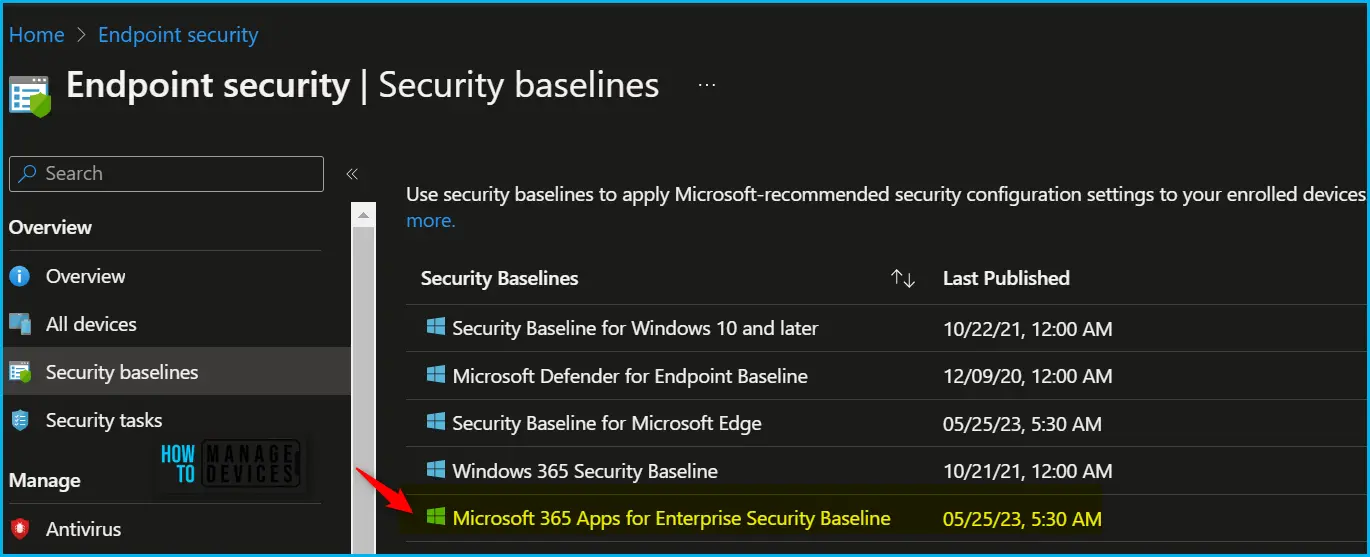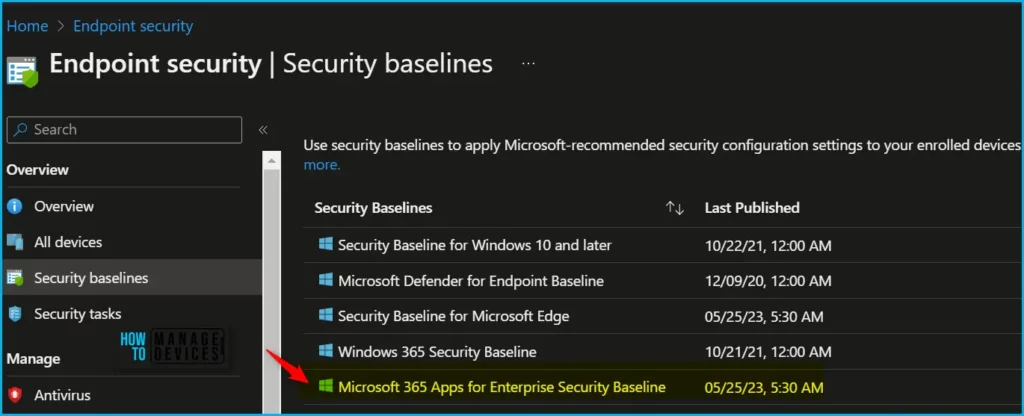 Remote Help now integrated with Conditional Access
The latest release introduces Conditional Access to Remote Help, providing admins with better access management for specific user groups or devices. Conditional Access enables admins to control access based on categories, including users and groups, workload identities, directory roles, and external guests.
This feature was requested to help them set up and enforce organizational policies when using the Remote Help app, such as:
Setting up multifactor authentication
Installing security updates
Locking access to Remote Help to a specific region
Security Baseline for Microsoft Edge
Starting with May Update, Microsoft updated the Microsoft Edge security baseline to support the latest windows version. What is the best option, the Microsoft recommendation, and what is a community recommendation, etc? Security baseline and Edge version 112 are the 2 topics we will cover in this post, check it out Secure Microsoft Edge Browser Using Intune Security Policies.

Author
About Author – Jitesh, Microsoft MVP, has over six years of working experience in the IT Industry. He writes and shares his experiences related to Microsoft device management technologies and IT Infrastructure management. His primary focus is Windows 10/11 Deployment solution with Configuration Manager, Microsoft Deployment Toolkit (MDT), and Microsoft Intune.