This post summarizes the Intune new features of Intune as part of the monthly released Intune Service Release 2302 February Update. Microsoft releases updates as frequently as every week to help you manage devices more efficiently and securely.
The Service Release number in the Tenant Status blade in your console shows the released update. The new features are published once Microsoft starts rolling out the admin UI updates in the console.
Every update contains new features, improvements, and, most importantly, new capabilities. It allows you to try out new features and provide the best experience. You can get more information about updates by knowing the Intune service release.
Starting with Intune Service Release 2301, A new experience for the Intune Troubleshooting pane will provide details about the user's devices, policies, applications, and status. Let's check here, what the new Intune Troubleshooting experience from Intune Admin Portal offers you for Troubleshooting Intune Issues.

Intune Service Health messages keep all health messages for the Intune service in one place. The health page is designed to inform you about known issues so you can troubleshoot issues users may be experiencing and determine when and at what scale, to deploy an update in your organization.
How to Check Microsoft Intune Version
Here, I will show you how to check which Microsoft Intune latest version your tenant is running. The following steps help you to check Intune service release version of your tenant.
Under the Tenant Details tab, you will see the current service version for your account under "Service Release". You can see the Intune Service release 2302 indicating the latest released version. An overview of the Intune Service Release Naming Convention.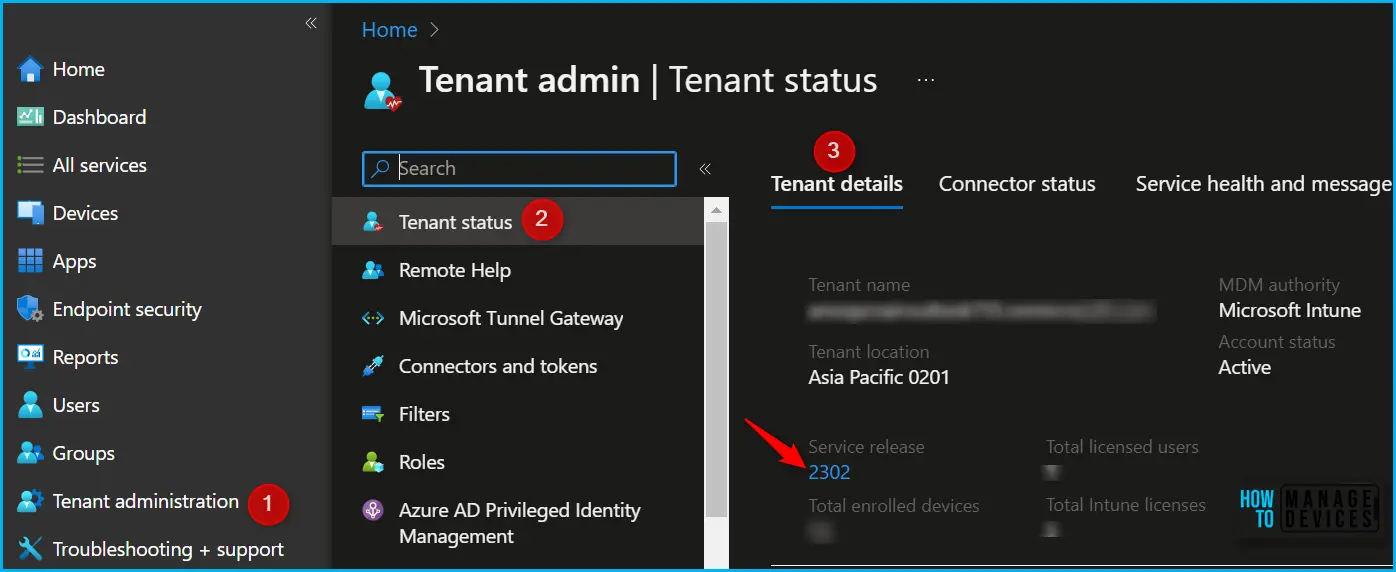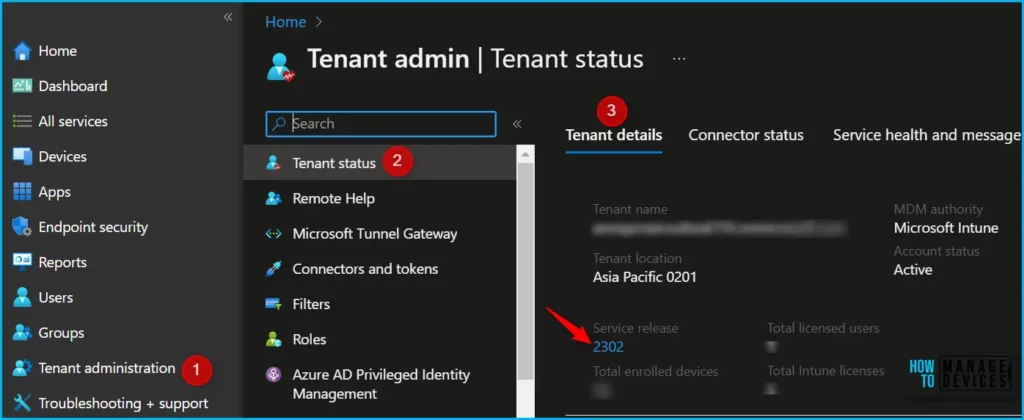 Note💡Intune Service Release Version numbers are named based on the YYMM format. Here you can see Intune service release 2302. It means this version is released in February 2023.

The Intune service release 2302 number provides access to the "What's new in Intune" article on Microsoft docs, where you can find information about the latest features and updates to the Intune service.
You can also read, Past releases in the what's new to get more information about what new features Intune service updates were released.
Table 1 – Intune Service Release 2302 February Update
Endpoint Manager Admin Center Renamed to Intune Admin Center
Starting with Intune 2302 release Microsoft Endpoint admin portal is now Microsoft Intune admin center.


Associated Assignments Tab for your Filters
When you assign an app or policy, you can filter the assignment using different device properties, such as device manufacturer, model, ownership, and more by creating and associating a filter object with the assignment.
After you create a filter, there's a new Associated Assignments tab. This tab shows all the policy assignments, the groups that receive the filter assignments, and if the filter is using Exclude or Include:
Sign in to the Microsoft Intune admin center.
Go to Devices > Filters > Select an existing filter > Associated Assignments tab.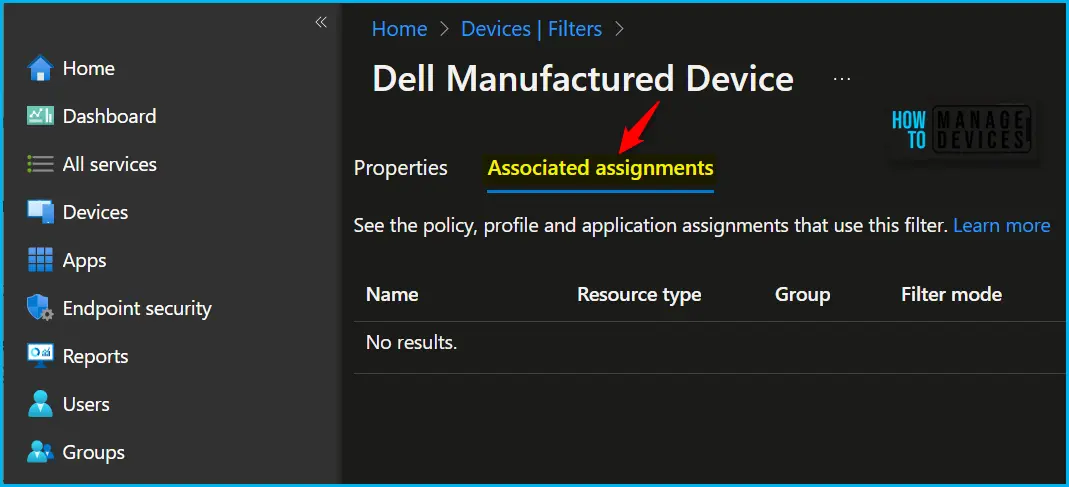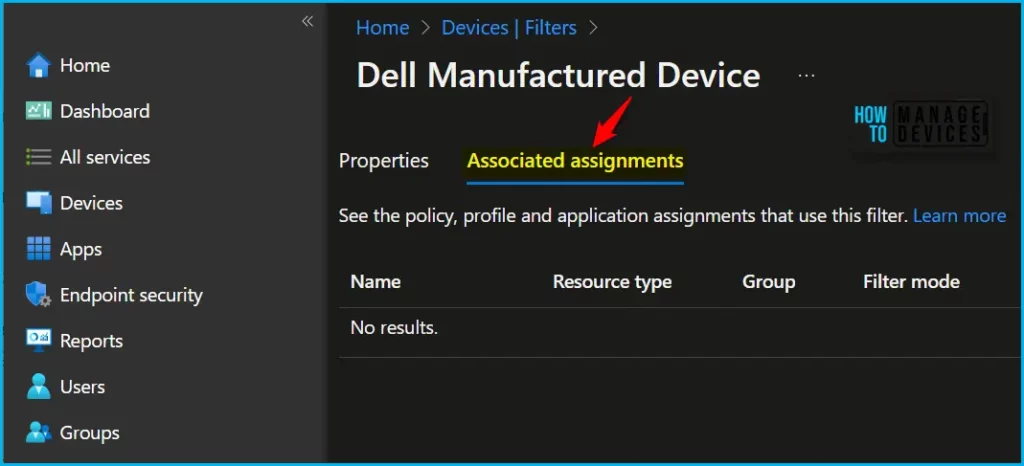 ServiceNow Integration with Intune
The new integration for Intune and ServiceNow is now available for public preview, enhances Its ability to use Intune to troubleshoot endpoint-related issues, as well as understand user incidents and trends over time.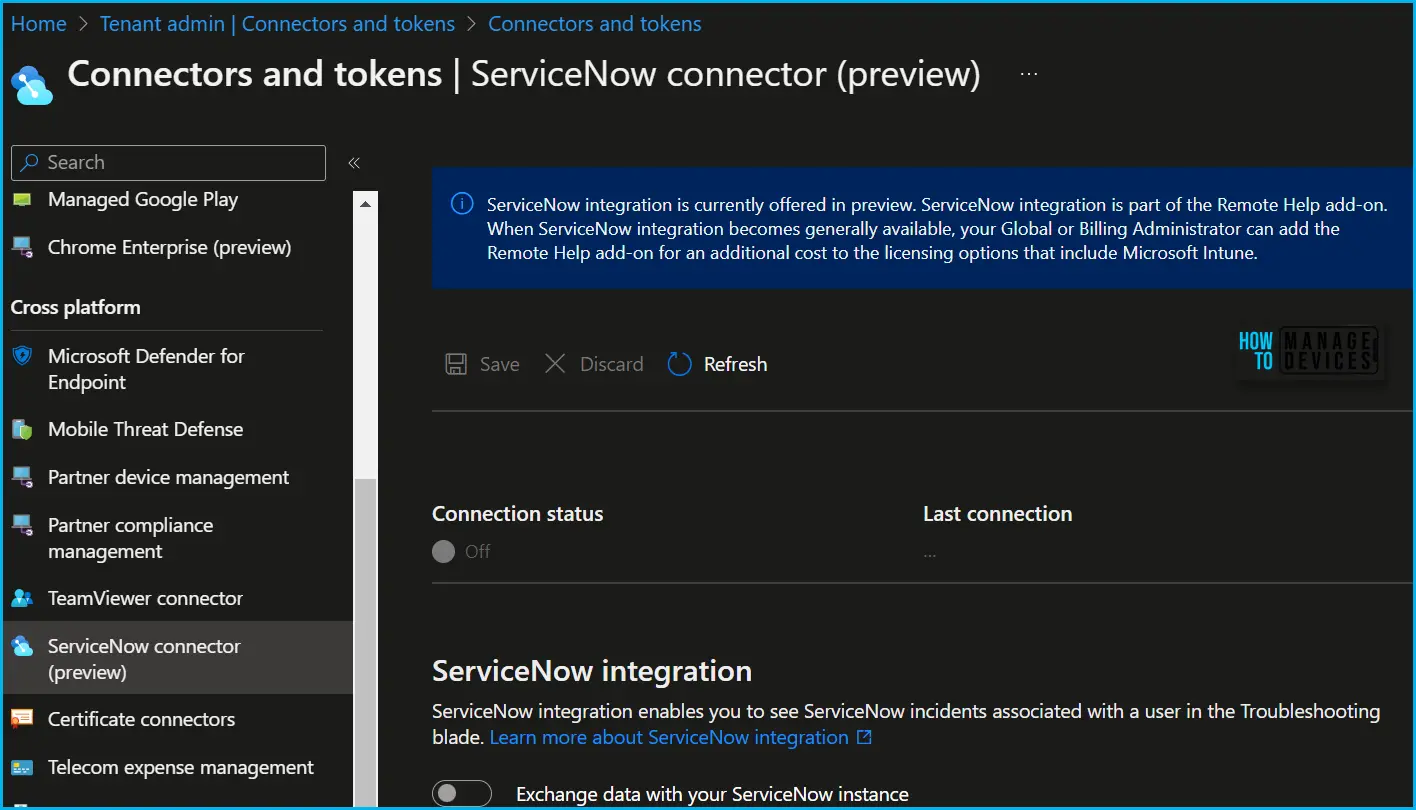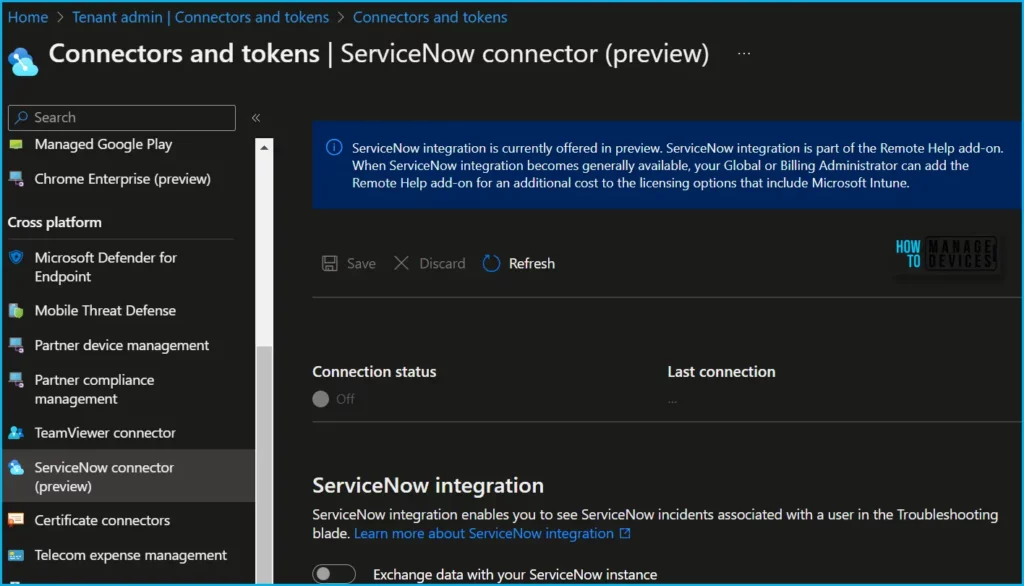 Improvements to Reports for Devices without Compliance Policy
The new version of devices without a compliance policy report offers better functionality and visibility for admins who determine whether devices without a compliance policy should be marked as non-compliant (recommended by Microsoft for being secure by default).
Let's learn how to check Intune Report for Devices without Compliance Policy. This set of reports focuses on compliance settings in your policies. You can get a list of all the devices that are noncompliant, review device compliance trends, and see the device names and their individual noncompliant settings.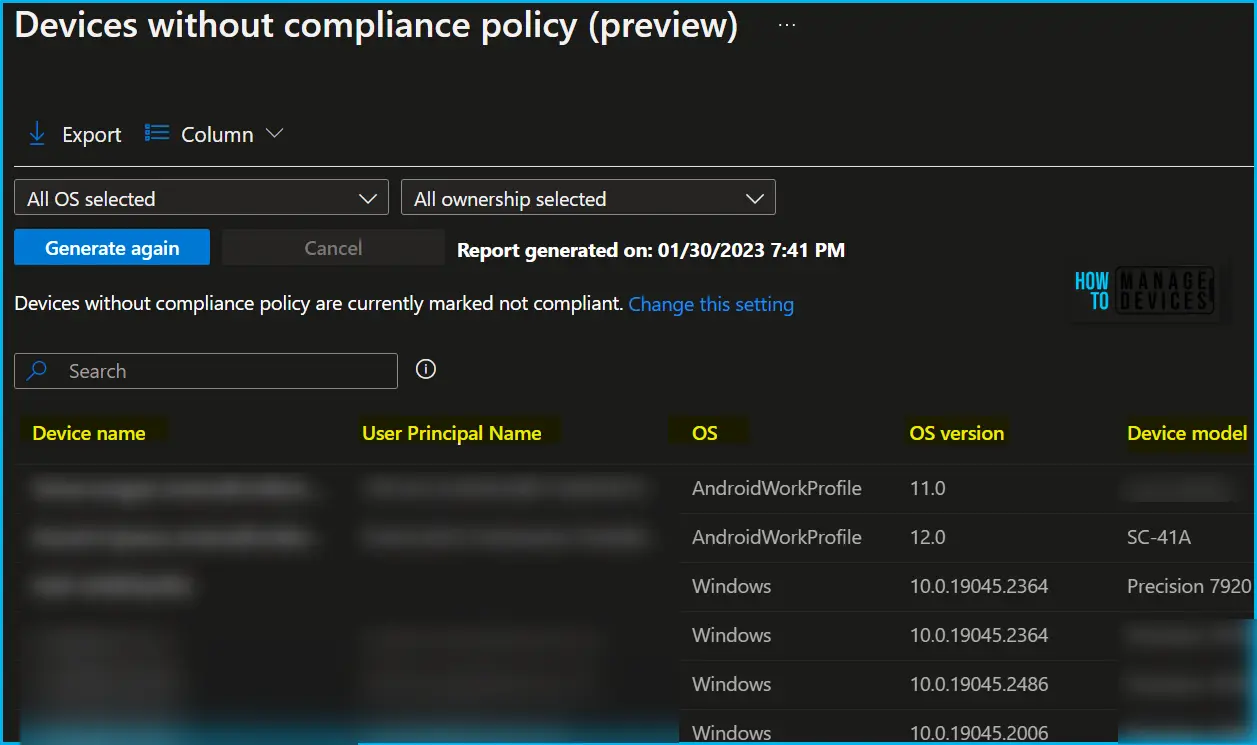 The latest iOS/iPadOS Version is Available as Minimum OS Requirement for LOB and Store Apps
You can specify iOS/iPadOS 16.0 as the minimum operating system for line-of-business and store app deployments. This setting option is available in the Microsoft Intune admin center by selecting Apps  >  iOS/iPadOS > iOS store app or Line-of-business app.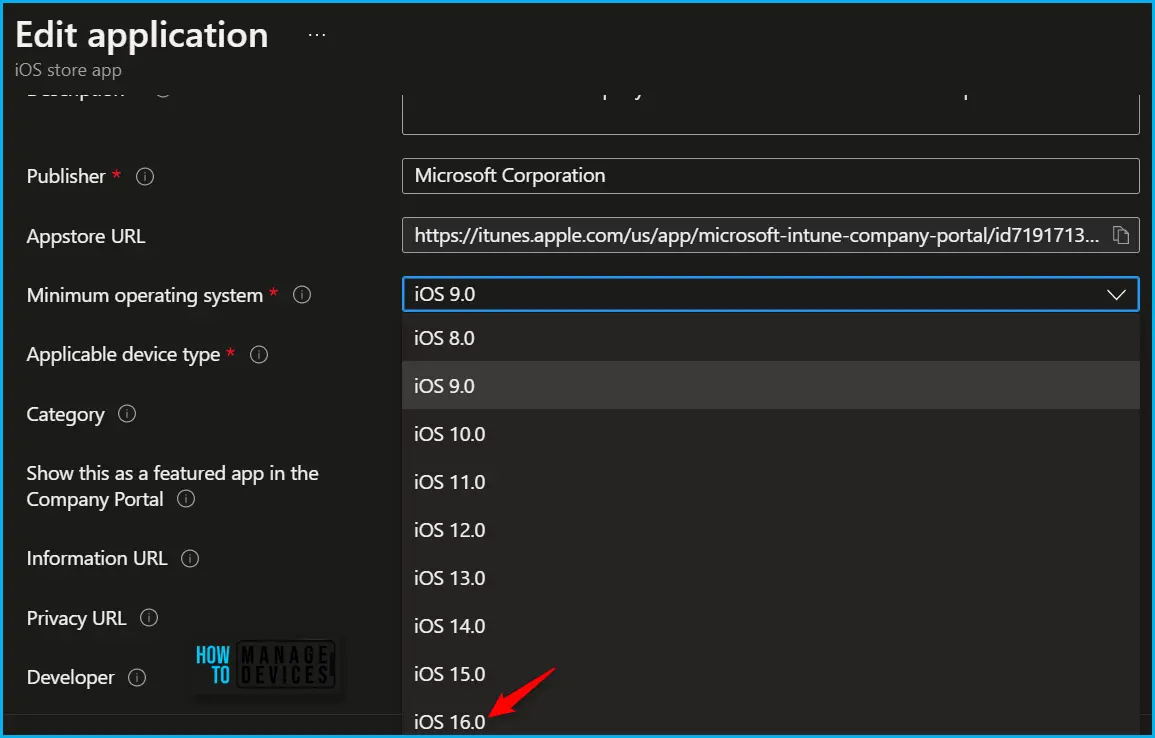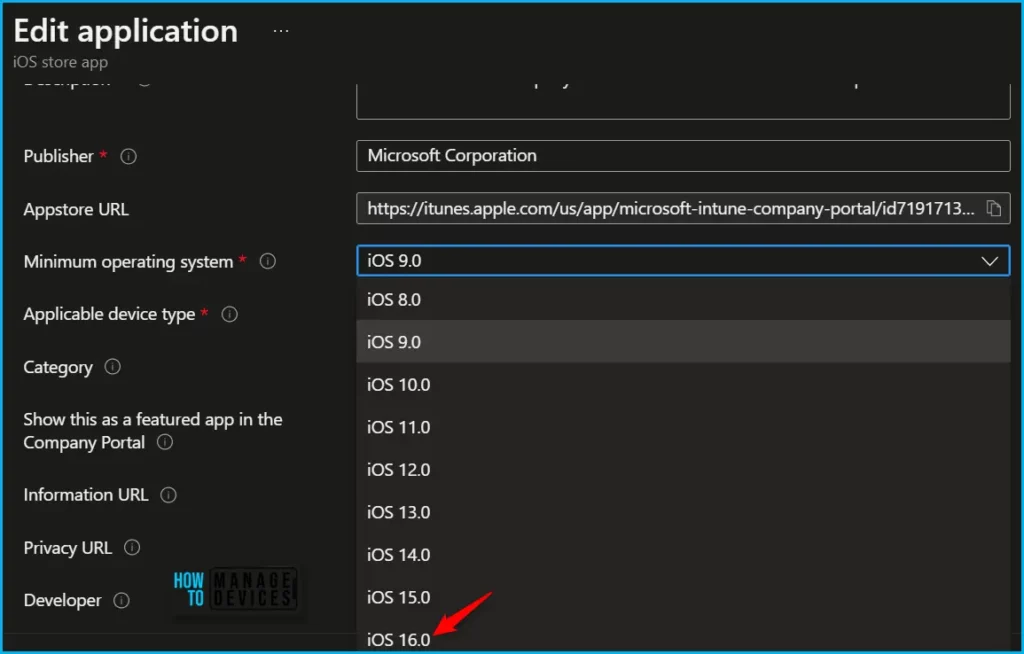 Device Control Support for Printer Protection
Microsoft Defender for Endpoint Device Control Printer Protection enables you to audit, allow, or prevent printer with or without exclusions within Intune. It allows you to block users from printing via a non-corporate network printer or non-approved USB printer.
In public preview, Device Control profiles for the Attack Surface Reduction policy now support reusable settings groups for Printer Protection.
Apply Recommendations and Insights to SCCM Site Health and Device Management Experience
With the Microsoft Intune admin center, you have the ability to access insights and recommendations for your Configuration Manager sites. By leveraging these recommendations, you can enhance the health and infrastructure of your site while also improving the overall device management experience.
Microsoft Intune Recommendations Insights can be an invaluable resource for IT Admins who want to optimize Configuration Manager (SCCM) site health and device management capabilities. Let's see how to use Intune Recommendations Insights for SCCM Site Health and Device Management.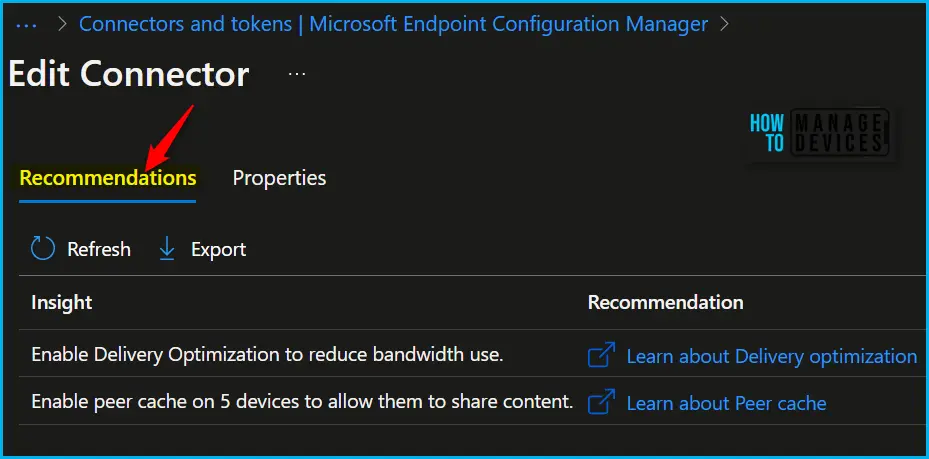 Author
About Author – Jitesh, Microsoft MVP, has over five years of working experience in the IT Industry. He writes and shares his experiences related to Microsoft device management technologies and IT Infrastructure management. His primary focus is Windows 10/11 Deployment solution with Configuration Manager, Microsoft Deployment Toolkit (MDT), and Microsoft Intune.