This post walks you through the newly added feature Camera Access on Windows 365 Cloud PC. Camera access is an important feature for many users, especially in remote work, virtual meetings, and video conferencing.
The Windows 365 web client camera support is a nice addition to the Cloud PC. Users can now give Cloud PC access while connecting to their local device's camera.
Microsoft keeps updating the feature for Cloud PC, Each monthly update may roll out over several weeks and might not be immediately available to all customers. Windows 365 Service Release version 2307 has been released, and check out the New Features and Updates.
With the integration of camera access in Windows 365 Cloud PC, users can use the camera on their physical device to participate in video calls, take pictures, and interact with applications seamlessly. The two new features were released with W365 2307 version – New User Setting to allow users to Reprovision or Reset their own Cloud PC and Device Security – Azure Network Connection (ANC) Least Privilege Update.

Allow Camera Access on Windows 365 Cloud PC
To use your Camera with Cloud PC, you must ensure Camera settings are turned on when logging in. Then, you must check your app permissions to use your Camera with apps. Let's check how you can allow Camera access.
The first step is to get access to Cloud PC, The End users can access their Cloud PCs in three different ways, The end-user experience will be similar for the Cloud PC, either joined to Azure AD, or hybrid Azure AD joined cloud PCs.
Since Windows 365 web client support camera, I used Cloud PC Url, https://windows365.microsoft.com/, to launch Windows 365 service and start working on a personalized desktop in the cloud.
Here you can see the different Cloud PCs assigned to you in the Windows 365 web client portal. You will get two options Open in the browser and Open in the desktop app. Let's select Open in the browser to enable camera access for Windows 365 Cloud PC.

👉Let's check more details about Windows 365 cloud PC web client end-user experience walkthrough Windows 365 Cloud PC Web Client End User Experience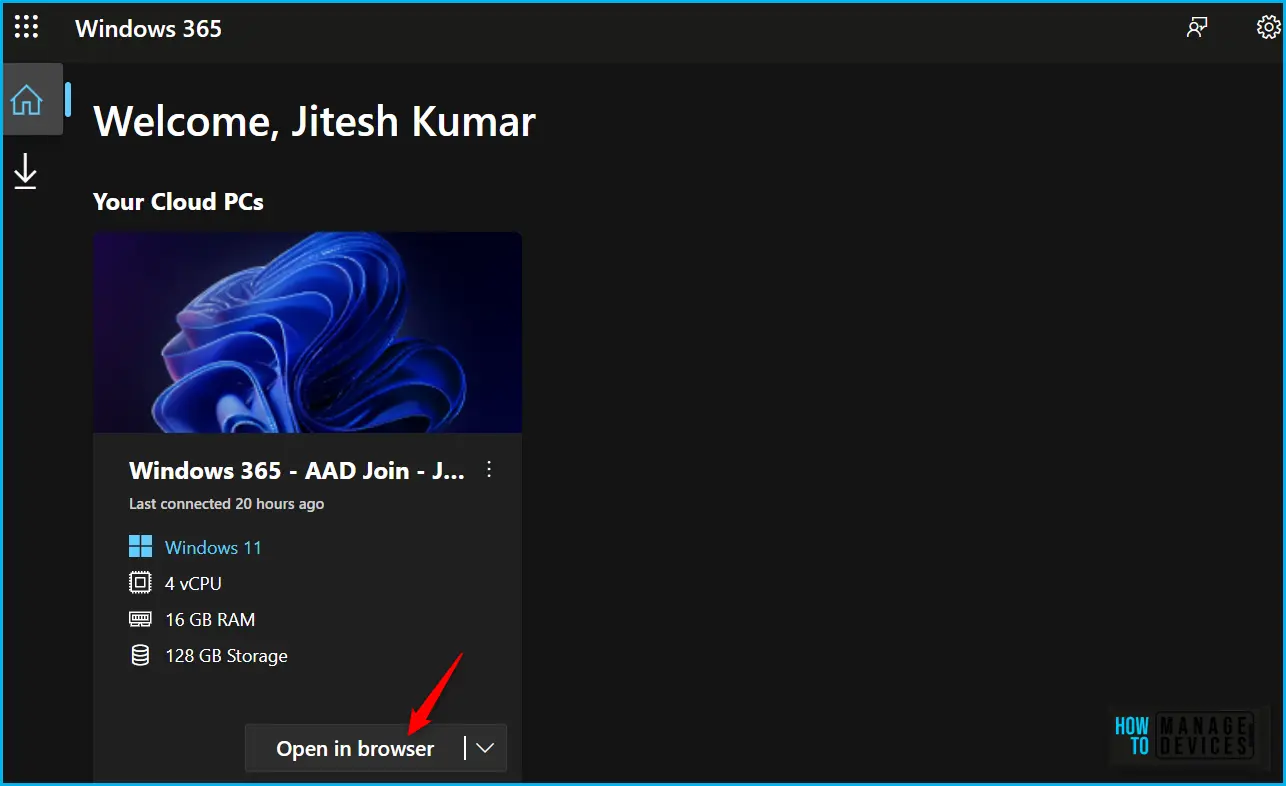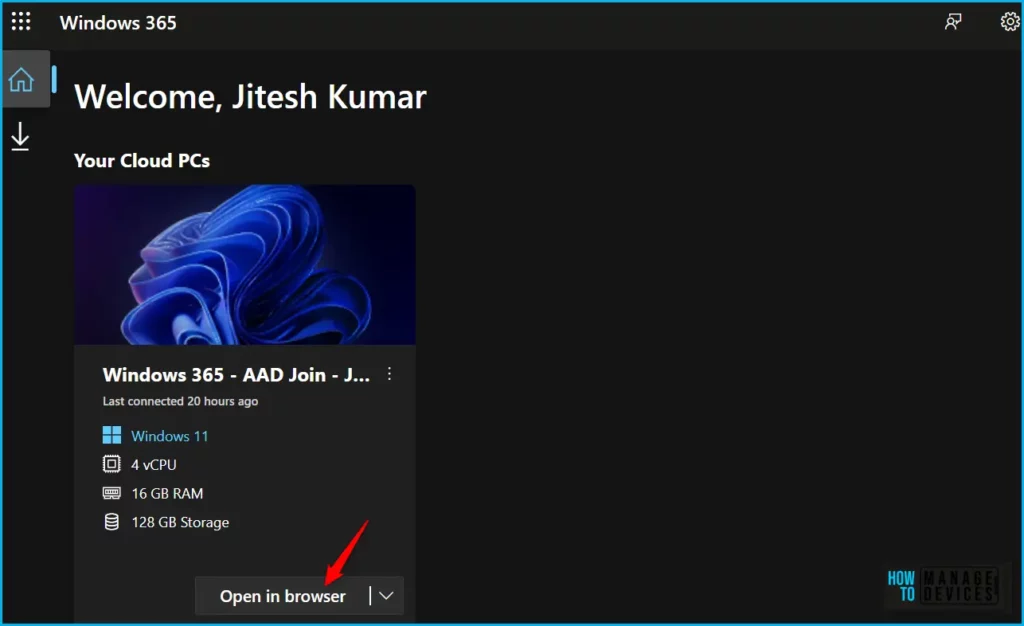 You will be prompted to select the desired level of access that the Cloud PC to your local resources. In Session Settings, You can select the devices or features your Cloud PC can use from the options Printer, Microphone, Clipboard, Camera (Preview), Location (Preview) and Keyboard shortcuts (Preview).
The important selection here is to checkbox Camera for enabling access, Ensure it is selected with the settings configuration, and Click on Connect.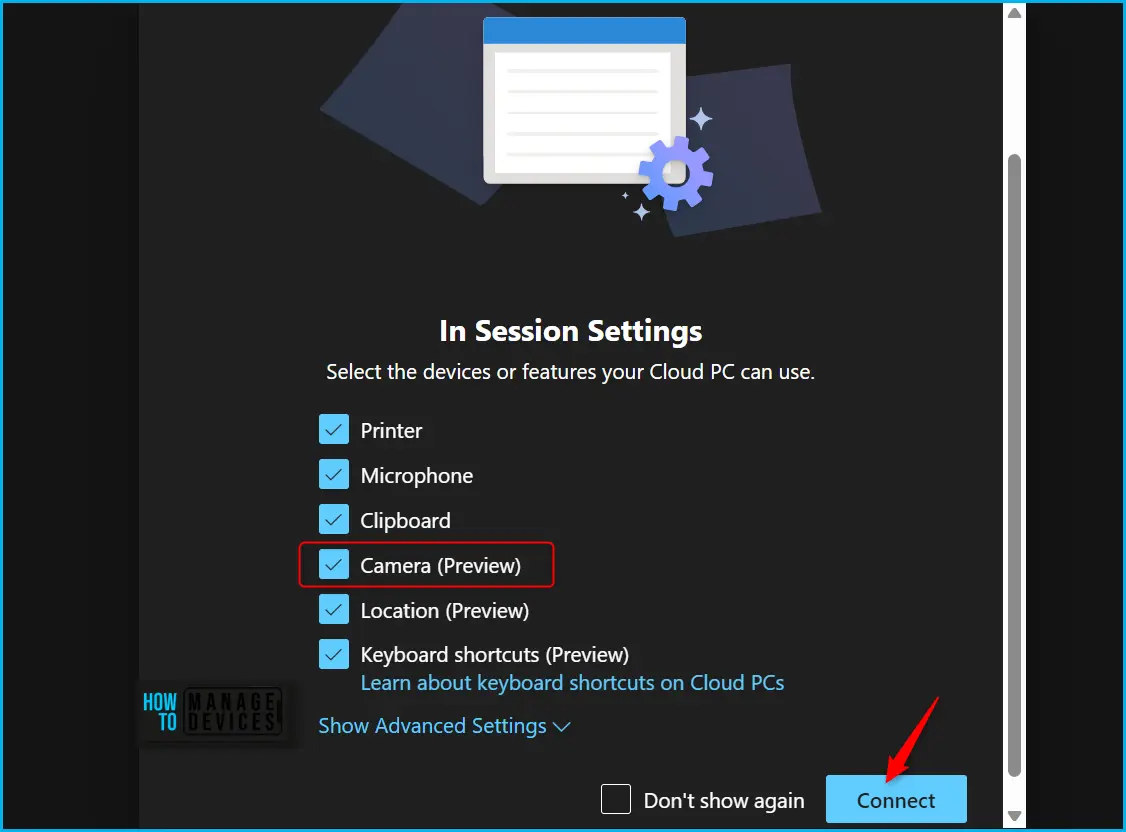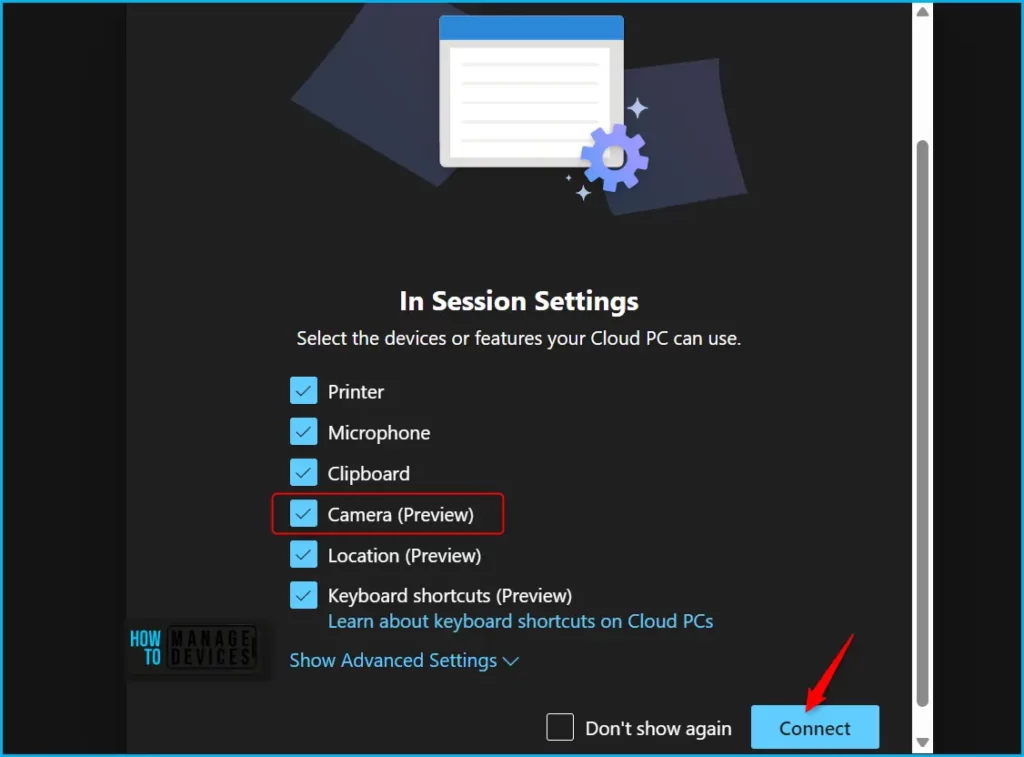 After that, you will see the login screen of Cloud PC; Verify your identity and sign in with your work account by providing your username and password. Click Sign In.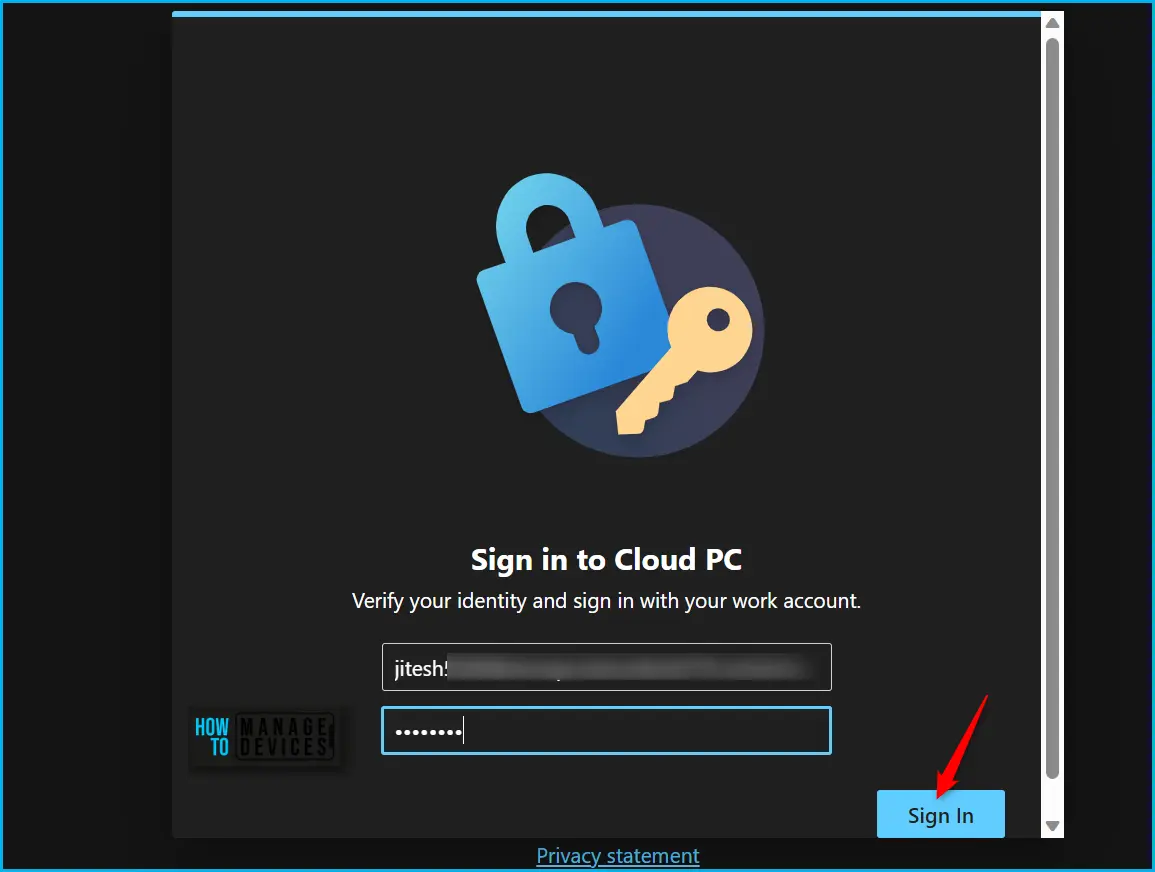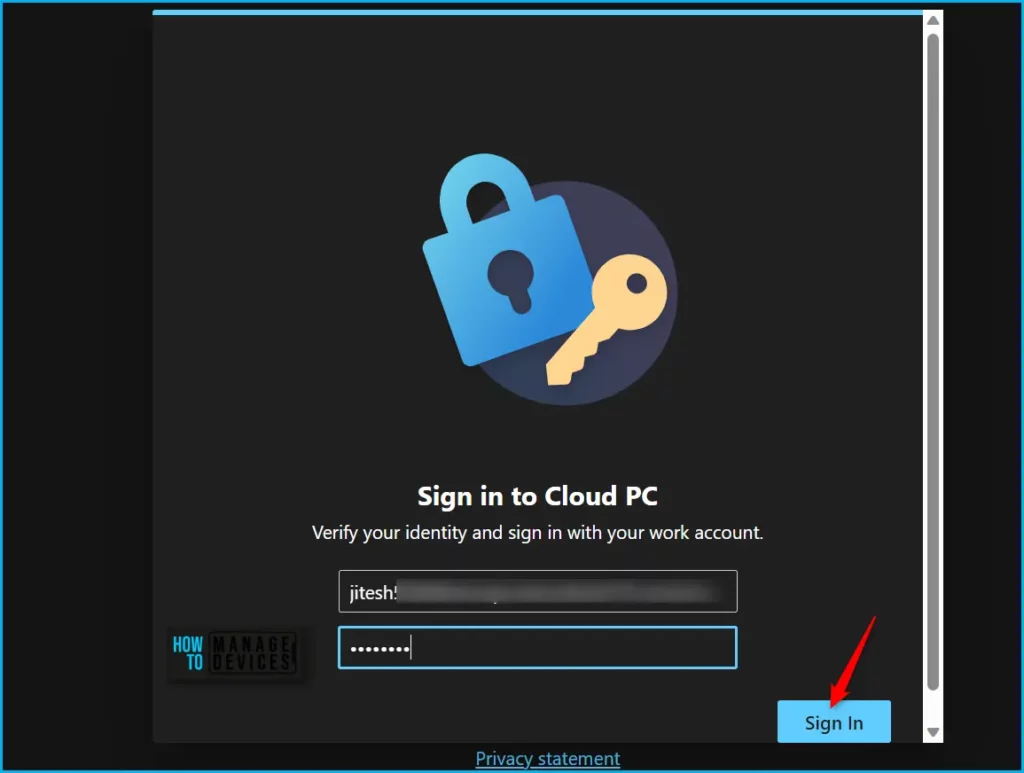 Once you log in successfully, You will be landed to Cloud PC Desktop. This is how the screen will appear for you. A prompt will appear asking you to allow access to the Camera.
Windows365.microsoft.com wants to Use your Camera, You can click on Allow. Once you have allowed Cloud PC to access the Camera, you can change the setting for each app. Find the app you want, then turn on camera access for that app.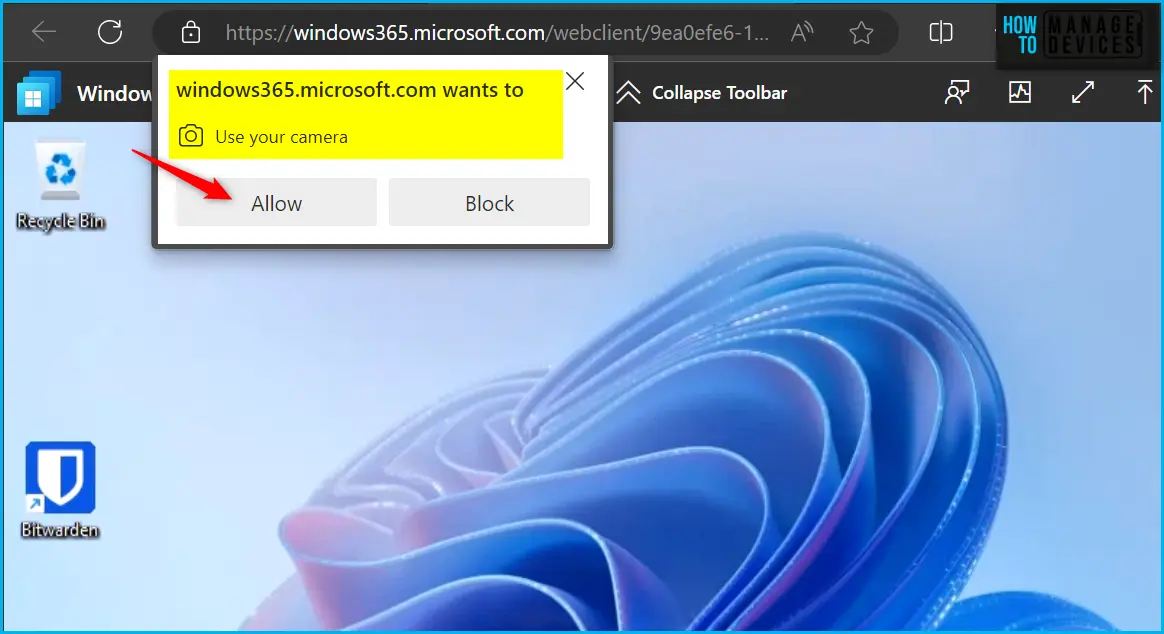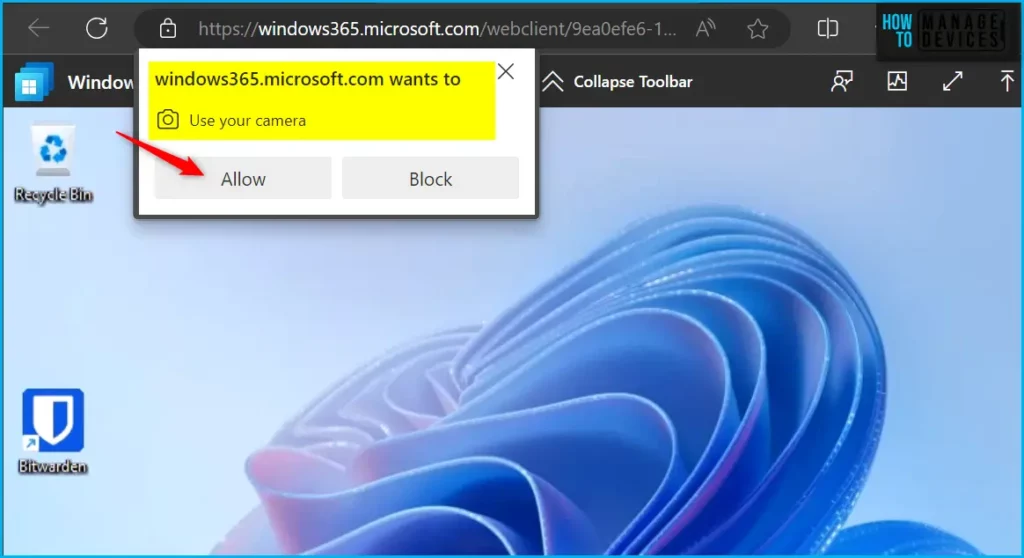 Here's how you can validate whether a Camera is allowed for this page. Clicking on the Camera icon in the address bar prompts you with the option, Continue allowing htttps://windows365.microsoft.com to access your camera and Always block camera access.
Ensure the option is selected. Continue allowing htttps://windows365.microsoft.com to access your camera, click on Done. You also have the option to manage the browser's settings for camera usage, by clicking on the Manage button, you will be redirected to Site Permissions/Camera settings.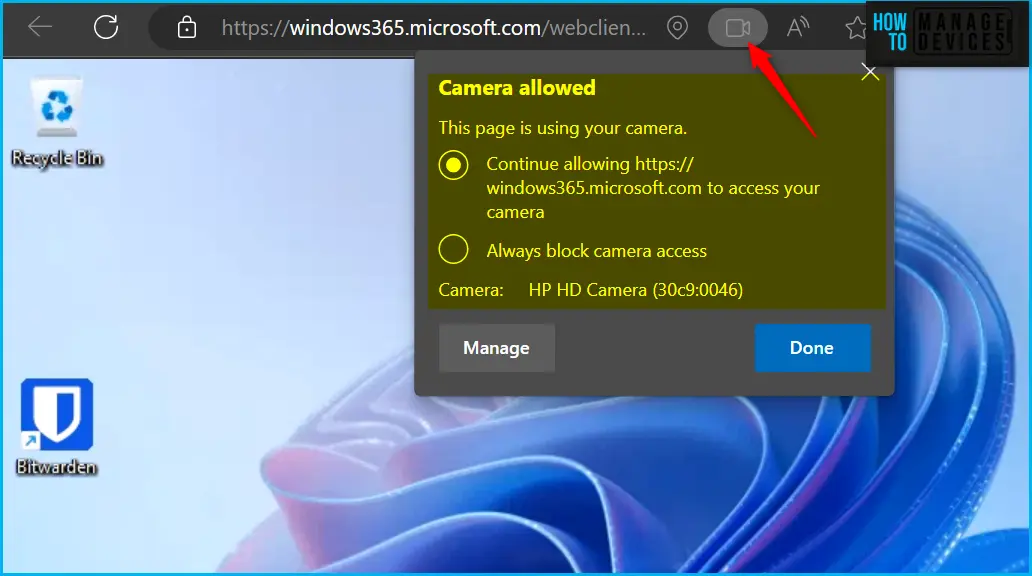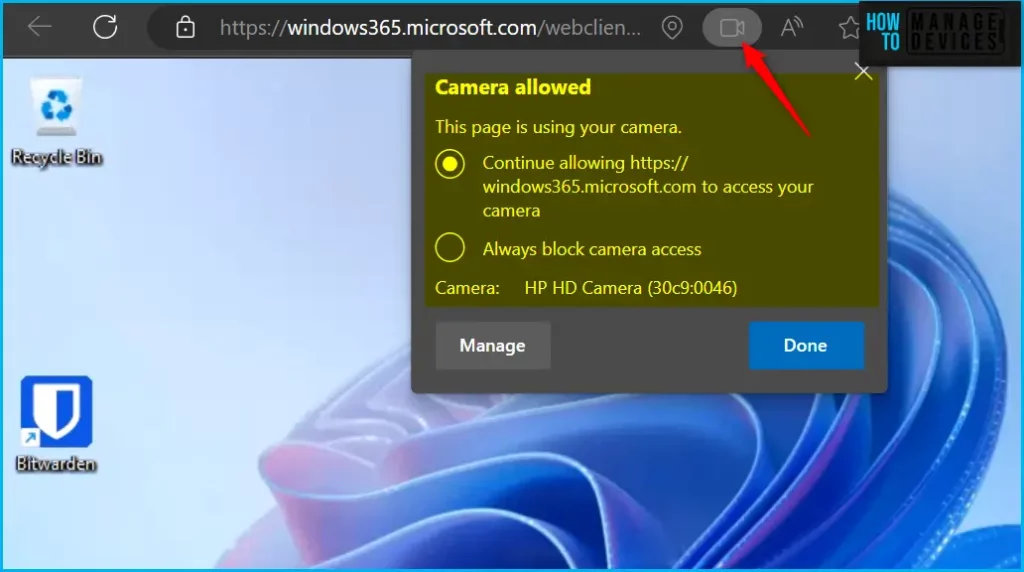 Once you click on Manage, You will be redirected to browser settings. Since I am using the Edge browser, You can see below it directly navigate you to Cookies and site permissions, and You can see the Windows365 site is allowed here to use Camera, If it is not, you can allow the site to use.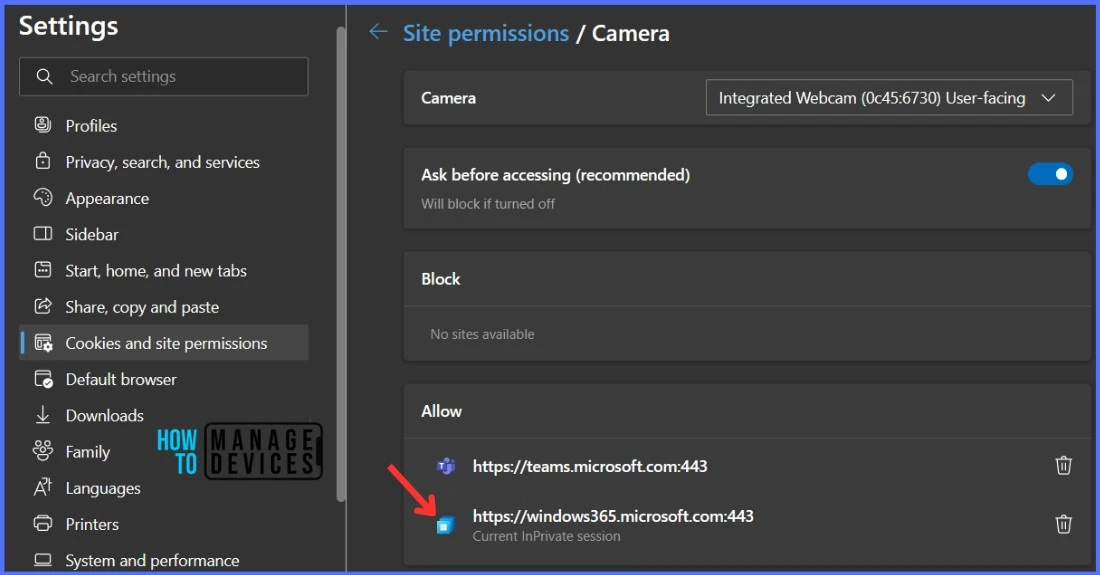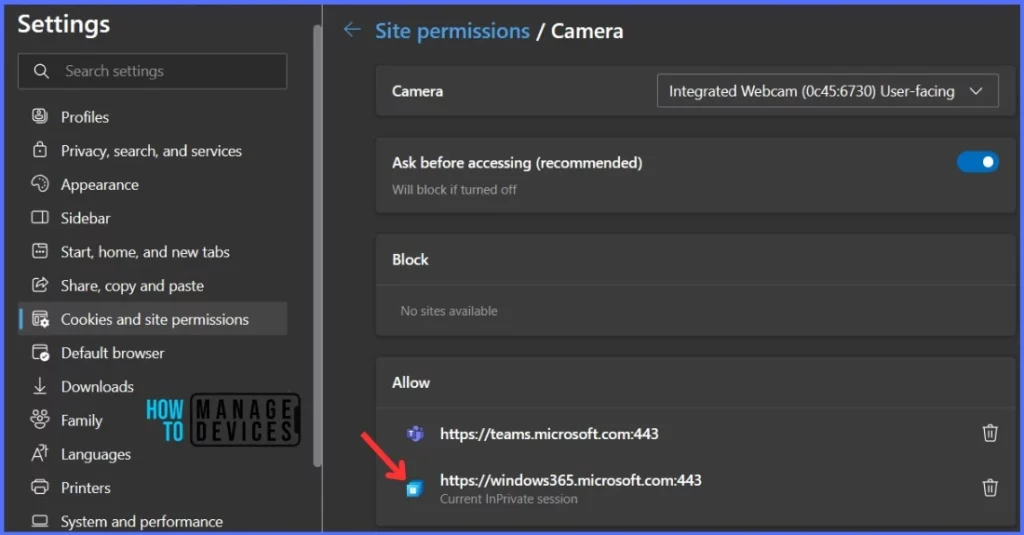 You can allow or block permissions for a specific site. The site will use the permissions you set instead of the default settings.
On your browser, To the left of the address bar, tap Lock icon and then a prompt will appear with Permissions for this site.
Here you can see the Permission for this site, Location, and Camera selected Allow. Click on the permission you want to update. When you change a setting on a site, the icon next to the Cloud PC Url.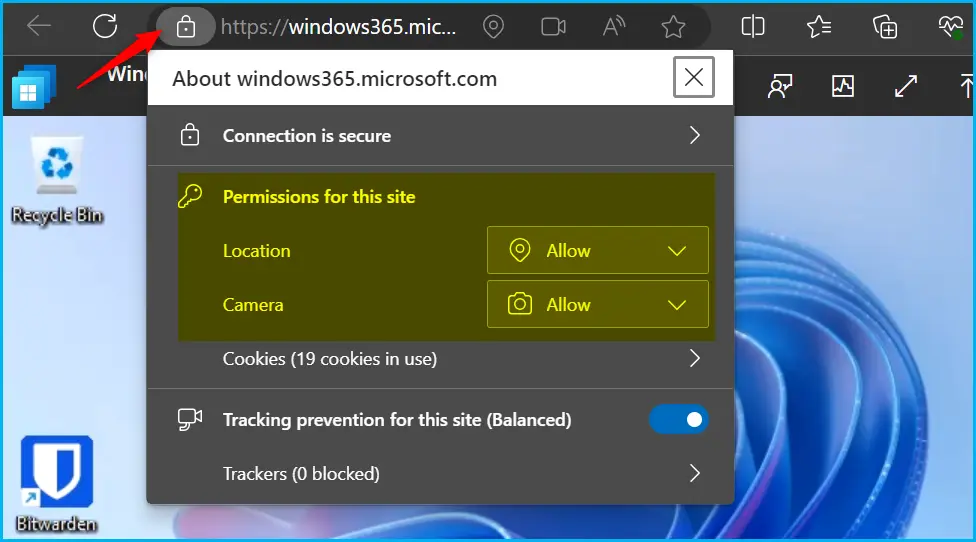 If the camera is not loading or you are getting a message "Unable to access your camera. Check your browser's permissions, check if you see a camera icon with a red cross in the top-right of the address bar, Click the camera icon, and ensure it's allowed to use.
Windows Privacy settings for Camera and Mic are a more important part of personal privacy, In case it is not working for you, You may validate the additional settings and allow More details. Windows 11 Privacy Settings For Camera And Mic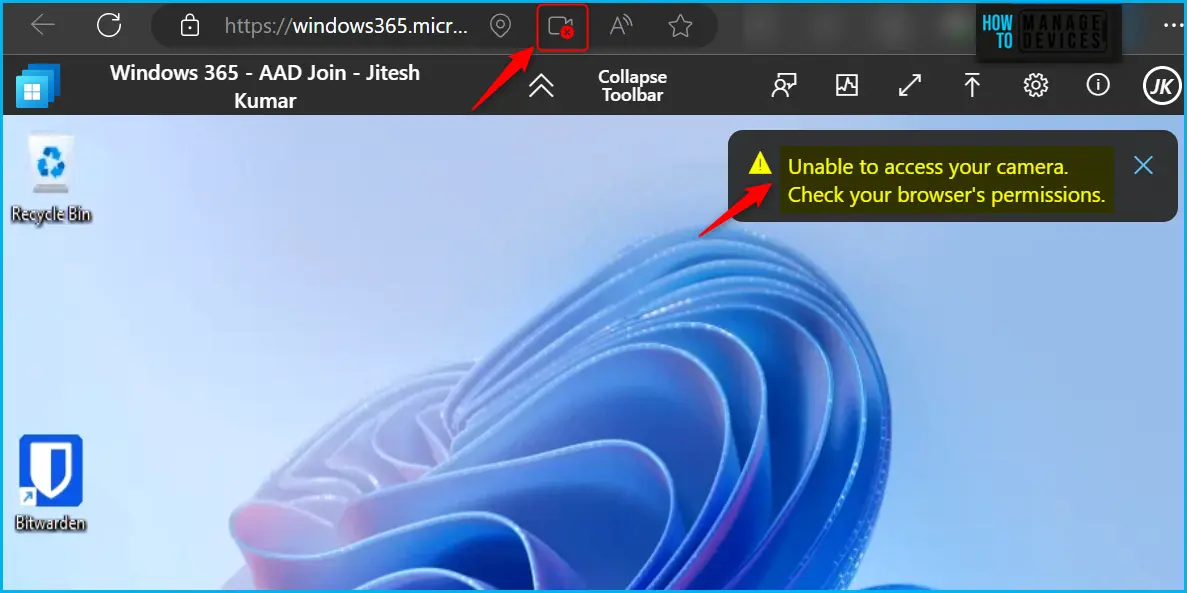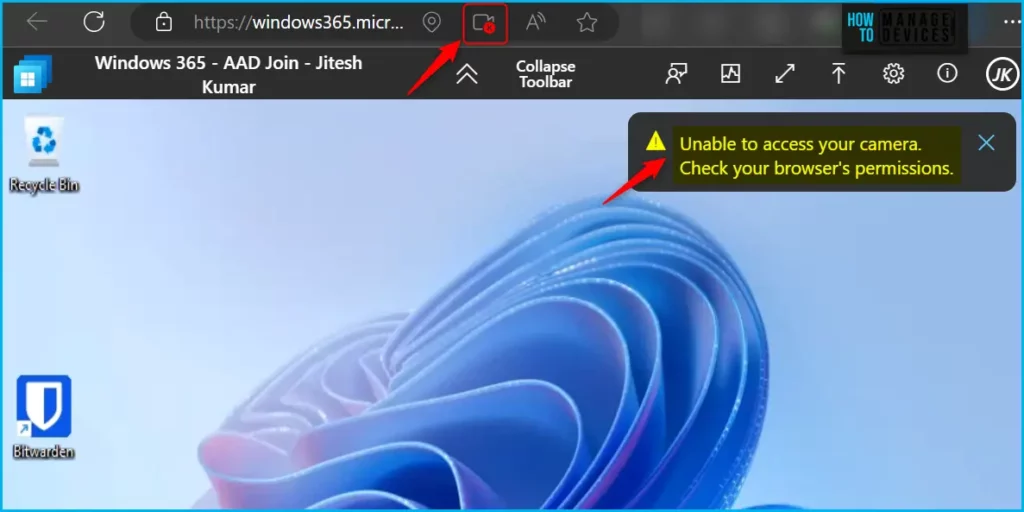 Author
About Author – Jitesh, Microsoft MVP, has over six years of working experience in the IT Industry. He writes and shares his experiences related to Microsoft device management technologies and IT Infrastructure management. His primary focus is Windows 10/11 Deployment solution with Configuration Manager, Microsoft Deployment Toolkit (MDT), and Microsoft Intune.