Let's check what are the options to FIX ConfigMgr Upgrade Download Error. Microsoft released the SCCM opt-in version of 2010 on Nov 30th, 2020. And Microsoft announced the General availability of the 2010 version of Configuration Manager.
You can learn more about the new features of the ConfigMgr 2010 production version. Let's get more details from Top 5 New Features of SCCM 2010 | ConfigMgr.
Related Issue – Fix SCCM Updates and Servicing Issue with CMUpdateReset Tool, Fix to SCCM CB Redist Download Issue & CM Update Reset Tool Fixes SCCM CB Update Download Issue.
Introduction
As we all know that MS released the latest version of SCCM 2010 with a lot of added features into it and we all would like to upgrade our existing SCCM 2006 infrastructure to 2010 without any delays. So I started doing it for my test site and was noticing some strange behavior that you may or may not see but we will discuss it here so it can be beneficial for others and save their time.

Issue FIX ConfigMgr Upgrade Download Error
First thing I noticed was that there is no "Configuration Manage 2010" version in my console. Strange. Clicked "Check For Updates" under Administration – Updates and Servicing a couple of times but still the same.
Jumped to logs because the message says to check DMPDOWNLOADER.LOG as soon as you click "Check For Updates".
Found below error in DMPDOWNLOADER.log. More details about SCCM Logs.

Came to know there was a new PALO ALTO installed. Now what? Shall I wait to whitelist the required URLs by the network team for my current task? I selected the answer as "NO". Let's calculate all of our available options.
WARNING: Failed to download easy setup payload with exception: The request was aborted: Could not create SSL/TLS secure channel.

If we try to pass the traffic via proxy after proper authentication then there might be a chance to get things going. So the first thing I did is found the proxy server information and added the same to "IE – Tools – Internet Options – Connection – LAN Setting – Use Automatic Configuration Script" and entered the Address there. Now the next time you open IE and try accessing the internet then the traffic will pass through the proxy and it will ask you to enter the credentials.
The next step would be to configure SCCM to use the proxy.
Configure the proxy for a site system server – FIX ConfigMgr Upgrade Download Error
In the Configuration Manager console, go to the Administration workspace. Expand Site Configuration, and then select the Servers and Site System Roles node.
Select the site system server that you want to edit. In the details pane, right-click the Site system role, and select Properties.
In Site system Properties, switch to the Proxy tab. Configure the following proxy settings:
Use a proxy server when synchronizing information from the internet: Select this option to enable the site system server to use a proxy server.
Proxy server name: Specify the hostname or FQDN of the proxy server in your environment.
Port: Specify the network port on which to communicate with the proxy server. By default, it uses port 80.
Use credentials to connect to the proxy server: Many proxy servers require a user to authenticate. By default, the site system server uses its computer account to connect to the proxy server. If necessary, enable this option, click Set, and then choose an Existing Account or specify a New Account. These credentials are the site system proxy server account.
Choose OK to save the new proxy server configuration.
Giving screenshots for better understanding.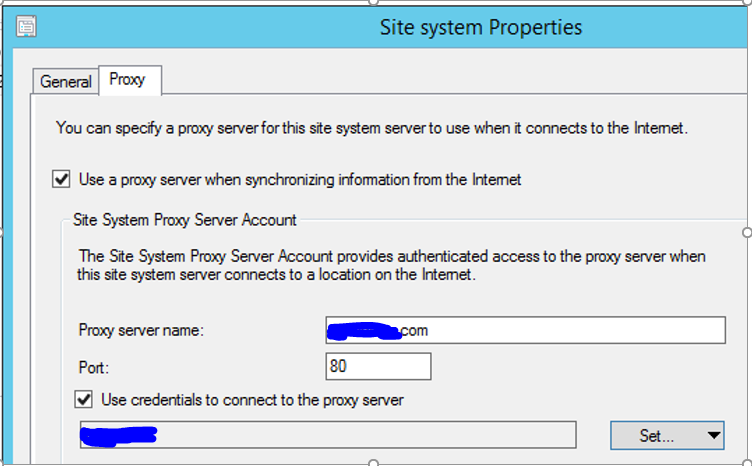 Checked in the console and we have SCCM 2010 now in the console.

Resolution – FIX ConfigMgr Upgrade Download Error
The first issue (download) is fixed with proxy configuration. And we have another issue now. Windows Deployment Tool Installed failed and USMT was also failed.
So triggered the installation. Checked after a few minutes and got the below error: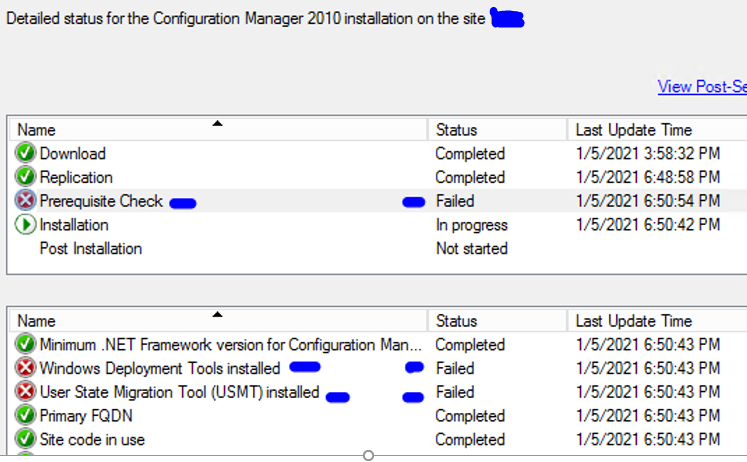 Found one old blog to upgrade ADK Step by Step by Kannan (You are the savior) ——- SCCM Step by Step Guide to Update Windows ADK and WinPE Versions https://www.anoopcnair.com/update-windows-adk-step-by-step-guide-for-sccm/
Followed it and the Prerequisite checked passed.
Finally, the site upgraded to SCCM 2010.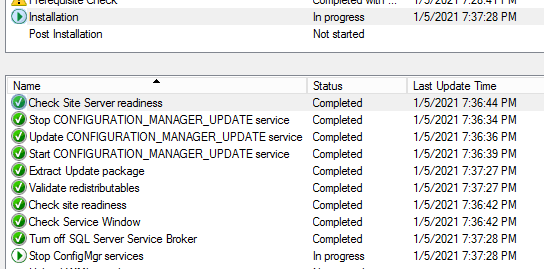 Once Post Install part completed I just upgraded the SCCM Console and rebooted the server once. More details about ConfigMgr Primary 2006 server in-place upgrade to 2010.
Disclaimer – The information provided on the site is for general informational purposes only. All information on the site is provided in good faith, however, we make no representation or warranty of any kind, express or implied regarding the accuracy, adequacy, validity, reliability, availability, or completeness of any information on the website.
Resources
Author
My name is Deepak Rai, and I am a Technical Lead on SCCM and Intune with more than 14 years of experience in IT. My main domain is SCCM (AKA ConfigMgr, CB, MECM, etc.), Intune, and Azure (Runbooks). I have worked on several platforms (Active Directory, Exchange, Veritas NETBACKUP, Symantec Backup Exec, NDMP devices Like Netapp, EMC Data Domain, Quantum using Backup Exec 2010 and 2012, HP storage works 4048 MSL G3, Data Deduplication related troubleshooting.) in these 13 years but at last ended up to the technology from which I started as IT Engineer (SCCM).