Free Tool Veeam Backup for Linux Servers can be Used in Private Cloud Data Centers? Veeam Endpoint Backup is the product that you want to use to protect your Windows physical computer. 
Veeam Endpoint Backup is the first FREE enterprise-class Endpoint backup solution for Windows machines. During VeeamON 2015, Veeam announced a free tool called Veeam Backup for Linux.
It is a simple and free backup agent that runs on physical Linux servers. It's designed to give you the capabilities you need to ensure the Availability of Linux physical servers as part of your private cloud infrastructure.
After the release of the Veeam Endpoint backup solution, there were loads of requests for a similar kind of tool for Linux boxes.
Free Tool Veeam Backup for Linux Servers?
Linux servers are holding more workloads on most of the corp data centers rather than Windows servers. Register for the first copy of the Veeam Backup tool for Linux here.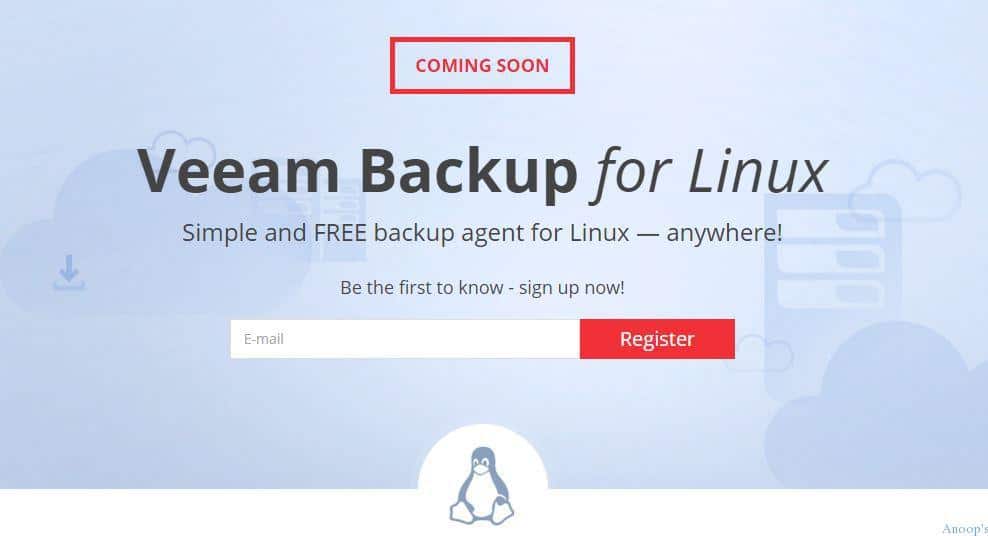 Backing up and recovering Linux cloud instances is often a complex, complicated affair for IT Pros. This requires special skill sets, manual intervention, or loads of precious time of IT admin. 
Veeam's solution supports incremental backups with a proprietary changed block tracking (CBT) driver. Veeam Backup for Linux does not leverage LVM (Logical Volume Manager) snapshots. Free Tool Veeam Backup for Linux Servers can be Used in Private Cloud Data Centers?
Backup for Linux has implemented a proprietary volume snapshot provider that does not suffer from the same limitations as LVM snapshots. This allows Veeam to take block-level snapshots on many file systems while storing snapshot data on the designated storage device.
This can help the application not to use the actual volume you are backing up! This solution can take a consistent snapshot of the server's storage by using only the built-in functionality of Veeam Backup for Linux. More details about the tool from Mike Resseler are here.
Resources
SCCM Related Posts Real World Experiences Of SCCM Admins (anoopcnair.com)
About Author -> Anoop is Microsoft's Most Valuable Professional Award winner from 2015 on the technologies! He is a Solution Architect on enterprise device management solutions with more than 20 years of experience (calculation done in 2021) in IT. He is Blogger, Speaker, and Local User Group Community leader. His main focus is on Device Management technologies like Configuration Manager, Windows 365 Cloud PC, Intune, Azure Virtual Desktop, Windows 10, and Windows 11.