In this post, you will learn more about SCCM 2103 known issues. The production version of 2103 is generally available. Let's understand the fixes already issued with the 2103 version. You can check out our 2103 upgrade guide.
The latest version of ConfigMgr 2103 contains fixes and feature improvements. As I always say, this is not an all-inclusive list of changes and fixes included in the 2103 version. However, the list of fixes documented below is most relevant for SCCM admins as per the Microsoft production team.
Related Post – Top 5 New Features of SCCM 2103 | ConfigMgr.
SCCM 2103 Hotfixes
Let's check the hotfixes released for the Configuration Manager 2103 production version. I will try to update this list whenever Microsoft releases new hotfixes for 2103. There is no hotfix released for 2103 while writing this post.
SCCM 2103 Fixes
The following are the SCCM known issues fixed with the Configuration Manager (a.k.a SCCM) 2103 version. This is not an all-inclusive list of fixes that are included with ConfigMgr 2103. You can read more about this from Microsoft documentation.
| 📢✅ | Description |
| --- | --- |
| ADR | ADR fails on servers that do not have internet access after updating to 2010 |
| Azure Migration Tool | The ExtendMigrateToAzure tool fails to add accounts to the local administrators' group |
| CAS Removal | Adding a new DP to a package triggers the redistribution of that package to all DP's after CAS removal |
| CAS Removal | The Configuration.mof used with hardware inventory is not created on a primary site after removing CAS |
| Client | Client user policy namespaces are created on multi-user terminal servers even when explicitly disabled |
| Client | Clients do not download package content over a metered connection |
| Client | Computers randomly don't receive policy data based on computer variables (SMS_MachineVariable) |
| Client Cache | Non-zero success codes, such as 3010 (restart pending) – The exit code is 3010, the execution status is FailureNonRetry |
| Cloud DP | The upload of more than 10 packages at one time to a cloud distribution point fails |
| CMPivot | The CMPivot feature incorrectly requires access to the default security scope |
| Collection | Collection Evaluator Performance Improvement |
| Co-Management | Co-management workloads may be unexpectedly deployed to newly installed ConfigMgr clients. |
| Content Library | Multiple improvements were made to the content library move and cleanup processes |
| DP | Orphaned content may be left after deleting application revisions |
| Hotfix Installation | SCCM hotfixes that only update the admin console will no longer require a site reset. |
| Microsoft Defender | State messages generated by the on-premises ATP monitoring feature may fail to process on the site server |
| OSD | OSD from boot media fail to retrieve content from a cloud DP if custom ports are defined |
| OSD | The SMS Agent Host (ccmexec.exe) incorrectly tries to resolve a site code when you use standalone media |
| Reporting | The Compliance 4 – report terminates unexpectedly |
| SQL Server | SQL Server TempDB may grow unexpectedly because Datawarehouse issues |
| SQL Server | Improvements were made to the SQL Server change tracking cleanup task. |
| SUP | The synchronization process fails on a remote software update point (SUP) |
| Task Sequence | A command defined in the SMSTSPostAction task sequence variable runs twice after a device restart. |
| Task Sequence | Task sequences may fail or take longer than expected to run following a computer restart |
| Task Sequence | The Format and Partition Disk task sequence step fails when more than 99 disks are present |
| Task Sequence | Various custom client settings may fail to apply if an operating system deployment task sequence fails to remove WMI instances |
SCCM 2103 Known Issues – Fixes table | ConfigMgr
SCCM 2103 Known Issues
Microsoft added a new known issue to the document (documented known issues) to the 2103 release notes. I'll keep the list of SCCM 2103 known issues updated. Also, if you want to highlight some known issues, please add them to the comments section below.
Issue #1 – Old Console Extensions
| | |
| --- | --- |
| Console | Your old-style console extensions will stop working when you enable Only allow console extensions that are approved for the hierarchy option. You can't use the unapproved extensions until you approve from the new Console Extension node. |
SCCM 2103 Known Issues – Console Extension
The above console extension SCCM 2103 known issue will be applicable only if you have enabled the following check box from hierarchy settings properties. You can get more details in Microsoft Docs.
Disable the option "Only allow console extensions that are approved for the hierarchy" to make the old-style console extensions to work again.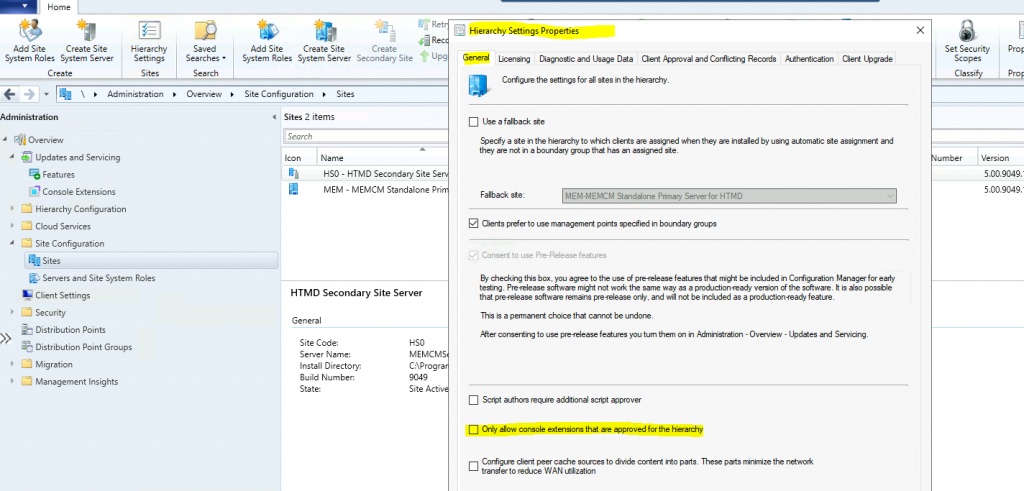 Issue #2 – Console Lock?
I have seen some issues with admin console usability/accessibility. Basically, the console gets locked when you open more than one nested window.
I can't use the console until I close the Query Rule Properties Window as you see in the below picture. I have experienced this in the Namaste Techies show as well.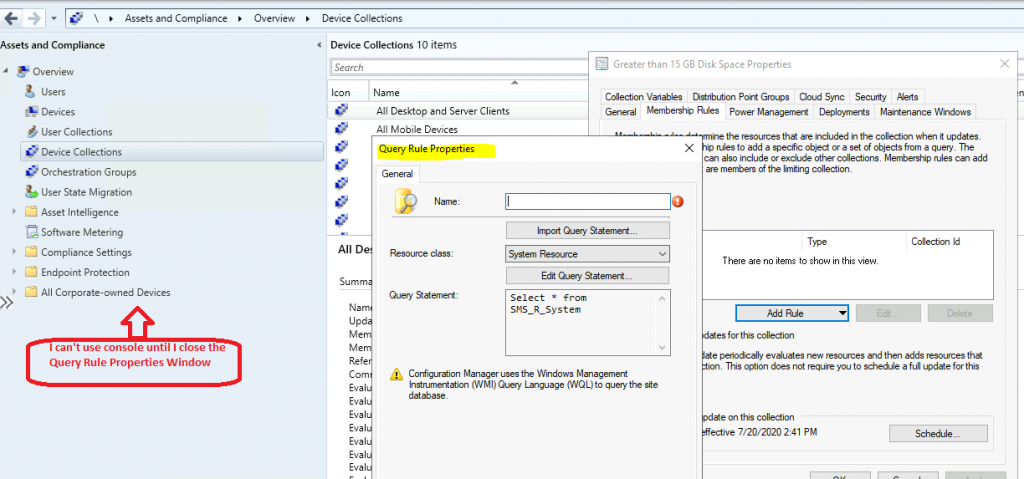 This SCCM 2103 known issue is not only related to collection, but it's wider applicable for all parts of the console. For example, if you open up more than one nested Window from the console, it disables access to the console.
What I mean by more than one nested Window? Let's take an example to explain it better.
If I select a Task Sequence and click on the EDIT button, it opens up an additional Window #1.
If I go to any one of the actions and click on Add condition option, it opens up the additional Window #2 on top of Window #1.
Now the console is locked! You can access anything from the console until you close Windows #2.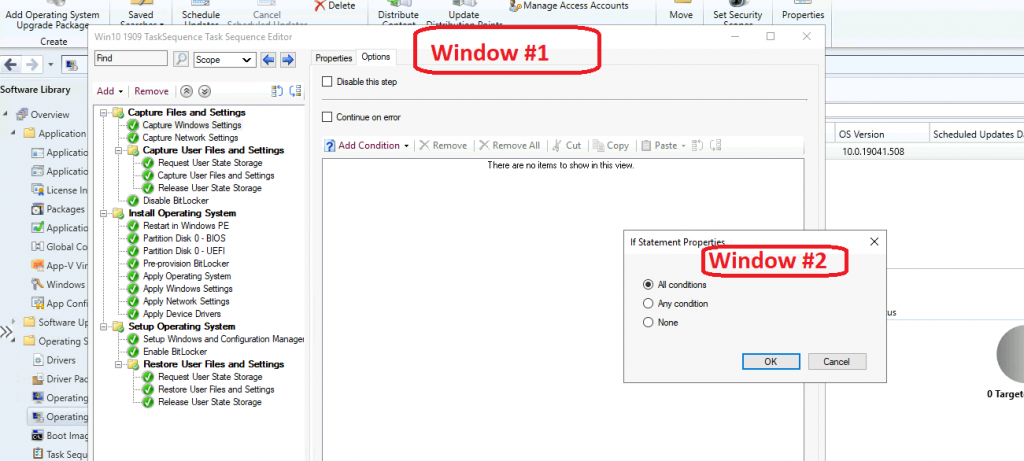 Production Ready
This post is to help SCCM admins easily go through a list of SCCM 2103 Known Issues production versions. Most of the highlighted issues are collected via social media channels and Microsoft documentation.
NOTE! – These known issues are not blockers for SCCM 2103 production upgrade.
Resources