SCCM Community Hub Removed Deprecated (will be missing soon). Microsoft is gearing up to remove the Community Hub feature of SCCM soon. This feature deprecation was announced back in October 2022.
More details on this thread are given in the below section of this post. The community is not happy with the deprecation news of Community Hub! Microsoft released the 2303 version of SCCM, and Community Hub integration was removed.
SCCM community hub is the Microsoft curated community content contribution via GitHub. The SCCM Community hub is released in SCCM 1902 Production version with limited capabilities. I have explained the following method to upload the CMPivot query to collect Windows Update logs remotely.
We have already added the SCCM Community hub with all the other deprecated features of SCCM. We are maintaining the deprecated features list up to date.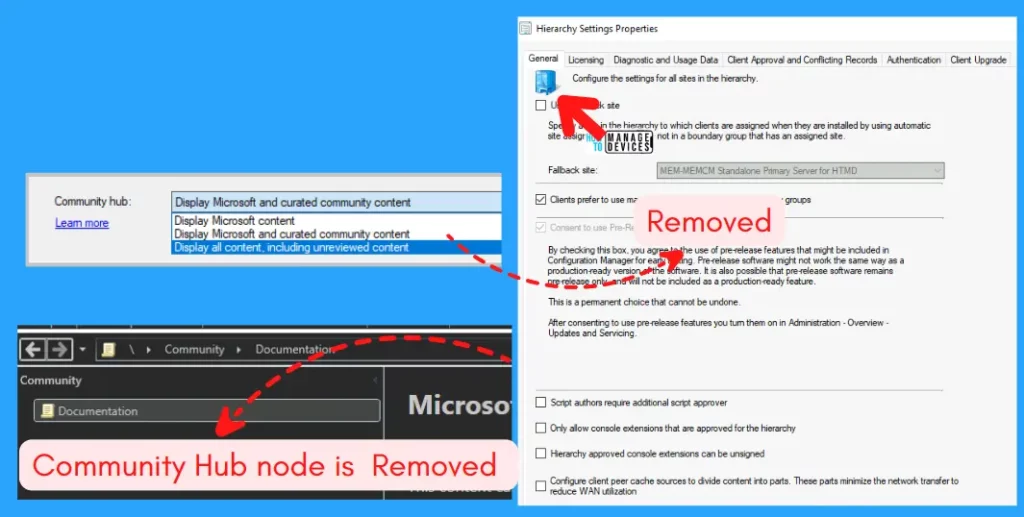 SCCM Community Hub Removed Deprecated
SCCM Community has developed many useful tools over the years to help admins. These solutions are spread across many locations/blogs. The SCCM Community hub is/was One Stop for all community solutions. Now, the SCCM community hub is gone, and we are back to square one!
Microsoft announced that Starting March 2023, this feature of SCCM (aka ConfigMgr) will be removed. All future versions, starting with 2303, will no longer have the SCCM Community Hub node in the admin console.
| Feature Deprecated | Announced | Community Hub Node will be removed? |
| --- | --- | --- |
| Community Hub | Oct 2022 | Yes, March 2023 – SCCM 2303 version onwards |
SCCM Community Hub Removed Deprecated – Table 1
The following Community Hub Node will be removed from the SCCM console starting from the 2303 version onwards. This means the SCCM team is not planning to change the product's release cycle yet.

SCCM Console Extensions
The decommission, deprecation, or removal community hub will not change the new way of working with console extensions with approval workflow, etc. The unique experience of SCCM Console extension installation and update is somehow linked with the community hub.

You can still use the Import a signed console extension method with a script as detailed in the Microsoft documentation using the .CAB file method. This method uses the administration service using a PowerShell script.


The community is not happy with Deprecation News
The ConfigMgr/SCCM community is not happy with the deprecation or removal news of the Community Hub solution. Many Microsoft MVPs are making their points loud and clear in the below Twitter thread.
(4) Bryan Dam on Twitter: "#ConfigMgr PSA: The Community Hub is officially deprecated. To @djammmer @configmgrdev and the teams who made it happen: thanks for fostering the community is such a concrete way. To the leadership that killed it: for shame. For. Shame. https://t.co/31Es8ibUZZ" / Twitter
3rd Party Content Hosting Issues with Microsoft
David James (VP VP of Engineering, Patch My PC. Ex. Director of Engineering, ConfigMgr & Desktop Analytics, Microsoft) shed some light on the 3rd party content hosting issues with Microsoft. The Community Hub is also Microsoft-curated 3rd party content.
SCCM 3rd Party patching solution/catalog that was made available with SCCM never got the attention of any of the vendors. This is another third-part-ish solution!
As per David, "Historically – Microsoft has always been good at platform-ish things. Windows, Azure, System Center suite (sccm/sccm), visual studio. Things that are used to build things on top of, or things that run/contain other apps. (2/?)"
He also mentioned, "However, Microsoft has not been as successful when 3rd party content is involved… think SCOM management packs. MOM was awesome when it came out with promises of great content/MPs. But even Msft 1st party MPs were few and lacking (I say humbly – owning one for years) (3/?)"
Win10 App Store – the same. Made sense. Great platform / great features. Lacking enough participation by enough vendors to hit critical mass.(4/?)
Maybe to most perfect example is Windows phone. Epic platform. Perhaps the best phone OS for its time. But not a good enough 3rd party content plan/story/execution.(5/?)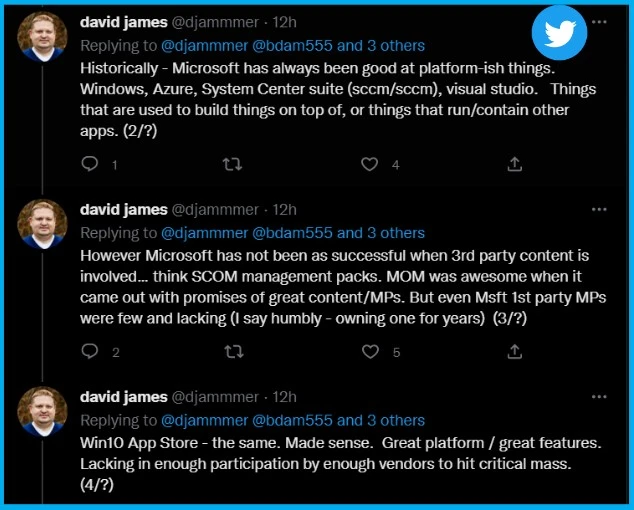 Author
Alok is a Master of Computer Applications (MCA) graduate. He loves writing on Windows 11 and related technologies. He likes to share his knowledge, quick tips, and tricks with Windows 11 or Windows 10 with the community.