Let's check the remote management Windows 365 Cloud PC device actions Using Intune, aka Endpoint Manager. You can restart Windows 365 Cloud PC, resize, reprovision, and more by using remote actions from the Intune portal.
Intune gives Cloud PC admins the ability to run device actions remotely. You can remotely manage Windows 365 Cloud PC device actions in Intune like any other managed device.
Everything works together with Microsoft Endpoint Manager (MEM). Within the Devices blade, you will get access to the Windows 365 Cloud PC service.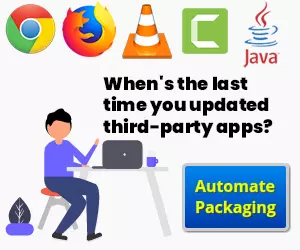 Microsoft also recently enhanced the Windows 365 Cloud PC Business Edition admin experience to remotely manage all your administrative tasks, configuring and assigning Cloud PCs to set user privileges using the Microsoft 365 admin center or windows365.microsoft.com.
Windows 365 Cloud PC New Features Announced at Microsoft Ignite to support Windows 11 cloud PCs to all Windows 365 Business customers. The new capabilities for better admin experience to remotely run device actions for all Windows 365 Business customers. Let's check the remote actions for managing Cloud PC from Windows 365 Portal. 
Recommended Posts –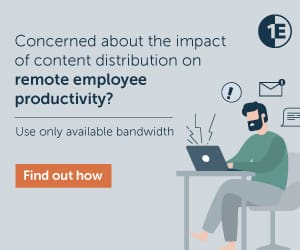 Remotely Manage Windows 365 Cloud PC Devices Using Intune
There are multiple ways to get to Cloud PC remote action. The following method is more helpful for Cloud PC admins. The other option is to Navigate to all devices -> search for cloud PC –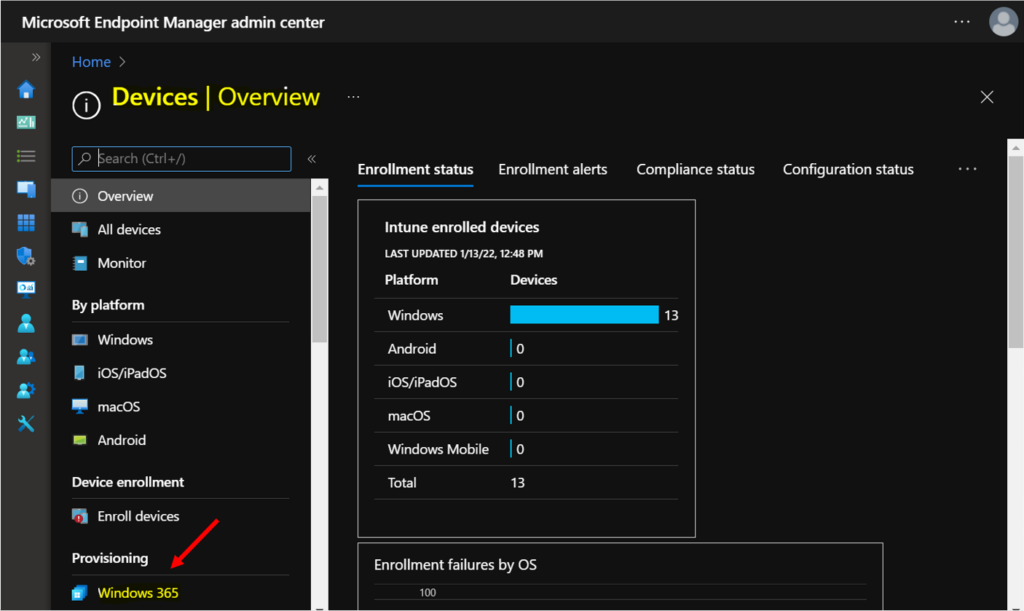 From Windows 365 node, you can click on All Cloud PCs tab to view all the available cloud PCs.
Click on the Cloud PC name that you want to initiate remote action -> CPC-jitesh53-W2.
Note – The All Cloud PCs page displays a summary and list view detailing the state information for each of the Cloud PCs in your organization. If users have multiple Windows 365 SKUs assigned to them, they'll get multiple Cloud PCs.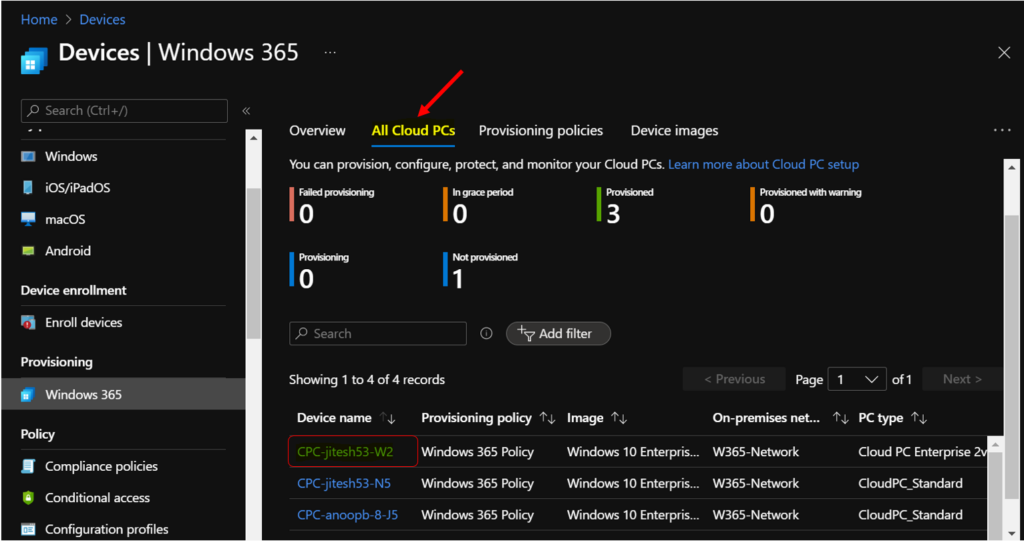 Cloud PC Enterprise Edition supports the following remote management actions –
Sync – The Sync device action forces the selected device to immediately check in with Intune.
Restart – The Restart device action causes the device you choose to be restarted (within 5 minutes).
Reprovisioning – This remote action specific to Cloud PC devices.
Resize – This remote action specific to Cloud PC devices.
Collect diagnostics – The Collect diagnostics remote action lets you collect and download Windows device logs without interrupting the user
Quick Scan – A quick scan looks at all the locations where there could be malware registered to start with the system, such as registry keys and known Windows startup folders.
Full Scan – A full scan starts by running a quick scan and then continues with a sequential file scan of all mounted fixed disks and removable/network drives.
Update Windows Defender – Microsoft security intelligence updates include software that incorporates material from third parties.
Note: The user should be assigned the appropriate license to perform all remote action activities from MEM Admin Center.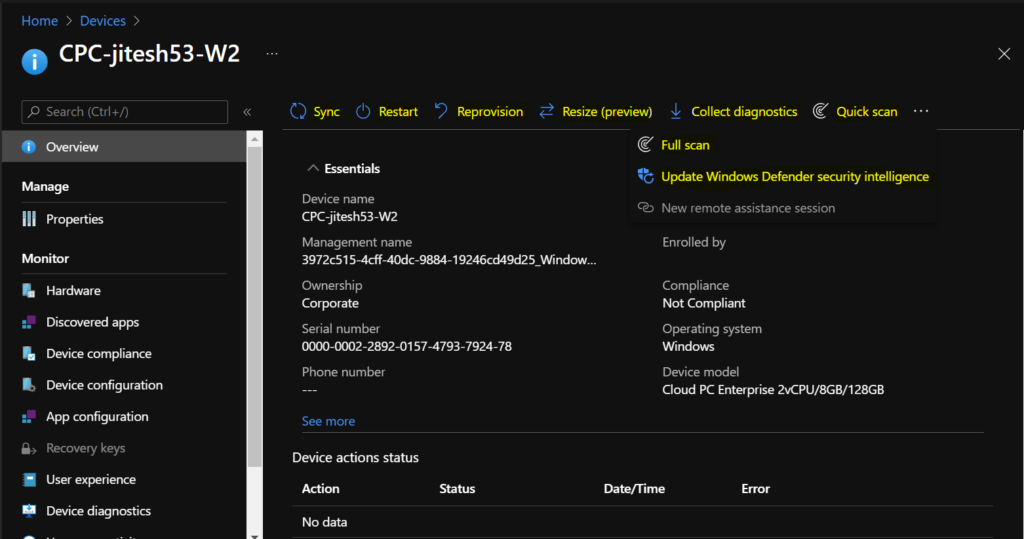 Cloud PC Sync
The Sync device action forces the selected device to check in with Intune immediately. When a device checks in, it immediately receives any pending actions or policies that have been assigned to it.
Once you click on Sync remote device action, you will be prompted with a message. Click Yes to initiate the Sync process.
Sync – CPC-jitesh53-W2 – Intune will attempt to check in with this device. If successful, it will sync current actions or policies to the device. Would you like to continue?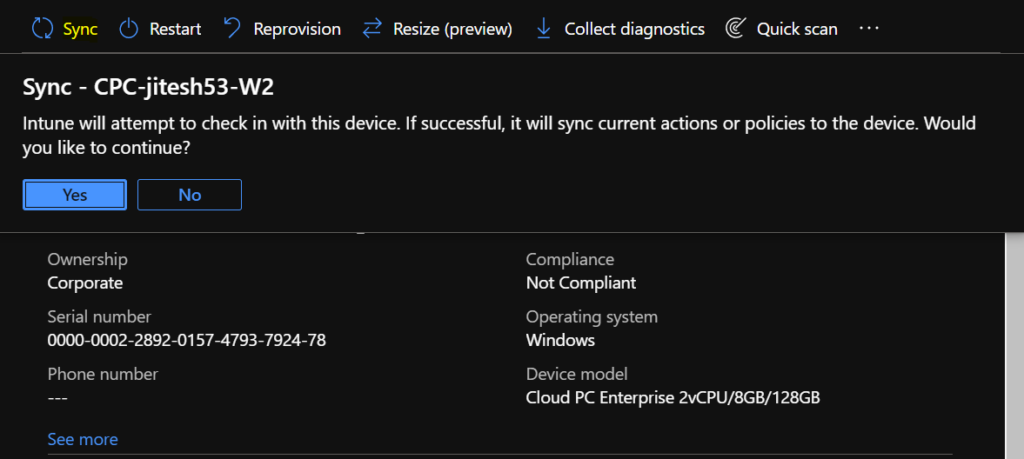 Cloud PC Reprovisioning
The Reprovision remote action deletes a user's current Cloud PC and creates a brand new Cloud PC for the same user.
When the Reprovision remote action starts, the user is signed off. The original Cloud PC is deleted, including all user data, applications, customizations, etc.
Choose a Cloud PC device > Reprovision. In the Reprovision box, select Yes. The reprovision process will begin.
Reprovision – CPC-jitesh53-W2 – Are you sure you want to reprovision this Cloud PC? Users will be logged off immediately, and all user data will be removed. A new Cloud PC instance will be provisioned.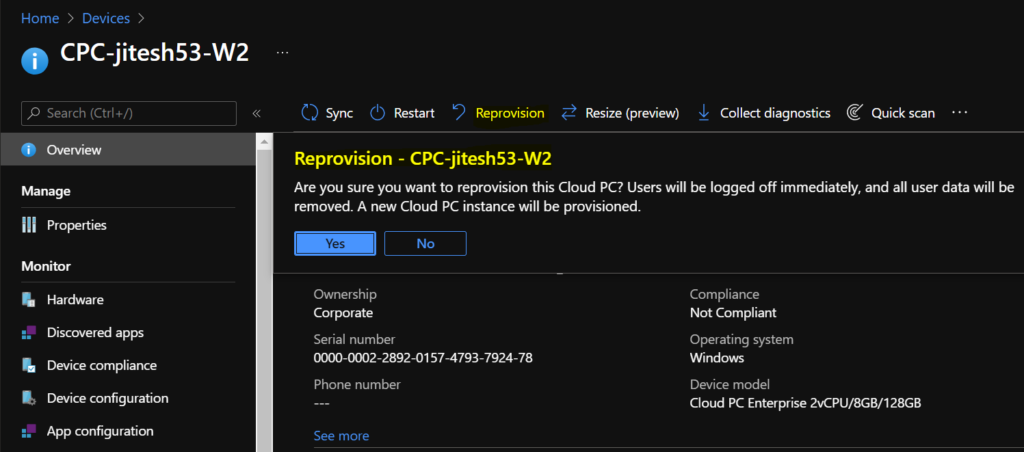 👉 Let's learn how to reprovision Cloud PC from the Microsoft Endpoint Manager Admin Center portal.
Cloud PC Resize Option
Resize Cloud PC feature helps IT admins to change the VM SKU without any friction. You will need appropriate access rights/permission to perform the Resize of a Cloud PC function. The resize option is enabled only for the Cloud PCs in provisioned status.
Click on the Cloud PC name that you want to change the SKU or resize -> CPC-jitesh53-W2.
The new blade gives you the option to select a new size for this Cloud PC.

2vCPU – 8 GB -> 256 GB SKU is selected from the resize blade.

Click on Resize button to start the action.
Reboot is needed.
👉Let's learn how to resize Cloud PC Windows 365 from the MEM admin center.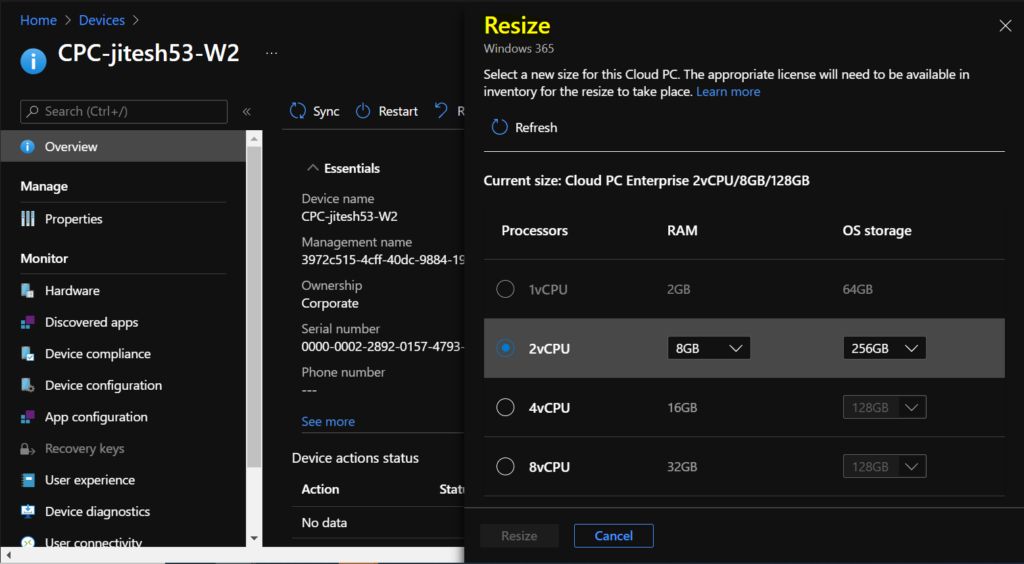 Collect Diagnostics
The diagnostic logs contain MDM event logs, Intune Management Extension logs, registry values, etc. These are helpful logs to Intune admins to understand the exact issue with Windows 10 or Windows 11 Cloud PC devices.
Under Cloud PC device, click Collect diagnostics.
The popup will appear with the following message. Clicking on Yes will attempt to collect the diagnostics from the selected device.
Collect diagnostics – CPC-jitesh53-W2 – Intune will attempt to collect the diagnostics that are on this device. To download and view the diagnostics, go to Monitor > Device diagnostics. Continue with diagnostics collection?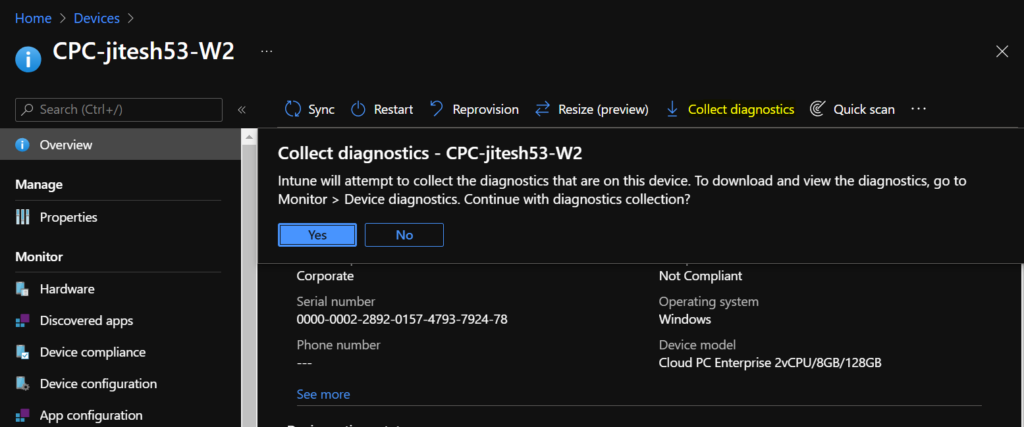 👉Learn more details about how to collect Intune logs using the MEM portal. This is helpful to collect Intune logs from Windows 10 and Windows 11
Device Actions Status – Cloud PC
When the selective process is completed based on user action, you will get an updated status under Device actions status for all performed actions. For Example – Here you can see the action status Collect diagnostics pending.
Once the action is completed successfully, the status will show as complete.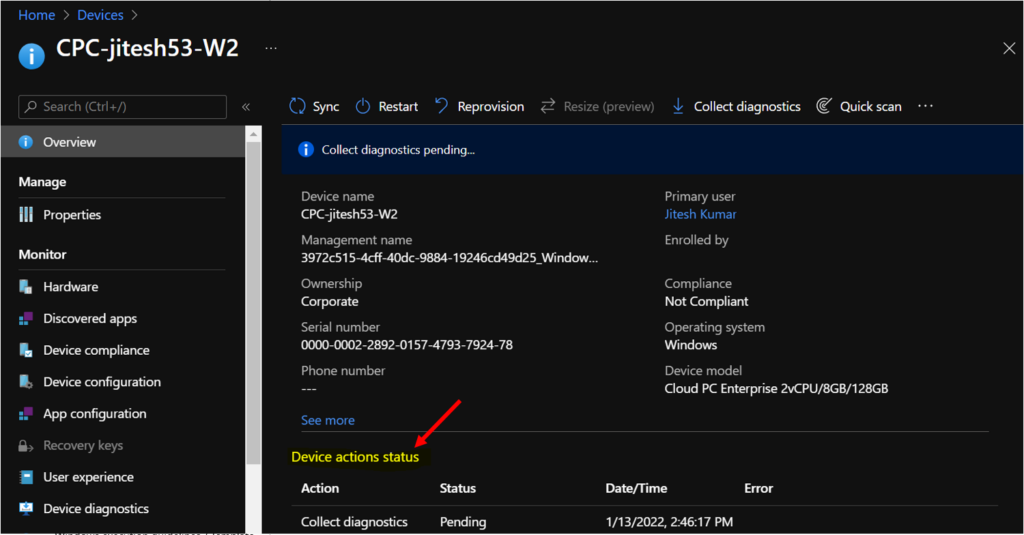 Author
About Author – Jitesh has over 5 years of working experience in the IT Industry. He writes and shares his experiences related to Microsoft device management technologies and IT Infrastructure management. His primary focus area is Windows 10 Deployment solution with Configuration Manager, Microsoft Deployment Toolkit (MDT), and Microsoft Intune.